After World Championships Bronze, Heptathlete Anna Hall is Embracing the Opportunity as a Professional Athlete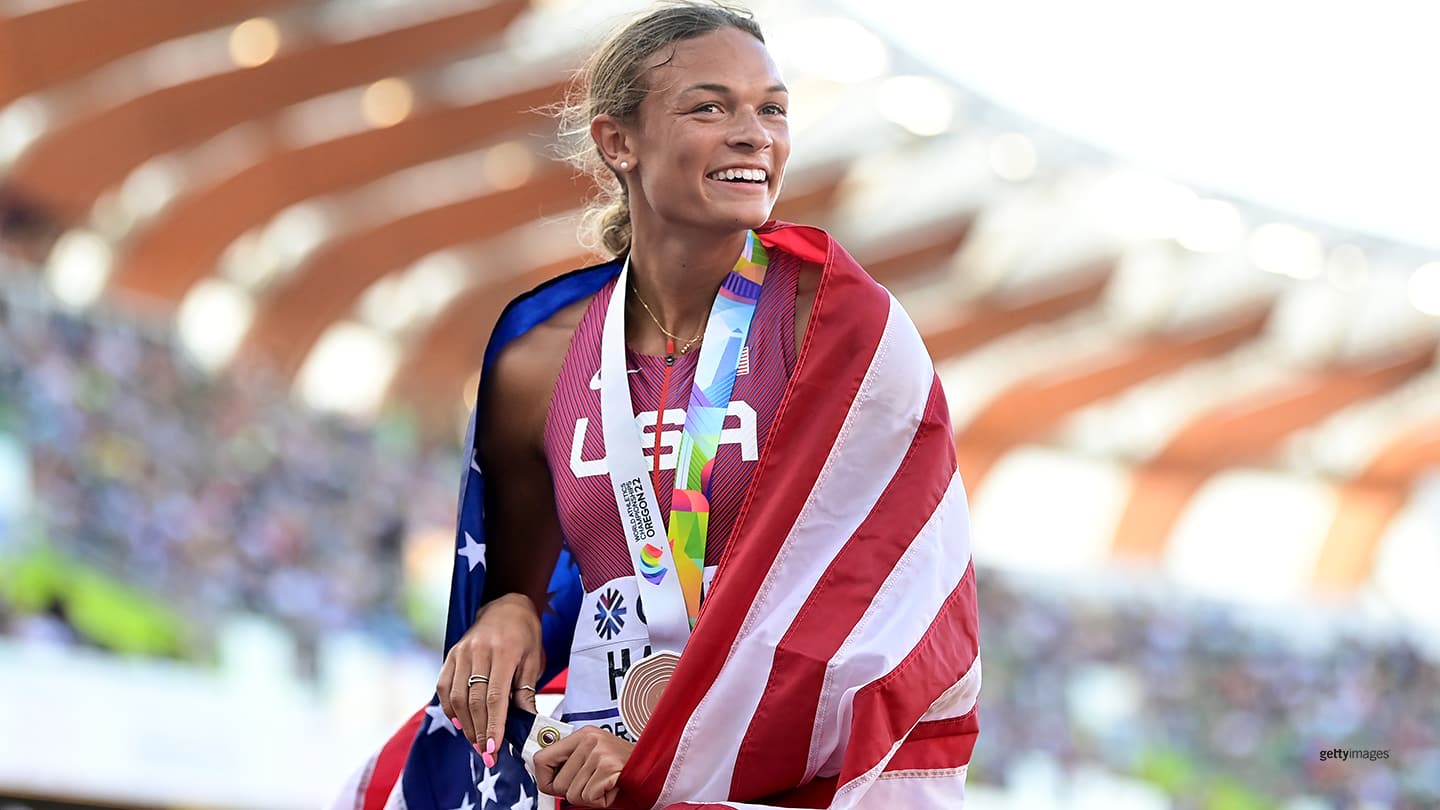 Anna Hall celebrates after winning bronze in the women's heptathlon during the 2022 World Athletics Championships on July 18, 2022 in Eugene, Oregon.
When no less an authority on the heptathlon than Jackie Joyner-Kersee is singing your praises, you know you are doing something right. As Anna Hall put together a spectacular performance in the seven-events-in-one discipline at the World Athletics Championships in Eugene, Oregon, last summer, three-time Olympic gold medalist Joyner-Kersee was on hand, enthusiastically cheering from trackside at Hayward Field.
Hall won the bronze medal with 6,755 points, making her the third highest scoring American of all-time in the event. Joyner-Kersee, of course, is No. 1, her magnificent 7,291 tally from the 1988 Seoul Olympics remains the unchallenged world record nearly 35 years later.
"Anna, that fierce competitor, she kept pushing and didn't give up," Joyner-Kersee said on the NBC Sports broadcast after Hall locked up her medal with a gritty win in the concluding 800-meter race. "She's young and I just can't wait to see what her future is going to be like in this event."
Hall's performance at the world championships capped a phenomenal year for the 21-year-old Colorado native. Coming back from an injury that took her out of the U.S. Olympic Team Trials in 2021, Hall won NCAA titles in the indoor pentathlon and outdoor heptathlon, and helped the University of Florida win its first women's team title at the NCAA Division I Outdoor Track & Field Championships. Her bronze in Eugene marked the first world championship heptathlon medal by an American since 2001.
"It played out better than I could ever have imagined," Hall says of her landmark season. "Going into the year I was coming off the injury from the Olympic Trials and the foot surgery, so, honestly I didn't set very much expectations for myself… I was just working with my coaches on trying to give myself grace."
A month after the world championships, Hall signed a professional contract with Adidas. "It was a really tough decision, because I love NCAA track and field," says Hall. "I think this year is going to be a little bittersweet, because I'm going to miss the team aspect of the sport. But some things just fell into place and it was the right time. It almost felt like if I didn't go pro, I was missing something."
The transition was made easier when her boyfriend, tennis player Ben Shelton, also turned professional last year. The 2022 NCAA men's singles champion for Florida, Shelton just finished a thrilling run at the Australian Open, his second Grand Slam Tournament, advancing to the quarterfinals and vaulting inside the ATP Tour's top 50 rankings.
"It's been really nice to have each other going through the same thing," Hall says. "It's been a big transition for both of us, so it's nice to have someone who gets it."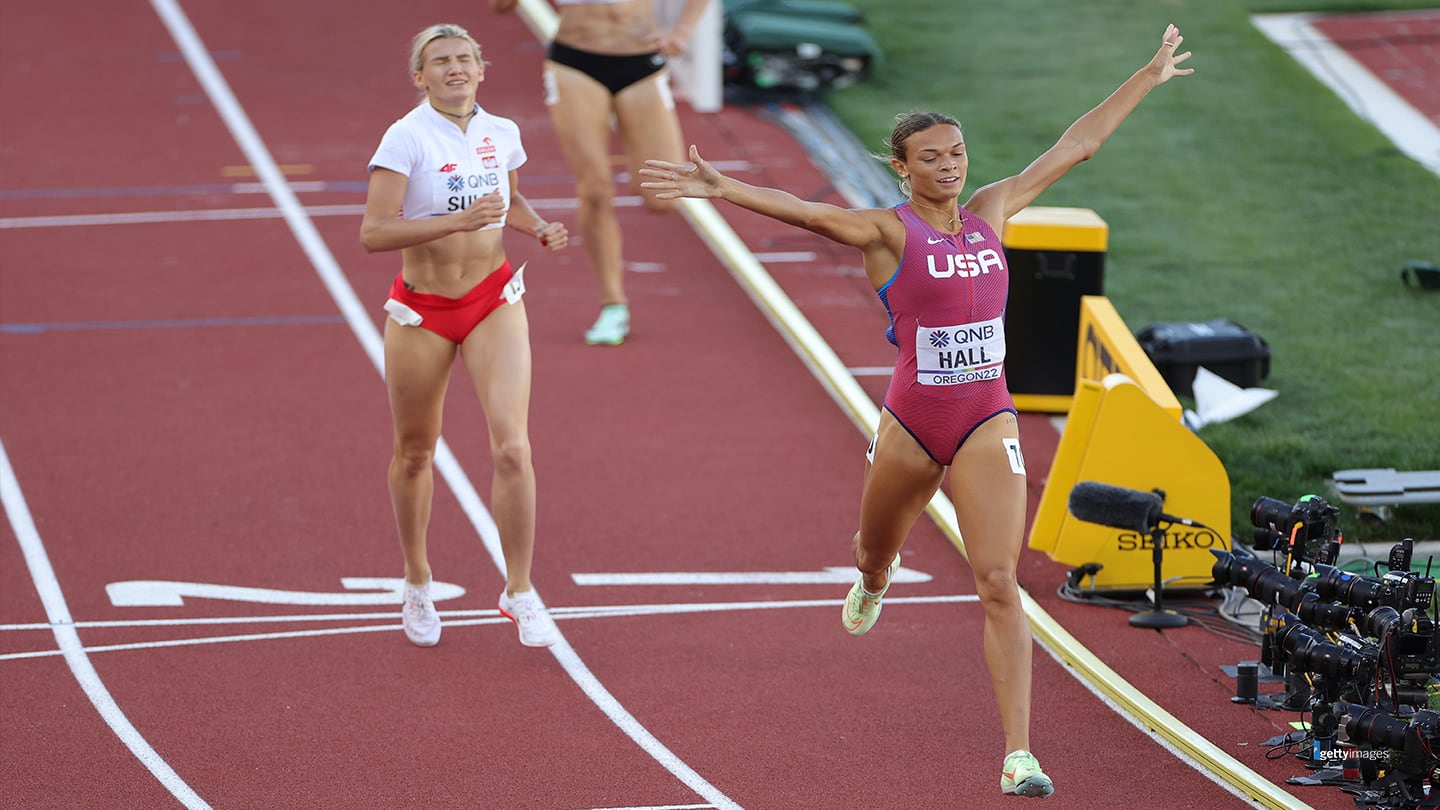 Anna Hall reacts after finishing the women's heptathlon 800-meters during the 2022 World Athletics Championships on July 18, 2022 in Eugene, Oregon.
Hall's arrival as one of the top heptathletes in the world wasn't a major surprise given her earlier success in the sport; she set the national high school record in 2019. But as 2022 began, it seemed that the wait might be longer. The previous June she crashed out in the first event of the heptathlon at the Olympic Trials, the 100-meter hurdles, breaking the navicular bone in her left foot. After surgery, the comeback was daunting and her confidence was tested.
"My season openers were not good and it was a slow build," Hall says. "And then we kept building, and every time I thought this was where I'm going to be this year, I would keep improving. I surprised myself last year, it was really fun."
One of the most challenging aspects was remastering the high jump, an event where Hall had previously excelled. She boasted a world-class personal best of 1.89 meters (6 feet, 2 ¼ inches). The broken foot was the one she takes off from, and putting pressure on it was both physically and psychologically intimidating.
"I was dreading high jumping," she admits. "The first meet back, this is kind of embarrassing, but I went to the bathroom right before the warm-up and I was almost crying because I was just so stressed, about having to put my foot down [on the take-off]."
She posted a solid, 1.70 meters (5 feet, 7 inches) in that competition last January.
"Even though I knew I wasn't going to jump well going into that meet, it still hit me really hard to see it on paper where I was at," Hall said. "Looking back, it definitely was a victory [to be clearing any height], but it was also a rude awakening of where I was."
Fast forward seven months and Hall soared over a season's best of 1.86 meters (6 feet, 1 ¼ inches) during the second event of the heptathlon at worlds. That was one of many stellar marks during the two days of competition, including personal bests in the shot put (13.67 meters, or 44 feet, 10 ¼ inches), the 200-meter dash (23.08 seconds) and the javelin (45.75 meters, or 150 feet, 1 inch).
"Leading up to the meet, I was looking at my marks and say I put together the perfect multi, I think it would be like 6800-something," she says. "I was like, 'I can score really high, it's just a matter of doing it,' which is the hard part when you're young."
When the scores were tabulated, Hall had added nearly 300 points to her personal best, even more impressive considering the spotlight of the world stage.
"I really credit my coaches for that," she said. "They really found ways to take the pressure off me and make the meet fun.
"They kept me upbeat between events, joking around with me, helping the time pass, things like that helped distract me from the gravity of the competition."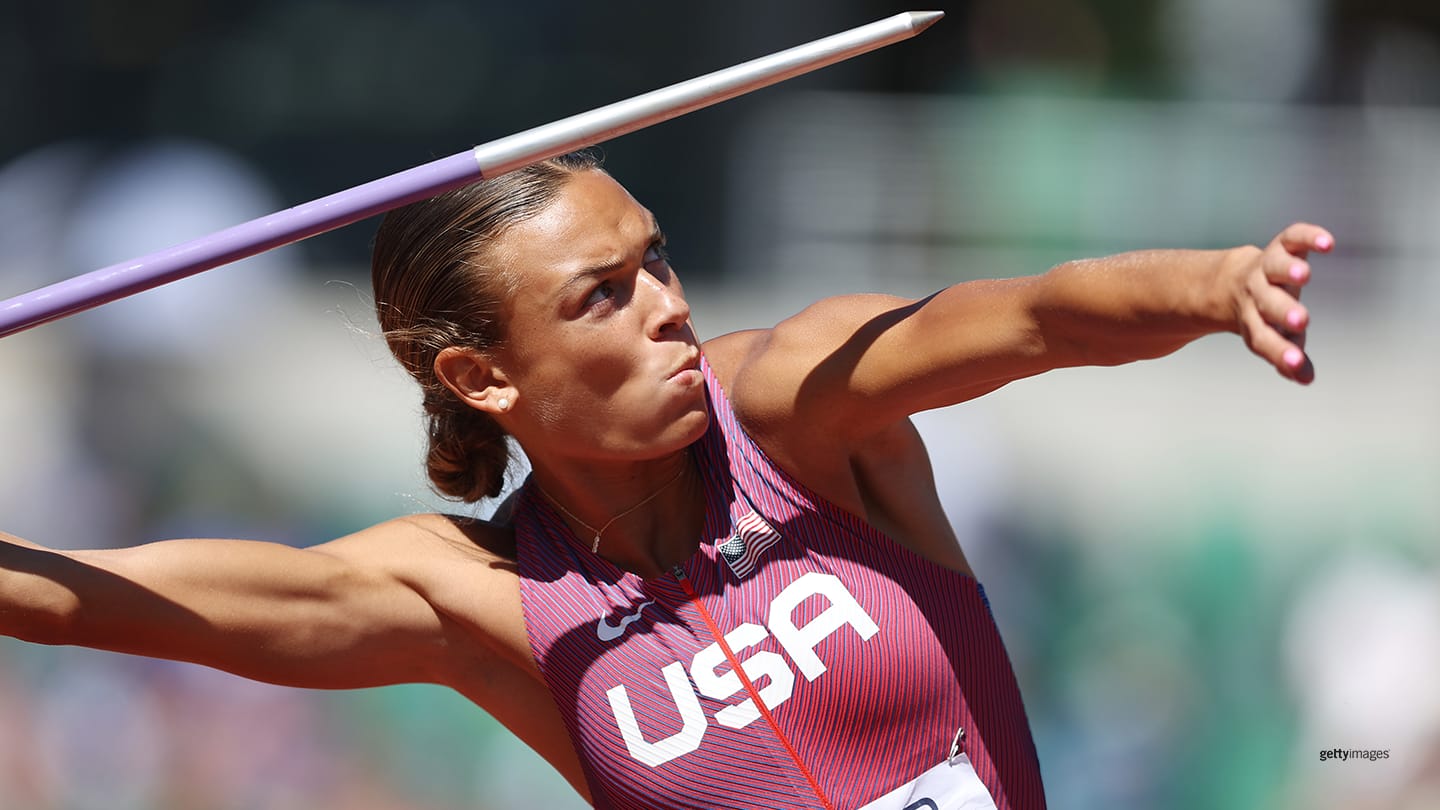 Anna Hall competes in the women's heptathlon javelin during the 2022 World Athletics Championships on July 18, 2022 in Eugene, Oregon.
Moments after the bronze medal was hung on her neck, she joined Joyner-Kersee during a televised interview in which the legend praised her heir apparent.
"Even just meeting her the first time I was star-struck," Hall said. "To hear her say those things about me and that she believes in me – honestly even that she has any respect for what I do – really means the world and gives me a lot of motivation and inspiration going forward."
Hall will channel that inspiration into the 2023 season, where she has ambitious goals. Currently a volunteer assistant coach with the Florida team, she is competing in some small collegiate meets ahead of the USATF Indoor Championships in Albuquerque on Feb. 16-18, where she plans to contest the pentathlon. For the outdoor season, she intends to compete in the Hypo Meeting Götzis in Austria in May. The event is one of the premier invitational combined events competitions in the world.
She also wants to continue running the 400-meter hurdles, a demanding race she took up last year in order to contribute more team points for Florida. The experiment was a success; she finished second at the NCAA championships (while competing simultaneously in the heptathlon). Her personal best of 54.48 made her the 20th-best performer in world for 2022. She aims to compete in some races on the international Diamond League circuit.
"It's a goal of mine to maybe sneak into the Diamond League final," she said.
Considering how little she was able to focus on the event last year, that sounds like a reasonable goal.
"This year I've worked on alternating my lead leg, because last year I just literally practiced the week before the meet and just went for it," she said with a laugh. "We worked on my other lead leg this fall and I'm excited to work that in and see how I can improve."
Of course, the heptathlon remains her primary focus, specifically the world championships in Budapest, Hungary, in August, where she hopes to move up higher on the podium. With a full-year of injury-free training under her belt, her confidence is on the rise.
"We're doing mostly similar things to last year, working on everything hoping to improve across the board," she says of her training. "But not having to be rehabbing this fall, we put a lot more emphasis on speed work.
"I'm looking forward to seeing how that translates into my runs and jumps. And then also we've really been focusing on the technique in the throws. I'm hoping that comes together this year. But, I know that the throws are a long developmental game. The goal remains putting together seven good events."
Rich Sands is a New York City-based freelance editor and writer and has been a correspondent for Track & Field News since 1995, covering the sport at the high school, college and professional levels. He was previously an editor at TV Guide Magazine, overseeing the magazine's Olympic coverage.