How Growing Up On The Border Shaped Boxer Jennifer Lozano
Jennifer Lozano training at the U.S. Olympic & Paralympic Training Center on Aug. 9, 2022 in Colorado Springs, Colo.
Like many others before her, Jennifer Lozano got into boxing to learn how to defend herself.

"I started at the age of 9, mostly because I was overweight and I was bullied as a kid," recalled Lozano, now 19. "I'd always come home beat up and stuff."

Growing up in the border town of Laredo, Texas, with family roots in Mexico, Lozano's first language was Spanish. That also made her a target.

The first boxing gym she went to offered little refuge.

"Back in the day, there was no female boxers, especially being from a border town," Lozano said. "It was very machismo. Girls have to cook; women have to clean."

Lozano finally found acceptance and a home at a second gym in Laredo, working under coach Eddie Vela at Boxing Pride Fitness.

"I started off in one of their teenage classes," Lozano said. "I've been with them ever since. Any national titles, any wins and losses, I've been with them through it all, for sure."

Lozano won USA Boxing Elite National Championships in 2020 and 2021. More recently, she won the gold medal in the 50 kg. class at the 2022 AMBC Continental Championships in Guayaquil, Ecuador, her first international competition.

"When I got gold in Ecuador, that meant everything to me because I was going through a kind of rough patch behind the scenes," she said.

Where she was shunned and bullied in her youth, Lozano now wants to show the way for girls who are looking to work through their own early difficulties.

"I actually want to be the change," Lozano said. "I actually want to do something for my city and the younger generations. I ended up going and speaking to schools.

"Whenever I saw a kid at the gym, I'd go up to them. I'd start talking to them, teaching them. I brought all my (championship) belts to the gym just so they could see you can get somewhere."

Lozano wants to make sure younger boxers have an easier time and go farther in the sport than even she has.

"They won't have to work the way I did," Lozano said. "They won't have that struggle being a woman in this male-dominated sport and then being shamed for it and actually getting the attention and recognition they need and want to get far in the sport.

"It's never too late, and you can do anything you put your mind and heart to."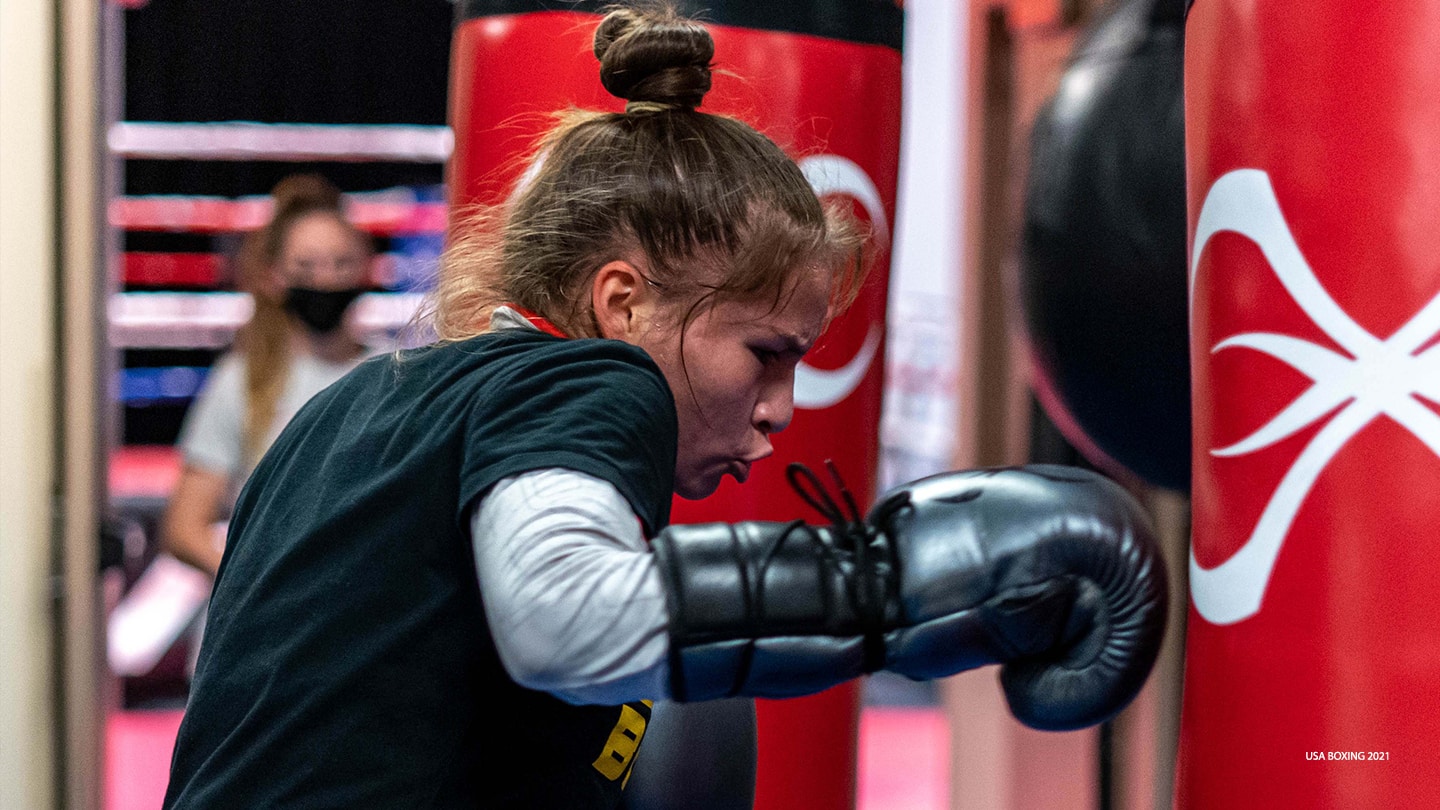 Jennifer Lozano working out during the 2022 USA Boxing Training Camp at the U.S. Olympic & Paralympic Training Center on Aug. 9, 2022 in Colorado Springs, Colo.
Fittingly during this Hispanic Heritage Month, Lozano wants to serve as a beacon of hope to those of her ethnicity.

"Because I also not just represent my home city of Laredo, I also represent Mexico," she said. "I do represent both sides. I was born here but raised (in Mexico) most of my life."

Lozano also would like to stand for those who have experienced mental health issues. She had her own struggles after finding the body of her grandmother, who was killed three years ago in an act of violence in Mexico, she said.

"I went through severe depression, anger, anxiety and PTSD," Lozano said. "I trained angry. I fought angry. I was angry, alone and scared."

Lozano came through that dark period and, at age 19, has her sights set on making the U.S. Olympic Team and a professional career beyond that.

"My goals for the end of the year are … just to win nationals and get back on Team USA," she said. "My training's been going very good. I feel great. Me and my coach are specifically focusing on the mental part, on making sure our fights aren't close.

"Olympics was always in my mind, but I never thought I had a chance because I always came from (Laredo), and nobody ever made it out. So, I never saw it in my plans. It was always a dream."

Lozano said she hopes to use her future professional boxing career "to better the sport and have equal pay, equal rights, inside and outside the ring, and the way we are viewed as females … and just in society itself."

Lozano also has lofty goals away from boxing.

"Longer term, I do plan on opening a business here in Laredo that can benefit both migrant children and people here who are stuck in poverty in my city" said Lozano, "and just better educate people about mental health … and how it's OK to talk about how you're feeling. And that if you're not OK, that's also OK. To reach out to people to get help. It's not something to be ashamed about, embarrassed about."
"If you have a dream, follow it and keep fighting for it because you can accomplish anything you set your mind to." @USABoxing's Jennifer Lozano wants to serve as a beacon of hope for young, Hispanic girls like herself. #HispanicHeritageMonth

🔗: https://t.co/ym8FEldGro pic.twitter.com/pTzfDI59MX

— Team USA (@TeamUSA) September 30, 2022
Bob Reinert spent 17 years writing sports for The Boston Globe. He also served as a sports information director at Saint Anselm College and Phillips Exeter Academy. He is a contributor to TeamUSA.org on behalf of
Red Line Editorial, Inc.