Changing Training & Moving Up Weight Classes, Wrestler Jordan Burroughs Looks Ahead Toward Worlds In Belgrade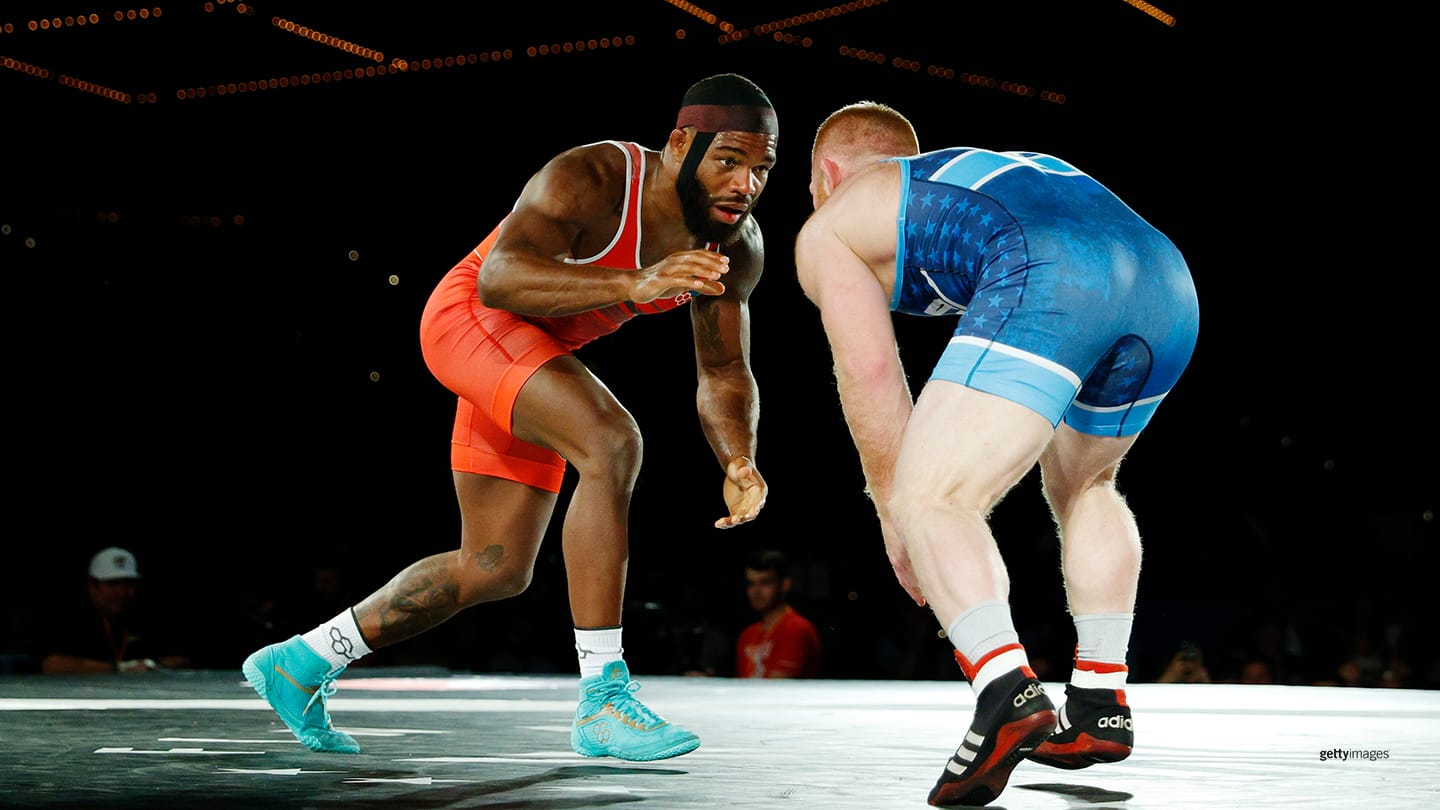 (L-R) Jordan Burroughs and Chance Marstellar compete during their men's freestyle 79 kg. bout at the 2022 Beat the Streets Wrestling Benefit on June 8, 2022 in New York City.
A little over 10 years ago, Jordan Burroughs reached a place that few athletes ever do — atop the podium with an Olympic gold medal dangling around his neck.

Burroughs was a wide-eyed 24-year-old freestyle wrestler with his whole career ahead of him in the Olympic Games London 2012. A decade later at age 34, Burroughs continues to go to the mat as a five-time world champion and father of four. Yet, he has never since returned to that Olympic podium.

"In this sport, the pinnacle is being an Olympic champion," Burroughs told TeamUSA.org. "I've tried on multiple occasions since, and I haven't been able to replicate that performance, although I feel like I'm a much better competitor and a better athlete."

Burroughs made Team USA for Rio in 2016 but came home without a medal. He didn't get to the Olympic Games Tokyo 2020 last year, though he won another world title a few months later.

"It's kind of discouraging at the same time that it's exciting because since jumping off of that podium 10 years ago, I've been trying to do it again," Burroughs said. "It's hard to replicate.

"I try to maintain perspective through it all, and I've done a lot of really cool stuff since then. That (Olympic) tournament just gave me recognition, but all of the things that I've done since then have kind of solidified me as a legend."

That Olympic gold medal and those five world titles assure Burroughs of a place place among the greatest American freestyle wrestlers of all time. When he thinks back to the London experience, it's what happened away from the mat that holds the most meaning for him.

"I remember just the excitement to be there," Burroughs said. "There's such a naivete and obliviousness to the accomplishment and what you're on the brink of doing because you grew up watching the Olympics.

"Looking back, my best memories are the ones that had nothing to do with wrestling. It's meeting all the other Olympians, walking out for the Opening (Ceremony)."

Burroughs entered his first Olympics as the favorite at 74 kg., having won his first world championship the previous year. He didn't really feel the pressure of the moment.

"If you perform well, you can win this thing," he said. "That's a pretty special opportunity. There was a lot of freedom because … it was my first time.

"No one expected me to be a world champion. It was my first time on the team. I was new to the sport. I wasn't really extremely heralded. It kind of blew the world away."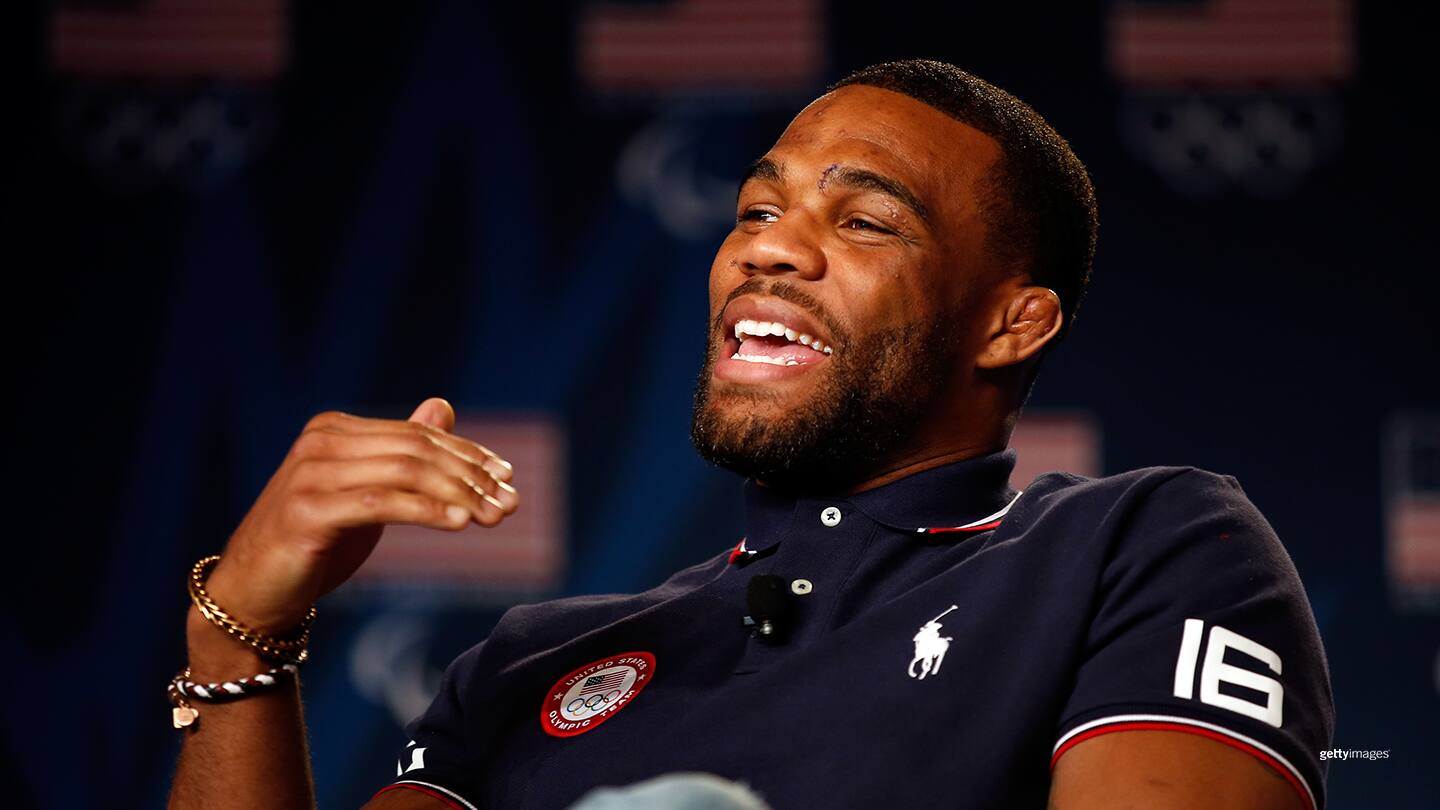 Jordan Burroughs addresses the media at the Team USA Olympic Media Summit on March 9, 2016 in Beverly Hills, Calif.
In the blink of an eye, Burroughs had gone from a one-time New Jersey high school state champion to the top of his sport.

"I went from being a good wrestler, not a great wrestler, in high school, relatively unrecruited, to six years later being the best in the entire world," recalled Burroughs, who won two NCAA titles for Nebraska in between. "I couldn't believe how quickly my skills had improved.

"I always had the belief in myself. I always had the focus and the commitment."

Burroughs' world changed after he won that gold medal, however.

"When it actually happens, you're like, 'Wow, this worked out,'" he said. "You'll never be the same. No one will ever regard you in the same way. And everywhere that you go, you'll always be recognized as an Olympic gold medalist.

"I've won five world championships, and it's still not as important as a single Olympic (gold medal)."

Much time has passed since London, but Burroughs is still at it.

"I think the most astonishing thing is that I'm still able to compete at a really high level, even all these years later," Burroughs said. "I never imagined that I'd be wrestling in my 30s. I'm still able to focus and beat these young guys."

Certainly, his approach to the sport has matured. Burroughs, in partnership with his coaches, favors an intelligent training routine over just going hard all the time.

In addition to training, Burroughs must make time for his family. He usually rises at 5:30 a.m. to lift weights before the children wake up, then makes them breakfast and gets them off to school before wading through emails and phone calls.

"There's a lot that I'm juggling now at this point. I think it's a blessing," said Burroughs, who leans on his Christian faith to get through the busy days. "The beauty lies in the fact that because of my success, I have become responsible for a lot of other people's success.

"They're relying on me to be led and be served with honor and integrity. It's really important to me to live a life of honor."

Burroughs, who has been wrestling since he was 6 years old, knows that he is in the twilight of his career. After moving up to the 79 kg. class and winning that world title last year, he hopes to add another at this year's World Wrestling Championships, which take place Sept. 10-18 in Belgrade, Serbia. He won the Pan Am championship in May.

An Olympic gold in Paris two years from now would put a nice capstone on his career.

"There's a lot of wrestling between now and then," said Burroughs, "a lot of life."

Burroughs is also planning for life after wrestling.

"It's tricky. You've got to find something that you're passionate about," Burroughs said. "I may never love anything as much as I love wrestling."
Bob Reinert spent 17 years writing sports for The Boston Globe. He also served as a sports information director at Saint Anselm College and Phillips Exeter Academy. He is a contributor to TeamUSA.org on behalf of
Red Line Editorial, Inc.