U.S. Divers Capture Historic Six Medals At FINA World Cup In Berlin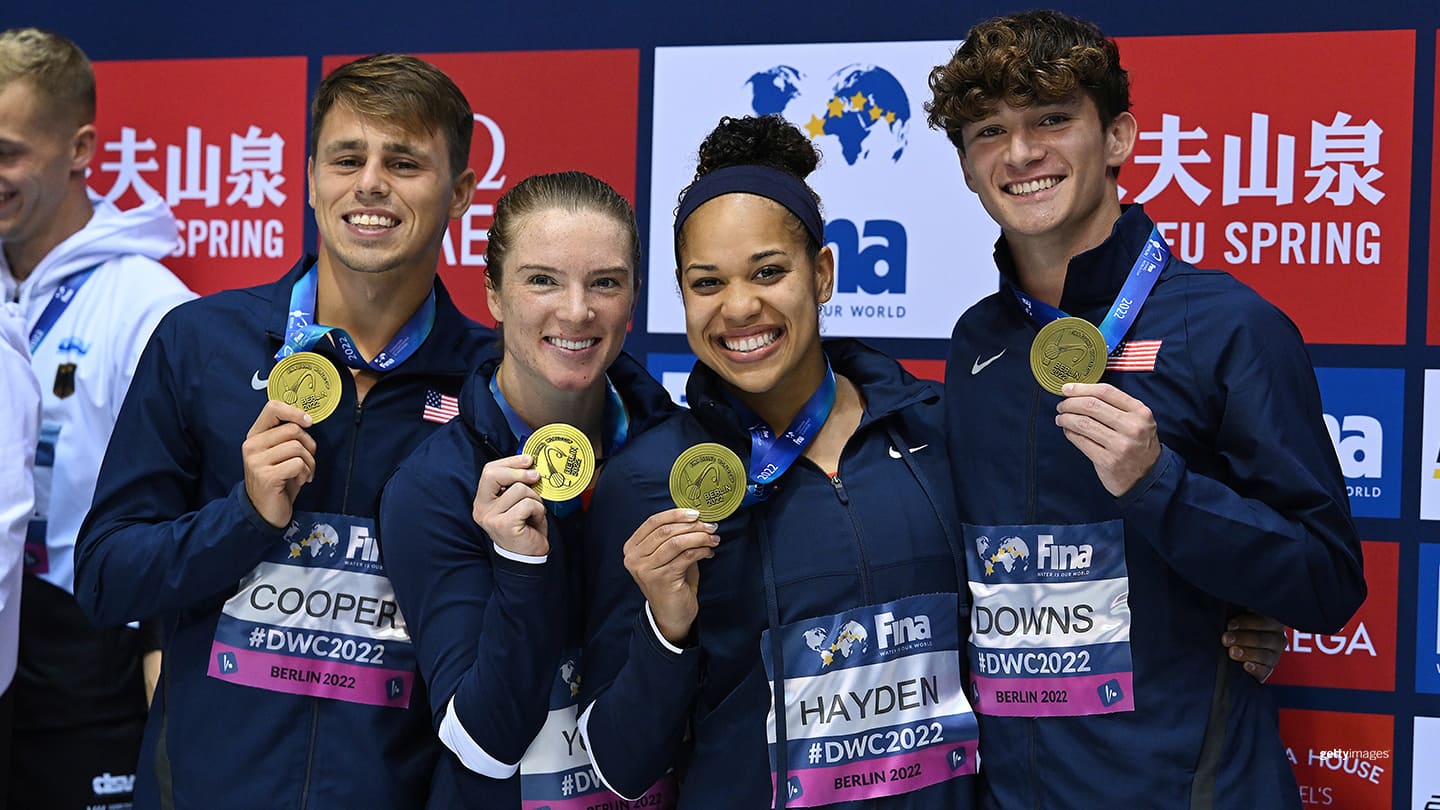 (L-R) Zachary Cooper, Katrina Young, Kristen Hayden and Tyler Downs pose on the podium after the mixed team finals at the FINA Diving World Cup Berlin on Oct. 23, 2022 in Berlin.
In its best performance ever at the FINA Diving World Cup, U.S. divers won six medals in Berlin, Germany.
The U.S. capped off the weekend by winning a gold medal in the meet's final event Sunday, the mixed 3-meter and 10-meter team. Kristen Hayden, Zachary Cooper, 2020 Olympian Tyler Downs and two-time Olympian Katrina Young combined for the win.
Young also won a silver medal with Nike Agunbiade in the women's 10-meter synchronized, with Agunbiade also winning a bronze medal in the 10-meter platform. Downs won a silver medal in men's 3-meter synchronized with Greg Duncan, while Hayden and Brooke Schultz added a bronze in women's 3-meter synchronized. Olympian Brandon Loschiavo won bronze in men's 10-meter platform. The U.S. finished second in the overall medal table to China.
Agunbiade and Young, who were competing together for the first time, won the first U.S. medal, a silver, in the competition's opening event Friday. A forward 3 1/2 somersault pike gave them their highest-scoring dive in round three. They finished with 261.54 points, trailing winner China with 349.80.
Agunbiade was back on the medal stand again Saturday as part of a three-medal day for the U.S. Her highlight in the 10-meter was a first-round back 2 1/2 with 1 1/2 twists, good for a total of 70.40 points. She scored 298.70 points total, finishing behind Yuxi Chen and Hongchan Quan of China with 449.85 and 430.45 points, respectively.
Downs and Duncan used an inward 2 1/2 pike to score 69.30 points on their way to a silver medal in the men's 3-meter synchro. They finished with 354.00 points, trailing only China's 442.68 points. Hayden and Schultz added a medal on the women's side, finishing strong with their forward 2 1/2 with one twist in the final round. They scored 257.97 points, trailing Germany with 272.94 and China with 330.03.
Loschiavo finished strong to hold onto his third-place position in the men's 10-meter. His two top-scoring drives came in the fifth and sixth rounds, with 79.55 and 79.20 points, respectively. He finished with a score of 429.95, trailing Jian Yang and Hao Yang of China, who had 537.70 and 472.20, respectively.
That set up the final event of the weekend, with Hayden, Cooper, Downs and Young triumphing in the mixed event. The U.S. edged out Germany, 375.80 to 370.85, for the gold medal. Australia was third with 356.65.
Todd Kortemeier is a sportswriter, editor and children's book author from Minneapolis. He is a contributor to TeamUSA.org on behalf of
Red Line Editorial, Inc.