A Veteran & A New National Team Member Prepare For Para-Cycling Track World Championships
Samantha Bosco competes during women's C1-5 time trial at the Parapan American Games Lima 2019 on Aug. 26, 2019 in Lima, Peru.
When Samantha Bosco won both the women's C4 class road and time trial world championship titles in August, the 35-year-old Para-cycling veteran celebrated winning two rainbow jerseys (given to cycling world champions) but knew that she could not rest on her laurels for long. She would only have two months to prepare for the 2022 UCI Para-Cycling Track World Championships, held for the first time in October this year.

"I had a little bit of time off to decompress and reset before we went to the track," Bosco said via Zoom from her home in California.

Bosco hopes to continue her historic season at track worlds, held next week in France. A double bronze medalist at the Paralympic Games Rio 2016, she hopes to add to her collection of 12 world championship medals. And this season, she also won the WC4 class's overall world cup title.

At the French national velodrome, Bosco will join 10 other Team USA para-cyclists, including national team newcomer John Terrell. A force on the world cup his first year racing internationally, Terrell, 27, had hoped to stand on the podium at his first road world championships in August. But he competed with a broken sternum and bruised lung.

Now healed from that injury, can he win a rainbow jersey of his own?

"That's always fun to think about," he said by Zoom from his home in Colorado Springs, Colorado.

For Bosco and Terrell and a few of their para-cycling teammates, it's a tight turnaround between the road and track world championships this year. But road cycling can help make stronger track cyclists and vice versa.

Here's a look at Para-cycling's unique schedule in 2022 and how Bosco and Terrell are preparing for track worlds.


From Road to Track World
Championships
Traditionally, track cycling world championships are held in March, with road worlds in August or September. To train for these championships, cyclists typically start with longer base miles in the fall and winter. Then as track championships approach, they add in short, intense intervals to help build speed for track races, which are shorter than road races and involve high-end sprinting on single fixed gear bicycles.

After track world championships have concluded in past years, many Para-cyclists have switched to road racing, with longer training rides and longer intervals.

But this year, Para-cycling track world championships were moved to October, just nine weeks after road worlds.

"This year, I've done longer rides further along [in the season] and then switched to the shorter stuff right after [road] world championships, which, for me, having done it so many times the reverse way, it's been a little tougher in the switching from one to the other," explained Bosco, who has won half of her world championship medals on the track. "[Usually] after a road world championships, you're like, 'Oh, it's the offseason, I get some time off. And this year, it's like nope, you have nine more weeks."

Terrell sees the short turnaround time between road and track worlds as "great practice, like a rehearsal" for the Paralympic Games Paris 2024 and next year's world championships — "like can I make the jump [between road and track racing] real quick?" he said.

In 2023, road and track cycling and para-cycling world championships will be held at one big 10-day-long event in Glasgow, Scotland, in August. Similar to the Paralympic and Olympic Games, where all cycling events are held within days of each other, the 2023 world championship mega-event will include BMX freestyle and racing; indoor cycling; mountain biking (cross-country, downhill, and marathon), Para-cycling road and track; road racing and time trialing, and track racing—giving track and road racers little time to prep for a different discipline.

It will feel like "a mini-Games," said Bosco, who missed the Paralympic Games Tokyo 2020 due to a fractured skull — a devastating blow that led to six months of physical therapy.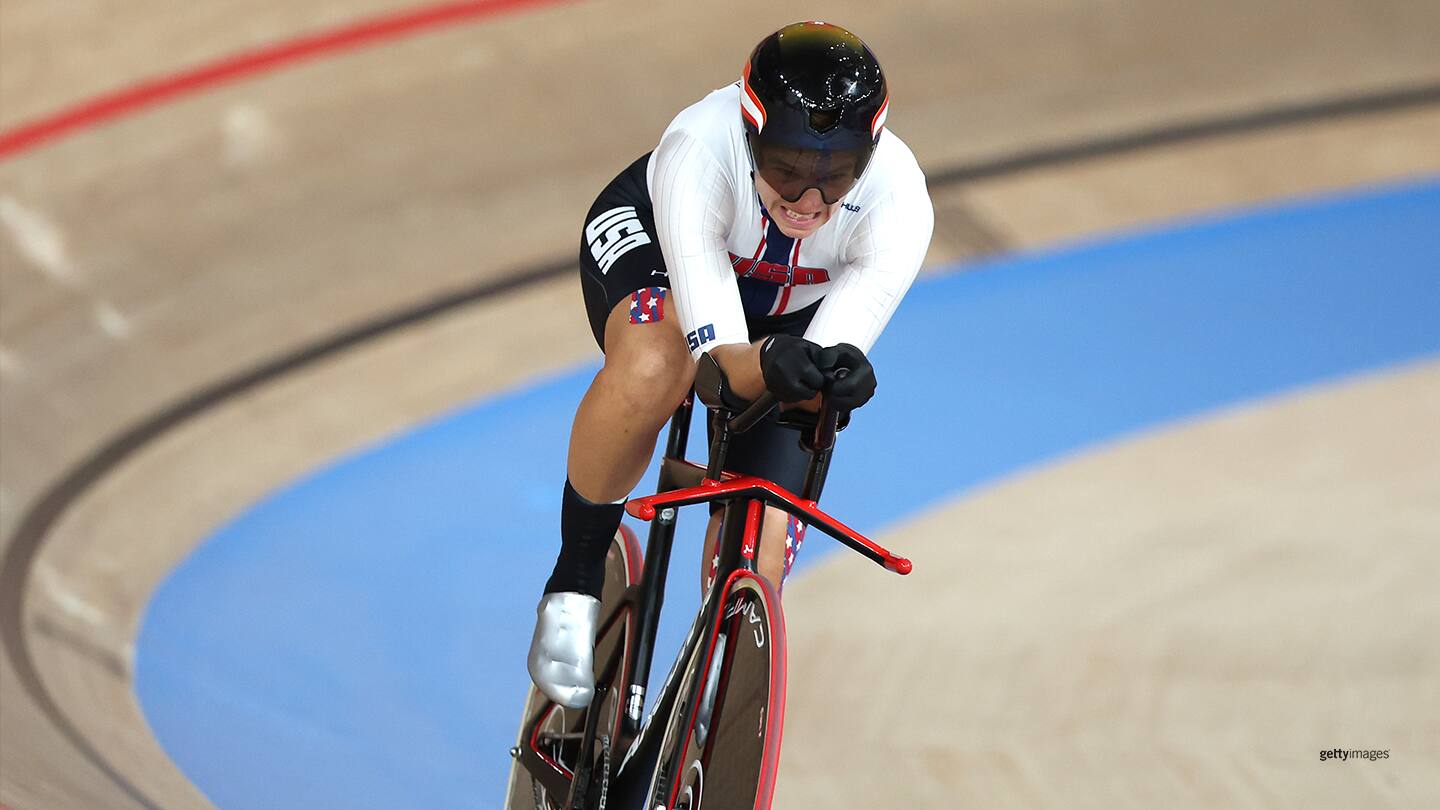 Shawn Morelli competes during the women's C4 individual pursuit at the Paralympic Games Tokyo 2020 on Aug. 25, 2021 in Izu, Japan.
Even then, the 2023 season will not be over. The 2023 Parapan American Games are scheduled for Nov. 17-25 in Santiago, Chile. These Games also feature road and track cycling events spread over eight days.

The two cycling disciplines — the longer miles of road racing and the shorter, intense track events — can complement each other. Road racing gives cyclists endurance for the longer track races (individual pursuit is 3 kilometers for the women, 4K for the men around the 250-meter-long oval; para-cycling scratch races are 10 or 15 kilometers on the track depending on gender and classification). And track cycling can improve a rider's sprint and power.

Bosco also finds that the mentality of both disciplines complement each other.

"I think that the mental toughness you get on the track is different than the toughness you get on the road," she explained. "The track teaches me to really fight to the finish and always push as hard as I can until I get to that finish line, and I use that in every road event."


At the 2022 Para-cycling Track World Championships, Bosco plans to compete in the 3K individual pursuit, the 500-meter time trial, the flying 200 and scratch race. These four races will also accrue points for the omnium.

Her focus is the individual pursuit, and she would like to regain the world title (she won in 2017 and earned bronze medals at 2018 and 2019 worlds). The individual pursuit is similar to a time trial in that a cyclist is racing against the clock. But one other rider starts on the opposite side of the track, and the two pursue each other.

Since she discovered Para-cycling in 2013, Bosco has excelled at racing against the clock. She has four world championship medals in the road time trial (including gold from this year) and three in the individual pursuit.

"I just like to go fast and really push myself and see how far I can push myself and what I'm capable of," she said. "The time trial is all about yourself and your power and your tactics navigating the course."

It took a few years for Bosco to find similar power in track cycling. Born with a bowed tibia in her right leg, she underwent surgeries as a child that went awry. Her right leg is shorter than her left, which is also stunted from growth-plate surgery. Her right ankle is also essentially fused, and she has nerve damage in leg.

With a weaker right leg, the discrepancy is more visible on the track, where cyclists use fixed gear bikes that require power to get off the start line.

"The start definitely shows my disability a little bit more because I don't have as much strength in my right leg as I do on my left," she explained.

But she has found good coaching and is excited to see what more she can do on the track.

Her goal was to win more medals at the Paralympic Games Tokyo 2020 last summer. But three days after she was named to the 2020 U.S. Paralympic Team, she crashed during a training ride and sustained a fractured skull and traumatic brain injury.

After a long recovery, Bosco dedicated her time to preparing for the Paris 2024. The French national velodrome is hosting both this year's Para-cycling Track World Championships and track cycling events for the 2024 Games.

After track worlds, Bosco will jump back on her bike to prepare for the "mini-Games" in Glasgow next year, and then Paris.

"I want to see what more I'm capable of," she said. "I feel like I'm just scratching the surface now."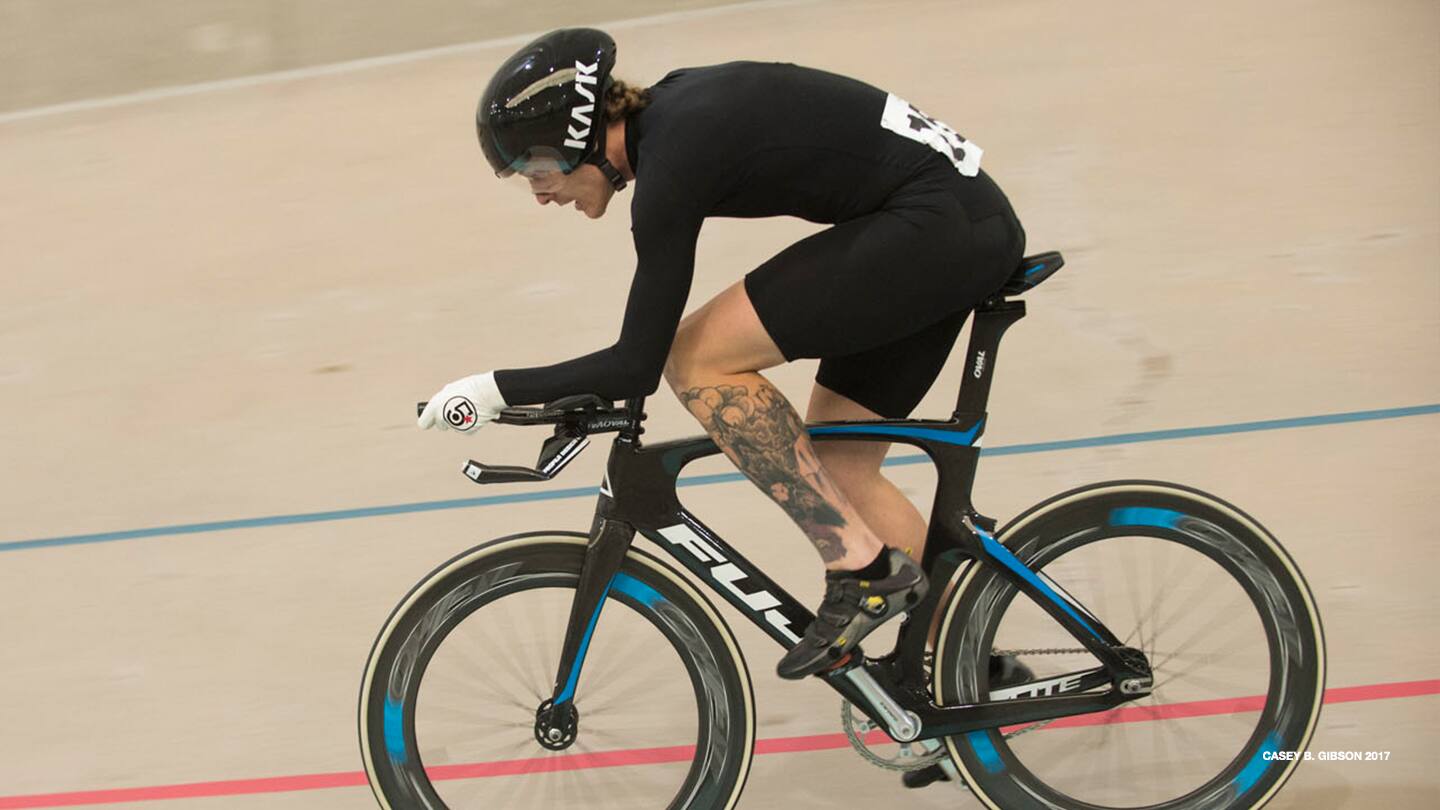 John Terrell competes during the men's C4 at the 2017 U.S. Para-Cycling Track Championships on Dec. 2, 2017.
John Terrell is also just scratching the surface of his cycling potential. In his first year on the U.S. national Para-cycling team, he was leading the men's C4 world cup standings this summer until a crash before the final road race put him out of the running.

Then a week later at his first road world championships, Terrell just missed the podium in both the road race and time trial, even while riding with a broken sternum and bruised lung.

"I still rode really well," he said. "But then I was reminding myself it's a bike race and it's just an it's an honor to be there. I got to be in the mix, and the growth and the progress that I've made throughout the years was just to show up to the 'big dance.'"

It bodes well as Terrell heads to his first Para-cycling Track World Championships next week. A self-described all-around rider, he is focused on track's endurance events: the 15K scratch race and 4K individual pursuit.

And it bodes well for 2024, when Terrell hopes to show up at the biggest dance of all: his first Paralympic Games.

It's a goal that he has had since he started rehabbing from an accident when he was 19 years old. Walking down a highway with a friend after the alternator died in the car they were driving, Terrell was struck by a car and suffered serious damage to his right arm — a brachial plexus injury.

"My arm was essentially unplugged from my spine," he explained. "If you think of your spine as an outlet, like a power source, my arm was detached from five different vertebra. It was a spinal cord injury but to the nerves."

As he rehabbed, doctors were adamant that he keep cycling (until the accident, he raced BMX). He researched Para-cycling and got on a road bike, his arm in a sling, and rode along bike paths. But even after nerve transplants, his arm did not improve. So in 2016, he chose to have it amputated above the elbow.

"I was in the hospital during the Rio Games," he said. "And that really fueled me through that process. Seeing people competing and the spirit of sport really inspired me. So I sat up in my hospital bed and had the thought, '2020, I want to be there.'"

He enrolled at the University of North Texas and set three goals: to maintain his academic scholarship, finish his undergraduate degree, and qualify for Tokyo 2020.

Terrell was successful at the first two goals but not the latter. Upon graduation in December 2018, he moved to Colorado Springs and began training on track cycling. When he missed qualifying for the 2020 Tokyo Games, he switched focus to road riding.

The two disciplines have helped him develop a "feel for riding the different disciplines and what's required of each of them and really develop that race knowledge, that race IQ."

His race IQ was on display this year at the first two Para-cycling world cups in May; he finished on the podium in three of four races and took the overall MC4 world cup lead, which he held until his crash before the final world cup.

Now healed from the broken sternum and bruised lung that derailed his goals at road world championships, Terrell wants to see what he can do in the endurance races at track worlds.

"I've gotten some of the best results from just trusting myself," he said, "and using a lot of positive affirmation and reminding myself it's just a bike race and all I have to do is my best."
An award-winning freelance writer based in Vermont, Peggy Shinn has covered seven Olympic Games. She has contributed to TeamUSA.org since its inception in 2008.