Spain Tops USWNT In Friendly For Its First Win Against The Americans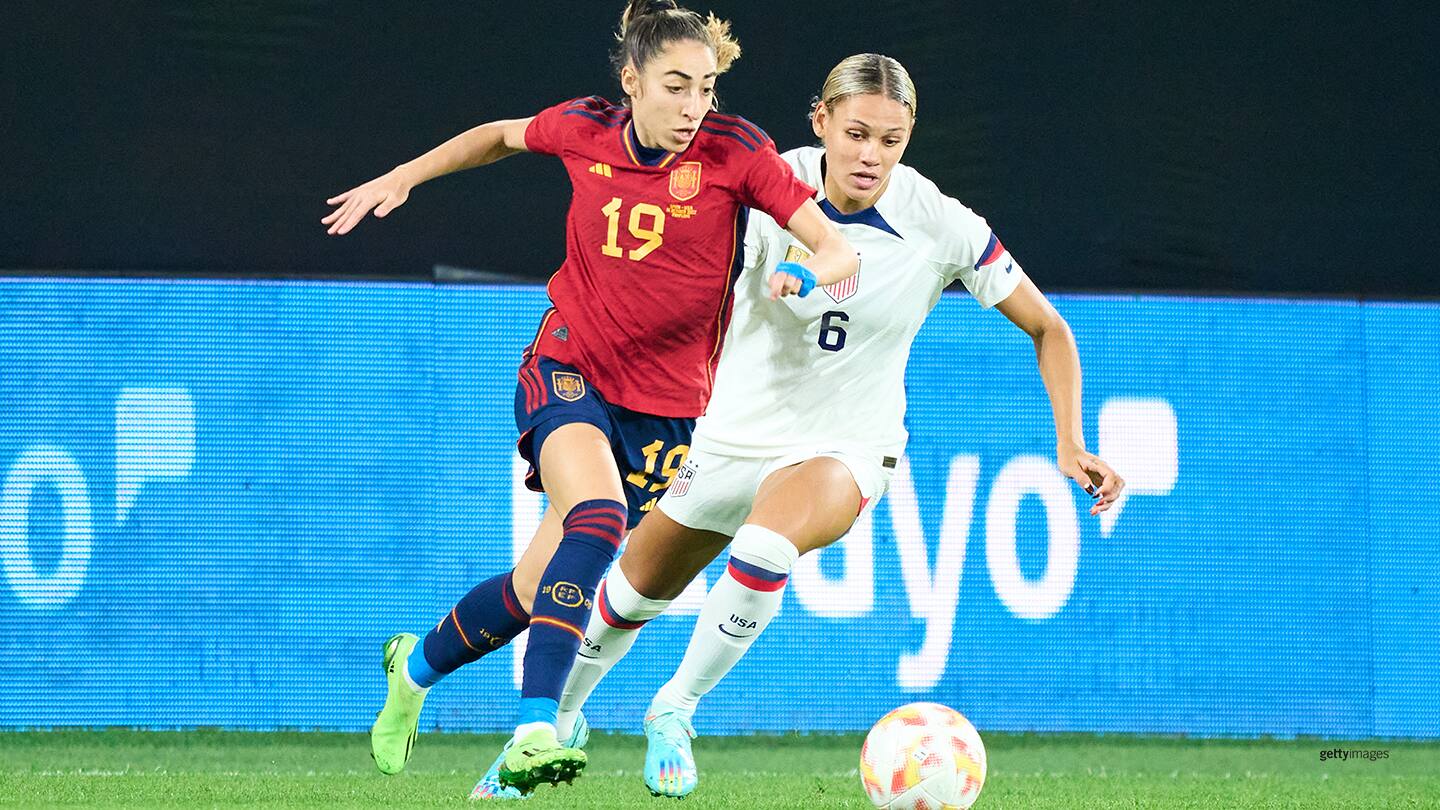 Trinity Rodman (R) competes during the women's international friendly against Spain on Oct. 11, 2022 in Pamplona, Spain.
The last time the U.S. women's soccer team lost back-to-back games was in 2017, when it lost to England and France on home soil.

England sparked another two-game losing streak for the Americans five years later, as the European champions beat the defending world champions, 2-1, in a friendly on Friday night at Wembley Stadium in London.

The Americans followed that up with a 2-0 loss to Spain in another friendly on Tuesday at El Sadar Stadium in Pamplona, Spain.

Friday's game at Wembley saw 76,893 fans in attendance, by far the most for a friendly in USWNT history. The game in Spain saw history as well, as the crowd of 11,209 was the largest attendance for an international women's soccer game in Spain.

The U.S. was on a 13-game winning streak before Friday's loss to England.

In a match where both teams were missing key players, Laia Codina opened the scoring for Spain in the 39th minute after the U.S. blocked multiple shots from a corner kick. The ball eventually fell to Codina, and she was able to beat American goalkeeper Casey Murphy to put Spain up, 1-0.

Esther González doubled the lead for Spain in the 72nd minutes with a beautiful goal. Oihane Hernández crossed the ball in from the right wing, and González volleyed the ball with the side of her left foot to put Spain comfortably ahead.

The U.S. finished the game with 10 shots but only two that forced a save out of Spain goalie Misa Rodríguez.

This is the first time Spain has defeated the U.S., as the Americans had won the previous three meetings between the two nations. That includes the 2-1 comeback victory the U.S. had in the Round of 16 during the 2019 FIFA Women's World Cup.

The top-ranked U.S. has two more games scheduled for 2022, both against Germany, which is ranked No. 2. Both games will take place in the U.S., as the two countries will meet on Nov. 10 in Fort Lauderdale, Florida, and Nov. 13 in Harrison, New Jersey.
Luke Hanlon is a sportswriter and editor based in Minneapolis. He is a freelance contributor to TeamUSA.org courtesy of
Red Line Editorial, Inc.