Young USWNT Faces Tough Test Against Costa Rica In Concacaf Semifinals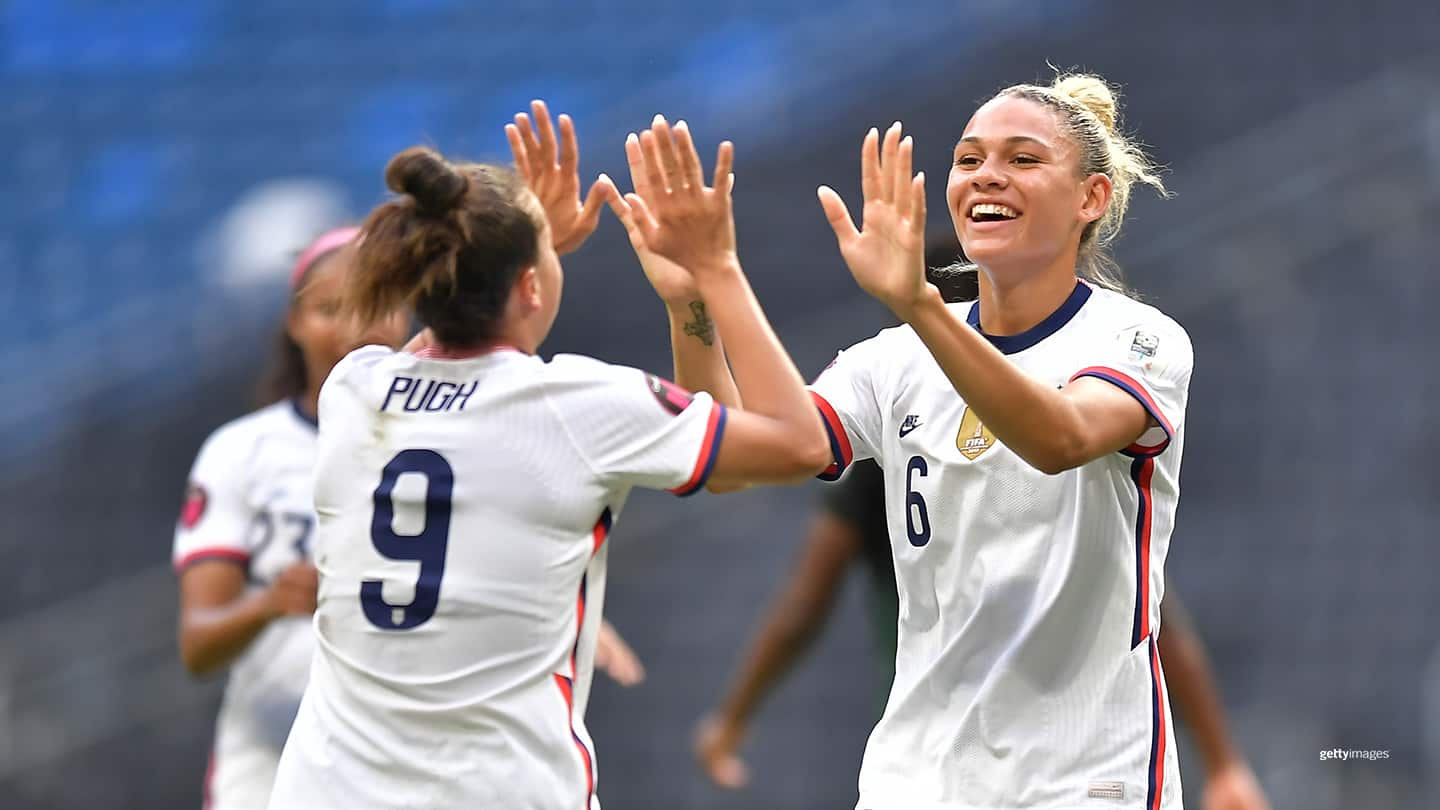 (L-R) Mallory Pugh and Trinity Rodman celebrate after the team's fifth goal during the match against Jamaica as part of the 2022 Concacaf W Championship on July 7, 2022 in Monterrey, Mexico.
Once a team has reached the heights that the U.S. women's soccer team has, results can become less important than performance. The game becomes not just about winning, but how well does the team play while winning.

Take, for instance, what is transpiring at the Concacaf W Championship in Monterrey, Mexico.

After booking a spot in next year's FIFA Women's World Cup in Australia and New Zealand earlier in the tournament, the Americans are only two wins away from also securing a berth in the Olympic Games Paris 2024.

Most national teams would love to be in that position. But then again, the U.S. is not like most national teams.

The USWNT faces great expectations when it takes the field, whether it is a friendly, a World Cup or an Olympic Games. Those great expectations come with a great history. But in a world in which women's teams are improving every year — some by leaps and bounds — sometimes winning is just part of the equation.

The U.S. will meet Costa Rica in the tournament's semifinals on Thursday at 7 p.m. ET. If the Americans prevail, they will play the winner of the Canada-Jamaica semi on Monday for the right to book a spot in Paris.

The second- and third-place teams will tussle for one of two Concacaf Olympic spots in a playoff next year.

Compared to many of its previous teams, this U.S. squad — a mixture of veteran and youngsters getting their first competitive action at this level — hasn't exactly played up to expectations.

"If you asked me if we're ready to go in a World Cup and compete in the World Cup tomorrow, we're probably not ready for it," U.S. coach Vlatko Andonovski said. "But are we going to be ready in a year? Absolutely. I'm very happy with the progress of the team, development of the team and the development of the individuals within the team as well. I think that we're doing a good job and we were moving in the right direction."

Of course, most teams in the world would love to have the "problems" the U.S. has.

With several veteran players retired or sidelined by injuries or on maternity leave, Andonovski has thrown several younger players into the deep end of the Concacaf qualifying pool. While some of those players have struggled at this level, there have been encouraging signs.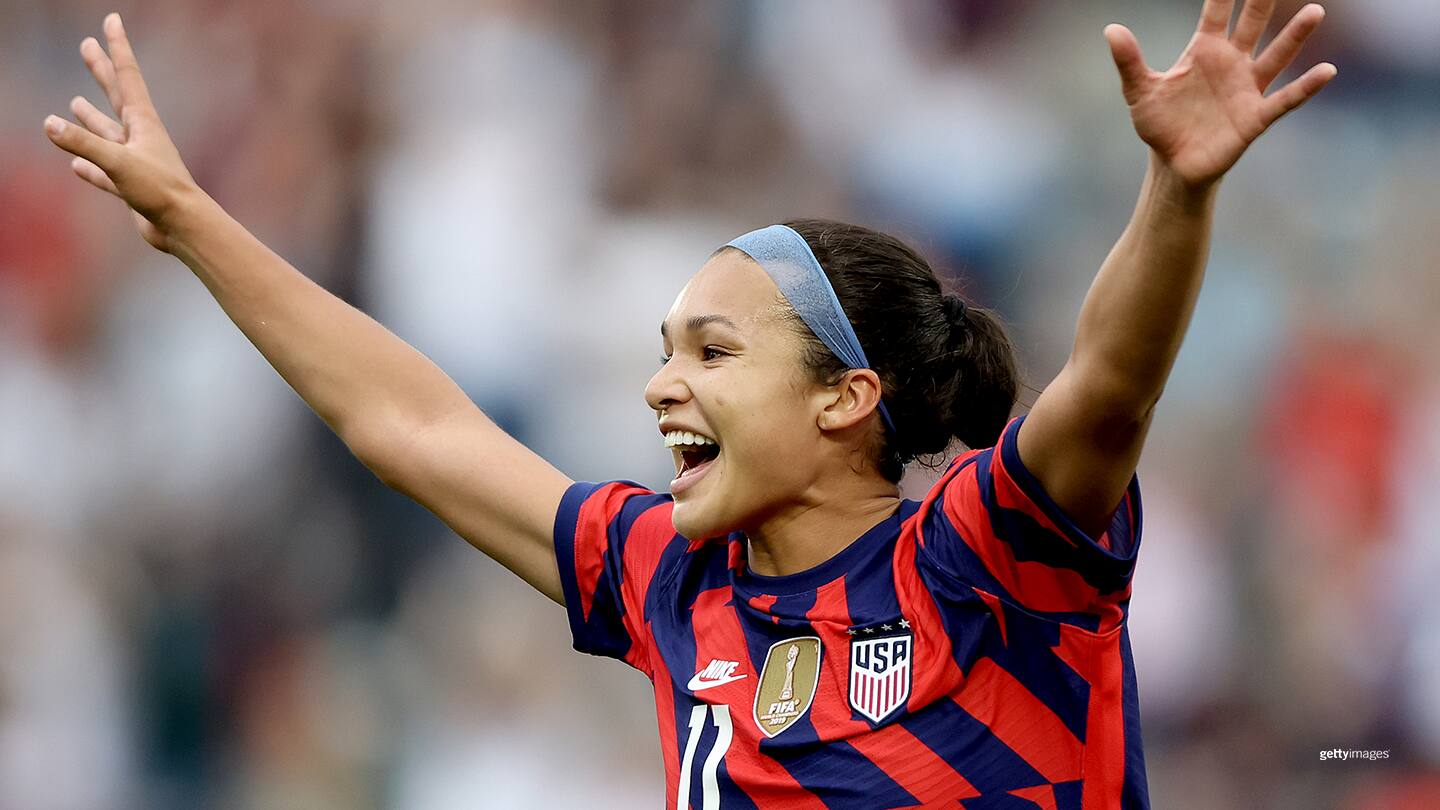 Sophia Smith celebrates scoring her second goal against Colombia in a friendly on June 25, 2022 in Commerce City, Colo.
Sophia Smith scored twice in the 5-0 win over Jamaica on July 7. The 21-year-old has eight goals in 19 international appearances.

Trinity Rodman, 20, last year's National Women's Soccer League Rookie of the Year, tallied the final goal of that encounter.

Goalkeeper Casey Murphy, 26, who had all of five international matches under her belt entering the tournament, has backstopped two shutouts. Alyssa Naeher, one of the heroes of the U.S. team's 2019 World Cup championship, started in the 5-0 triumph over Jamaica. Andonovoski said he hadn't made up his mind as to who will start in the semis.

Despite some struggles during Monday's 1-0 win over Mexico, Andonovski liked what he saw in hostile conditions.

"We trust these young players a lot, and we're very happy with where they're at in the development stage of their career," he said. "It was good for them to also learn some things on their own. I mean, the game against Mexico was tremendous.

"It was a little bit stressful. It was a little hostile. The team that we faced was a good team, very well-coached. They were motivated. They were intense, all together. It was a great opportunity."

The Americans won for the 16th successive qualifying match. Their last defeat? A 2-1 loss to Mexico in 2010.

To further contextualize the U.S.' qualifying mastery, in 36 qualifiers since 1991, the USWNT has recorded 32 clean sheets out of 36 matches, conceding but five times.

The U.S.' next challenge is Costa Rica, which also has booked a spot in the World Cup. The Ticas are led by wily midfielder Raquel Rodríguez.

"They do have some weapons that they can hurt teams, and this is something that we're very well aware of, and we're very familiar with," Andonovski said. "Now, it's up to us to make sure that that doesn't happen."

Due to the structure of many Concacaf qualifying competitions, finals are usually an afterthought because both opponents have already qualified for the said FIFA tournament.

This year's W Championship is a different animal with an Olympic berth at stake for the winner of the final on July 18. If the U.S. prevails and Canada defeats Jamaica, that will set up the toughest test yet for the Americans.

Canada might be favored in that confrontation on the strength of its gold medal that it secured at last year's Olympic Games Tokyo 2020. Canada defeated the Americans, 1-0, in the semifinals and the USWNT ended with the bronze medal.
Michael Lewis, who covers soccer for Newsday, has written about the sport for four decades and has written six books about soccer. He is a freelance contributor to TeamUSA.org on behalf of
Red Line Editorial, Inc.