The U.S. Heads To Wheelchair Rugby Worlds With Women Named To The Team For The First Time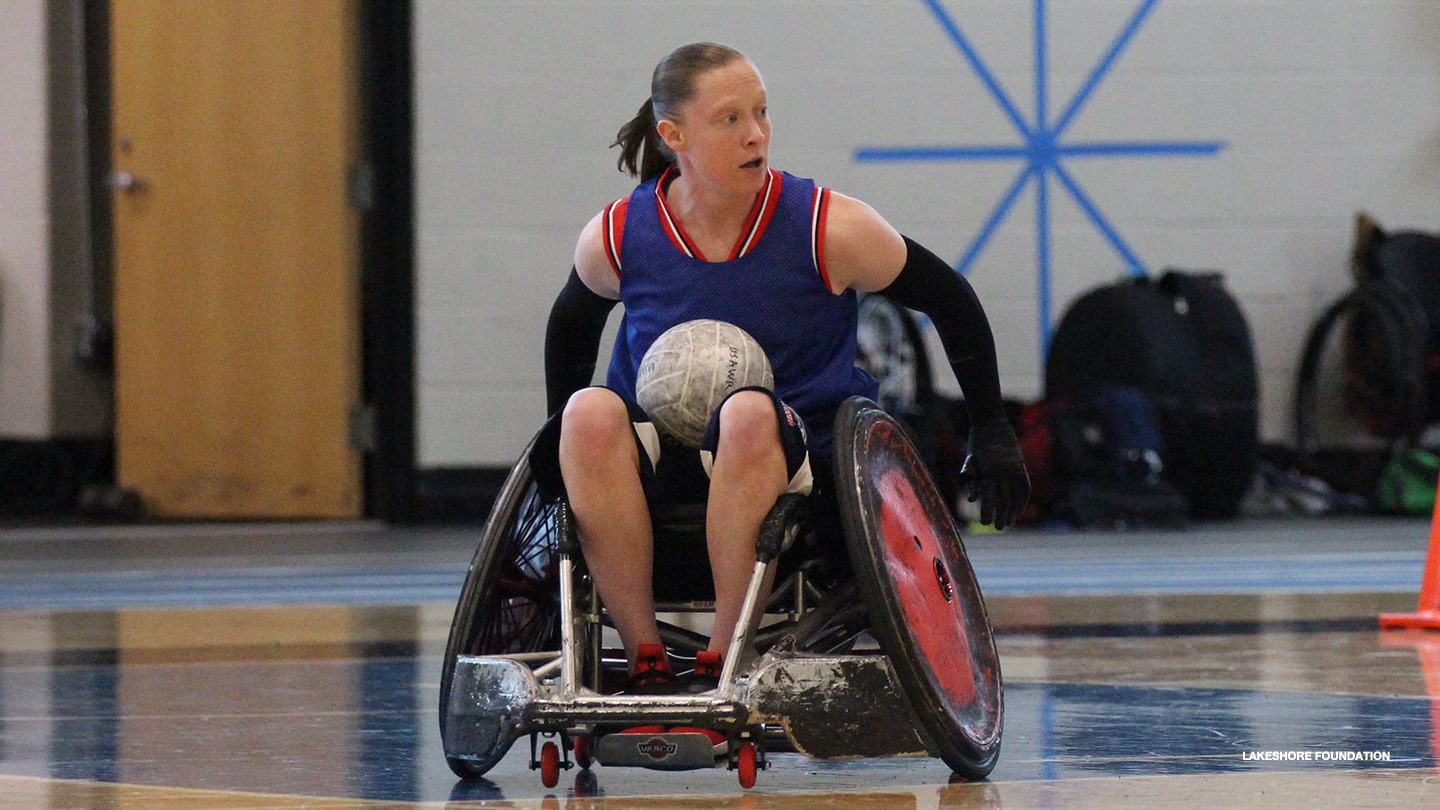 Sarah Adam trains with the U.S. wheelchair rugby team ahead of the 2022 Wheelchair Rugby World Championships.
Wheelchair rugby player Sarah Adam grew up with an older and younger brother and is used to being outnumbered by guys. So naturally, she should feel right at home at the 2022 Wheelchair Rugby World Championship in Vejle, Denmark on Oct. 10-16, where she will be one of only two U.S. women who were selected on the 12-player roster.

Her teammate — and fellow female — Liz Dunn was also selected to the squad. This is Dunn's second season playing for the national team, but it will be her first time playing in a world championship.

"Being able to represent the U.S. is such an honor, especially as a woman in a male-dominated sport. To have the opportunity to travel and play the sport I love while also encouraging other women to join a sport that they can play, too," Dunn shared.

Even though wheelchair rugby has always been a co-ed sport since it made its Paralympic debut in Sydney in 2000, it was a big deal when two women were named to the U.S. national team in December 2021.

"There was such a whirlwind about me and Liz being females in a male-dominated sport," Adam said. While the narrative was focused on their gender, Adam wanted the focus to be on them being athletes first and foremost. That is until she had a conversation with the team's interim head coach and 13-time national team member, Joe Delagrave.

"I spent some time talking with Joe about what it means for other females that are out there that may have a disability and want to compete. If I can have even a little bit of a part in opening doors for females to join the sport, then I am happy to do that and excited to have that opportunity," said the Naperville, Illinois native.

This year has been an exceptional one for the U.S. team who has won both the Americas Championship in Medellin, Colombia, and the Tri Nations Invitational in Birmingham, AL. Team USA will be looking for gold in Denmark as the top of the podium has eluded them since 2010, despite medaling at every world championship since it began in 1995.

The 12 players chosen for the world championship team consist of eight Paralympians and four rookies.

"There's been a lot of learning going on," Adam said about their time with Delagrave. "And some new things that we're putting in place that have been radically different from what they've been doing for the last several years. I think we're going to see that benefitting us coming into worlds and then certainly leading into Paris."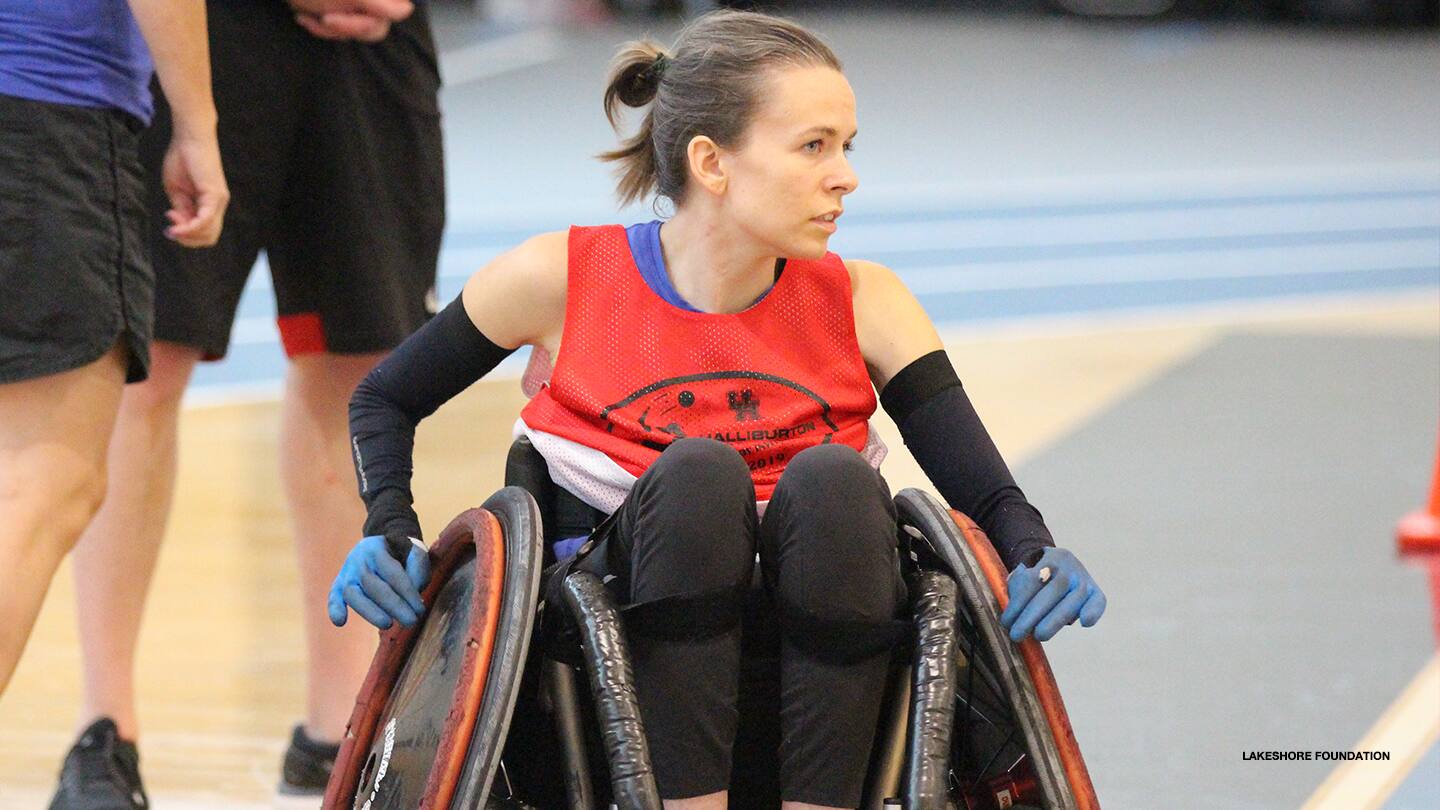 Liz Dunn trains with the U.S. wheelchair rugby team ahead of the 2022 Wheelchair Rugby World Championships.
The Paralympics Paris 2024 could be the first time a U.S. woman is named to a wheelchair rugby team. Dunn and Adam are hoping to be the ones to make history.

"It's about time for that to happen!" Dunn proclaimed about Team USA.

Dunn first found out about wheelchair rugby thanks to a woman. After suffering a spinal cord injury due to a car accident in college, one of her peer mentors and friend, Katie Smith, introduced her to the sport. Soon after the Warren, Pennsylvania native started playing club ball for the Pittsburgh Steelwheelers with that same friend.

"It was great being introduced by another woman in the sport," Dunn shared. "It can be a little intimidating to start when you're new to the sport." She later befriended Paralympic medalists Delagrave and co-captain Chuck Aoki and committed to trying out for the national team.

And while the co-ed locker room has the potential for awkward moments, Adam said the guys still treat the women on the team the same as they would anyone else.

"[Teammate] Kory [Puderbaugh] still smashes into me hard," Adam laughed. "But it took a little while for some of those hard-hitting players on our team to hit me the same way they would hit somebody else. But me being the primary ball carrier, that's part of the game to try to knock me over in my chair."

The same goes for the coach. "Certainly, Joe still yells at Liz and I if we're messing up on the court, he's going to yell at us," she said. "He expects us to take it like an athlete."

On top of being an athlete, Adam — who was diagnosed with multiple sclerosis in graduate school — also works full-time as a professor of occupational therapy at St. Louis University. "I've had great support and mentors along the way that have worked full-time and trained, so I'm learning from them how to manage the grind."

The self-described "rookie of the team" is willing to take all the advice she can get. Having competed in her first international competition in March, she had only played the sport for two years before being named to the national team squad. It was her first wheelchair rugby tryout ever!

"I'm new and I've certainly got a lot of learning to do," said Adam, who grew up playing softball and prefers team sports. "But looking back on my first USA camp in January, I feel like an entirely new player. I feel like I know what I'm doing and that I've earned the spot that I have on this team and I'm excited to fill that role."

The 2022 Wheelchair Rugby World Championship will take place Oct. 10-16 with games streamed live and on-demand at www.2022wrwc.com.
Lisa Costantini has covered Olympic and Paralympic sports for more than a decade, including for the International Olympic Committee. She is a freelance writer who has contributed to TeamUSA.org since 2011.