In Male Dominated Wheelchair Rugby, Sarah Adam And Liz Dunn Look To Make U.S. History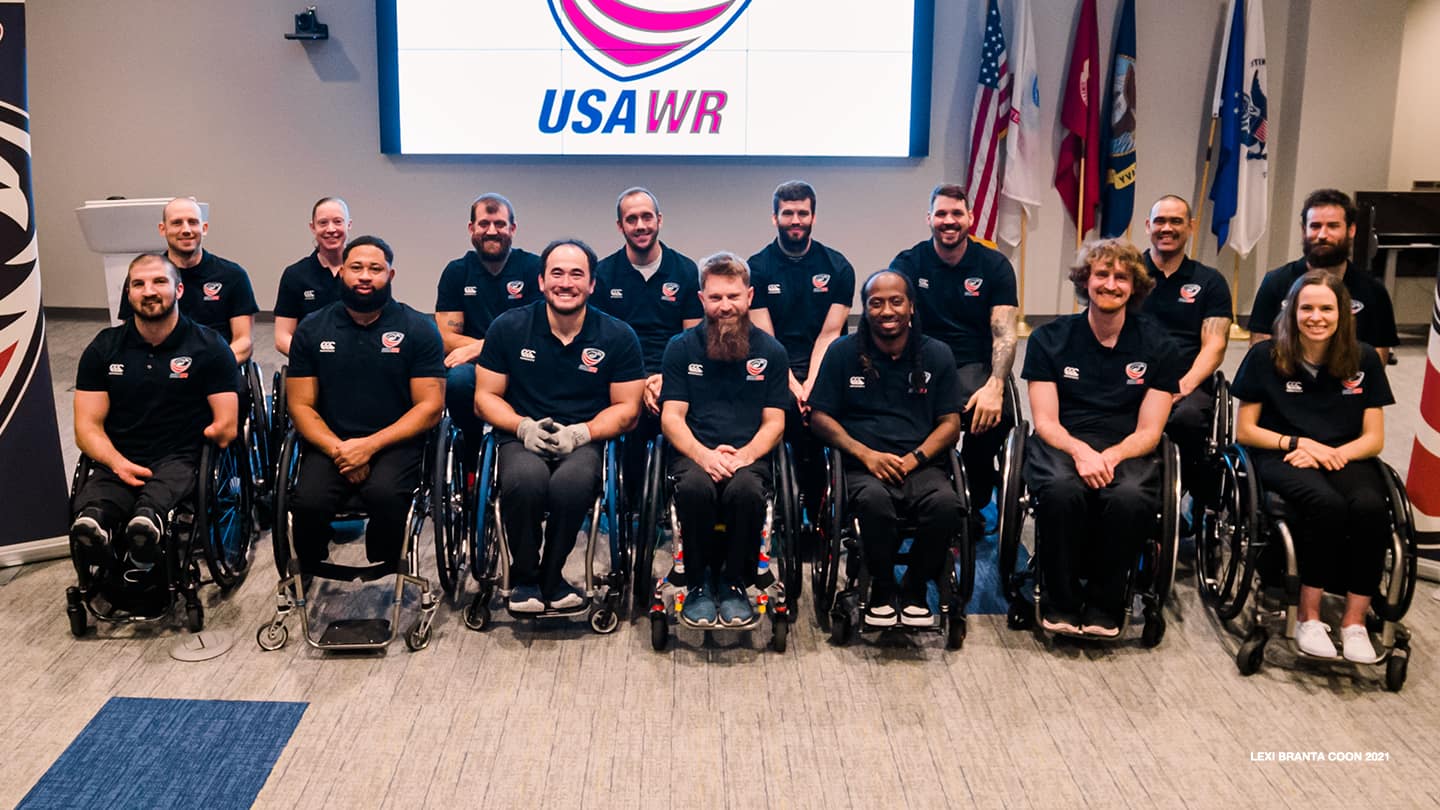 The 2022 USA Wheelchair Rugby Training Squad poses on Dec. 6, 2021 in Birmingham, Ala.
When USA Wheelchair Rugby announced its national training squad for 2022 earlier this month, two of the 16 names called were women.

To give that some context, no woman has ever competed for USA Wheelchair Rugby at the Paralympic Games.

Sarah Adam and Liz Dunn hope to change that come the Paralympic Games Paris 2024.

"It's really neat to break down barriers," said Adam, a Naperville, Illinois, native. "If it's a sport you love to play, no mater how physical or how male dominated, there's a way and there's a place for you, and women are showing that's the case in a bunch of different sports."

For Adam, it was her first tryout ever. For Dunn, she's been around the block before, having made the 16-player squad last season before just missing one of the 12 spots on the Tokyo 2020 roster that won a silver medal.

"No one knows who's ever going to make it," said Dunn, who is from Warren, Pennsylvania. "You're always waiting until the last minute to see who they choose. I wasn't sure this year because I didn't know what was going through the minds of those on the selection committee."
Wheelchair rugby has always been a mixed gender sport since it debuted at the Paralympic Games Sydney 2000, but only five women have competed at the Paralympics: Josie Pearson (Great Britain), Kylie Grimes (Great Britain), Bieke Ketelbuters (Belgium), Coral Batey (Great Britain) and Miranda Biletski (Canada).

The American women are friendly with several of those athletes, having met them at the annual women's only wheelchair rugby camp hosted by the University of Houston. They've been able to trade stories and training tips and chat about what it's like to be a minority in the sport.

"It's certainly male dominated, but I never let that steer me away from it. I like the full contact," Adam said. "(Team USA) has a great culture going on right now. I'm buying into this really supportive, positive culture. They don't treat us any differently. They don't take it easy on us just because we are the females on the court."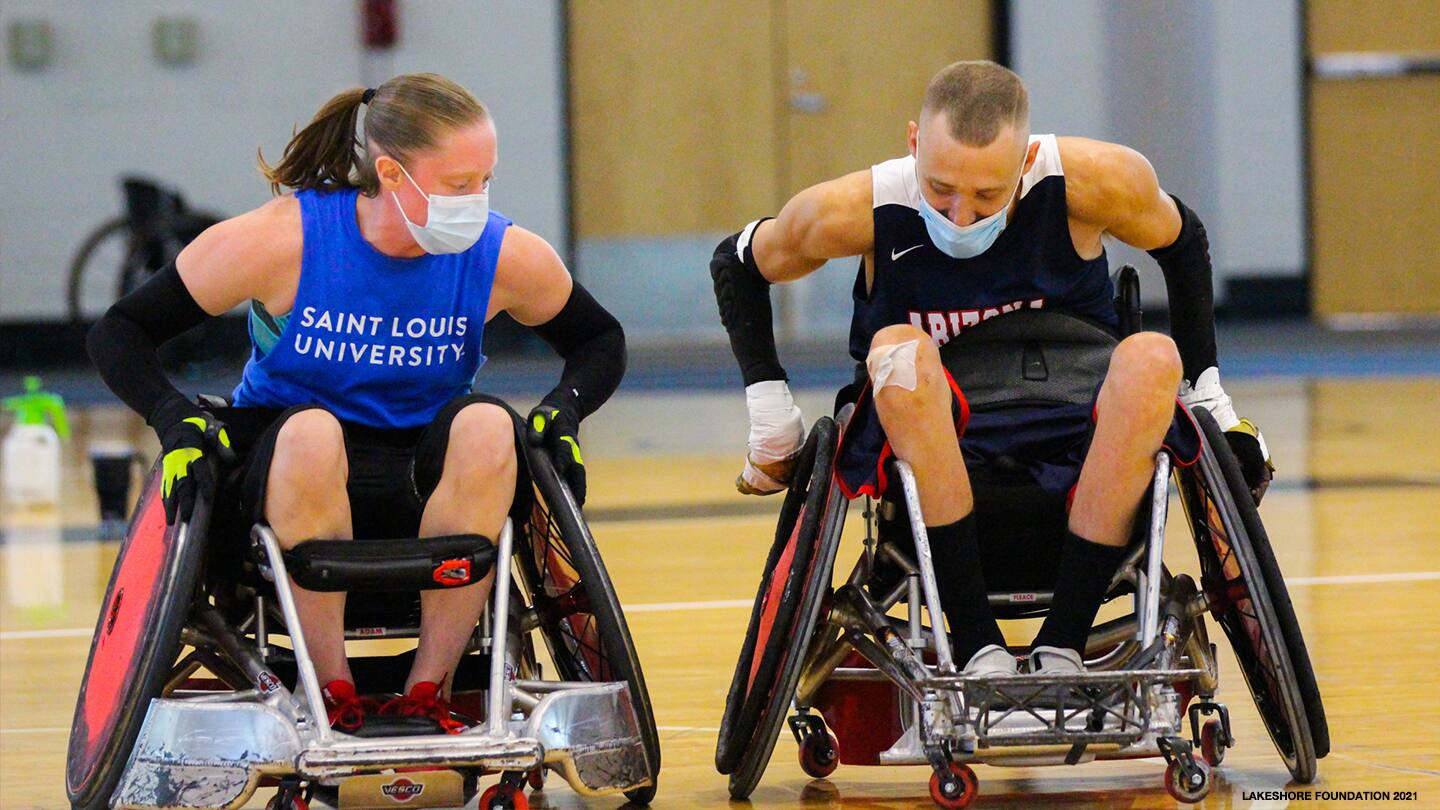 Sarah Adam plays during the USA Wheelchair Rugby selection camp during Dec. 2021 at the Lakeshore Foundation in Birmingham, Ala.
Now an occupational therapist and professor at St. Louis University, Adam grew up playing softball and was drawn to wheelchair rugby because of the team aspect. It's another sport that "feels like a chess match" since it also involves a lot of strategy.

She originally pursued the coaching route until she was diagnosed with multiple sclerosis in graduate school. "Life took some turns," and her multiple sclerosis worsened a lot quicker than she imagined it could. By December 2019, she became eligible for the sport when she was officially classified as a 3.0 player. In wheelchair rugby, players are classified from 0.5 to 3.5, with 0.5 having the most limited function. The five players on the court must have a combined number of 8.0 or less.

At the time, Adam was already friendly with USA Wheelchair Rugby assistant coach Sue Tucker, who is also based in St. Louis, "spitting out Team USA athletes left and right" and who told her: "You need to put your sights on the USA level. You've got what it takes, and you've got the athletic mindset."

It only took Adam two years.

"It's an absolute honor to be named to the training squad. I put in a lot of hard work to get here, and it's still sinking in that I made it," she said. "Usually a first tryout is an eye opener for an athlete of what it takes to compete at this level. But I went in having a very good understanding of what it takes, having been to some USA development camps."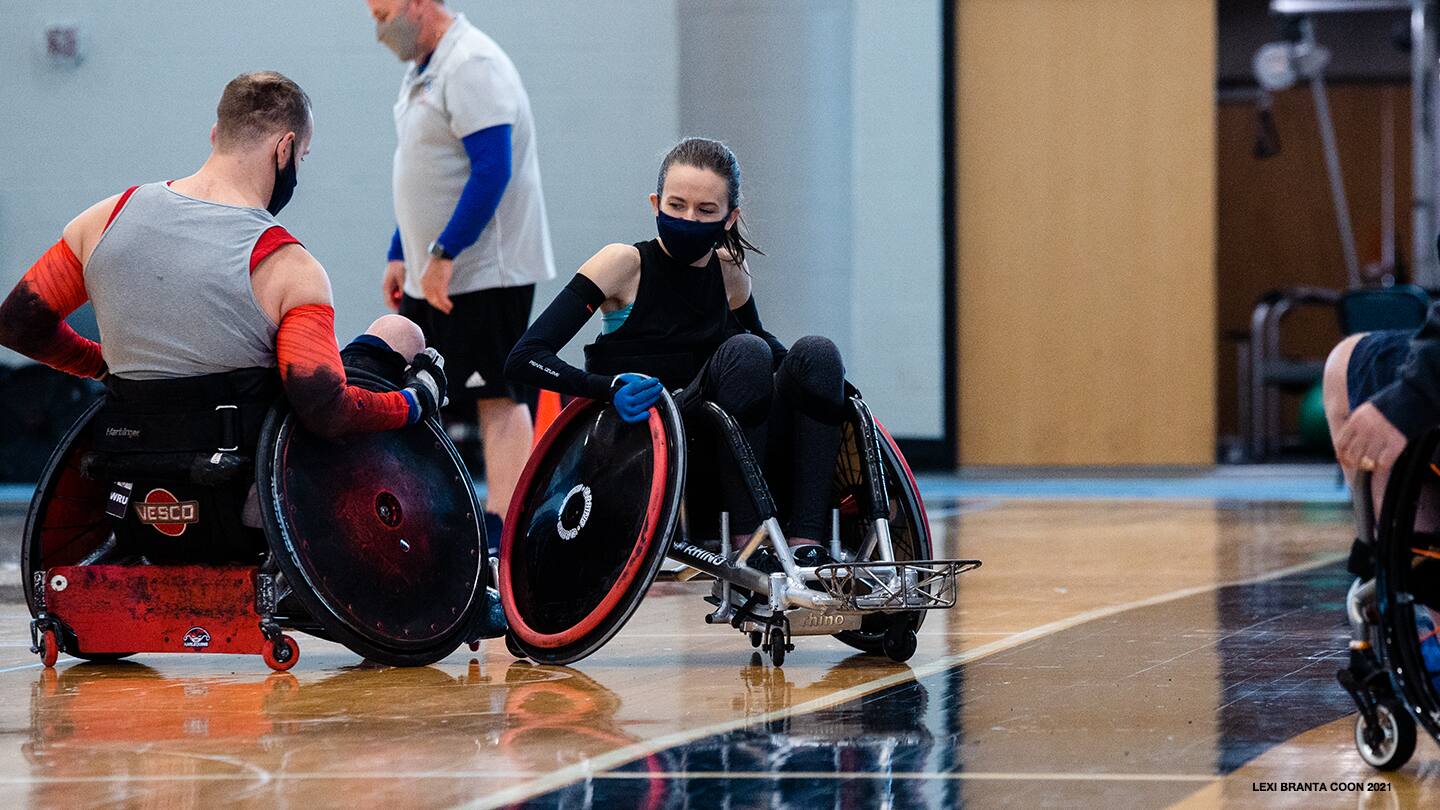 Liz Dunn plays during a USA Wheelchair Rugby training camp in 2021 at the Lakeshore Foundation in Birmingham, Ala.
Dunn, who suffered a spinal-cord injury in a car accident more than a decade ago, has been playing wheelchair rugby with the Pittsburgh Steelwheelers club team since 2013. In 2017, she committed herself toward trying to make the national squad after being befriended by Paralympic medalists Chuck Aoki and Joe Delagrave, the latter of whom was recently named the national team interim coach.

Adam and Dunn will convene again at the next national team training camp in February at the Lakeshore Foundation in Birmingham, Alabama, before competing in several international events next year including the Americas Championships in Colombia (Jan. 23-30), the Four Nations Wheelchair Rugby Invitational in Birmingham (March 14-20) and the world championships in Denmark (Oct. 8-17).

All events will be crucial measuring sticks and influence the rankings as Team USA begins its qualification process for Paris 2024, where Adam and Dunn hope to see themselves three years from now.

"It would be incredibly exciting for either of us," Dunn said.
Stuart Lieberman covered Paralympic sports for three years at the International Paralympic Committee, including at the London 2012 and Sochi 2014 Games. He is a freelance contributor to TeamUSA.org on behalf of
Red Line Editorial, Inc.