Olympic Skeet Champion Vincent Hancock Captures Sixth Career World Medal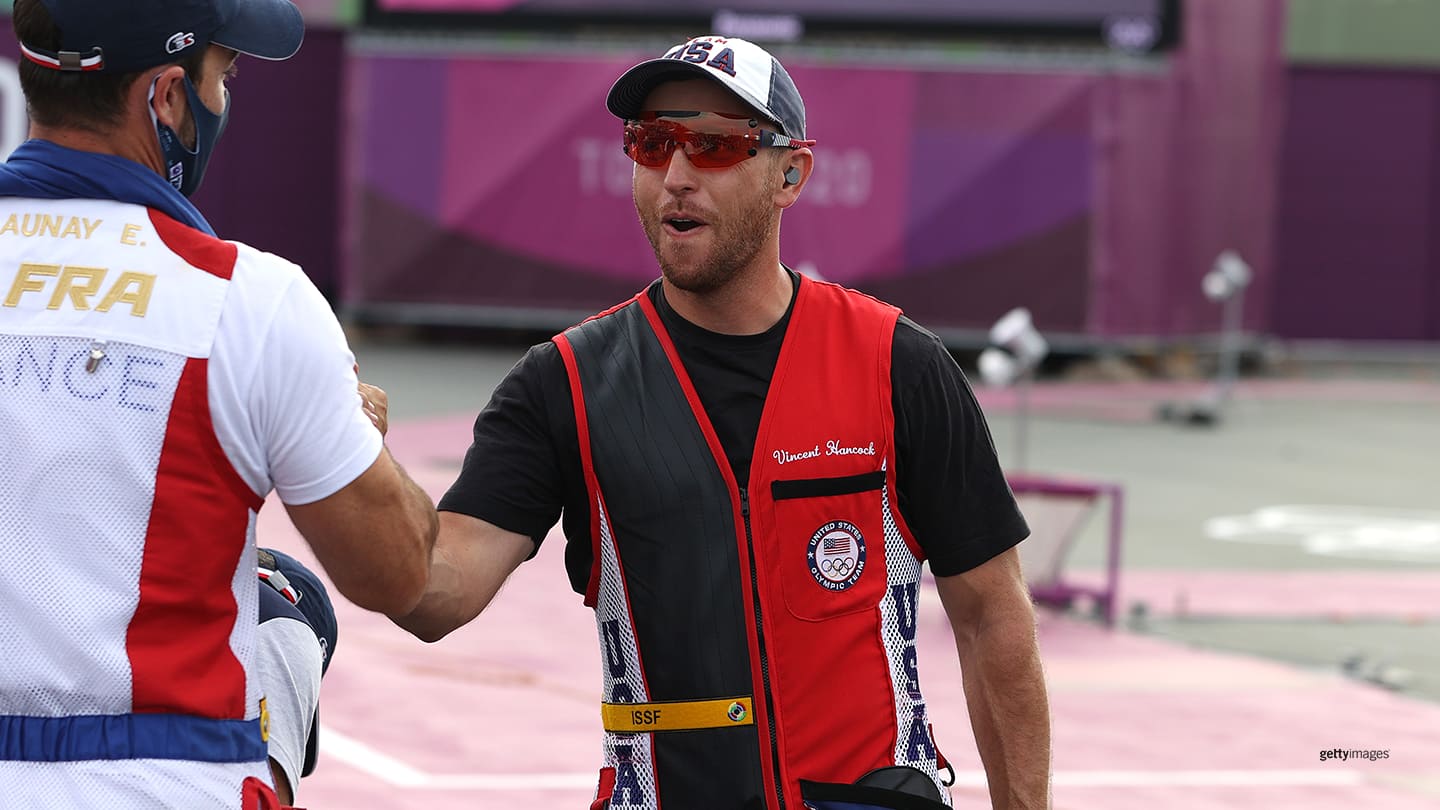 (L-R) Eric Delaunay (Team France) and Vincent Hancock following the men's skeet finals at the Olympic Games Tokyo 2020 on July 26, 2021 in Asaka, Saitama, Japan.
A pair of American shooters earned medals Sunday in skeet at the ISSF World Championship for Shotgun in Osijek, Croatia.

Vincent Hancock, a three-time Olympic champion, won the silver medal in men's skeet and Samantha Simonton walked away with a bronze medal in the women's final. Both podium finishes earned quota spots for the Olympic Games Paris 2024.

Hancock, a 33-year-old who has competed in four Olympic Games, was seeking his fifth world title since 2005. Sunday, he finished runner-up to Azmy Mehelba of Egypt, who hit 40 of 40 targets to take home the gold medal.

Hancock missed only once, hitting 35 of 36 targets. Rashid Saleh Al-Athba of Qatar took the bronze medal.

Hancock has now won six world championship medals: four golds, one silver and a bronze. The former U.S. Army Marksmanship Unit sergeant from Eatonton, Georgia, is also the defending Olympic gold medalist, having won last year at the Olympic Games Tokyo 2020. He also won Olympic gold in 2012 and 2008.

Simonton, a 22-year-old who was an alternate for last year's U.S. Olympic Team, claimed her first senior world championships medal. She hit 24 of 30 targets before being eliminated from the medal match. Olympic silver medalist Diana Bacosi of Italy won the gold medal and European champion Amber Hill of Great Britain was runner-up.

Simonton defeated U.S. teammate Austen Smith, a 2020 Olympian, to reach the medal match. Smith finished 10th last year in Tokyo.

The world championships continue Monday with the skeet mixed team event, where Hancock and Simonton will be back on the firing line.
Bob Reinert spent 17 years writing sports for The Boston Globe. He also served as a sports information director at Saint Anselm College and Phillips Exeter Academy. He is a contributor to TeamUSA.org on behalf of
Red Line Editorial, Inc.