Patience And Perspective Spurred Natalia Grossman's Rise To The Top In Women's Bouldering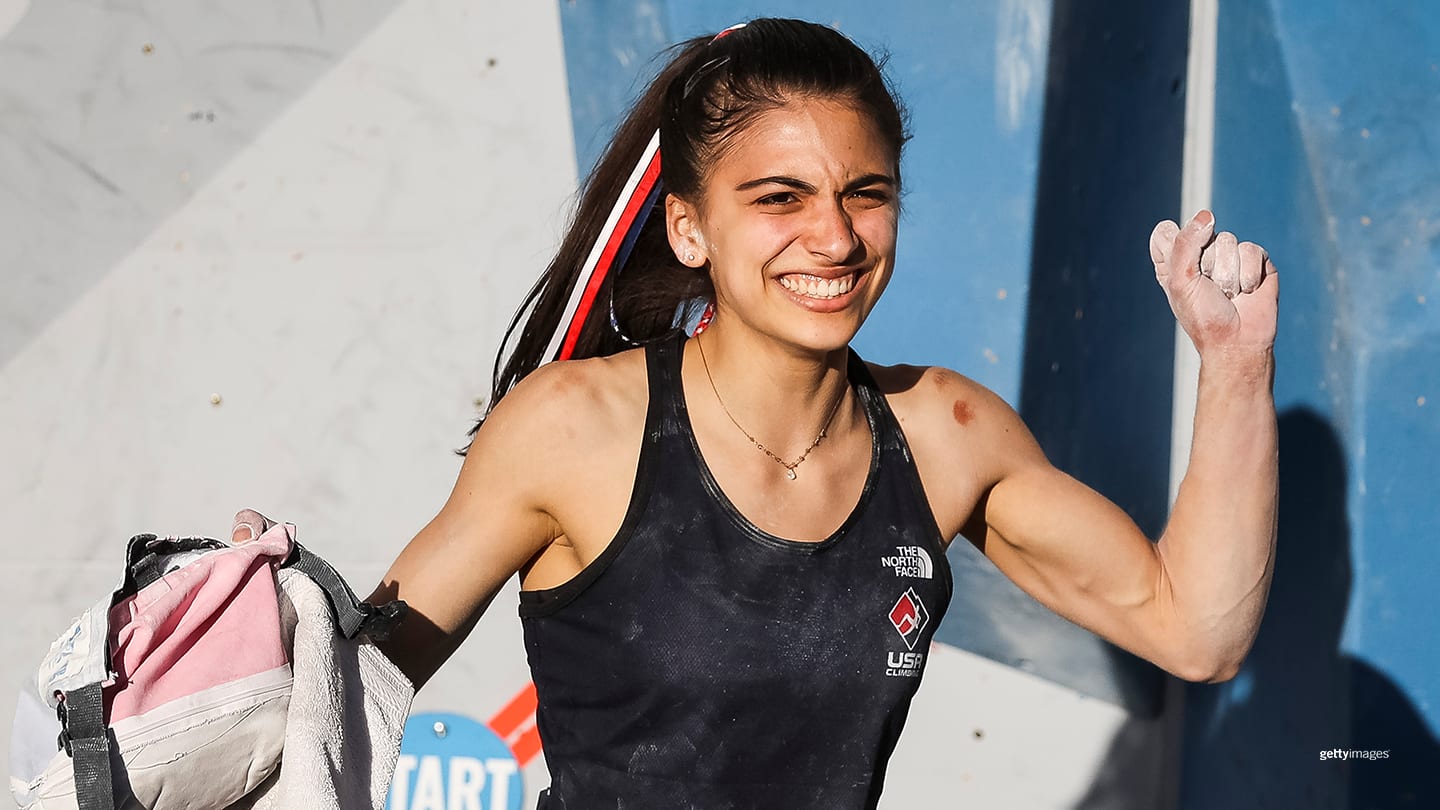 Natalia Grossman celebrates after finishing in first during the women's bouldering finals at the IFSC Climbing World Cup on May 30, 2021 in Salt Lake City.
When the world came to a screeching halt in March of 2020, Natalia Grossman had so many more questions than answers.

There was just so much uncertainty everywhere in every facet of life.

Then a teenager at 18, Grossman decided to stay positive and focus on her academics at the University of Colorado. She also managed to fit in plenty of time to train as the COVID-19 pandemic eventually eased a bit.

Still, Grossman had no idea how her athletic future would unfold. She did know this much: so much of what was transpiring worldwide was out of her control.

"There were definitely some hard times," Grossman said in a recent interview. "As hard as the pandemic was, I'll be honest — I think the pandemic actually helped me because it allowed me to focus on my studies. Even through it all, I was able to move to Salt Lake City and begin training there. I just tried to stay as positive as possible."

The positivity sure worked.

Over the weekend Grossman, now 20, captured a second straight world cup win in bouldering at an event in Salt Lake City. She'll have another opportunity for hardware this Sunday, when a second bouldering world cup is held there.

After claiming the bouldering world title in 2021, Grossman is now ranked No. 1 in the world this season and has medaled in all three world cup events so far this season. On Sunday she became the lone climber to come up with four tops and four zones in the women's competition.

All of this success for Grossman may add up with the ultimate reward — a trip to the Olympic Games Paris 2024.

Let that sink in.

"It would be so cool to be there in Paris," Grossman said. "I'm so excited for the ride and to see where it takes me. I'm so focused on climbing and having fun while living out a dream. How many people get to do that?"

When Grossman was younger, she was a typical girl with a litany of interests. Figuring out when she was going out for pizza and ice cream with her family and friends and having a normal childhood was everything.

Climbing wasn't on her radar.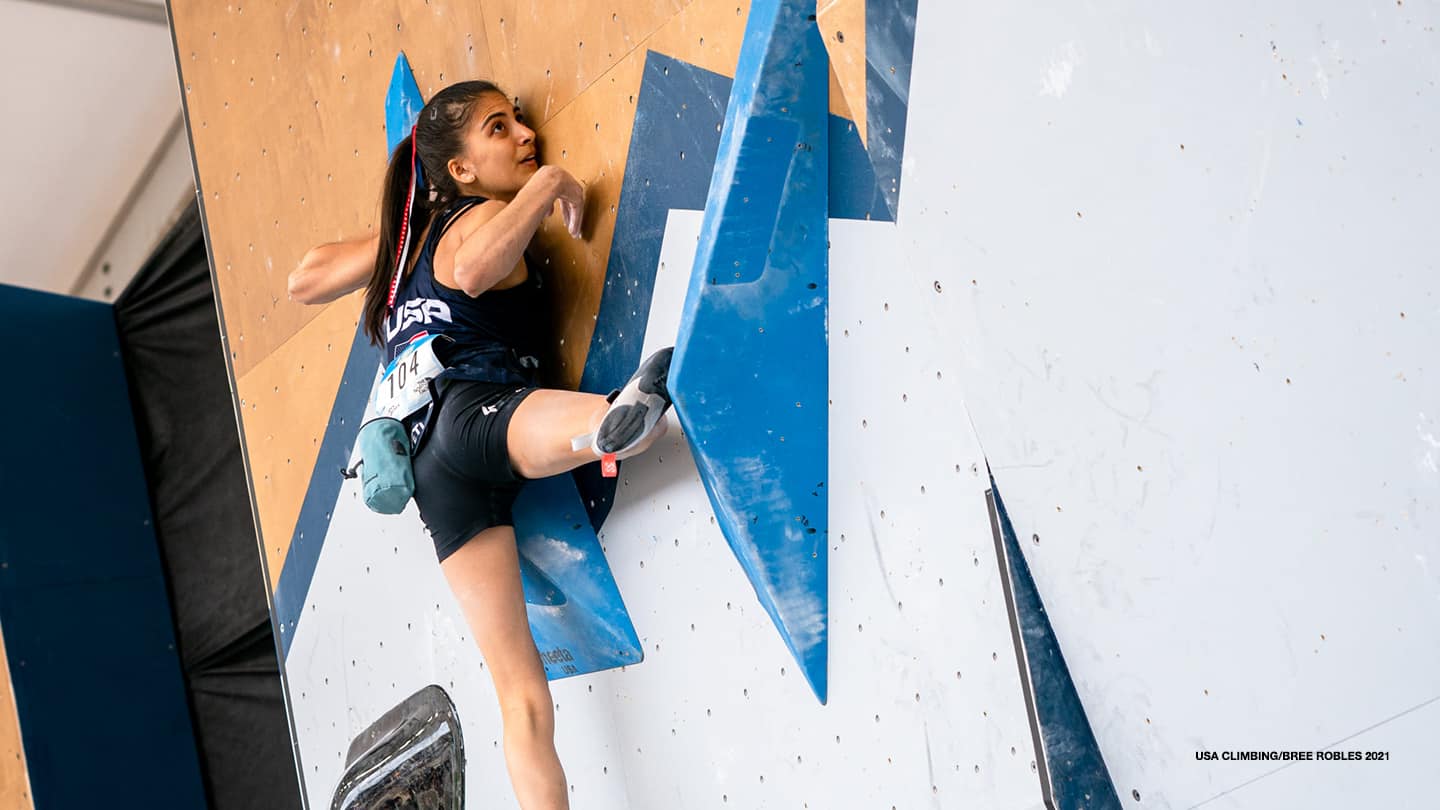 (L-R) Janja Garnbret (Slovenia), Natalia Grossman and Brooke Raboutou celebrate on the podium at the IFSC Climbing World Cup on May 30, 2021 in Salt Lake City.
Reaching the Olympics definitely wasn't much of a thought, either — after all, climbing only became an Olympic sport for the Olympic Games Tokyo 2020.

"When I was younger, I wasn't even climbing," Grossman said with a laugh. "It wasn't in my head. As I started to get older and became interested and then became very good, then I realized how my life could change. The places I've been able to travel to, it's all related to climbing. My success with climbing has given me opportunities I don't believe I ever could have had."

All of that success has given her a realistic chance of ascending to the Olympics.

Even more than that, medals are certainly realistic.

In sport climbing there are three disciplines: bouldering, lead and speed disciplines. After athletes competed in a combined event in Tokyo that encompassed all three disciplines, the Paris 2024 program will include two medal events: a combined competition of bouldering and lead events, as well as a standalone speed event. The new combined event should be a particularly good fit for Grossman, who in addition to winning the bouldering world title in 2021 also took home the world championships silver medal in lead.

"I feel like I can go pretty far," Grossman said. "I'm learning more and more all the time. Being on the world cup circuit, I'm improving. I'm excited for more and to see where this all takes me. I'm humble and excited. There's so much to look forward to."

Grossman believes that the pandemic allowed her to locate balance in her life.

After initially working through a strict training regimen, Grossman quickly realized she had to pace herself.

So she scaled back a little bit.

Clearly, whatever Grossman is doing has paid large dividends.

"I'm enjoying every second of this ride," Grossman said. "I don't put extra pressure on myself. If I do that, well then that will be a success. I'll know that I've given my best effort."

Grossman didn't qualify for the Olympics in Tokyo, where the sport made its Olympic debut.

Yet she didn't expect to, either.

Over the last year, Grossman has been ultra-successful in virtually every competition.

And she's now heavily focused on Paris.

"I'm just so grateful to have traveled the world because of my ability and success in my sport," Grossman said. "Without it, I don't think there's any way I would have seen some of the places I've gone to like Seoul, South Korea. It was so cool to be there. … Being able to travel to Paris for the Olympics would be a dream for me. Sometimes when I stop and think about what I've already accomplished, it is a bit surreal. I feel so lucky.

"I'm going to give it everything I have to work my way to Paris."