Climber Natalia Grossman Wins First World Cup In Salt Lake City Bouldering Contest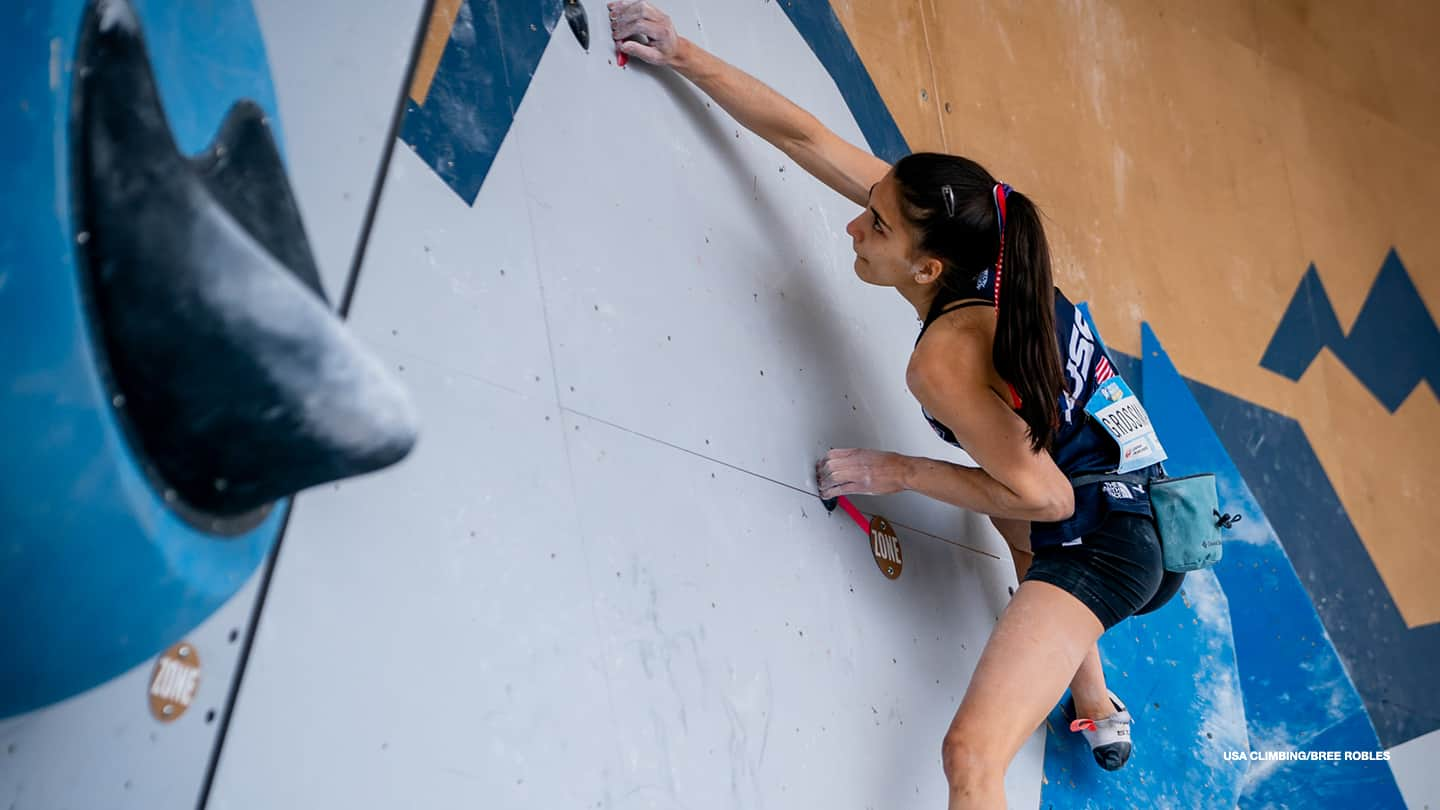 Natalia Grossman competes at the IFSC Climbing World Cup on May 22, 2021 in Salt Lake City.
As the clock ticked down into the final 30 seconds of the final climb of the women's world cup bouldering competition Saturday in Salt Lake City, Natalia Grossman's night seemed all but done.

Like the five women before her, balancing on a knife edge with nowhere to put her hands and having to launch up and grab the next hold was proving impossible.

Until it wasn't.

On her 10th attempt, the 19-year-old from Boulder, Colorado, nailed it. Competing in her second final in a row, she caught the hold and then it was just a couple quick moves to the end for her first world cup victory.

Throughout the final, Grossman was neck-and-neck with her friend and former training partner, Brooke Raboutou. Raboutou, who will represent the U.S. when climbing makes its Olympic debut in Tokyo this summer, finished in third place, with France's Oriane Bertone taking second.

Grossman was the only athlete to complete all four boulder problems in both the semifinals on Saturday morning and the finals later on that evening. In bouldering competition, athletes try to finish or get as far as they can on a series of "problems" that are low to the ground and don't require ropes. Sport climbing in the Olympics will consist of a combined event featuring bouldering, lead climbing and speed climbing.

Grossman and Raboutou, who were the last two climbers to compete, each completed the first two problems of the final on the first try. Raboutou got higher than anyone before her on her first try on the third problem, then finished it off on the second try to move into first place. Grossman made it on her third try.

Then came the fourth and final problem. Despite her best efforts, Raboutou couldn't make the dynamic leap that was the crux of the problem. Her four minutes ticked down and ended her day. Just when it seemed Grossman was about to have the same result, she came through with the big move.
Karen Price is a reporter from Pittsburgh who has covered Olympic and Paralympic sports for various publications. She is a freelance contributor to TeamUSA.org on behalf of
Red Line Editorial, Inc.