Olympian Justin Thomas Makes Record Comeback To Win PGA Championship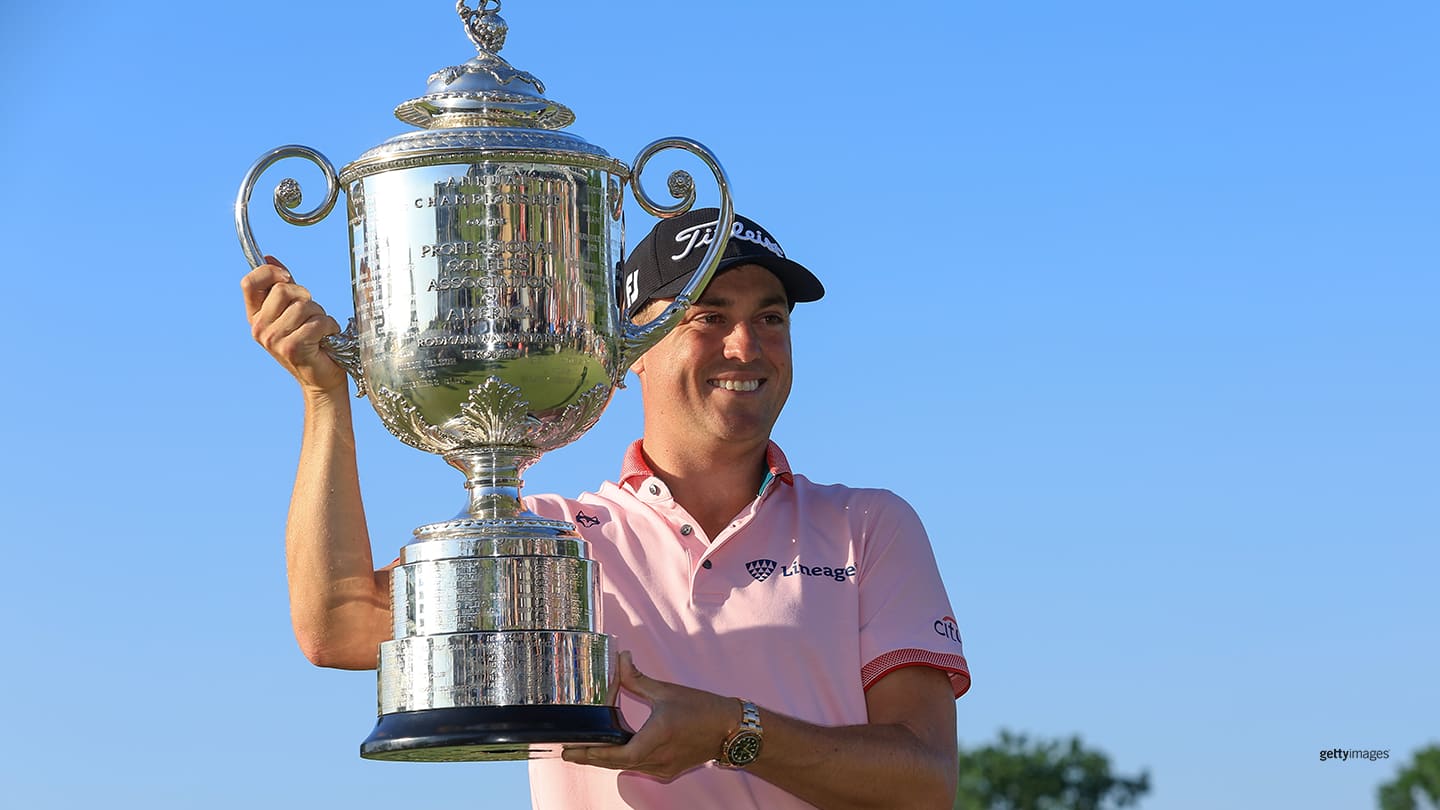 Justin Thomas poses with the Wanamaker Trophy after winning the final round at the 2022 PGA Championship on May 22, 2022 in Tulsa, Okla.
Tying the largest comeback in tournament history, Olympian Justin Thomas won his second PGA Championship in a three-hole playoff to cap a dramatic rally Sunday at Southern Hills Country Club in Tulsa, Oklahoma.

Thomas was seven strokes back on Sunday after shooting a 4-over 74 in the third round. He came out and shot the co-low round of the day at 3-under, going into the clubhouse at 5-under, tied with fellow American Will Zalatoris. All were chasing Mito Pereira of Chile, who started the day 9-under, but he faded on the back nine including doubling the 18th hole and leaving the two Americans in the playoff.

"I was asked earlier in the week about what lead is safe, and I said no lead," Thomas said afterward. "This place is so tough but if you hit the fairways, you can make birdies, and I stayed so patient, and I just couldn't believe I found myself in a playoff."

Both golfers parred the par-5 13th to open the playoff, then moved to the par-4 17th. Zalatoris and Thomas each had birdie putts, but Zalatoris misread his and slid it right while Thomas rolled his in for the advantage. On the par-4 18th, Thomas found the green with his second while Zalatoris' rolled back to the edge. Thomas was able to two-putt from there to win his second PGA title.

The seven-shot comeback tied John Mahaffey's 1978 effort as the biggest in PGA Championship history. It's also tied for the third-largest comeback in any major. Thomas faced a comeback in his first PGA Championship win in 2017, too, coming from two strokes back to win at Quail Hollow.

The 29-year-old Thomas ranks fifth in the Official World Golf Rankings. He was the top-ranked U.S. golfer at the Olympic Games Tokyo 2020, where he finished in a tie for 22nd. Gold medalist Xander Schauffele finished tied for 13th in Tulsa.
Todd Kortemeier is a sportswriter, editor, and children's book author from Minneapolis. He is a freelance contributor to TeamUSA.org on behalf of
Red Line Editorial, Inc.