Xander Schauffele Holds Off Men's Golf Field For Gold Medal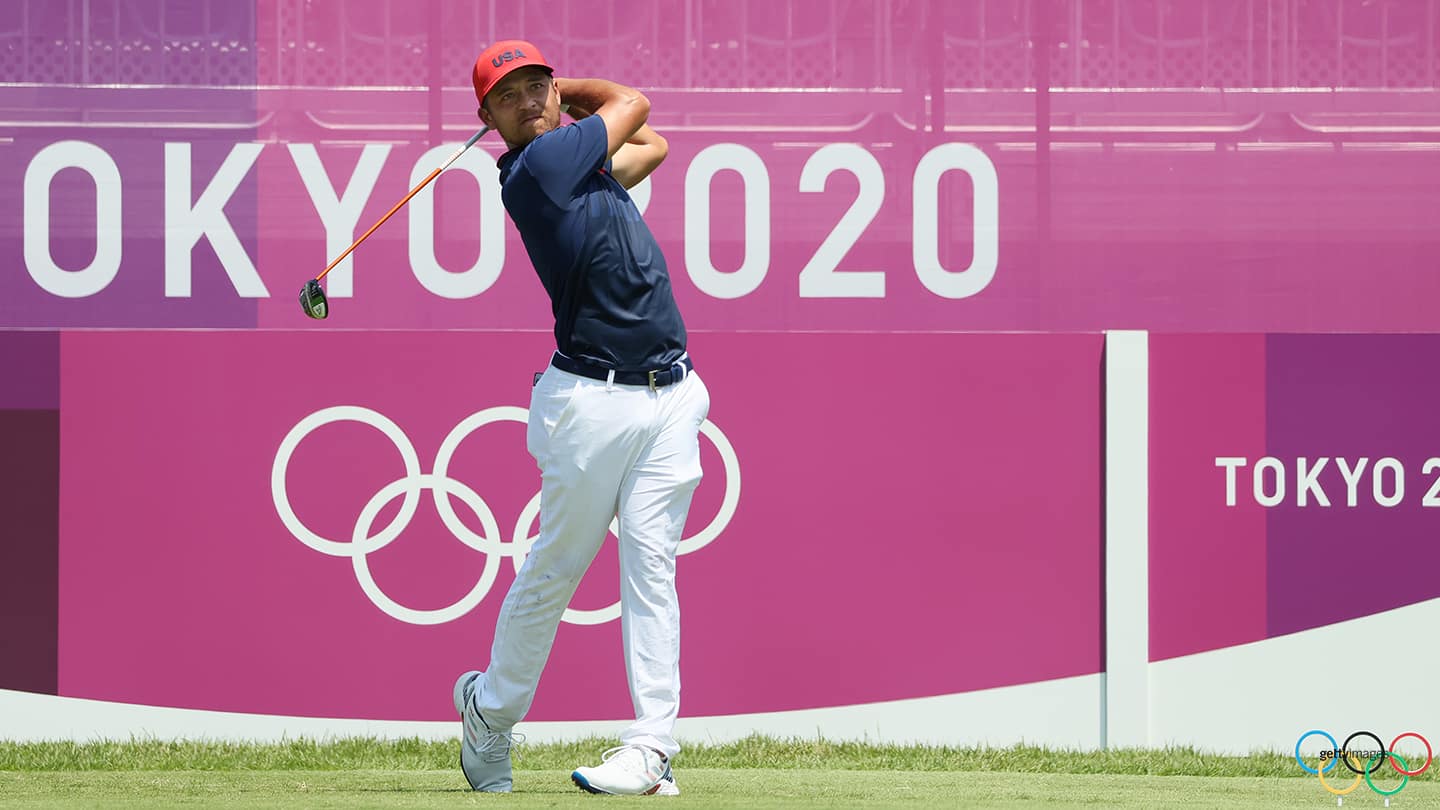 Xander Schauffele plays his shot from the first tee during the final round of the Men's Individual Stroke Play at the Olympic Games Tokyo 2020 on Aug. 1, 2021 in Saitama, Japan.

Xander Schauffele looked perfectly calm as he hit a wedge shot on the 18th hole that he knew could lead to an Olympic gold medal in men's individual stroke play.

He admitted afterward that he definitely felt the pressure of the moment.

He'd just broken away from Slovakia's Rory Sabbatini with a birdie on the 17th hole and had a one-shot lead, but his tee shot wasn't great. He needed the wedge, and he needed to nail it to take care of gold right then and there. The ball traveled just past the hole then rolled back to give him a four-foot putt for par at Kasumigaseki Country Club.

He made it, and the 27-year-old from San Diego and first-time Olympian is now an Olympic champion. He gives the U.S. its first gold medal in men's individual golf since 1900 and the first since golf returned to the Olympic program in 2016.

Afterward, Schauffele said he probably felt more pressure on Sunday than at any other time in his career.

"For me, I really wanted to win for my dad," he said. "I am sure he is crying somewhere right now. I kind of wanted this one more than any other. First up, you are trying to represent your country to the best of your ability and then you add family stuff on top of that and, you know, I'm probably going to have a nice call with my grandparents tonight. I am sure they are back home, everyone is back home watching. I was feeling the love from San Diego and Las Vegas this whole time."

"I'm a little speechless right now, quite honestly."

Schauffele's dad, Stefan, is his coach and once had his own Olympic dreams. He was hit by a car, however, heading to a training session with the German decathlon team in 1986. That accident ended his career.

His mother, Ping Yi, was born in Chinese Taipei but raised in Japan, and his maternal grandparents live in Tokyo. And his great-grandfather was a talented German track and field athlete whose shoulder injury derailed his hopes of making the 1936 Olympic team.

"This is going to take a while to settle in," Stefan said of his son's win. "I was pretty stone cold out there, to be honest with you. It was just a process we were observing. But when I talked about the podium and the anthem, I got choked up. I describe today as definitely needing a towel moment (to hide his emotions). I am very, very proud."

Schauffele shot a 4-under 67 Sunday to finish 18-under for the victory. Sabattini, who had a remarkable day with a 10-under 61, won the silver, while C.T. Pan, of Chinese Taipei, won bronze by way of a seven-man, four-hole playoff that included Team USA's Collin Morikawa. The 27-year-old, who won both the PGA Championship and Open in his first time, was also making his Olympic debut.

"It was a long four holes and I thought my shot was going to be all right and just mishit it and C.T. played great and we had to shoot 8-under for both of us to get in this playoff for bronze," Morikawa said. "So it sucks, but hopefully it's not a last and hopefully we'll be back in four years."

Justin Thomas and Patrick Reed both finished tied for 22nd at 10-under. Reed replaced Bryson DeChambeau on the team after DeChambeau tested positive for COVID-19.
Want to follow Team USA athletes during the Olympic Games Tokyo 2020? Visit TeamUSA.org/Tokyo2020 to view the medal table, results and competition schedule.
Karen Price is a reporter from Pittsburgh who has covered Olympic and Paralympic sports for various publications. She is a freelance contributor to TeamUSA.org on behalf of
Red Line Editorial, Inc.