McClain, Young, Hong Crown Golden Performance For U.S. Gymnasts In Germany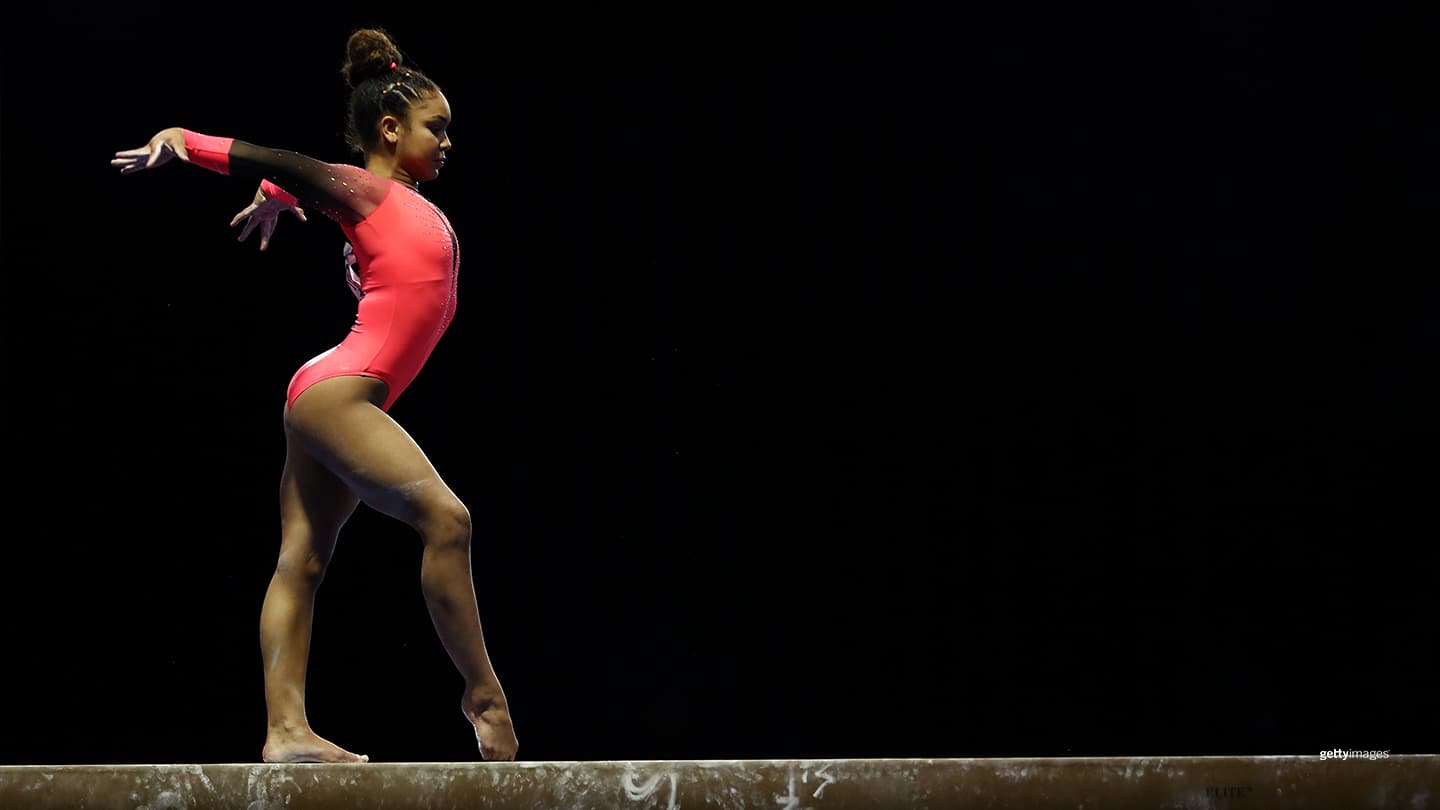 Konnor McClain competes on the balance beam during the Senior Women's 2021 Winter Cup on Feb. 27, 2021 in Indianapolis, Ind.
A post-Olympic year always means new faces in gymnastics — and the new generation of U.S. gymnasts is already proving good as gold.

Rising stars Konnor McClain, Khoi Young and Asher Hong led the U.S. women's and men's gymnastics teams to victory and accounted for four of a possible 10 individual golds at this weekend's DTB Pokal Team Challenge in Stuttgart, Germany.

McClain, who captured her first big win at last month's Winter Cup, continued her ascent with another impressive outing. The 17-year-old from West Virginia took the title on balance beam for a routine that included a sharp standing full twist and excellent two back handsprings to sky-high layout combination.

On floor, she showed a difficult full-twisting double layout and double layout in a still-new routine with jazzy, tango-inspired music for silver.

The medals were emotional for McClain, whose father Marc died from COVID-19 in December. On the backpack she carries in competition, a small "MM" patch honors his memory. "Maybe you can't come in person anymore but you will always be by my side," she wrote on Instagram.

Although an all-around title was not awarded in Stuttgart, McClain's four-apparatus total in the preliminaries — 55.665 points — stands as the highest all-around score posted in international competition this year, and it's likely to establish the teen as a medal favorite for this fall's world championships in Liverpool, England.

Both U.S. teams topped the podium by comfortable margins in the team competition, which featured a format where four gymnasts compete on each apparatus and the best three scores count toward the team total.

The U.S. women — McClain, 2021 world championships team member eMjae Frazier, junior world team medalist Skye Blakely and newcomers Nola Matthews and Ashlee Sullivan — tallied 164.929 points, 1.3 above Italy, whose team boasted 2020 Olympians Asia D'Amato and Martina Maggio.

Matthews, a 15-year-old from California, added bronze on the uneven bars.

On the more experienced U.S. men's team, Stanford freshman Young surprised 2020 Olympians Yul Moldauer and Brody Malone and Winter Cup champion Vitaliy Guimaraes to emerge as the standout, winning individual titles on pommel horse and vault.

Future Cardinal Hong took gold on still rings and silver on vault, and the U.S. men topped Italy in the team competition 249.1 to 247.8.

Stuttgart, one of the world hubs of gymnastics, is a place filled with good memories for the U.S. women. In 2019, a Simone Biles-led team won its fifth consecutive world title, and Biles' record-breaking individual performance included her fifth world all-around title.

Nearly 3,000 miles away in Egypt, Paul Juda earned silvers on floor exercise and high bar at the FIG World Cup event in Cairo. Juda, who competes for Michigan, has already made an enormous impact on the U.S. men's team — last year, his all-around performance at the Pan American Championships earned them an extra quota place at the Olympic Games Tokyo 2020.