Olympians Delaney Schnell, Katrina Young Win 10m Synchronized Diving Silver At World Championships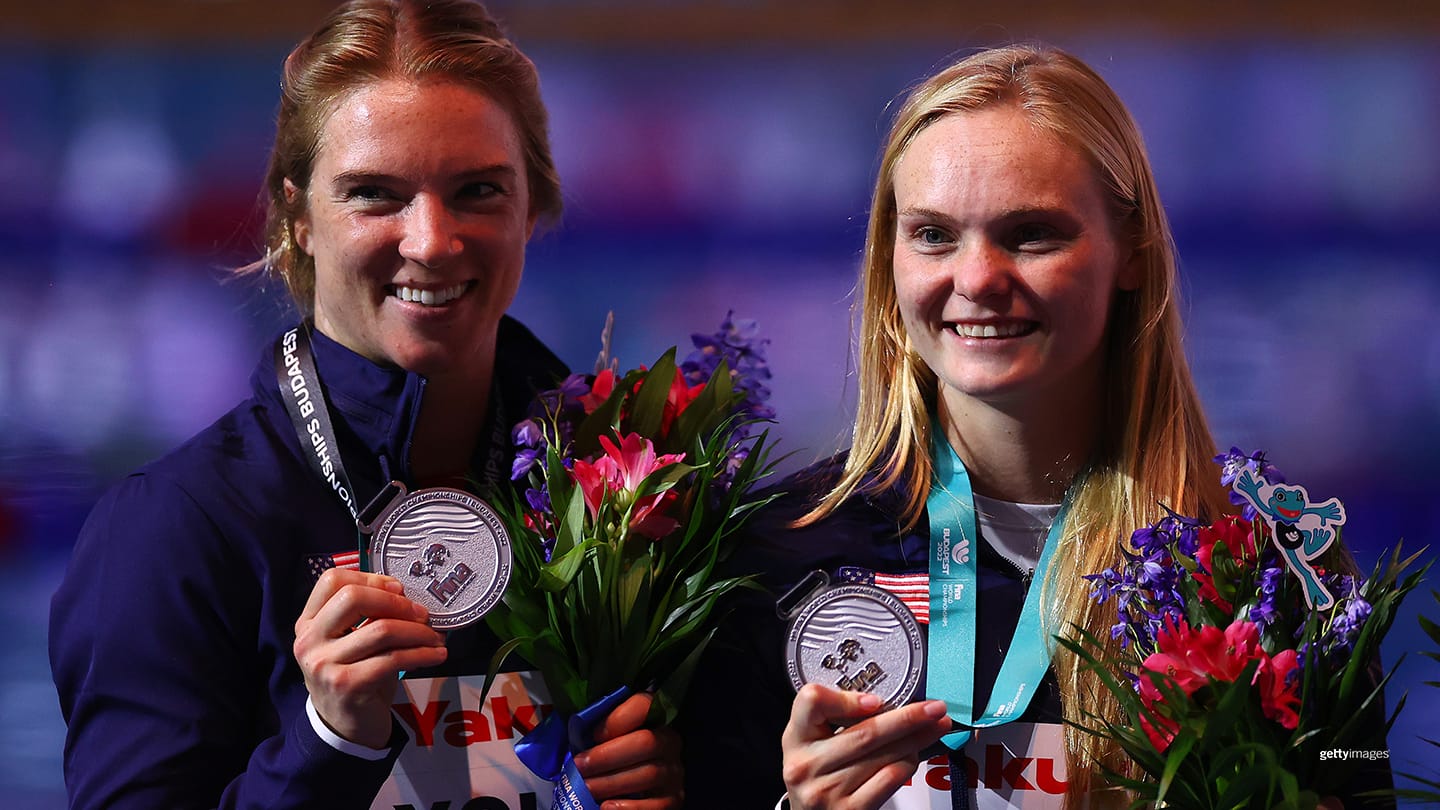 (L-R) Katrina Young and Delaney Schnell pose during the medal ceremony of the women's synchronized 10-meter platform final at the 2022 FINA World Championships on June 30, 2022 in Budapest, Hungary.
Last summer at the Olympic Games Tokyo 2020, Delaney Schnell won silver in the women's 10-meter synchronized diving alongside Jessica Parratto

Schnell matched that feat Thursday at the FINA World Championships in Budapest, Hungary, this time alongside two-time Olympian Katrina Young.

The duo of Schnell, 23, and Young, 30, posted a total score of 299.40 — 69 points behind gold-medalists Quan Hongchan and Chen Yuxi of China. Chen was one half of the duo that won gold in Tokyo, as she competed with Zhang Jiaqi.

The medal was the second for Team USA divers so far in Budapest, following Sarah Bacon's silver in the 1-meter event Wednesday. In Thursday's other diving final, Jordan Rzepka was the top American in the men's 1-meter springboard, taking sixth.

The Americans got off to a slow start in the competition, posting scores of under 44 points on their first two dives. That had them in eighth place out of the nine duos competing in the finals. They went on to post scored of 68.40, 73.92 and 70.08 in their final three dives to climb the leaderboard and secure second place.

Each point proved vital for the Americans, as they finished 0.72 points ahead of Nur Dhabitah Sabri and Pandelela Pamg of Malaysia in third and 1.56 points ahead of Matsuri Arai and Minami Itahashi of Japan in fourth.

On top of the two silvers Schnell has won over the past year, this is the second world championships medal for the Tucson, Arizona, native. She won bronze in the individual 10-meter platform in 2019. This is the third world championships medal for Young. The Seattle native won bronzes in 2019 in the 10-meter synchronized and the mixed team event.

The diving competitions continue in Budapest through Sunday.
Luke Hanlon is a sportswriter and editor based in Minneapolis. He is a freelance contributor to TeamUSA.org courtesy of
Red Line Editorial, Inc.