Caeleb Dressel's 50 Fly Win Highlights Another Big Day For U.S. Swimmers At FINA Worlds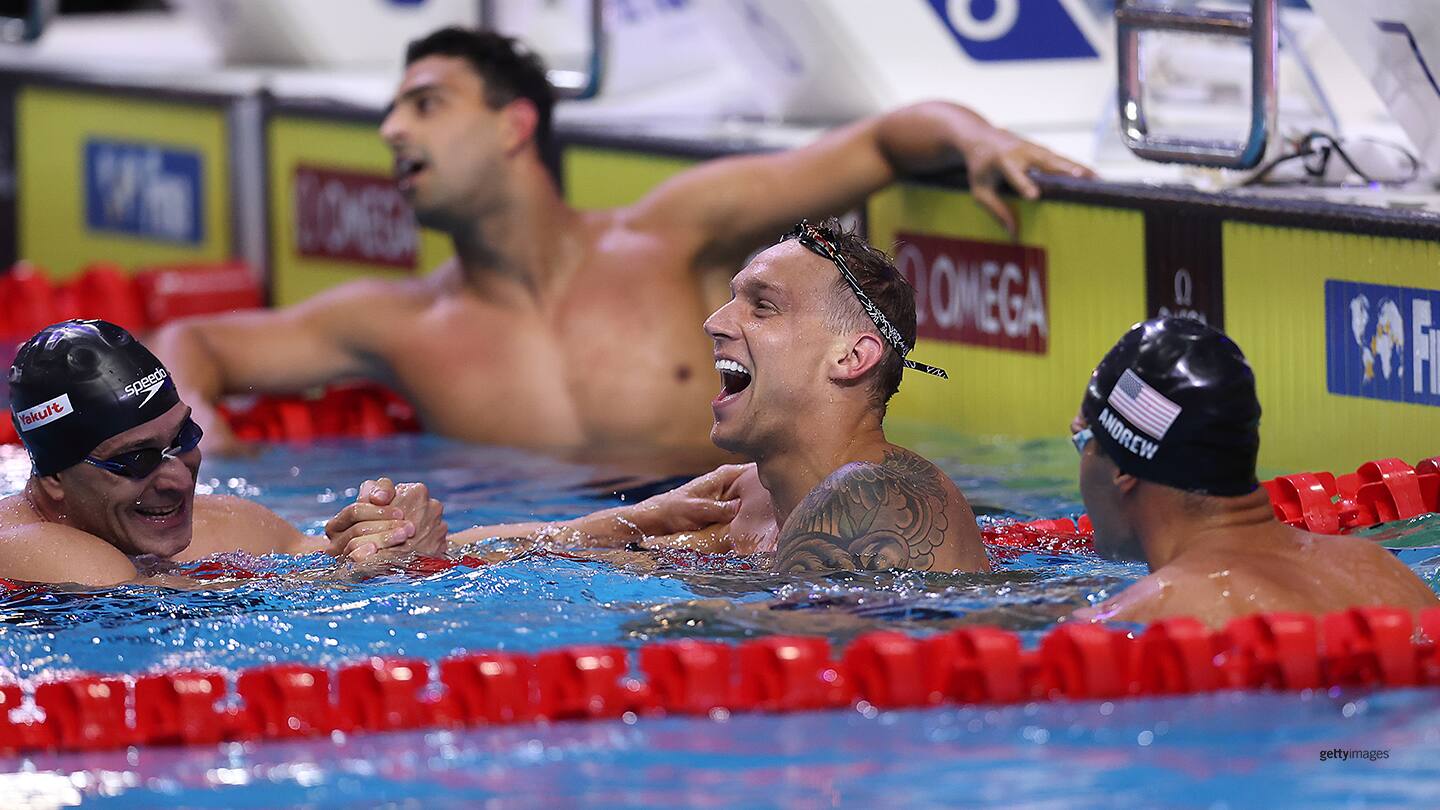 Caeleb Dressel celebrates after winning the men's 50-meter butterfly final at the 2022 FINA World Championships on June 19, 2022 in Budapest, Hungary.
The smiles and the hand-slapping began at virtually the same time Caeleb Dressel hit the wall Sunday to a 15th swimming world title.

Dressel claimed his second win in as many days while defending his title in the men's 50-meter butterfly as the FINA World Championships continued in Budapest, Hungary, leading a 1-3 American finish with a winning time of 22.57 seconds.

Dressel's win was among three for U.S. swimmers on Sunday, when Team USA claimed six total medals for the second consecutive day. It was also one of two 1-3 finishes for U.S. swimmers.

In the final race of the night, Olympic silver medalist Alex Walsh won the women's 200-meter individual medley and 16-year-old Leah Hayes finished third in world junior record time.

Torri Huske, a 2020 Olympian, claimed the other U.S. win on Sunday, claiming the women's 100-butterfly title in American record time.

Dressel earned his first individual title in Budapest after winning his first overall title Saturday in the men's 4x100-meter freestyle relay Saturday. He is also the defending Olympic and world champion in the 100 butterfly, but the 50 fly is not an Olympic event.

"It's not like an event I really train for," Dressel said. "It's just kind of comes from my 100 fly training. It's a tricky one. I don't really change my stroke too much. My stroke is pretty long for the 50. It worked, so we're good."

Michael Andrew, a 2020 Olympic relay gold medalist, finished third in 22.79 seconds to win the bronze medal.

Dressel, also a seven-time Olympic champ, will aim to defend his world titles in the 100 fly, and 50 and 100 freestyle later this week.

Walsh dominated the 200 IM from the moment she left the starting block. She cruised home for the victory in the freestyle leg, winning with a time of 2:07.13 and defeating runner-up Kaylee McKeown of Australia by almost 1.5 seconds.

"I took it out a lot faster than I normally do," Walsh said. "I just wanted to hold on in the last 50. I couldn't be happier with the time and obviously a gold medal."

Hayes, who was the last to make the U.S. world team, finished strongly to win the bronze medal in a world junior record time of 2:08.91.

"I'm overwhelmed," Hayes said.

Huske, who finished fourth in the women's 100-meter butterfly in Tokyo and missed an Olympic podium finish by one-hundredth of a second, powered to her first world championships win in the same event Sunday. She won while lowering her own American record to 55.64 seconds, defeating Marie Wattel of France by half a second.

"I'm really happy," she said. "So thankful for my support system, my coaches, my family, my friends, my teammates for pushing me every day. It's not like something you do alone, so I'm just really lucky to have all those people in my life."

Claire Curzan, a 2020 Olympian, finished fifth. Curzan also qualified Sunday for the final in the 100 backstroke along with three-time Olympic medalist Regan Smith.

Nic Fink, a 2020 Olympian, won the first world championships medal of his career when he finished third for bronze in the men's 100-meter breaststroke.

Ryan Murphy, a four-time Olympic gold medalist, finished second in his semifinal in the men's 100-meter backstroke to qualify for Monday's final.
Paul D. Bowker has been writing about Olympic sports since 1996, when he was an assistant bureau chief in Atlanta. He is a freelance contributor to TeamUSA.org on behalf of
Red Line Editorial, Inc.