News
Trenten Merill
Trenten Merrill
An Injury Sidelined Trenten Merrill, But He Was Flying High Again By Para Track Nationals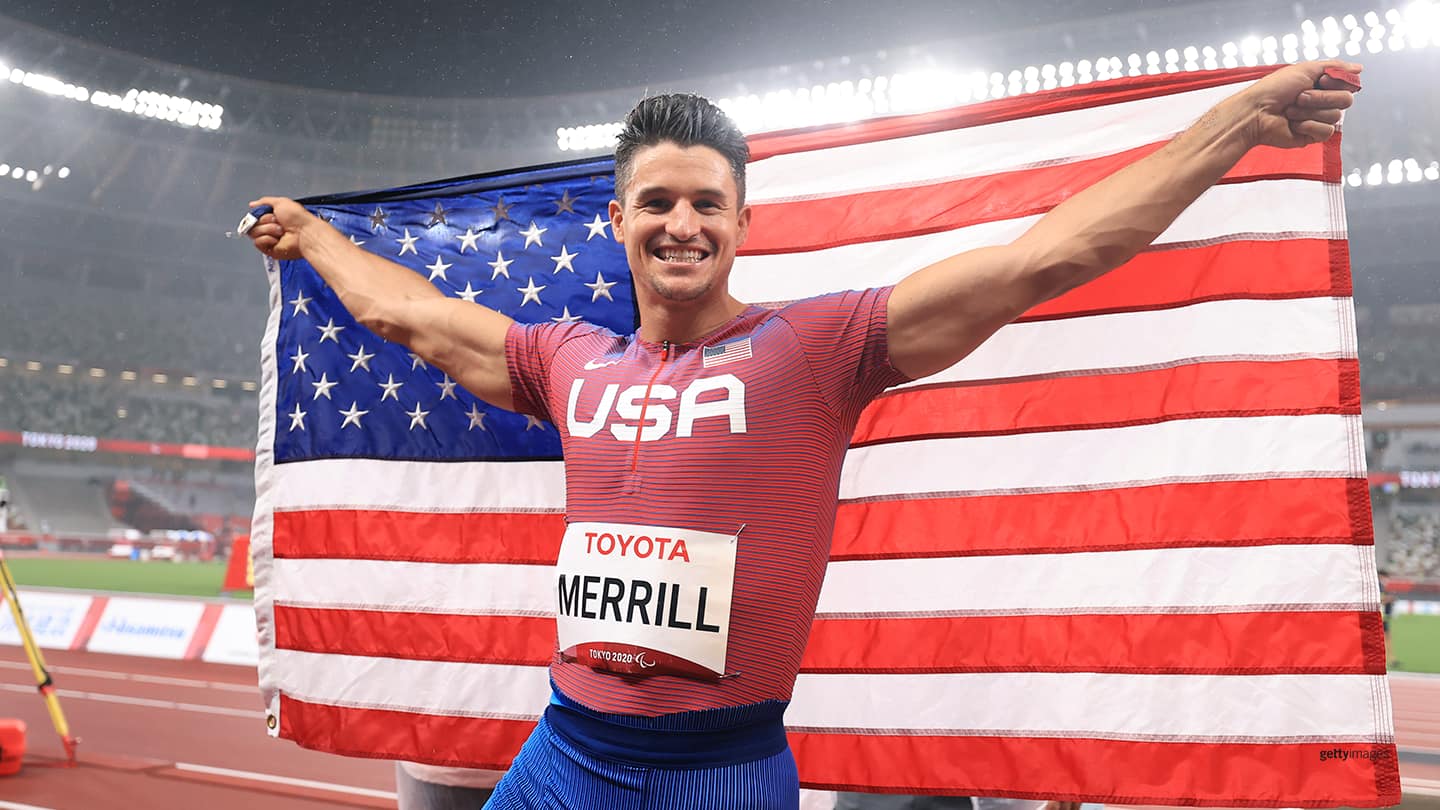 Trenten Merrill celebrates after winning the bronze medal after competing in the men's long jump T64 finals at the Paralympic Games Tokyo 2020 on Sept. 1, 2021 in Tokyo.
Trenten Merrill arrived at practice earlier this week, still unsure if he'd be able to run and jump with any sort of power.

A native of San Juan Capistrano, California, Merrill hadn't competed at a track and field meet since earning a bronze medal in the long jump at the Paralympic Games Tokyo 2020 last summer.

And if his left hamstring continued to bother him, the two-time Paralympian was prepared to miss the 2022 U.S. Paralympics Track & Field National Championships, which started Thursday in Miramar, Florida.

After testing out his sore leg with several jumps at practice Monday, he decided to go for it, even if he was at only "85-90 percent." The allure of jumping in a big meet again was too much to pass up after being sidelined for so long with the injury.

By the time he finally took to the runway Friday, any sign of rust was hard to find.

Merrill not only easily won the men's long jump T64 competition, but he did so with a new Americas record jump of 7.19 meters, beating the 7.08 he posted last year in Tokyo. Jarryd Wallace, a three-time Paralympian and 2020 bronze medalist as a sprinter, finished second at 6.33 meters.

Winning, of course, is nice, but Merrill said ahead of the competition that he wasn't too concerned with his placement in Miramar. He'd instead consider the national championships a successful meet if he had fun, stayed focused, competed with confidence, enjoyed the moment and kept things simple.

"Of course, I want to compete. I'm competitive. If you throw me into any type of competition, I'm going to compete to win," Merrill said. "But my mindset has to be focused on the process. … I'm not putting any pressure on myself.

"I'm taking all the pressure off because I don't need it. It's not going to help me putting any more added pressure. There's always an external pressure, but I don't need any more internal pressure because I'm already very internal focused."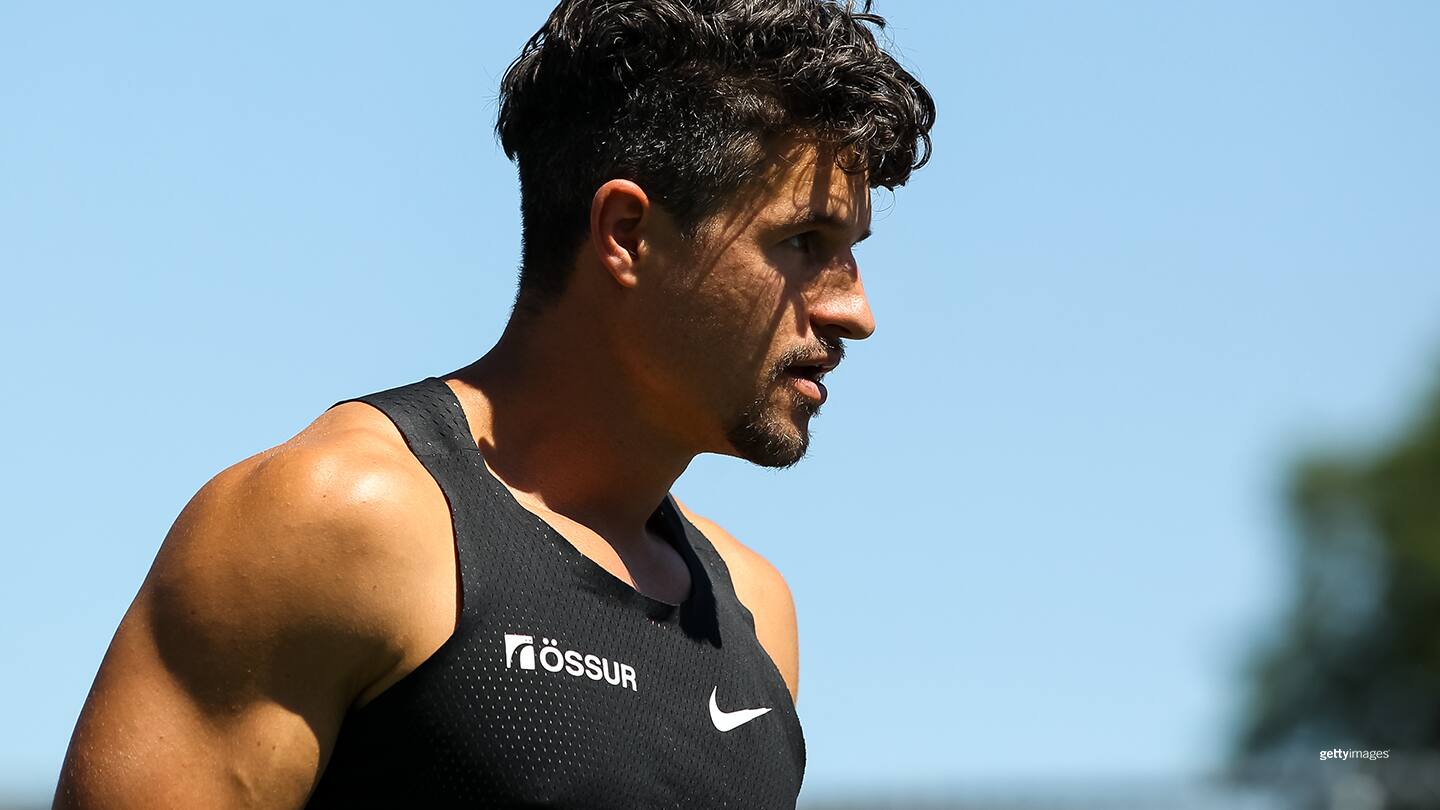 Trenten Merrill looks on after his attempt in the men's long jump ambulatory final at the 2021 U.S. Paralympic Trials on June 18, 2021 in Minneapolis.
Merrill said his left hamstring started bothering him four months ago. Unable to compete at meets, he continued training in his native California and had to find other ways to stay busy.

He did some work as a model and read books about nutrition and on ways to improve himself in business and as a person. He also traveled around the country, sharing his story with kids and addressing large audiences as a public speaker.

"It has been a blessing in disguise being injured because it allowed me to go do more public speaking opportunities where I can give back in speaking to really wealthy businesspeople and helping them with setting goals and accomplishing big goals," Merrill said.

On May 18, Merrill's 32nd birthday, he spoke to a few hundred people at a meeting for donors to the Boys & Girls Clubs of America in Las Cruces, New Mexico. It was one of the largest audiences he had ever addressed as a speaker.

"That was an amazing event," Merrill said. "It was actually on my birthday, and it was one of those cool things where I could've been doing anything else on my birthday, but I chose to go speak and kind of give back. For me, it was an interesting feeling."

Merrill's coaches left the decision on whether he'd compete at this week's national championships up to him. After feeling better at Monday's practice, he gave himself the "green light" to enter the long jump competition four days later.

"I'm still not 100 percent, but I am able to get out there and compete," Merrill said. "So for me, I'm excited because this is what I love to do. This is what I was made to do."

Merrill said he'd like to compete again in July and work this summer on testing his prosthetic long jump and sprint blades. He'd also like to continue training for the 2024 Paris Paralympics.

"I want to dial things in before 2023 because I want to go out in 2023 and I want to jump farther than I've ever jumped," Merrill said. "I want to start competing for the gold medal. I got bronze in Tokyo, so I want to get myself in a place where I can be knocking on gold-medal doors."
Alex Abrams has written about Olympic sports for more than 15 years, including as a reporter for major newspapers in Florida, Arkansas and Oklahoma. He is a freelance contributor to TeamUSA.org on behalf of
Red Line Editorial, Inc.