Swimming Began As Rehabilitation For Leanne Smith; Now She Can't Stop Winning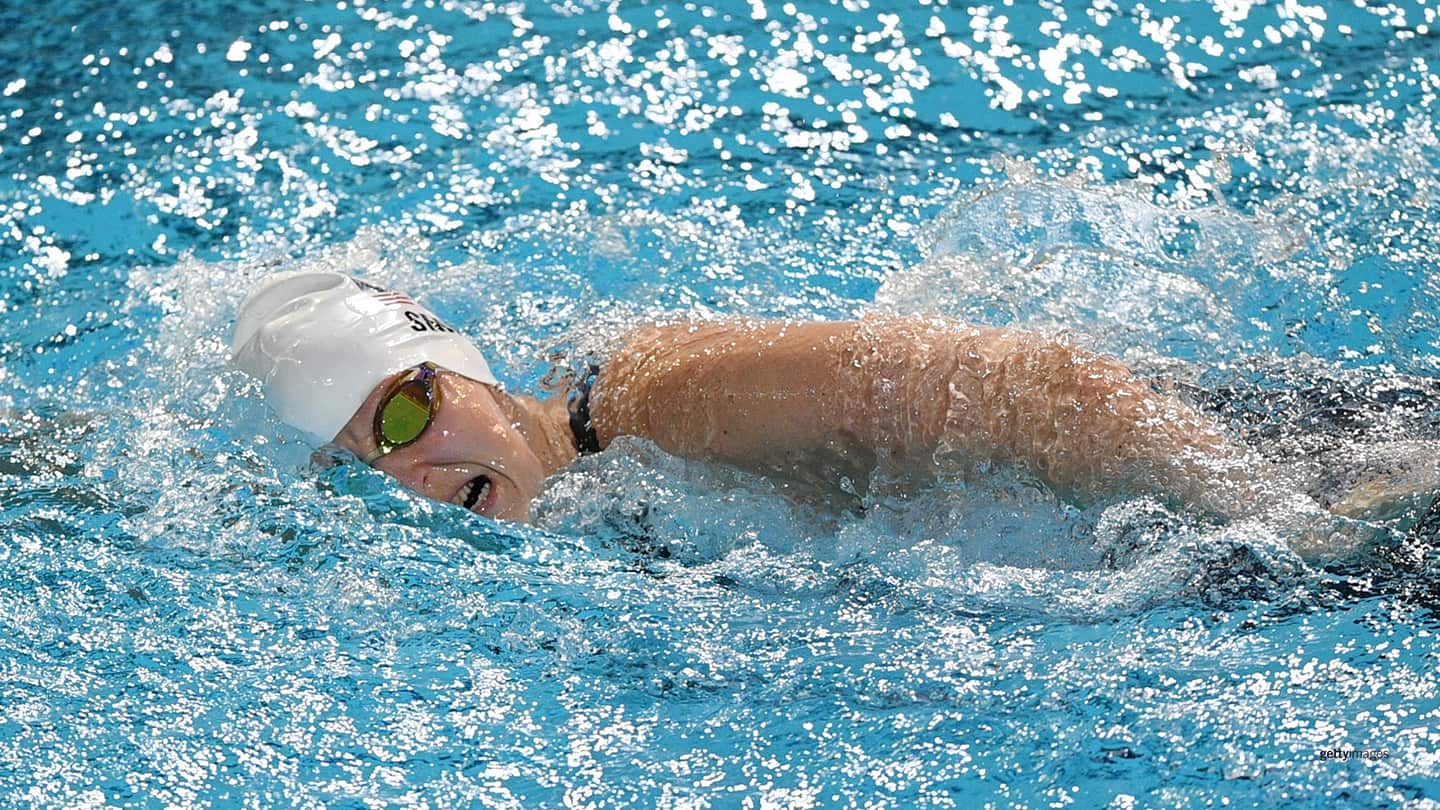 Leanne Smith competes during the women's 50-meter freestyle S3 qualification at the 2022 World Para Swimming Championships on June 16, 2022 in Funchal, Madeira, Portugal.
There was a time when Leanne Smith didn't want to swim at all.

Too scary.

After Smith was diagnosed in 2012 with dystonia, a rare neurological disease that can cause severe muscular contractions, a doctor recommended rehabilitation by water. Her prescription was to swim.

"I was so reluctant that I was not getting in the water," she said. "Swimming with no use of your legs and limited use of your arms was a really frightening task."

Smith, now 34, and a 2020 U.S. Paralympian, recalled those early swimming attempts one night this week in Madeira, Portugal, after winning her seventh career world title.

Beating a fear has turned Smith into one of the most dominant Para swimmers in the world. After four days of competition at the Para Swimming World Championships this week, Smith was 3-for-3 in individual gold medals with an American record, 1-for-1 in relay gold medals with a world record and still had three more world title opportunities to come.

Smith defended her world title in the women's 50-meter breaststroke SB3 on the first day of the world championships Sunday with an American record time 55.25 seconds. On Day 2, she defended another world title, this time in the 150-meter individual medley SM3, with a time of 2:56.94, winning by nearly 18 seconds. On Day 3, she helped the U.S. win the mixed 4x50-meter medley 20-point race in a world record time of 2:32.49. On Day 4 (Wednesday), she won the 50-meter backstroke S3 with a time of 55.08 seconds.

Thursday, Smith swims in the 50-meter freestyle, followed by the 100-meter freestyle and 200-meter freestyle Saturday.

All this comes in the shadows of Smith breaking three world records at the Para Swimming World Series held in April in Indianapolis and winning a silver medal in the women's 100-meter freestyle in her Paralympic Games debut last year in Tokyo.

"Leeanne is a fantastic athlete," said Nathan Manley, the high-performance director for U.S. Paralympics Swimming. "Honestly, she's one of the best athletes I've ever had an opportunity to work with. Has just been a star in those lower classes for us, those higher-need classes, in recent years."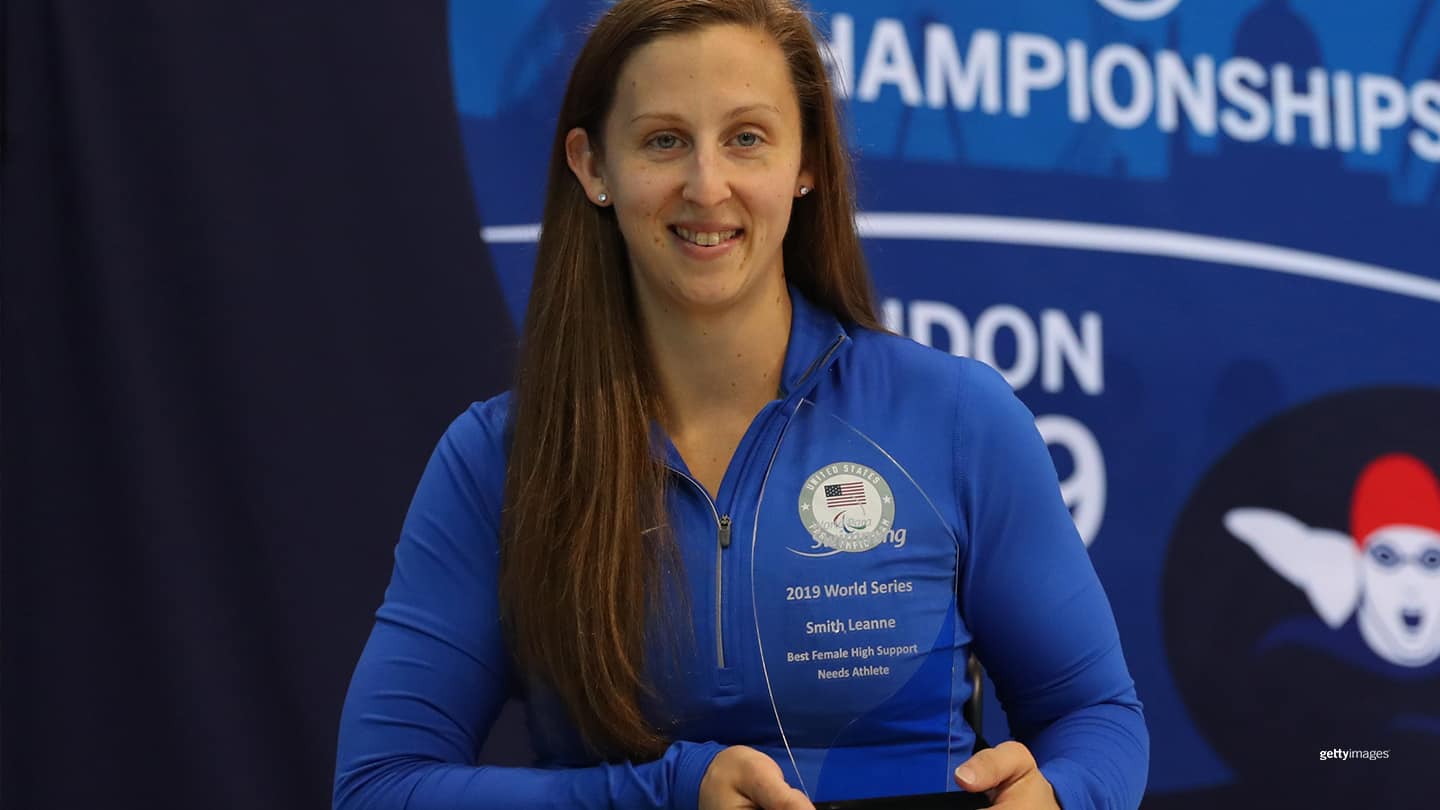 Leanne Smith poses with her Best Female High Support Needs Athlete award at the 2019 World Para Swimming Championships on Sept. 12, 2019 in London.
It all began with a physiotherapist and a coach helping her become comfortable with even going into the water nine years ago, not long after her dystonia diagnosis.

The thought of it still touches an emotional piece of Smith's soul.

"I slowly started coming around to being in the water," Smith said. "That competitive spirit kind of came back to me."

It certainly did.

By 2017, she was a resident athlete at the U.S. Olympic & Paralympic Training Center in Colorado Springs, Colorado. That same year, she set the American, Pan Am and world records in the 50-meter butterfly in the S4 classification. Two years later, she won three gold medals, plus a silver medal, at the 2019 world championships.

Smith's competitive drive led her to examine herself following the Paralympic Games Tokyo 2020. She swam in four events and ended top-five in all of them, but left with only the one silver medal.

"It was definitely a process that I've never gone through before," she said. "I took four months off after Tokyo to really reevaluate where I was in the sport. I wasn't the happiest with how I swam in Tokyo, so it was important for me to really take the time to reevaluate mentally, emotionally how I felt about the sport."

The emotional splash led her back to the water.

"At the end of the day, I did miss being in the water every day, and so (I) got back to it and have just been kind of changing my approach to training."

The results have been remarkable.

From Indianapolis to now the Penteada Olympic Pools Complex in Madeira, she can't stop making history.

The podium is her goal. Every time.

"There is no better feeling than hearing your national anthem being sung with a medal around your neck," she said.
Paul D. Bowker has been writing about Olympic sports since 1996, when he was an assistant bureau chief in Atlanta. He is a freelance contributor to TeamUSA.org on behalf of
Red Line Editorial, Inc.