Devon Allen Runs Scorching Time In 110 Hurdles At USATF NYC Grand Prix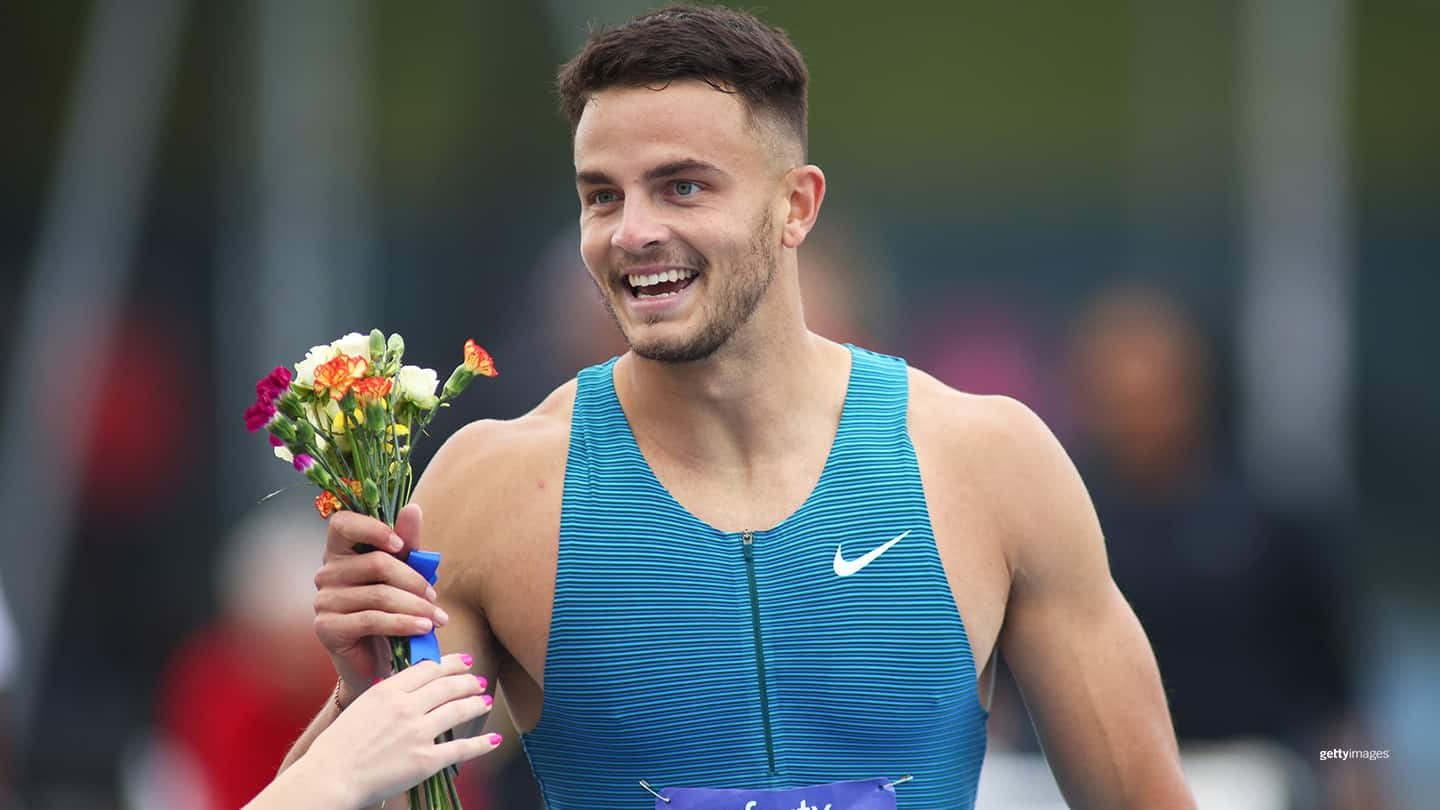 Devon Allen celebrates after winning the men's 110-meter hurdle finals at the USATF NYC Grand Prix on June 12, 2022 in New York City.
NEW YORK – Devon Allen became the third fastest high hurdler of all time and sprinters Aleia Hobbs, Sha'Carri Richardson, Noah Lyles and Christian Coleman posted blazing fast times to highlight the USATF NYC Grand Prix on Sunday.
The meet, part of the World Athletics Continental Tour, was a chance for American athletes to get in one final competition ahead of the USA Track & Field Outdoor Championships. That meet, to be held June 23-26 in Eugene, Oregon, will select the U.S. team for the World Athletics Championships in July. The world championships will also be held in Eugene, the first time the U.S. has hosted that meet.
Though the initial forecast called for rain on Sunday, the weather cooperated, and athletes were treated to warm and sunny conditions at Icahn Stadium on Randall's Island. Tail winds that were favorable but still within the legal limits gave the sprinters and hurdlers a helpful boost.

The biggest beneficiary was Allen, who clocked 12.84 seconds in the 110-meter hurdles, obliterating his previous personal best of 12.99 and becoming the third-fastest performer of all time. A two-time Olympic finalist who finished fifth at the Olympic Games Rio 2016 and 4th at the Olympic Games Tokyo 2020, he now trails only world-record holder Aries Merritt (12.80) and 2019 world champion Grant Holloway (12.81) on the all-time list. Holloway finished second on Sunday, clocking a season's best 13.06.

Allen recently signed a three-year deal to play wide receiver with the Philadelphia Eagles and is simultaneously training for two sports — which has put a considerable strain on his body. A bout with COVID-19 two weeks ago forced him to lay low, and ironically that may have helped him come to New York well rested.

"I've been feeling it for about six weeks, just some heavy legs," said Allen, who excelled at both sports as a student at the University of Oregon. "I've been trying to do four days of football, Monday through Thursday, and then my off days were on the track, Friday, Saturday, Sunday. I didn't really have any rest."

He plans to join the Eagles full time after the world championships in July, and he believes that splitting his focus with football has actually helped him with the track. "I think it makes me more relaxed and it focuses me up.

When I'm doing so much, like football and track, trying balance it both, I need to be really cautious about my recovery, my sleep, my diet, everything like that," Allen said. "It had me locked in little bit more, which obviously is working out."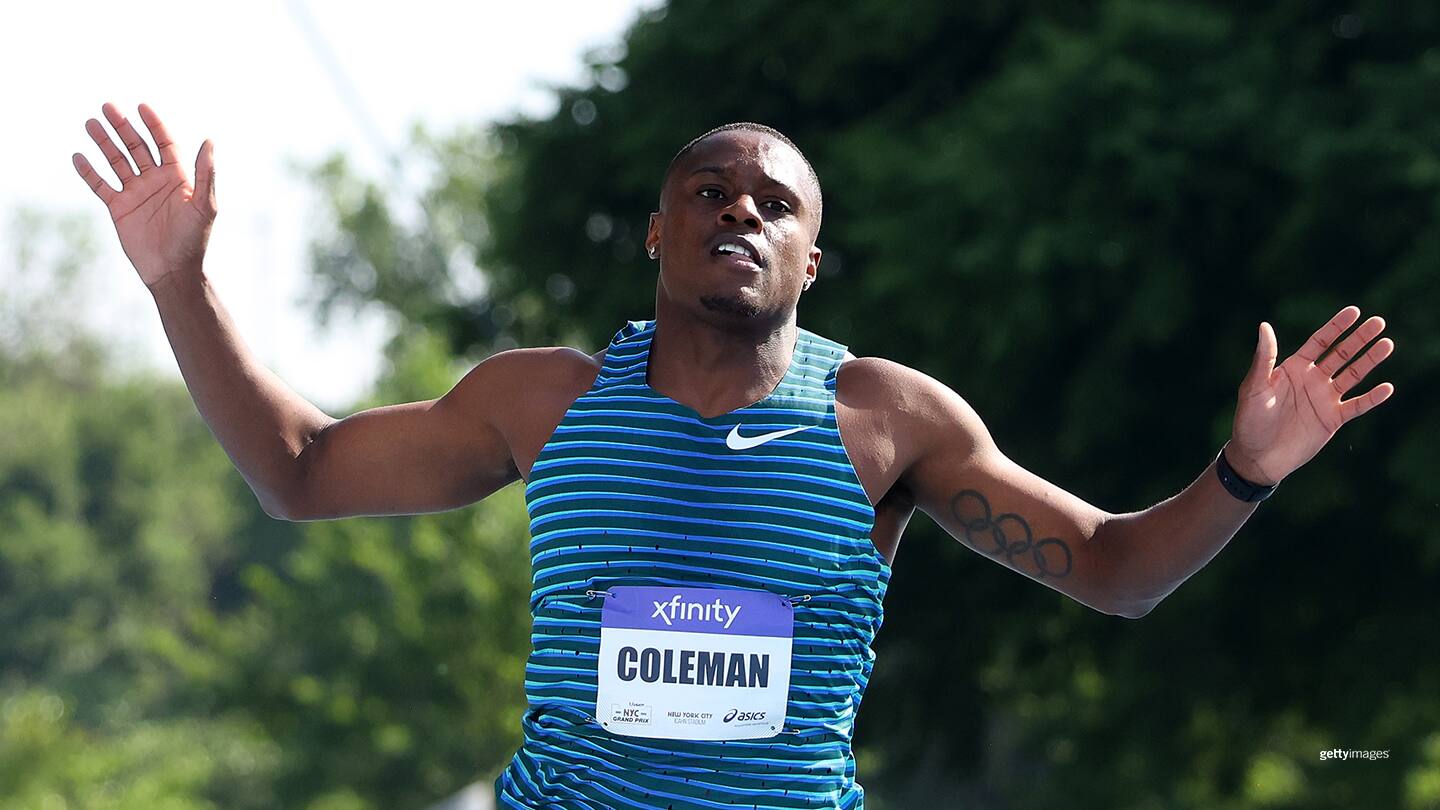 Christian Coleman celebrates after winning the men's 100-meter finals at the USATF NYC Grand Prix on June 12, 2022 in New York City.
Coleman won the men's 100-meter dash in 9.92, his first time under 10 seconds since winning the 2019 world title. He returned to the track this season after a suspension for whereabouts violations and is hungry to get back on top. His last race, at the Prefontaine Classic on May 28, was a disappointment, as he finished third in 10.04.
"I felt a lot better in the second half of my race than I did last time," he said. "To see the clock [showing a sub-10.00 time] was pretty exciting."

As defending world champion, he receives an automatic bid to this year's worlds, but he still wants to show up to the U.S. championships in top form. "It takes a little bit of the pressure off [having the wild card for worlds], because I don't necessarily have to go top three at USAs," he said. "But as a competitor I felt like going into this season I needed all the races I can get, especially in that competitive environment. So I'm ready to go out there and go to battle with those guys. I'm going to try to win in two weeks at USAs."
Another 2019 world champion who has a bye is Noah Lyles, who won the 200 in New York in 19.61, the third fastest time of his career. "I'm proud of it," he said. "I wanted it faster. I wanted to see 19.5, but I'll take 19.61."

After what he calls a disappointing performance in Tokyo — where he won the bronze medal — he's been fine tuning the mechanics of every aspect of his race. He admits that he got caught up in trying to make the Olympic team in the 100 last year, and that drew his focus away from his main event. "There's a lot of things I've implemented this season," he said. "But there's still more that I've done in practice that I want to see on the track."


Hobbs and Richardson Light Up Women's
Sprints
Hobbs won the women's 100 in a personal best 10.83 seconds, two-hundredths of a second ahead of Richardson. After struggling to get under 10.90 in wind-legal conditions over the last five years, Hobbs was filled with confidence. "I think this was probably one of my best races in a while," she said. "I still have some work to do on the finish, but it was better than before. I haven't seen a legal 10.8 in a while, so to see it now, that's a blessing."

Hobbs needed everything she had to hold off Richardson, whose 10.85 was her fastest time this year. "This is only my third 100 of the season, and my best one so far," said Richardson, whose flashy racing ensemble included fishnet sleeve and leggings. "I loved that race. It was a very good race. I feel phenomenal about it."

A little over an hour later, Richardson came back to win the 200 in 22.38. She rarely runs the event, but wanted to get a qualifying time for the U.S. championships. "The 200 is actually the reason why I started running, so the fact that I was able to do it again is phenomenal," she said.

She was a fan favorite in New York, with swarms of young girls screaming her name and following her around for selfies and autographs — with Richardson happily obliging. "They're the next generation. They're gonna be on the track performing and I just want them to know they should do it their way, don't let limitations get to them," said Richardson, who became a mainstream media sensation last summer after she won the Olympic Trials but subsequently had to miss the trip to Tokyo because of a one-month suspension for marijuana.

Other winners on Sunday included Ajee' Wilson (2:00.62) and Bryce Hoppel (1:45.07) in the 800-meter runs, Quincy Hall in the men's 400 hurdles (48.75), Jessica Ramsey in the women's shot put (18.90 meters, 62 feet, 1/4 inch), Donald Scott in the men's triple jump (16.81 meters, 54 feet, 6 inches) and Alaysha Johnson, who took the women's 100 hurdles in 12.40, the fastest time by an American this season.
Rich Sands is a New York City-based freelance editor and writer and has been a correspondent for Track & Field News since 1995, covering the sport at the high school, college and professional levels. He was previously an editor at TV Guide Magazine, overseeing the magazine's Olympic coverage.