Olympic Champs Mensah-Stock, Snyder Capture World Team Spots At Final X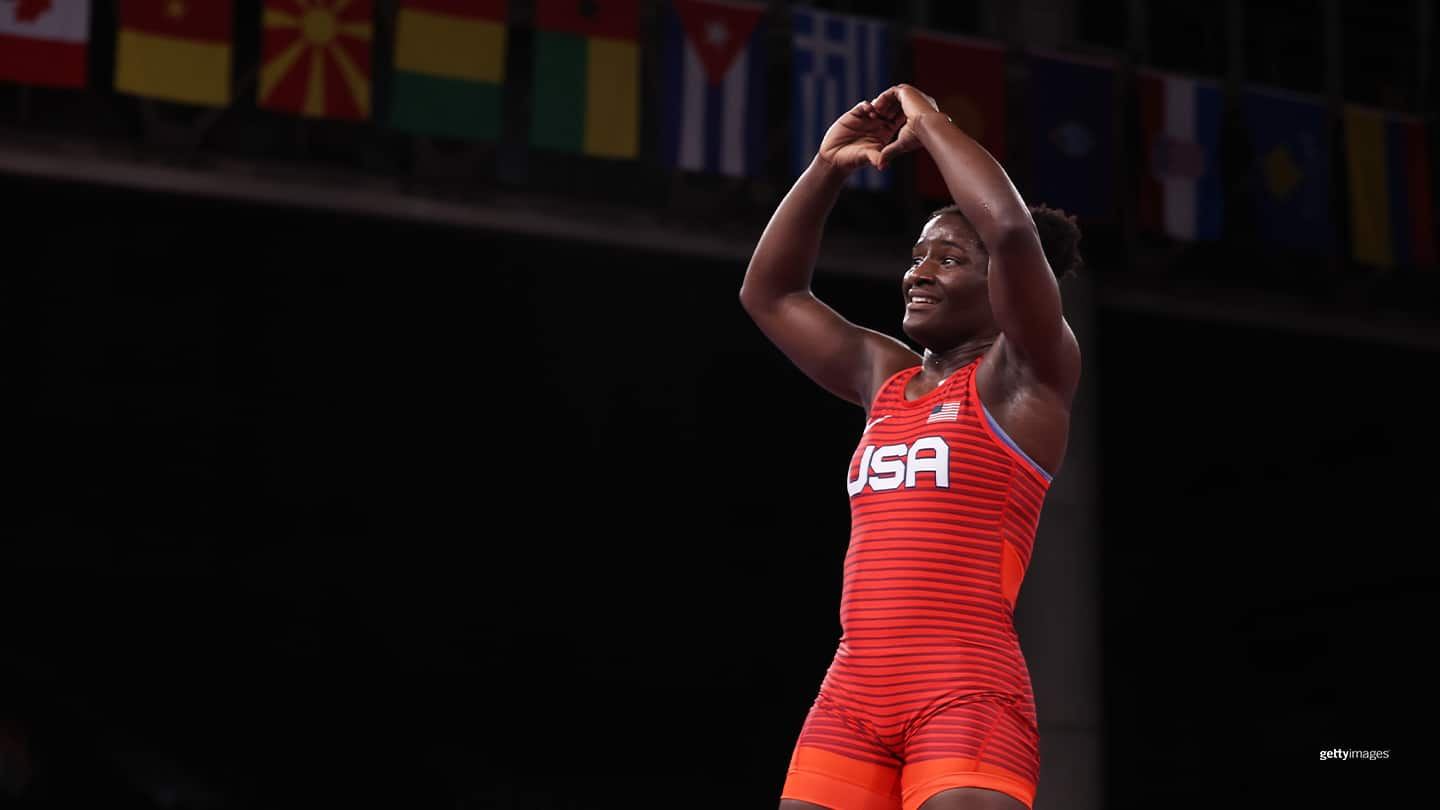 Tamyra Mariama Mensah-Stock celebrates after defeating Blessing Oborududu (Team Nigeria) during the women's freestyle 68kg gold-medal match at the Olympic Games Tokyo 2020 on Aug. 3, 2021 in Chiba, Japan.

Olympic wrestling champions Tamyra Mensah-Stock and Kyle Snyder punched their tickets to the 2022 UWW World Championships with wins Friday night in the Final X event in Stillwater, Oklahoma.

Mensah-Stock, the 2019 world champion, swept her best-of-three series against Sienna Ramirez in the 68 kg. weight class, defeating Ramirez 10-0 in a technical fall in their second match Friday night at Gallagher-Iba Arena in Final X Stillwater. She is coming off her first Olympic gold medal last summer in Tokyo.

Snyder, who has been one of the world's most dominant freestylers in men's 97 kg. since 2015 when he won his first world title in Las Vegas, qualified for a world team spot with a sweep against former Ohio State teammate Kollin Moore. Snyder clinched his spot with a 12-2 technical fall, extending an impressive streak. The victory put Snyder, a 2016 Olympic gold medalist and 2020 Olympic silver medalist, on a U.S. Olympic or world championships team an eighth consecutive time. He's won a medal in each one.

Snyder and Mensah-Stock are among 15 whose wins qualified them to compete for Team USA in the world championships, which take place Sept. 10-18 in Belgrade, Serbia. Final X New York, set for June 8 at the Hulu Theater at Madison Square Garden, will determine the final 15 world team spots in men's freestyle, Greco-Roman and women's freestyle.

Five of the 15 matchups Friday went to a third and deciding match in the best-of-three format. One of them, in the men's freestyle 70 kg. class, was decided by a single point. Zain Retherford scored a 4-3 victory over Jordan Oliver.

In other matches going the full three sets, Mallory Velte defeated Forrest Molinari in women's 65 kg., two-time world champion and 2016 Olympic bronze medalist J'den Cox defeated Nate Jackson in men's freestyle 92 kg., Seth Gross defeated Daton Fix in men's freestyle 61 kg. and Benjamin Peak defeated Patrick Smith in Greco-Roman 72 kg.

Others winning world team berths, by two consecutive wins, were 2019 world champion Jacarra Winchester, women's 55 kg.; Abigail Nette, women's 59 kg.; Dymond Guilford, women's 76 kg.; Max Nowry, Greco-Roman 55 kg.; 2012 Olympian Jesse Thielke, Greco-Roman 63 kg.; two-time Olympian Ben Provisor, Greco-Roman 82 kg.; Cohlton Schultz, Greco-Roman, 130 kg.; and Thomas Gilman, a defending world champion and Olympic bronze medalist, men's freestyle 57 kg.
Paul D. Bowker has been writing about Olympic sports since 1996, when he was an assistant bureau chief in Atlanta. He is a freelance contributor to
TeamUSA.org
on behalf of
Red Line Editorial, Inc.