Lucas Kozeniesky Reaches The Podium Again At Shooting World Cup In South Korea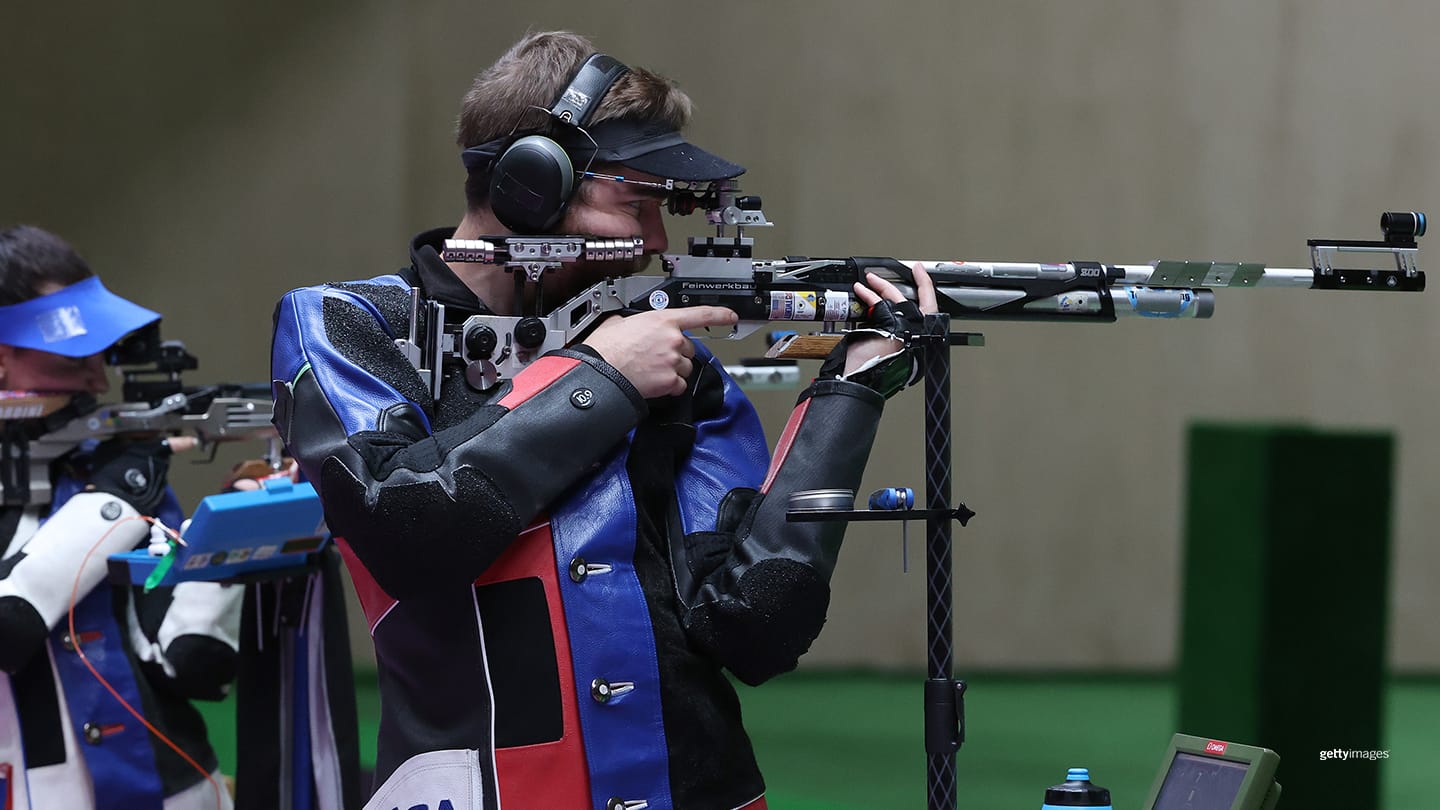 Lucas Kozeniesky competes during the 10-meter air rifle mixed team gold-medal match at the Olympic Games Tokyo 2020 on July 27, 2021 in Asaka, Saitama, Japan.
Nearing the one-year anniversary of his Olympic silver medal in Tokyo, Lucas Kozeniesky scored a silver medal in the men's 10-meter air rifle event this month at the ISSF World Cup in Changwon, South Korea.

Kozeniesky, of Colorado Springs, Colorado, was the lone U.S. medalist in Changwon, which wrapped up 11 days of competition on Wednesday.

Competing on the event's first day, Kozeniesky ranked just seventh after the qualifying round but moved up to second in the ranking match to earn a head-to-head showdown with India's Arjun Babuta for the title.

Babuta, a former medalist at the world junior championships, secured his first major win on the senior level by defeating Kozeniesky, 17-9.

The silver medal was Kozeniesky's third medal so far this year on the world cup circuit, after previously winning a gold and bronze in Rio de Janeiro. Both of those came in team events.

Kozeniesky also won his first Olympic medal last year in a team event, pairing with Mary Tucker to take the silver in the 10-meter air rifle mixed team event. That marked the first time the event was contested at an Olympics.

Kozeniesky is well traveled. Born in Louisiana, he graduated from high school in Virginia before attending college at NC State, where he became the first Wolfpack shooter to be named an All-American since 1975. He made his Olympic debut in 2016.

The next major international events on the horizon for shooters are the world championships, which are set for September and October in Croatia and Egypt.
Chrös McDougall has covered the Olympic and Paralympic Movement for TeamUSA.org since 2009 on behalf of
Red Line Editorial, Inc.
He is based in Minneapolis-St. Paul.