Lucas Kozeniesky And Mary Tucker Take Silver In Air Rifle Mixed Team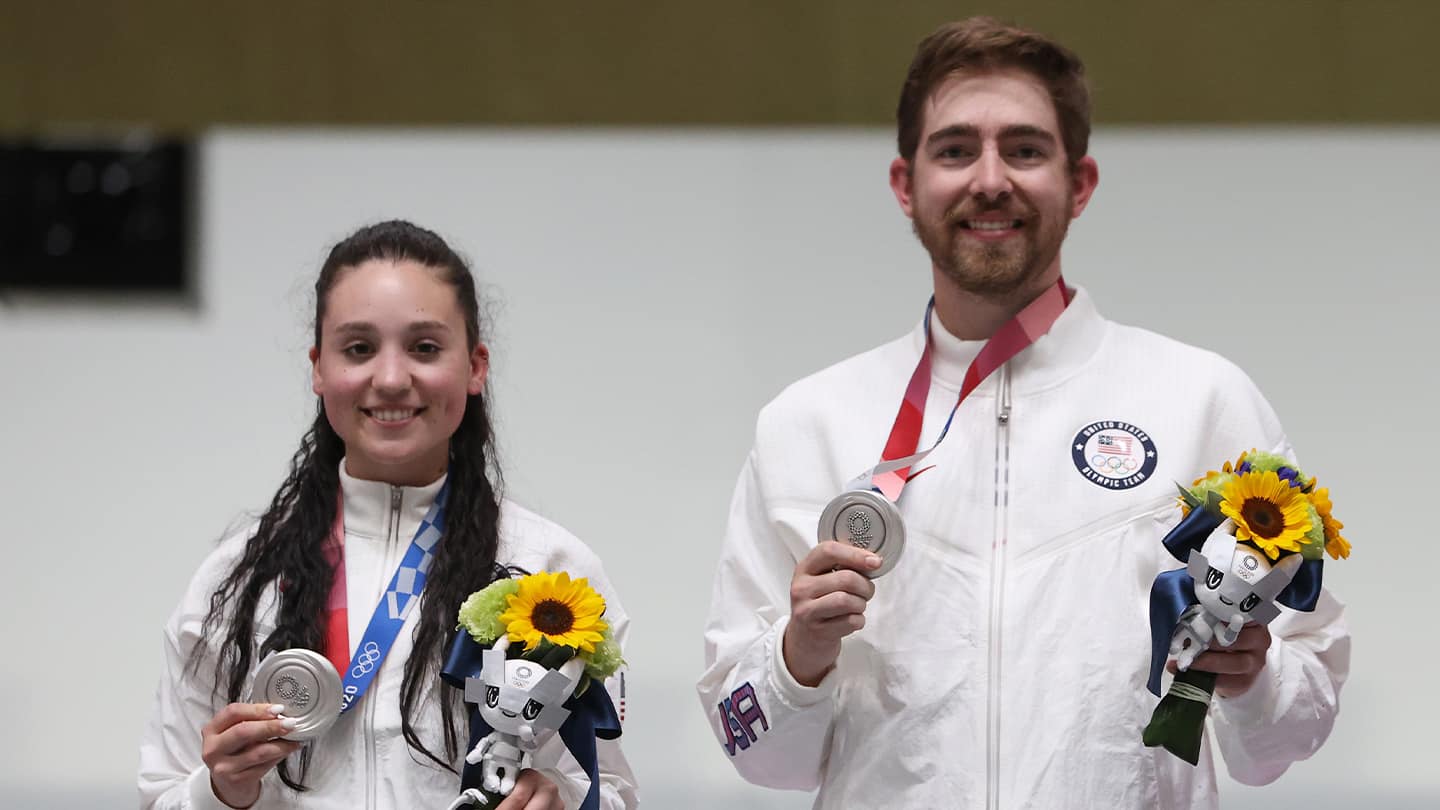 Mary Carolynn Tucker and Lucas Kozeniesky pose on the podium following the 10-meter air rifle mixed team finals during the Olympic Games Tokyo 2020 on July 27, 2021 in Tokyo.
Efficiently hitting its targets once again at the Olympic Games Tokyo 2020, the U.S. shooting team won a silver medal Tuesday in the new 10-meter air rifle mixed team event at the Asaka Shooting Range.

The U.S. team of Lucas Kozeniesky of Raleigh, North Carolina, and Mary Tucker of Sarasota, Florida, advanced to the finals but were outpointed, 17-13, in a close match by China's Yang Qian and Yang Haoran. The U.S. duo actually led 9-5 at one point, after falling behind 5-3, before China rallied for the victory.

The event, which features one female and one male shooter on each team, was making its Olympic debut. The teammates shot simultaneously, and their scores were combined. The team with the highest combined score in head-to-head matchups was awarded two points. Ties earned each team a point.

American shooters have now claimed a total of four medals — three gold and this silver — at these Games. That puts them in second place as a team behind China, which has collected eight medals.

"It was a pretty hard final," Tucker said. "Both of (the China team members) had (individual) medals coming into it. Both of us were in those finals, but we didn't come away with the medals, so there's that aspect of wanting to show everybody that we can still beat everyone else."

Kozeniesky, previously an Olympian in 2016, called the final "a roller-coaster, and it only went up. We put up a good fight, and I think, collectively, we shot pretty good."

Tucker obviously thought that she and Kozeniesky had clicked as a team.

"We definitely trusted each other," she said. "I was watching his score, and I just saw consistency, and I knew that my scores were consistent, as well.

"Lucas had a better first (qualifying round), and I had a better second (qualifying round), and then in the final, we were pretty even. So, it's about knowing your teammate, trusting your teammate and knowing that if you do have a little bit of a stumble, they're going to pick you up, and vice versa."

Tucker said she hopes the U.S. shooting team's performance in these Games creates some excitement at home.

"I hope that this keeps getting people interested in the sport," she said. "There's not a lot of interest in shooting in the U.S., so hopefully us bringing our medal count up to four — and we've still got a week to go — hopefully, that will help."

The other U.S. mixed team of newly minted individual air rifle gold medalist William Shaner and Alison Weisz placed sixth in the second round of qualifying but failed to make the final round of the mixed air rifle event.

In the 10-meter air pistol mixed team competition, neither American team advanced beyond the initial qualifying round. James Hall and Sandra Uptagrafft placed 10th, and Alexis Lagan and Nick Mowrer finished 16th. The top eight teams advanced to the second qualifying round.
Want to follow Team USA athletes during the Olympic Games Tokyo 2020? Visit TeamUSA.org/Tokyo2020 to view the medal table, results and competition schedule.
Bob Reinert spent 17 years writing sports for The Boston Globe. He also served as a sports information director at Saint Anselm College and Phillips Exeter Academy. He is a contributor to TeamUSA.org on behalf of
Red Line Editorial, Inc.