William Shaner Grabs Olympic Gold in 10-Meter Air Rifle Competition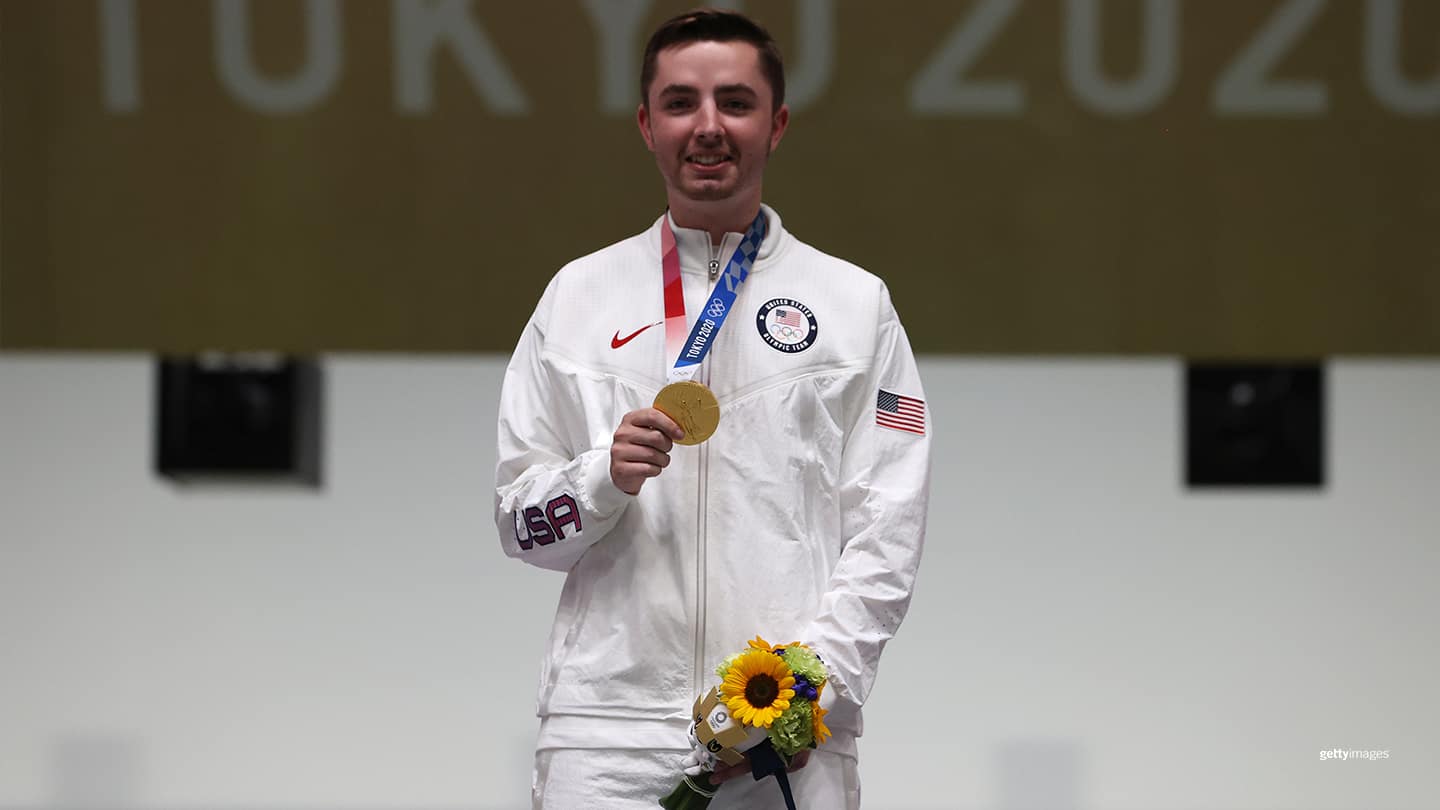 Will Shaner poses on the podium during the medal ceremony for the 10-meter air rifle at the Olympic Games Tokyo 2020 on July 25 , 2021 in Saitama, Japan.
In an impressive Olympic debut, William Shaner of the U.S. shot his way to a gold medal Sunday in the men's 10-meter air rifle competition at the Asaka Shooting Range in Tokyo.

Shaner, a 20-year-old Colorado Springs, Colorado, resident, posted an Olympic-record score of 251.6 to edge China's Sheng Lihao, a 16-year-old who took silver with a score of 250.9. China's Yang Haoran claimed the bronze medal at 229.4.

This was Team USA's first gold medal in the men's 10-meter event. Shaner's winning score was just 1.2 points less than the world record of 252.8 set in 2019 by Yu Haonan of China. A mechanical engineering major at the University of Kentucky, Shaner is the second-youngest shooter to win the event and the youngest American to take an Olympic rifle competition.

Shaner was nothing if not consistent in the final round, scoring 10.5 or better on 13 of his 24 shots.

"We've been trying to get a medal in this event for a long time," Shaner said. "So, it was nice to bring it back home now."

Team USA's Lucas Kozeniesky, 26, of Raleigh, North Carolina, ranked third in the world, also advanced to the final round and placed sixth with a score of 165.

Mary Tucker, another Kentucky star and a two-time NCAA individual champion competing in her first Games, finished sixth in the women's 10-meter air rifle Saturday. Tucker, a 20-year-old Sarasota, Florida, resident, had a score of 166 in the final. She earned her result in a shoot-off against South Korea's Kwon Eun-ji.

American Alison Weisz, 26, of Rapid City, South Dakota, did not advance to the final after finishing 14th in qualifying.

China's Yang Qian took the first gold medal of the Tokyo Games with an Olympic-record 251.8. The Russian Olympic Committee's Anastasiia Galashina won the silver at 251.1, and Nina Christen of Switzerland earned the bronze medal with 230.6.

U.S. shooters finished well off the podium in the men's 10-meter air pistol event Saturday.
In his first Olympic appearance, James Hall, a 37-year-old Columbia, Missouri, resident, placed 10th in qualifying and did not make the final, while teammate Nick Mowrer, 32, of Colorado Springs was 13th. Hall's score of 577 in the qualifying round left him one point shy of advancing to the final, while Mowrer, in his second Olympics, scored 576.

Iran's Javad Foroughi — at 41, Iran's oldest Olympic medalist — took the gold with an Olympic-record score of 244.8. Serbia's Damir Mikec won the silver with a 237.9 score, and Pang Wei of China shot his way to the bronze with a score of 217.6.

Foroughi had won gold medals at a pair of world cup events leading up to the Tokyo Olympics.
Americans failed to reach the 10-meter women's air pistol final on Sunday. Alexis Lagan, 28, of Las Vegas placed 38th in qualifying, and 50-year-old Sandra Uptagrafft of Phenix City, Alabama, was 49th.

Vitalina Batsarashkina of the Russian Olympic Committee seized the gold medal with an Olympic record score of 240.3. Bulgaria's Antoaneta Kostadinova took home the silver medal with 239.4, and Jiang Ranxin of China won the bronze medal at 218.
Want to follow Team USA athletes during the Olympic Games Tokyo 2020? Visit TeamUSA.org/Tokyo2020 to view the medal table, results and competition schedule.
Bob Reinert spent 17 years writing sports for The Boston Globe. He also served as a sports information director at Saint Anselm College and Phillips Exeter Academy. He is a contributor to TeamUSA.org on behalf of Red Line Editorial, Inc.