Jennifer Valente Wins Three Medals At Track Cycling Nations Cup In Colombia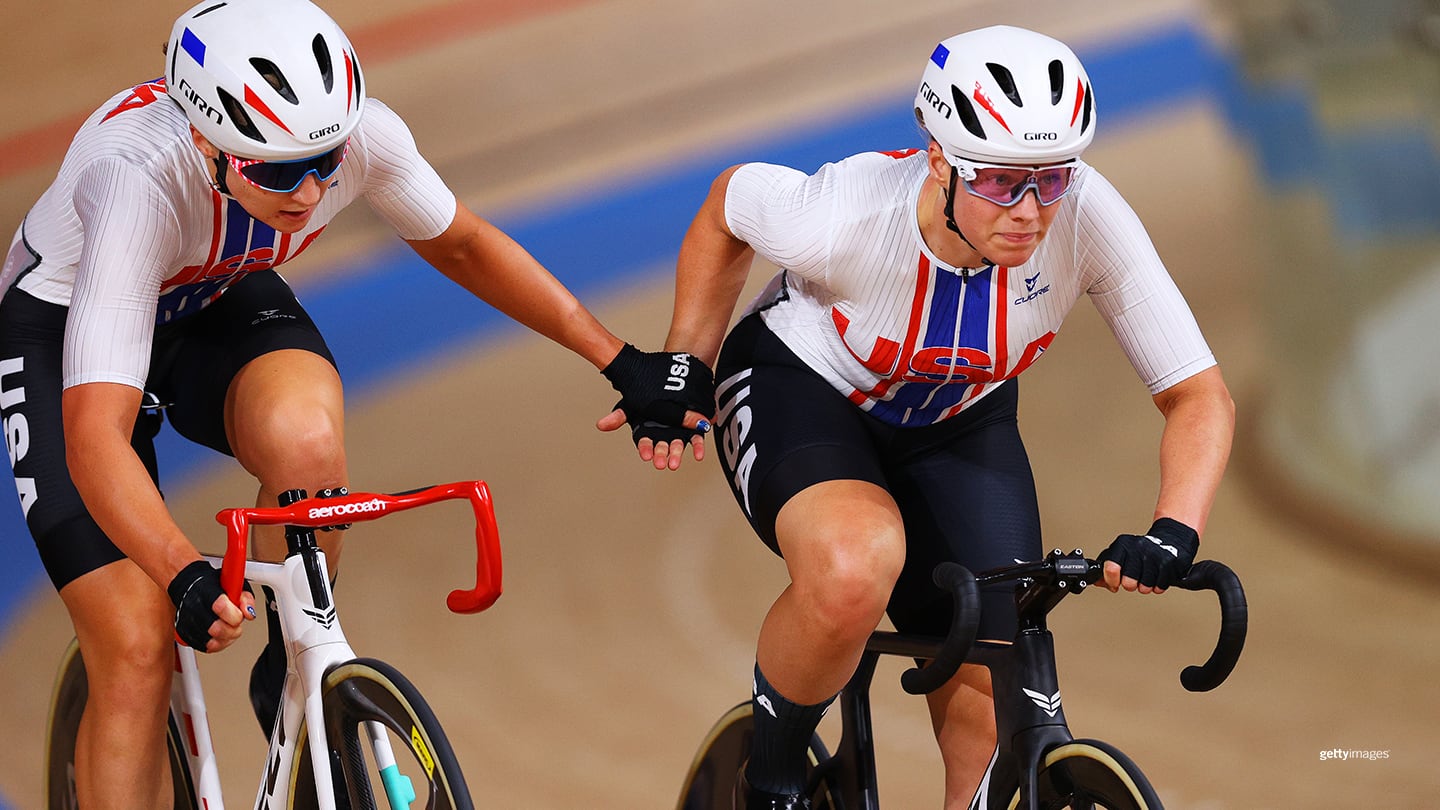 (L-R) Megan Jastrab and Jennifer Valente compete during the women's Madison final at the Olympic Games Tokyo 2020 on Aug. 6, 2021 in Izu, Japan.
Jennifer Valente won a race each day this weekend to lead the U.S. track cycling team at the UCI Nations Cup in Cali, Colombia.

The 27-year-old from San Diego won the women's elimination race on Friday, the women's omnium on Saturday and then partnered with Colleen Gulick to win the women's Madison on Sunday.

The trifecta comes two months after Valente won a full set of medals — gold, silver and bronze — at the most recent Nations Cup stop in May in Milton, Ontario. She did not take part in the season opener in Scotland.

Valente's Cali performance also came just shy of a year after her historic performance at the Olympic Games Tokyo 2020, where she won gold in the omnium and bronze in the team pursuit. Her gold medal was the first for a U.S. woman in track cycling, and the first gold for any U.S. track cyclist since 2000.

Valente was golden again in the event Saturday.

The omnium is a four-race competition meant to determine the best all-around rider. Valente was dominant, winning the scratch race, tempo race and elimination race, but Mexico's Victoria Velasco Fuentes was just behind her in second in each race. Going into the points race, Valente led with 120 points to Fuentes' 114.

That's where Valente took over. She added 17 more points — tied for the most — while Fuentes scored just three. With a final tally of 137 points, Valente was 20 better than Fuentes.

One day later, Valente and Gulick handily won the women's Madison, scoring 48 points to the 35 from the second-place team of Francesca Selva and Letizia Paternoster of Italy. In the Madison, which made its Olympic women's debut in Tokyo, two riders from a given team accumulate points through intermediate sprints and by lapping the field, though they can lose points if they are lapped.

The Nations Cup, which replaced the UCI World Cup circuit last year, includes events that aren't on the 12-event Olympic program, including the elimination race. Valente opened the weekend on Friday by posting her second consecutive Nations Cup win in the elimination race, this time holding off Paternoster of Italy, the defending world champion.

The Cali event was the last of three Nations Cups of the 2022 calendar. The UCI Track World Championships are set for October in Saint-Quentin-En-Yvelines, France.
Chrös McDougall has covered the Olympic and Paralympic Movement for TeamUSA.org since 2009 on behalf of
Red Line Editorial, Inc.
He is based in Minneapolis-St. Paul.