Jennifer Valente Is First U.S. Woman To Win Gold In Track Cycling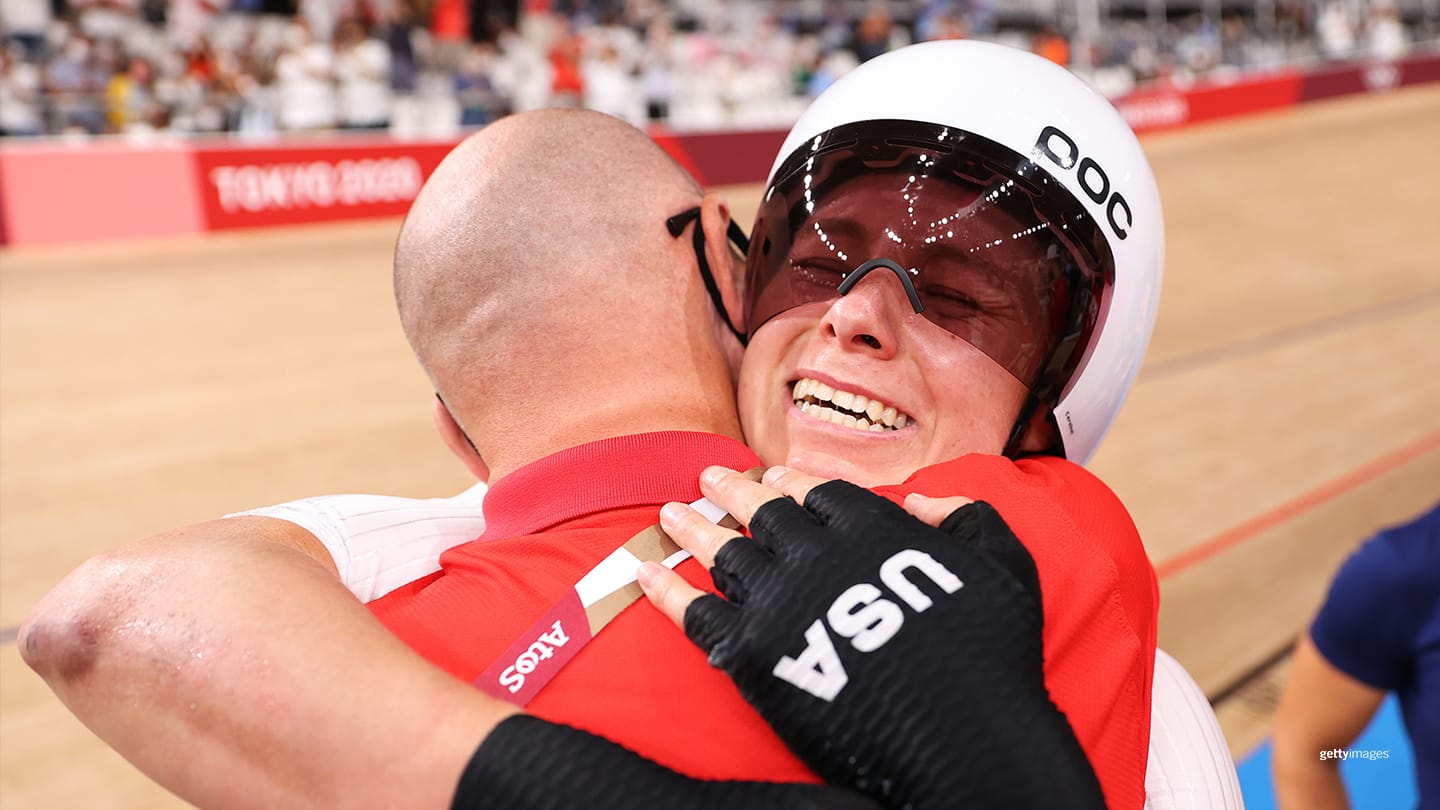 Jennifer Valente is congratulated by her coach after winning the gold medal during the Women's Omnium points race at the Olympic Games Tokyo 2020 on Aug. 8, 2021 in Izu, Shizuoka, Japan.
TOKYO — Jennifer Valente sat on the track at the Izu Velodrome, the American flag draped over her shoulders. She was in tears, with "probably was 100 emotions" running through her.

The 26-year-old track cyclist had just won a gold medal in the women's omnium at the Olympic Games Tokyo 2020 — the first gold medal for U.S. women in track cycling and the first for USA Cycling since Marty Nothstein claimed Olympic gold in the sprint at the 2000 Sydney Games.

"I think the biggest [realization] is just that none of them had really set in yet," said Valente of her emotions. "I don't know if they still have set in and understanding what it means to be an Olympic champion. I was just … it's been really emotional, and it's been a long five years, and I'm so happy with this result."

Against a loaded field — including two-time defending Olympic champion Laura (Trott) Kenny from Great Britain and a slew of world champions, including reigning worlds' omnium champ Yumi Kajihara from Japan — Valente tallied 124 points in the four-race omnium to take Olympic gold.

Kajihara held on for second place, with 110 points, despite a late crash in the points race. And Kirsten Wild, two-time world champion, moved into bronze medal position in the points race, ending with 108 points.

First introduced at the Olympic Games London 2012, the omnium — meant to determine the best all-around rider from sprinting to endurance — has changed since its debut. Once a six-race event contested over two days, it's now a four-race event held on the same day.

The scratch race comes first, where the first person across the line after 30 laps wins and gains 40 points toward the omnium total. Next up is the tempo race, sometimes called the "point-a-lap" because the first rider across the line on each lap earns a point; the rider with the most points at the end wins. The third race is the elimination race, where the last rider across the line every two laps is eliminated until there is one left. The omnium ends with the 80-lap points race, with a sprint for 5,3,2,1 points every 10 laps, with double points at the finish.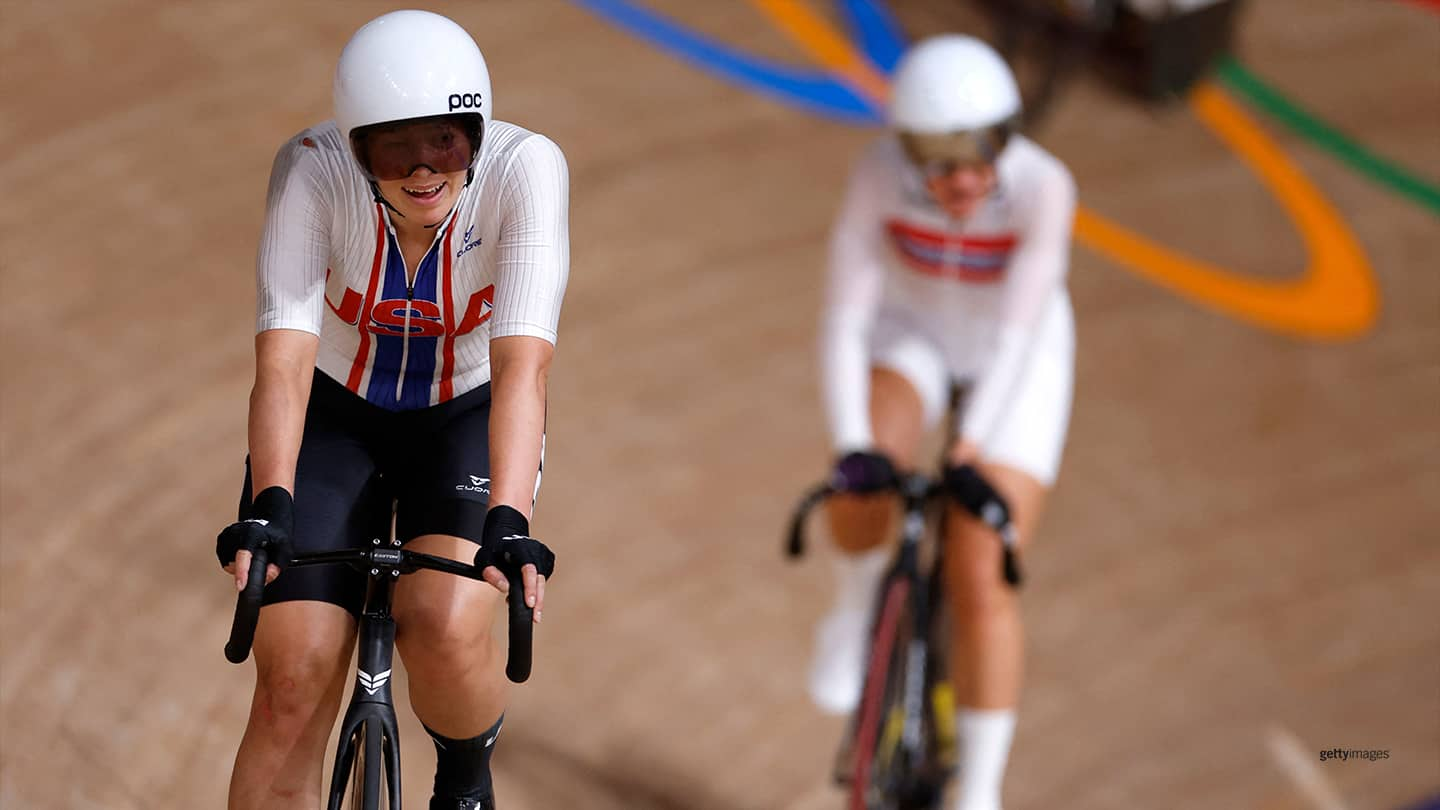 Jennifer Valente races at the Olympic Games Tokyo 2020 on Aug. 8, 2021 in Izu, Japan.
Valente saw gold medal as a continuation of the energy created after she and her teammates won Olympic silver in team pursuit at the Olympic Games Rio 22016 and a 2020 Olympic bronze medal earlier this week.
A track cycling veteran, Valente got her start at the San Diego Velodrome when she was 13. A year later, she tagged along with friends to the national championships and ended up winning two junior titles.
Nothstein noticed the young talent and told Valente's coach at the time, "She's a special one, make sure you take care of it," reported the San Diego Union-Tribune.
A talented sprinter, Valente racked up 12 junior national and one junior world championship title. At age 16, she was named to USA Cycling's 2012 Olympic "long team," the list of riders from whom the Olympic cycling team was selected. She did not compete in London 2012, but it helped her realize that competing in an Olympic Games was possible.
In the summer of 2013, Valente moved to Colorado Springs to train and met two-time omnium Olympic silver medalist Sarah Hammer, who encouraged her to try track's endurance races (individual pursuit, team pursuit, and omnium).
"She moved out to Colorado to train with me at 18," said Hammer at the time. "And since day one, she has always been prepared for training and brings an intensity and determination that I've never seen before at that age."
It took a couple of years for Valente to develop into a world cup podium contender in track's endurance events. At the 2015 UCI World Track Championships, the U.S. women finished fifth in team pursuit. A day later, Valente won her first world championship medal — silver in individual pursuit. In 2016, the U.S. claimed the world team pursuit title and hoped to add gold in Rio. Against a dominant British team at the 2016 Olympic Games, they won silver. It was Hammer's fourth Olympic medal and Valente's first.
Since Rio, Valente has become a veteran on the team — and earned a slew more world championship hardware, including three more team pursuit titles, three silvers (two in the points race, one in scratch), and a bronze in omnium.
Coming to Tokyo, Valente was considered a medal favorite in the omnium, though perhaps not for gold. Kenny and former world champions Kajihara and Wild, among others, would be hard to beat.
But from the first race — the scratch — Valente made her presence known. She avoided a crash in the final lap of the race and won, scoring two more points than Kajihara who came in second. The crash took out Kenny.
Then Valente finished third in the tempo race behind Kenny and Wild, adding 36 points to her omnium tally. Halfway through the omnium, Valente stood atop the standings, six points ahead of Wild and Kajihara.
Then in the elimination race, Valente was eliminated fourth to last. But Kajihara gained back four points by staying in the race for two more rounds. Going into the points race, Valente was only two points ahead of Kajihara.
"I was very aware of the points difference," said Valente. "In the beginning of the points race to trying to put a little bit more of a gap between us. Yumi is a very tough competitor and the field in general was a very tough field. I was just continually trying to chip away at points throughout the race."
Valente won the first sprint and finished second in the third, gaining eight points on Kajihara, who could still claim gold if she won the final sprint. Then with about 30 laps to go, Valente crashed. Thanks to a rule allowing riders five "free" laps per race, she was able to rejoin the pack.
In the final laps of the points race, Valente moved to the front of the pack and held on for second place, gaining another six points.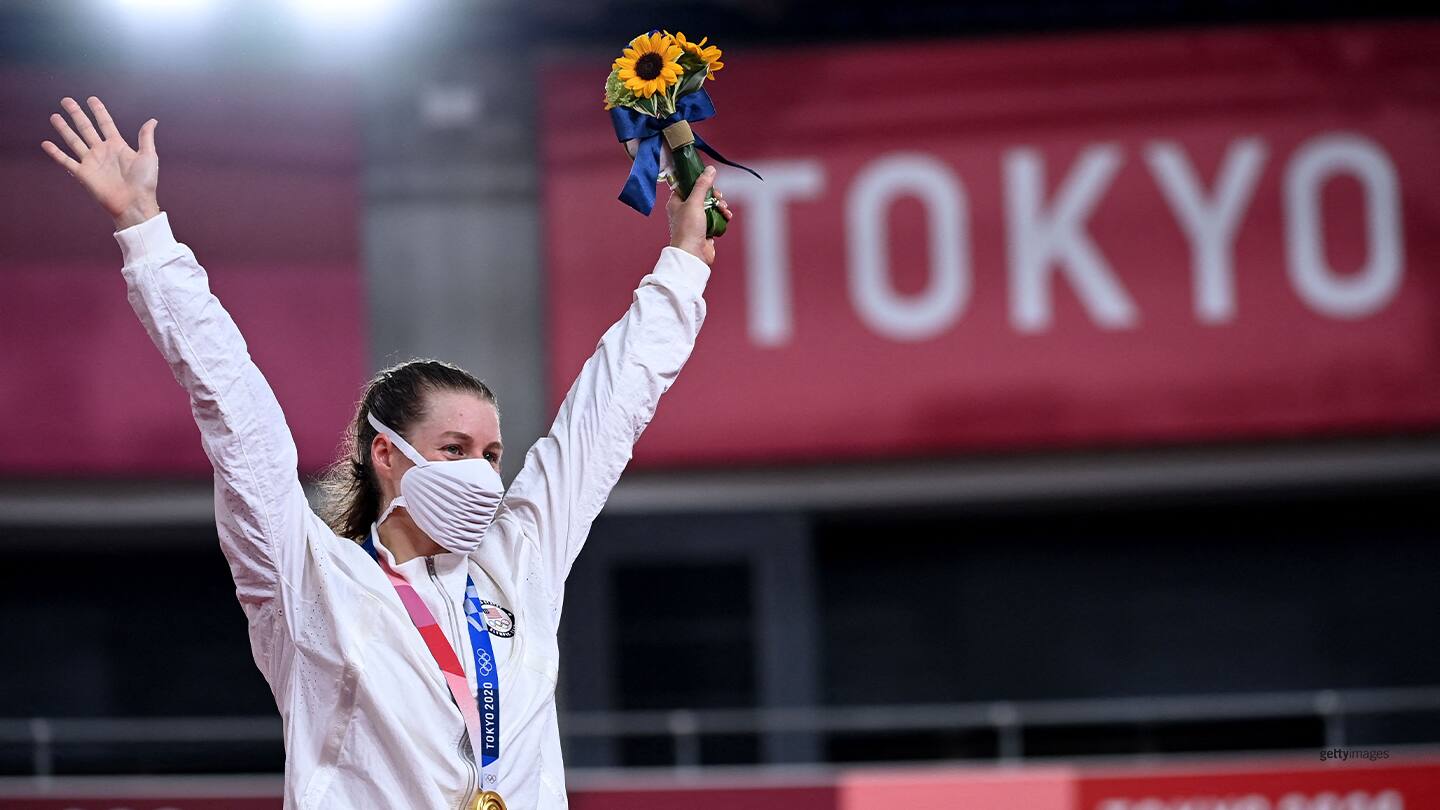 Jennifer Valente poses with her medal on the podium after the women's track cycling omnium event during the Olympic Games Tokyo 2020 on Aug. 8, 2021 in Izu, Japan.
Valente credited her team pursuit teammates — Chloé Dygert, Megan Jastrab, and Emma White, and Lily Williams — with helping her win the omnium Olympic gold medal. The team has trained in Colorado Springs, Colorado, for the past two years.
"That was a huge contributing factor to be around my teammates and constantly pushing each other, day in and day out in different kinds of training sessions," Valente said. "This journey with both my teammates, our staff, and the support staff with the United States Olympic and Paralympic Committee, it really was a joint effort."
She also credited her time competing as a junior on the San Diego Velodrome, "getting in master races and bumping around with different junior riders from a very young age," she said.
"It all contributes to bike handling skills and awareness in a field."
It's a skill that is difficult to train — "You just kind of have to learn it over time," she added.
Now Valente will be the person kids look up to as they come through the track cycling ranks. And there's that team pursuit Olympic gold medal still to win, hopefully in 2024. The omnium gold medal likely makes that one seem more achievable.
"This had always been a goal," Valente said of the omnium gold. "And to achieve that just opens your eyes to continue to look forward and find new opportunities and new goals for the future."
Want to follow Team USA athletes during the Olympic Games Tokyo 2020? Visit
TeamUSA.org/Tokyo2020
to view the medal table, results and competition schedule.
An award-winning freelance writer based in Vermont, Peggy Shinn has covered six Olympic Games. She has contributed to TeamUSA.org since its inception in 2008.