Mixed Doubles Curlers To Get Games Underway Wednesday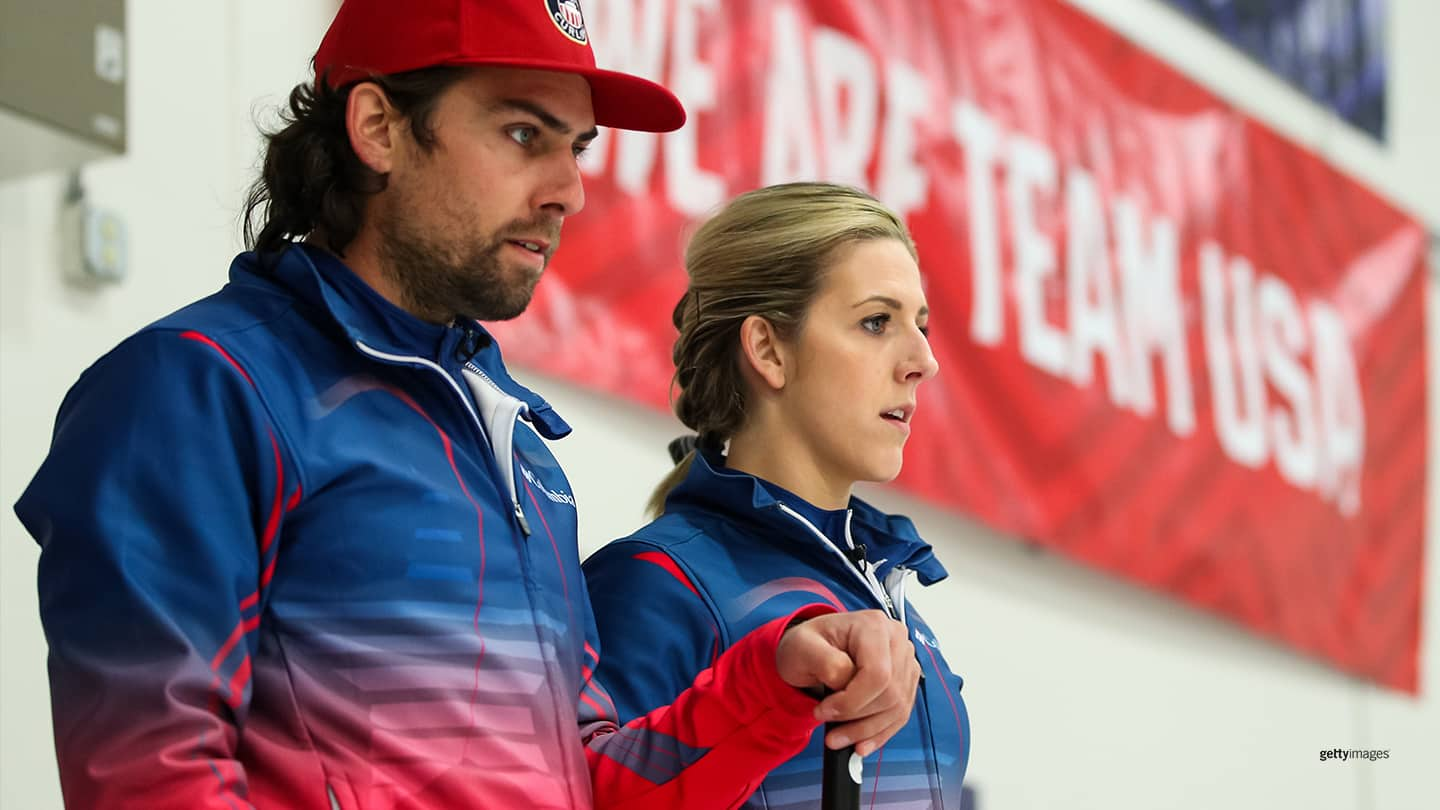 Christopher Plys (L) and Vicky Persinger (R) look on during the mixed doubles finals at 2022 U.S. Olympic Team Trials on Oct. 31, 2021 in Eveleth, Minn.
BEIJING — The torch doesn't get lit up until Friday, but mixed doubles curlers Vicky Persinger and Chris Plys will get Team USA's Olympic Games underway Wednesday when they face off against Australia.

The early start can't come soon enough for Persinger, making her Olympic debut, and Plys, making his first appearance since he was an alternate on John Shuster's team at the 2010 Vancouver Games. Now they're each making their debuts in mixed doubles, making its second appearance on the Olympic program. Both athletes have suffered near-misses on their way to these Games.

"I feel like I worked a long time to get to these Olympic Games and to finally be here, I feel so grateful," said Persinger in a Monday press conference. "I had some heartbreak, for sure, in the last go-around (at the 2018 U.S. Olympic Team Trials). Mixed doubles isn't even a discipline which we place all of our focus on, so I've been really lucky to be able to team up with Chris."

Teamed since 2018, Persinger and Plys won the 2021 mixed doubles national championship and then prevailed at the Olympic trials that fall. But that wasn't the end of their journey to the Games, as they then had to win an Olympic qualifying tournament in December in the Netherlands. There they defeated the team from the Russian Olympic Committee to qualify.

"We went through the wringer to get here," said Persinger, 29, of Fairbanks, Alaska. "Our Olympic trials in the States were very tough. In my opinion, we had five teams which could have represented our country very well here, so to get through that was a huge sigh of relief. But it never meant we were going for sure so that one was weird to handle emotionally. We were excited that our road had not ended."

By the time of the Olympic Qualification Event, Plys knew that he was already going to the Games one way or the other. He and Team Shuster had qualified by winning the men's team trials in Omaha, Nebraska, in November. But now he'll be pulling double duty, just as his teammate Matt Hamilton did four years ago in PyeongChang. And Plys is thrilled for the extra work and to experience being back at the Games.

"You never know when you're going to get the chance to come back and experience something like this," said the 34-year-old from Duluth, Minnesota. "Ever since the Olympics ended in 2018 they start showing you the venues and planting these little seeds that you start dreaming about from that moment on."
One of those venues is a special one that Persinger and Plys get to re-inaugurate, Beijing's National Aquatics Centre. Once known as the "Water Cube" where Team USA's Michael Phelps won eight swimming gold medals at the 2008 Games, it has been transformed into the "Ice Cube" and will host Olympic and Paralympic curling. For the avowed Phelps fan Plys, it's history he'll feel.

"I have a blown-up photo of Michael Phelps from the 2008 Olympics," Plys said. "It's signed and in a frame over the desk in my office, and I look at that photo every single day. I still remember sitting on my couch and watching those races happen."
"I don't want to jinx myself here," echoed Persinger, "but I think it's one of the coolest venues I will ever play in my entire life, I'm so excited."

Competition on the ice should be fierce, as one half of the Canada team that won the gold medal will return to defend it, as well as both full teams that won silver and bronze — Switzerland and Norway, respectively. Persinger and Plys went undefeated at December's qualification event, as did Australia, who qualified alongside the Americans to become Australia's first-ever curling entry at the Games.

"I'm very much looking forward to playing the Aussies," Plys said. "Them getting to expand the sport of curling to another continent on the Olympic stage is something that I think is very cool."

Mixed doubles competition continues Thursday and every day from Beijing until Monday, Feb. 7, when semifinals begin. The bronze- and gold-medal games take place Feb. 8.
Want to follow Team USA athletes during the Olympic Winter Games Beijing 2022? Visit TeamUSA.org/Beijing-2022-Olympic-Games to view the medal table and results.
Todd Kortemeier is a sportswriter, editor, and children's book author from Minneapolis. He is a freelance contributor to TeamUSA.org on behalf of
Red Line Editorial, Inc.