Mikaela Shiffrin Wins Silver In World Cup Slalom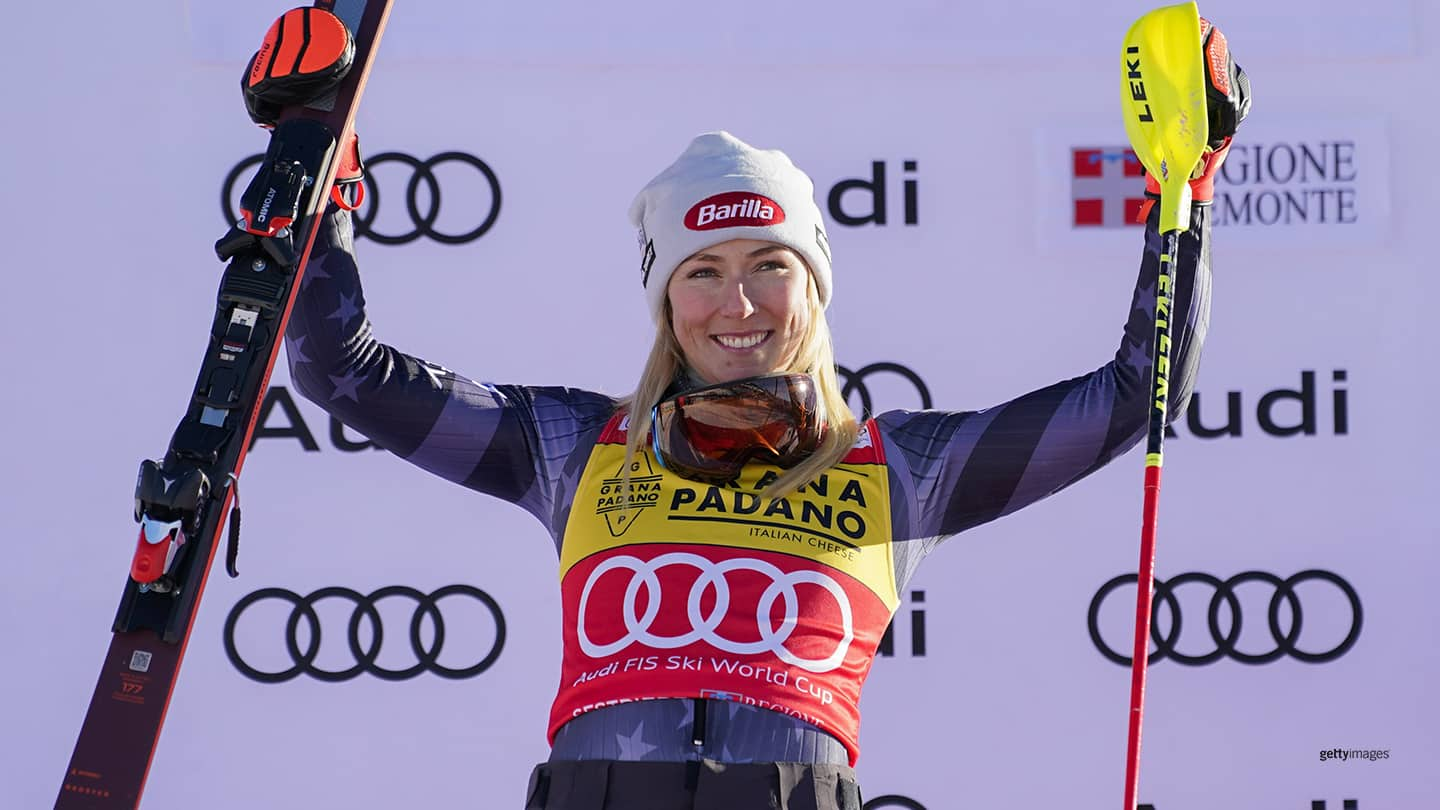 Mikaela Shiffrin after comopeting in the women's slalom at the 2022 FIS Alpine Ski World Cup on Dec. 11, 2022 in Sestriere, Italy.
Two-time Olympic gold medalist Mikaela Shiffrin doesn't stay off the podium for long.

After missing out on a top-three finish in her last three world cup slalom and giant slalom races, Shiffrin took second in Sunday's slalom in Sestriere, Italy. She hasn't finished off the podium in four consecutive technical races in eight years.

Shiffrin was in third place after the first run behind Petra Vlhova of Slovakia and Wendy Holdener of Switzerland. A second run of 57.92 seconds boosted Shiffrin into second place behind Holdener, who secured her first career world cup solo victory with a total time of 1:56.29. Shiffrin was .47 seconds back and Vlhova finished third.

Olympian Paula Moltzan was fifth to tie her previous best finish in a world cup slalom. Saturday, Moltzan earned her best finish in giant slalom when she placed eighth.

Shiffrin scored her third podium finish of the season after winning back-to-back slalom titles to kick things off in Levi, Finland, last month. She was sixth in Saturday's giant slalom.

Shiffrin tweeted on Sunday that the weekend felt like "a total blur" and called it one of the most taxing race weekends she's had because of tough conditions, but thanked the course workers for all they did to get the courses ready after snowfall.

"Hats off to the top women yesterday and today," Shiffrin wrote. " @WendyHoldener's second run was one for the record books and Petra going back-to-back podiums is super impressive. Also HUGE congrats to my teammates @PaulaMoltzan (matching her career-best today with 5th after career-best in GS yesterday!), and Zoe scoring her first points."

Zoe is Zoe Zimmermann, who finished 27th on Sunday.

Shiffrin is chasing down several records this season, including most career world cup victories by a woman (currently 82, held by Lindsey Vonn) and most world cup victories overall (currently 86, held by Sweden's Ingemar Stenmark). Shiffrin has 76 world cup wins.

The next women's world cup event is Dec. 16-18 in St. Moritz, Switzerland, where a pair of downhill races and a Super-G will be held. Shiffrin said she'll see how it feels on the downhill skis and go from there, noting that "vibes are low on gas right now."
Karen Price is a reporter from Pittsburgh who has covered Olympic and Paralympic sports for various publications. She is a freelance contributor to TeamUSA.org on behalf of
Red Line Editorial, Inc.