All In On a Third Gold Medal, Misty May-Treanor and Kerri Walsh Jennings Pulled Off the Improbable In 2012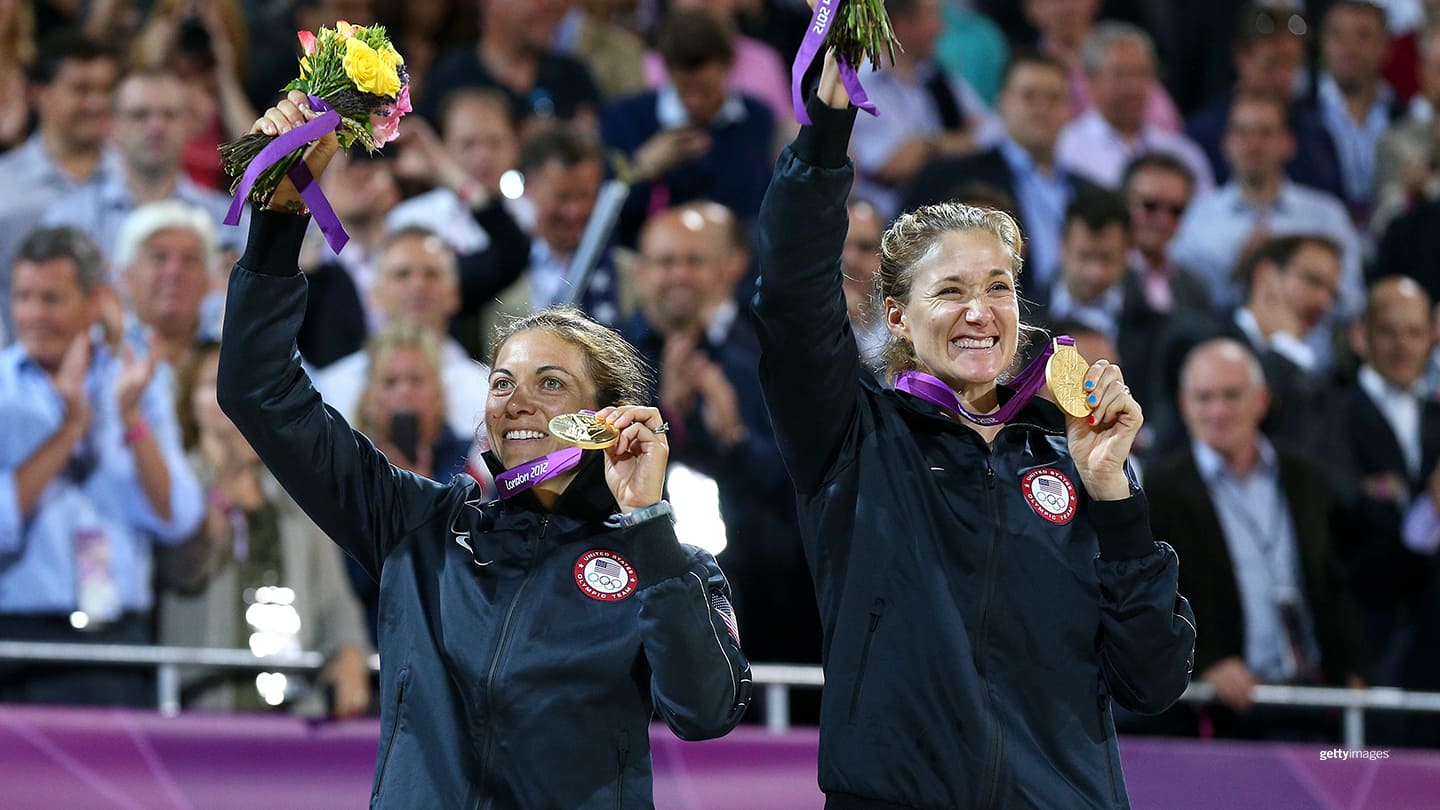 (L-R) Misty May-Treanor and Kerri Walsh Jennings celebrate on the podium during the medal ceremony for the women's beach volleyball gold-medal game at the Olympic Games London 2012 on Aug. 8, 2012 in London.
As sports partnerships go, you'd be hard-pressed to find one more successful than that of beach volleyball legends Misty May-Treanor and Kerri Walsh Jennings, the three-time Olympic gold medalists.

The pair took home three straight Olympic titles in 2004, 2008 and 2012. During that stretch, they won 21 straight matches at the Games. Across all competitions, at one time the duo had won 112 matches and 19 tournaments in a row.

Earlier this month marked the 10th anniversary of May-Treanor and Walsh Jennings' final gold medal at the Olympic Games London 2012. May-Treanor recalled that the result was no certainty for the two-time defending champions.

"That Olympics, we weren't the heavy favorites going in," May-Treanor said. "Not very many people had us standing on the podium at the end, except for our team."

"We had a big target on our back. Other teams (had) nothing to lose. We were out from injuries, having kids, hadn't played together for a few years. We really didn't have anything to lose, or even prove, really. We just enjoyed playing together and wanted to have one more run at the game that we love."

In fact, the Americans dropped an early set to Austria — the only one they lost in their three gold-medal runs.

"We did lose a set," said May-Treanor, "but I don't think that put any doubt in people's minds. It just gives you a little wake-up call. Losing the one set isn't devastating to us, where it might devastate some of the other teams or throw a big blow at them."

The U.S. tandem stormed back from that minor setback to win the tournament, defeating fellow Americans Jen Kessy and April Ross in the gold-medal match. Walsh Jennings went on to win a bronze medal with Ross at the Olympic Games Rio 2016 after May-Treanor retired from competition.

"It's surprising that it's been 10 years because in my mind … it feels like it just happened," said May-Treanor, now a 45-year-old mother of three children. "It was a great Olympics. It was my last Olympics. It was a good one to end on. I was very happy to finish my career at that point with everything we've done.
"I know physically I wasn't the same. As you get older, physically you're not the same, but your mental side will pick up, and that's where you have an advantage over a lot of other teams."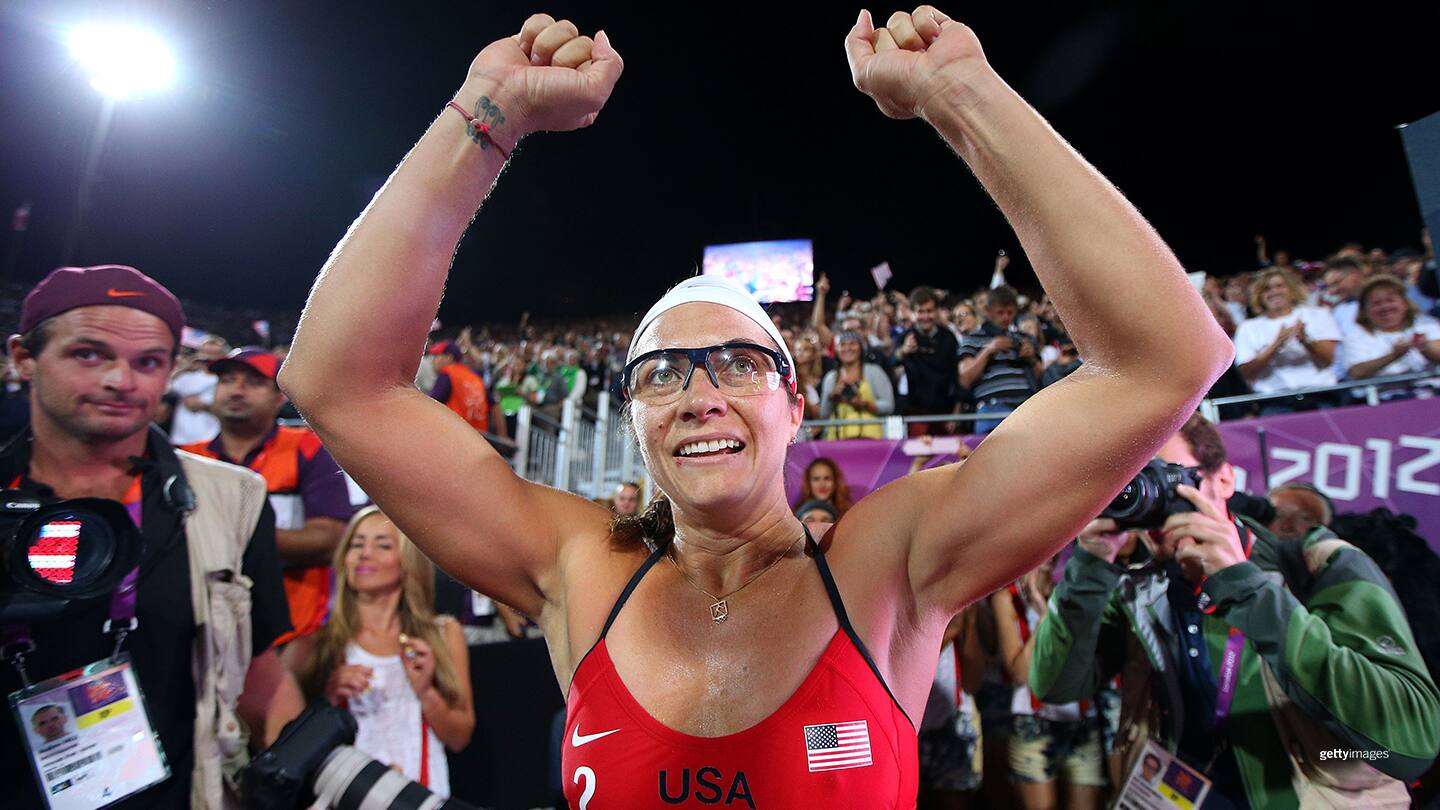 Misty May-Treanor celebrates winning the gold-medal game at the Olympic Games London 2012 on Aug. 8, 2012 in London.
This anniversary gave May-Treanor an opportunity to think back on her unprecedented, nearly 12-year partnership with Walsh Jennings. It began when both were in their early 20s.

"I consider it very much like a sisterhood or marriage," she said. "You're going to get your little disagreements, which we didn't disagree very often. But you know, you're traveling the world with each other. You're seeing each other 24/7."

The pair relied on constant communication and trust. They also balanced each other out, May-Treanor said.

"Our energies were different," she said. "We just understood each other. We were constantly evolving. Even though we were together for a long time, we did have three different coaches."

As May-Treanor pointed out, having a team stay together that long is rare. For years, it was the two Americans against the rest of the beach volleyball world, which pushed them to be always at their best.

"It's hard as champions to continue to play at the top consistently," May-Treanor said. "For us, you don't see a lot of panic in really what we do."

May-Treanor, who coached college volleyball for a time, now focuses on raising her children in Yorba Linda, California, and starting a family foundation that will award scholarships.

"I don't want to miss out on my kids," she said. "My mom passed away at 51. She never got to see me play (in) the Olympics. I want to spend as much time with my kids as possible."

May-Treanor said she still stays in touch with Walsh Jennings, now 44. Walsh Jennings went on to become the all-time leader in women's beach volleyball with 135 wins. She hasn't played since missing out on the Olympic Games Tokyo 2020, though earlier this year she said she wanted to compete for a spot in the Olympic Games Paris 2024.

"We'll text back and forth," May-Treanor said. "We'll chat on the phone here and there."

May-Treanor misses much of their remarkable partnership, but not everything.

"I will honestly tell you, I don't miss the travel," May-Treanor said. "I really miss the training. I miss the hard practices, the lifting. The competing was the easy part."
Bob Reinert spent 17 years writing sports for The Boston Globe. He also served as a sports information director at Saint Anselm College and Phillips Exeter Academy. He is a contributor to TeamUSA.org on behalf of
Red Line Editorial, Inc.