Fred Richard Is Ready To Show Off His Gymnasts, Both At The U.S. Champs And On TikTok
Fred Richard during training ahead of the 2022 U.S. Gymnastics Championships on Aug. 17, 2022 in Tampa, Fla.
TAMPA, Fla. – Consider the strength and focus, not to mention skill, required to hold yourself up with your arms while swinging your legs in a circle around a pommel horse.

Now try holding yourself up on the pommels and swinging your legs around the apparatus while teammates throw foam blocks at you.

It's the kind of challenge most people couldn't dream of, which is exactly why it appeals to Fred Richard. The 18-year-old from Stoughton, Massachusetts, is set to make his senior debut tonight at the OOFOS U.S. Gymnastics Championships in Tampa, Florida, but he wants to make sure you remember him and his sport next week, and the week after that.

That's why the self-described "freak of nature" spends what little time he has between training sessions coming up with new challenges, feats of strength and other gags that "show the different sides of gymnastics" for his TikTok, frederickflips, and its nearly 385,000 followers.

"If you think about our sport compared to basketball or football, they're really competing every week and on TV every week, while we compete maybe two times a year on television," Richard said. "So where do people actually see our sport and keep it in their heads?"

Social media is increasingly an avenue for athletes in Olympic and Paralympic sports to build a following. Just about every senior athlete in the national championships field this weekend has an Instagram account, and plenty have a Twitter, TikTok or YouTube channel, too.

Michael Jaroh, a Penn State gymnast who qualified for nationals but withdrew, is the social media star among American men's gymnasts. More than 2 million people follow his TikToks about life behind the scenes as a high-level athlete in this grueling sport.

Richard's videos often highlight the extreme athleticism of men's gymnastics, but also the fun you can have on the side. The goal is to build up a following that resembles Jaroh's.

"I feel like I can take it to a whole other level," Richard said.

There's just one little problem: Where does he find the time?

"This summer has been really hard training with all the competitions," Richard said.

As the youngest guy in the senior field this week, Richard admits not many people are talking about him as a contender. Maybe they should be.

Still classified as a junior for international competition this year, Richard won the parallel bars and vault at an event earlier this year in Germany. Then, in July, he just about swept the Pan American Championships in Rio, defending his all-around title while adding four more golds, plus a silver and bronze. The only event he didn't medal in was high bar, where he took fourth.

(A few days later a TikTok showed Richard performing gymnastics skills, sans shirt, as seven medals clanked around his neck.)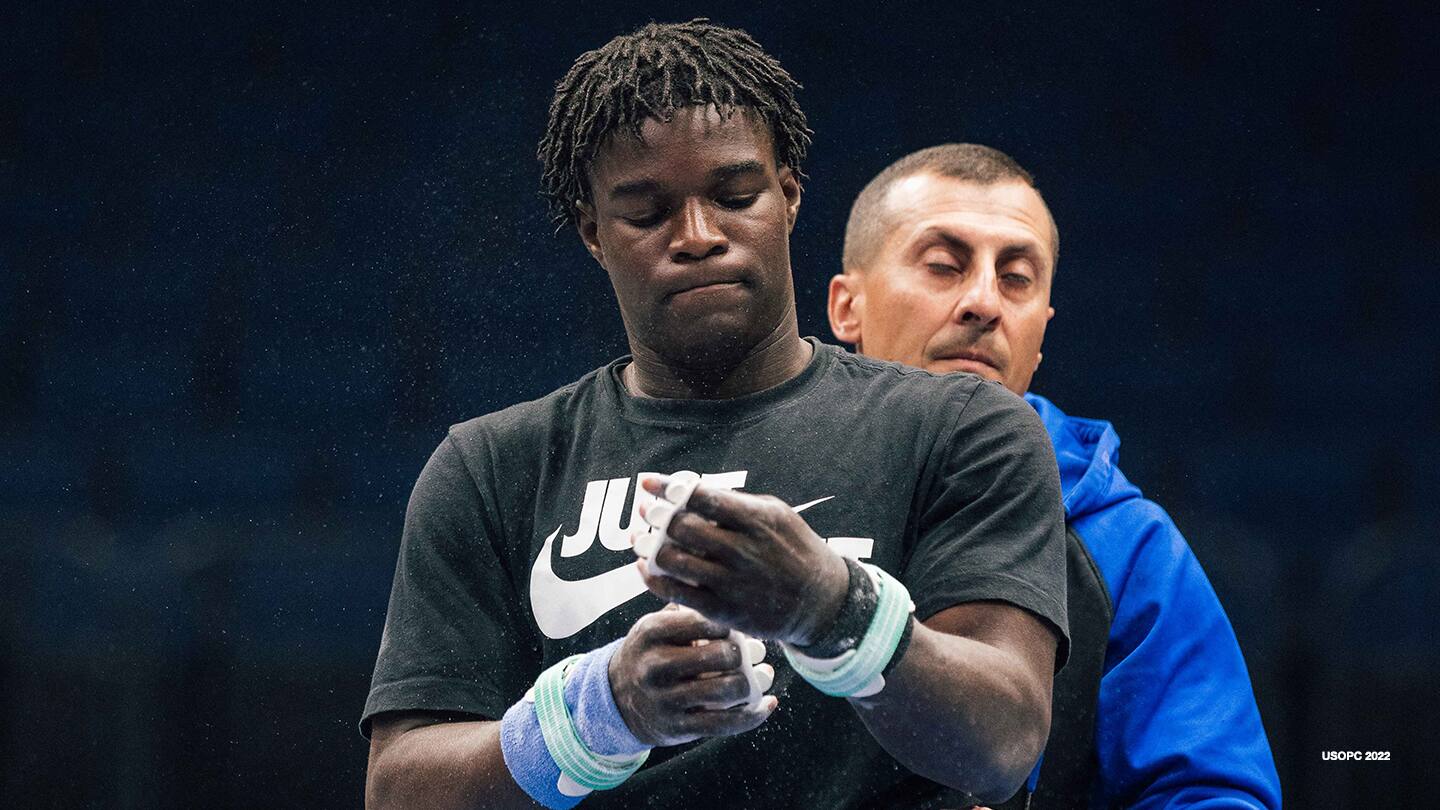 Fred Richard during training ahead of the 2022 U.S. Gymnastics Championships on Aug. 17, 2022 in Tampa, Fla.
Richard's performance in Brazil gives him the confidence that he can win more hardware at the national championships. Based on start values, he says, he should be among the top five all-arounders in Tampa.

"So it comes to execution to make up that gap," he said.

Quick to flash a playful smile, Richard carries himself with a humble confidence that lives just beneath his lighthearted demeanor. The combination creates a charisma that draws the eye to him, whether on the gymnastics floor or in his TikToks.

As a gymnast, Richard is a skilled all-arounder, though he eschews the term.

"Instead of being an all-arounder, I think of it as an event specialist on all six events," he said. "I try to be competitive on everything."

On social media, he aims to make the sport accessible and fun, but also aspirational.

The TikToks started during the initial COVID-19 lockdowns. Early trends — aka everyone dancing — bored Richard. Then people started sharing other unique talents.

"I was like, I have my own talents, let me show them what I do," Richard said.

The videos really took off when he returned to his gym, Massachusetts Elite Gymnastics Academy, and had "endless equipment" to play with. Scroll through his feed today and you'll find any sort of gymnastics-adjacent entertainment. In one recent post, Richard faced off with two teammates in a highest backflip challenge. After each successful backflip, they'd stack the landing mats higher. (Richard ended up losing that one; with the mats stacked up to belly button height, he completed the backflip but landed on his knees.)

Other challenges involve performing through distraction, such as the pommel horse circles amidst flying foam blocks, or competing to see who can do the lowest backflip in a modified version of the limbo.

As if to drive in the point Richard is hoping to make about gymnastics, some of the videos can only be viewed after accepting TikTok's disclaimer that "the actions in this video are performed by professionals or supervised by professionals. Do not attempt."

Of course, many of the videos are just about Richard and his buddies having fun.

Making the actual videos is the easy part, Richard said. The bigger challenge is coming up with good ideas.

"It can pop up in a minute or take days to find the right idea," he said.

Unfortunately for Richard, free time to come up with those ideas remains scarce. He flies out of Tampa on Sunday, then has Monday to pack up his entire life before moving to Ann Arbor on Tuesday to begin his freshman year at Michigan, where he'll study business while competing for the Wolverines. And, yes, the packing starts and ends on Monday.

The good news for Richard, and his fans, is that Ann Arbor brings a whole new world for him to perform in, both with the Wolverines and on his TikToks.

"I want to take it as far as I can go, reach as many people as possible," said Richard. "Because at the end of the day I think is what the sport needs most to really take off."
Chrös McDougall has covered the Olympic and Paralympic Movement for TeamUSA.org since 2009 on behalf of
Red Line Editorial, Inc.
He is based in Minneapolis-St. Paul.