Nathan Adrian Looks Back On A Magical London Games For U.S. Swimmers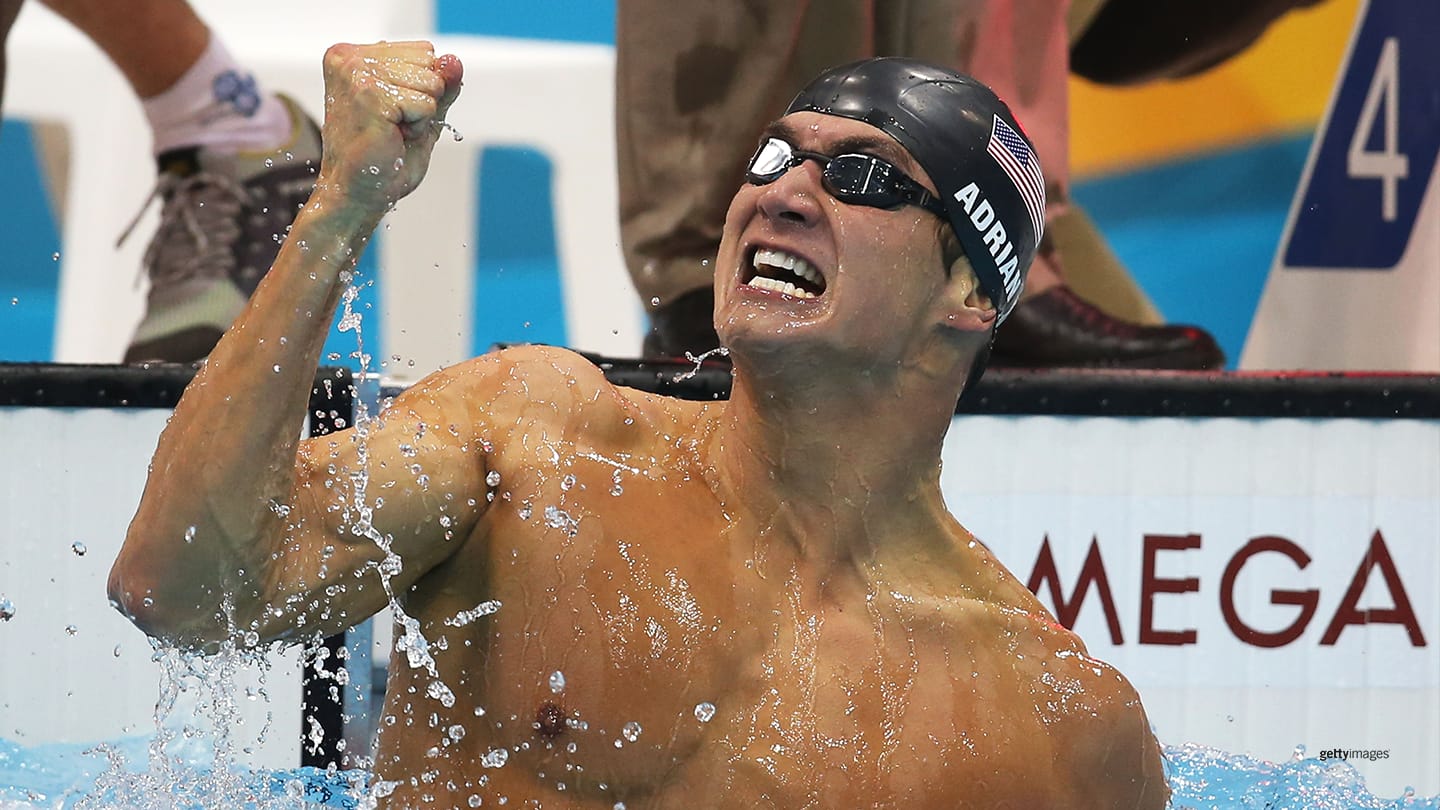 Nathan Adrian celebrates after winning the men's 100-meter freestyle final at the Olympic Games London 2012 on Aug. 1, 2012 in London.
It has been 10 years since Nathan Adrian stepped up to the starting block for the men's 100-meter freestyle at the Olympic Games London 2012 and, less than 50 seconds later, came away with gold.

To the now 33-year-old husband and father, though, it feels like yesterday.

"It absolutely does — I mean, that's really the only way to describe it," Adrian said of those magical nine days. In that span, Team USA swimmers claimed 31 medals, including 16 golds, in the 34 events held at the Aquatics Centre and Hyde Park.

Michael Phelps left London as the most decorated Olympian of all time, claiming six medals to bring his total to 22 (he would add another six in Rio four years later). Missy Franklin at 17 broke onto the scene with five medals, four of them gold, while 15-year-old Katie Ledecky won a gold medal in her international debut. Franklin, Rebecca Soni and Dana Vollmer all set individual world records, while Team USA came home with six relay medals, four of them gold.

Among the other highlights from Adrian's perspective was when Matt Grevers, who six years later would be a groomsman in Adrian's wedding, set an Olympic record and won gold in the 100-meter backstroke.

"That was a high mark for the USA," Adrian said. "The rest of the world has kind of caught up, not because of anything Team USA is doing (wrong), but because other countries are figuring out how to swim really fast, like the USA has done."

There were good times in, and out, of the pool. The swimmers cruised the River Thames and sampled fish and chips.

"And I very vividly remember seeing the gymnasts around and watching their historic performance in London," Adrian said of Team USA's gold-medal-winning women's gymnastics team. "We met the Queen. She visited the athlete's village. It was just an interesting, awesomely well-run Games."

London was Adrian's second Olympics. The five-time NCAA individual champion at University of California Berkeley made the Olympic Games Beijing 2008 at age 19 as a member of the 4x100-meter freestyle relay, swimming in the preliminaries and contributing to Team USA's gold medal.

"My first Olympics was a perfect preparation for the second one," the native of Bremerton, Washington, said. "I was (in Beijing) as a relay-only swimmer; I was hoping to swim on finals, but I didn't make it. I got a gold medal, but it came later, wrapped in a box.

"I guess (missing that final) gave me some extra motivation training for the next Olympics. We're all pretty intrinsically motivated."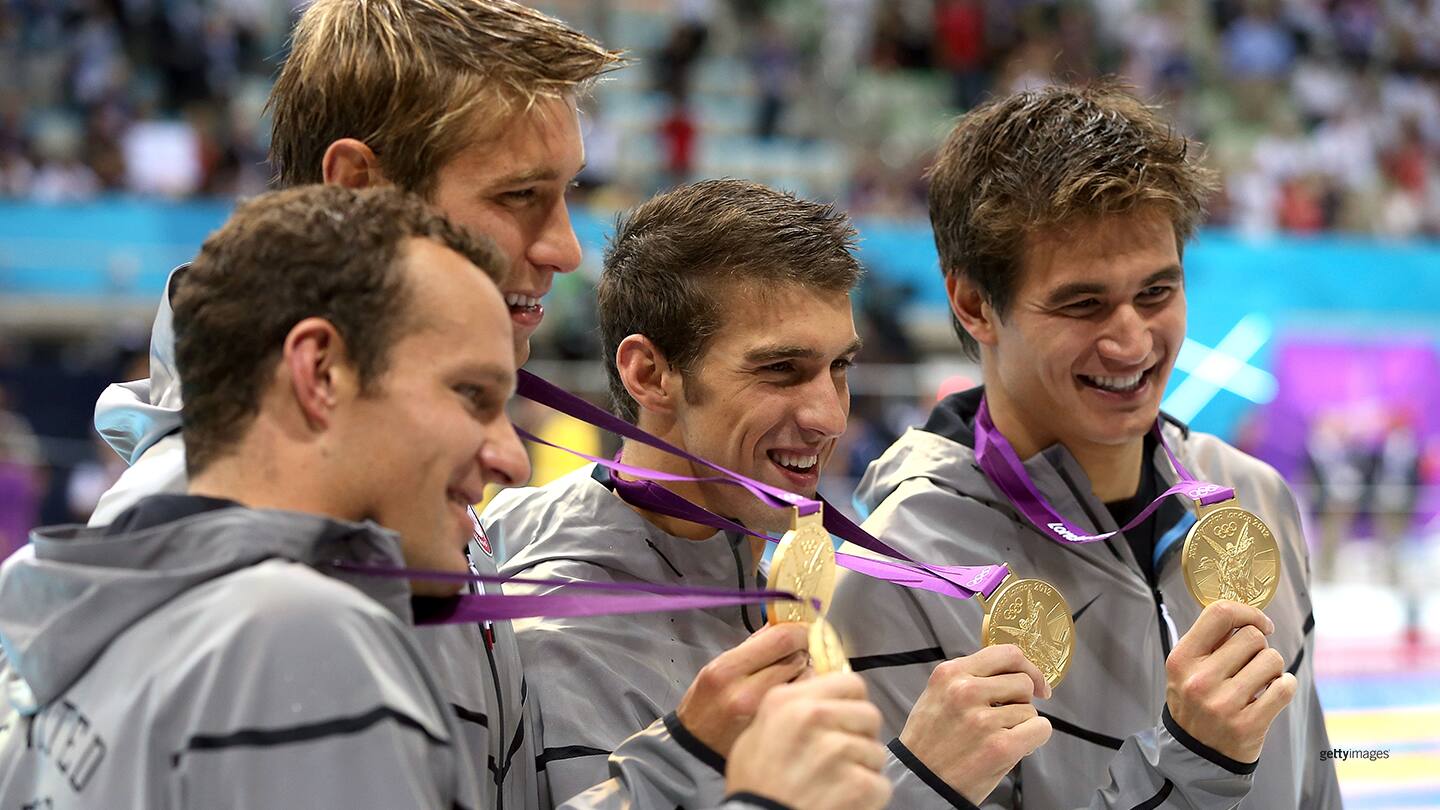 (L-R) Brendan Hansen, Matt Grevers, Michael Phelps and Nathan Adrian pose following the medal ceremony for the men's 4x100-meter medley relay final at the Olympic Games London 2012 on Aug. 4, 2012 in London.
When Adrian arrived in London, he had a string of national wins, as well as four gold medals at the 2010 Pan Pacific Championships, to his credit. Still, James Magnussen of Australia was considered a strong favorite in the 100-meter freestyle.
"James got a 47.10 (at the Australian championships), and my best time was a 48.00, so he had gotten almost a full second faster than me," Adrian recalled. "I remember an Australian reporter looked at me and was like, '48 is a lot slower than 47 one.' I was just competing for any medal."
For the final, the two swam side-by-side in the middle of the pool. Magnussen led with 25 meters to go, but Adrian closed strong. His 47.52 time, a personal record, edged the Australian by one one-hundredth of a second and brought Team USA its first gold medal in the event since Matt Biondi in 1988.
"The world expected James to win, but I also had beaten him head-to-head in the 400 freestyle relay in the lead-off leg," Adrian said. "I did take a little confidence from that. I knew he was going to be better in the individual, but I knew I would be, too, because that's how a swimmer progresses through meets."
Adrian had already won a silver medal by then as part of the U.S. men's 4x100-meter freestyle team. On Aug. 4, the final day of swimming at the Aquatics Centre, he was back in the water with the men's 4x100-meter medley team. With Grevers leading off with the backstroke, Brendan Hansen on the breaststroke second leg and Phelps on the butterfly third leg, Adrian closed things out with a blazing freestyle leg.
Team USA won with a team of a time of 3:29:35, with the Japanese second and Australians winning bronze. Adrian had a split of 46.85, besting his individual 100-meter finish by 0.67 seconds.
"The odds were in our favor and I think everybody knew it," Adrian said. "So we were all smiles and just kind of focusing on making sure we didn't disqualify ourselves. We just wanted to see how fast we could go in our splits."
He wasn't quite as carefree at the Olympic Games Rio 2016, his third Olympics.
"I was a captain and kind of looked to as a leader, so instead of just working on yourself and how fast you can swim, you're partially in charge of making sure that there is an environment that is conducive for other people to swim faster," he said.
More recently, he triumphed over something far more important: testicular cancer. After being diagnosed in early 2019, he underwent two major surgeries and lost about 15 pounds of his 6-foot-6 frame. On April 22, 2019, he announced via social media his PET scans showed clean. He continues to spread the message that early detection is the key to beating the disease.
"I don't think the statistics have come out yet, but I'm positive that we're going to be dealing with more diagnoses of later stage cancers, because of people being afraid to go to the doctor during the pandemic," he said. "So, it's as important as ever to spread the message."
Adrian is not officially retired; his swims at the 2020 U.S. Olympic Trials qualified him for the 2021-2022 national team, but it is uncertain if, and where, he will compete again.
"Maybe I will do a competition at some point in the next couple of years, but what competition and how fast I go, I still have no idea," he said.
He devotes most of his time to family, as he and his wife Hallie Ivester have an 18-month-old daughter, Parker, and expect a second child next month. Otherwise, he has the AC Swim Club in San Rafael, California, which he and a former college teammate, Will Copeland, purchased in 2019.
"Our main thing is definitely swim lessons," he said. "Right now, I'm looking at our back pool and we have anywhere from 15 to 20 kids, and they're working on their swim lessons. … Even if they never compete, it's important for them to learn that life-saving skill."
Lynn Rutherford is a sportswriter based out of New York. She is a freelance contributor to TeamUSA.org on behalf of
Red Line Editorial, Inc.