Cowbells And Cheers Boost Hometown Star Claire Curzan At Swimming Trials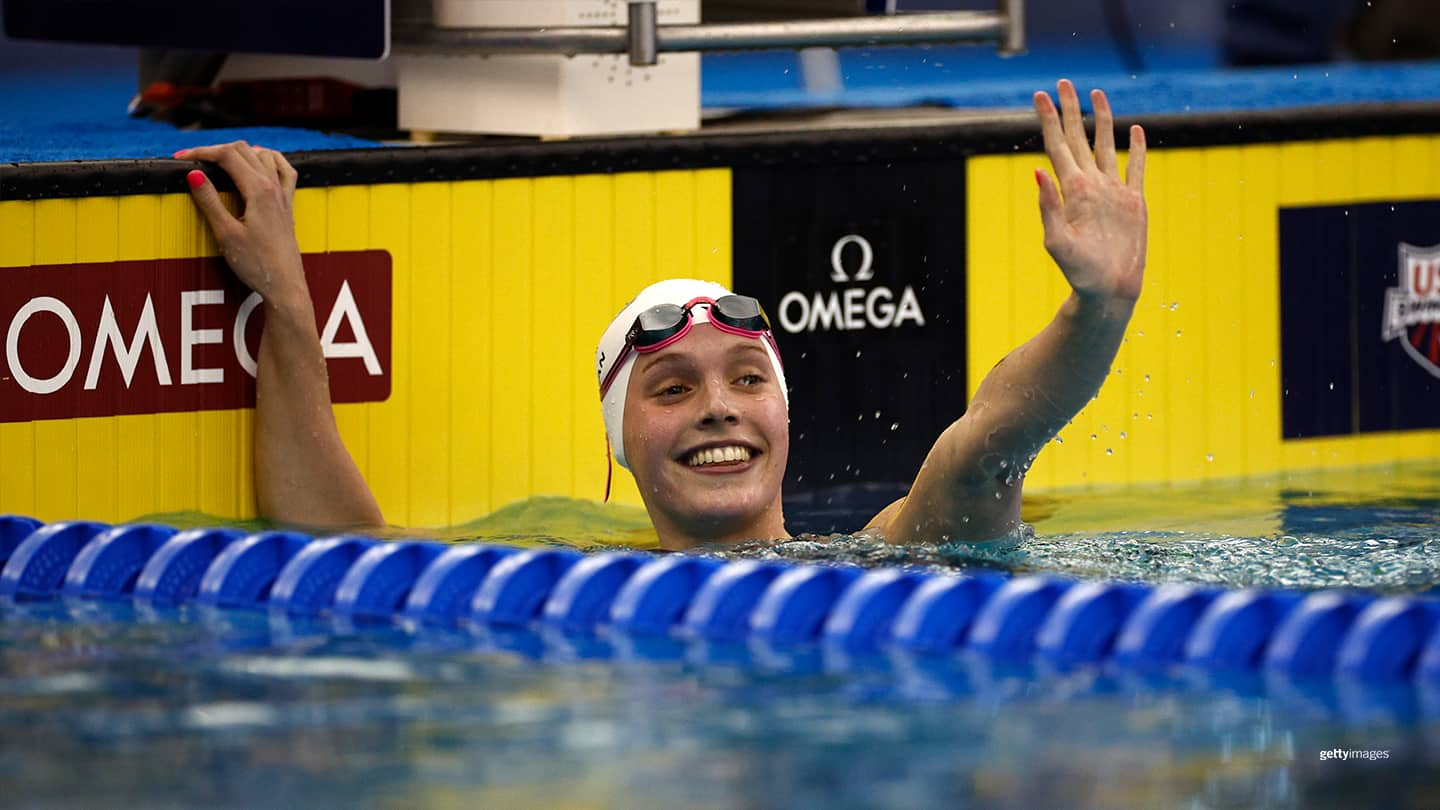 Claire Curzan reacts following her victory in the women's 50-meter butterfly final at the Phillips 66 International Team Trials on April 27, 2022 in Greensboro, N.C.
GREENSBORO, N.C. — Claire Curzan has had her own cheering section inside the Greensboro Aquatic Center this week, and the group has grown larger by the day.

Members of Curzan's family have sat in the stands and loudly shown their support for her during the Phillips 66 International Team Trials.

They've cheered when Curzan is standing on the pool deck, and they've made even more noise when the 17-year-old teenager is in the water racing.

Greensboro is only 70 miles from Curzan's hometown of Cary, North Carolina. So it's no surprise that her friends and family members have made the short drive down Interstate 40 to watch her compete for a spot at this summer's 2022 FINA World Championships in Budapest, Hungary.

They're creating an atmosphere that feels a world away from that in Tokyo last summer, when Curzan made her Olympic debut. Due to the pandemic, family was unable to join the athletes in Japan, and fans were barred from the stadiums.

"It just seems to be more and more people coming. I know that my family is coming, and then all of a sudden, family friends and all these different people," Curzan said. "So it's always fun to look up in the stands and see them going crazy because that's what they do.

"They have cowbells and everything, so it's super fun to have them."

With her family by her side, Curzan has made the most of her time at the international team trials and gained more confidence along the way.

Less than a year ago in Tokyo, Curzan finished 10th in the women's 100-meter butterfly and swam in the prelims on the U.S. women's 4x100-meter medley team that went on to win the silver medal.

It was Curzan's first exposure to racing on such a large stage. Now back in her home state, she has shown her speed and versatility while swimming in a pool she's familiar with in Greensboro.

"It means the world," said Curzan, who'll turn age 18 on June 30. "I think this is definitely how I'd hoped it'd go."
Curzan secured a spot at her first world championships in Budapest when she took second in the women's 100-meter freestyle race on Tuesday's opening night of the international team trials. She finished in 53.58 seconds, just behind Olympic silver medalist Torri Huske at 53.35 seconds.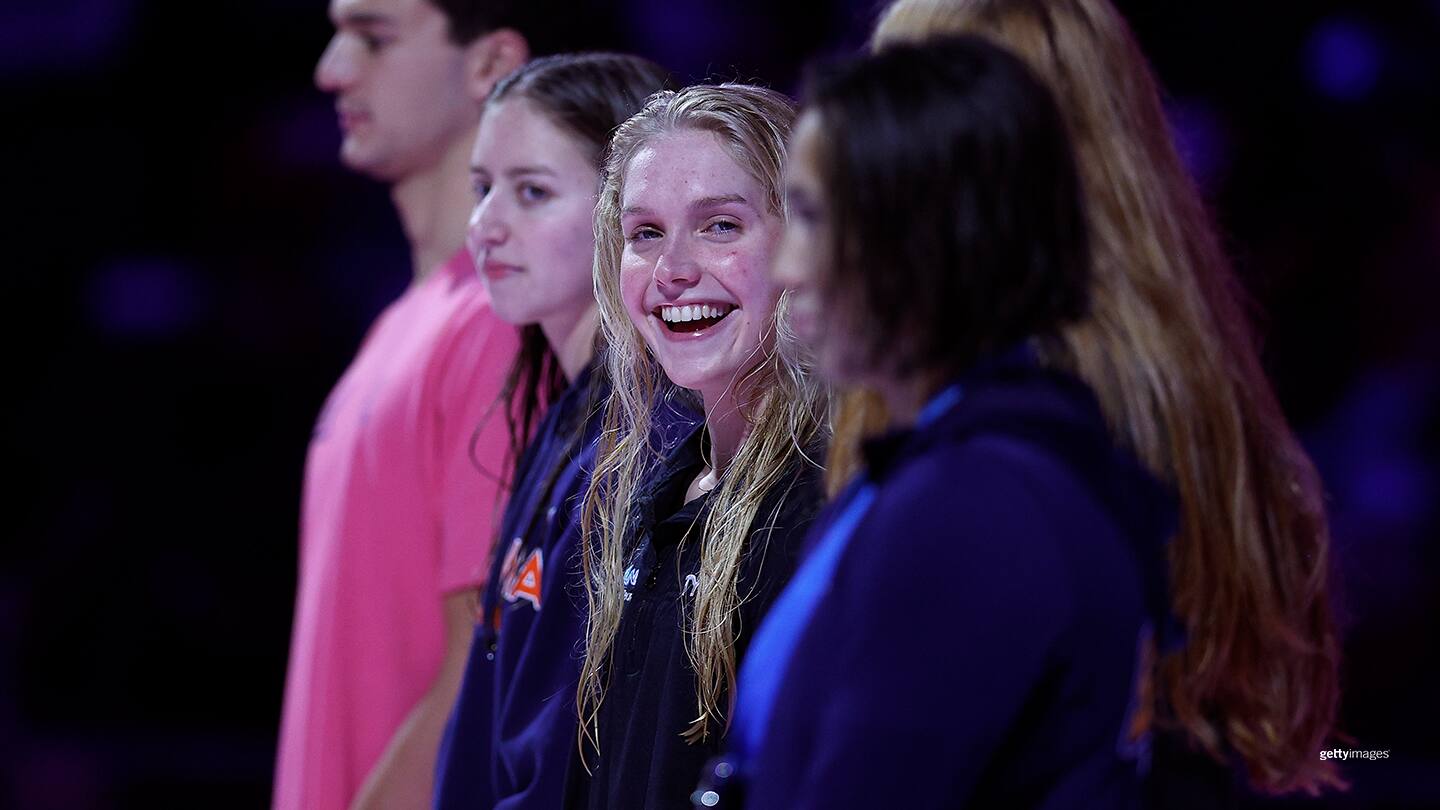 Claire Curzan reacts during her medal ceremony at the 2021 U.S. Olympic Team Swimming Trials on June 19, 2021 in Omaha, Neb.
Afterward, Curzan said she hadn't expected to qualify for the world championships in the 100 freestyle, but she was "super honored" to do so.

A day later, Curzan won the women's 50-meter butterfly in 25.49 seconds, coming within a hundredth of a second of breaking the American record.

On Thursday, she qualified for her third event at the world championships with a second-place finish in the women's 100-meter butterfly at 56.35 seconds. It was another boost for the high school senior.

"Confidence is something I've been working on," Curzan said. "I think the Olympics was great in just kind of getting a taste of the biggest stage in the world and then now being able to reflect on that and being able to be better at these meets when the competition is still high and you can still kind of feel the tension because it's a qualifying meet and then knowing that I've done it before and that I can do it again and that my training has helped me for this moment."

Curzan made name for herself growing up in the Tar Heel State. She swims for TAC Titans in North Carolina, and as a senior at Cardinal Gibbons High School in Raleigh, she's considered the top female swimming recruit in the Class of 2022.

Curzan decided to sign with Stanford, and she has had several opportunities at the international team trials to race against her future Cardinal teammate in Huske.

Curzan and Huske have finished first and second in the same event three times this week in Greensboro. Curzan won the 50 butterfly, while Huske got the better of Curzan in the 100 freestyle and the 100 butterfly.

"It's really fun, and I'm so excited for her to come (to Stanford) next year to race every day in practice," Huske told NBC Sports. "I've always really liked racing her, and I feel like we both bring out the best in each other."

It's not a rivalry as much as a friendship between two rising stars in the sport.

"I'm so excited. We've literally been on every international trip together," Curzan said of heading to the world championships alongside Huske. "I'm super happy to have her."

In the meantime, Curzan has her large cheering section — with their cowbells — supporting her in Greensboro.
Alex Abrams has written about Olympic sports for more than 15 years, including as a reporter for major newspapers in Florida, Arkansas and Oklahoma. He is a freelance contributor to TeamUSA.org on behalf of
Red Line Editorial, Inc.