A Standout Freshman Swim Season Has Regan Smith Ready To Go For International Team Trials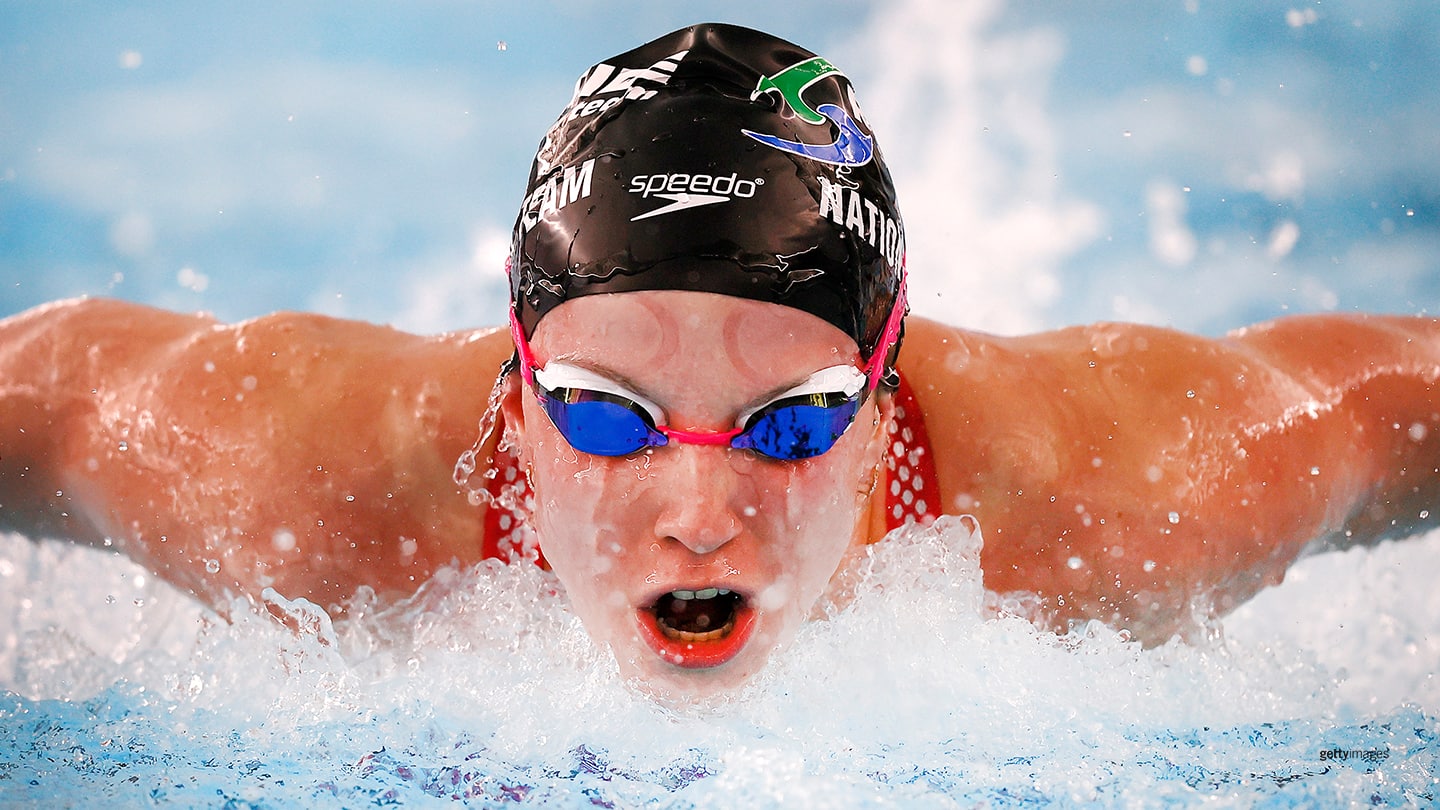 Regan Smith competes in the women's 200-meter butterfly final at the TYR Pro Swim Series on Jan. 16, 2021 in San Antonio, Texas.
Regan Smith has plenty of schoolwork to keep her busy between races this week in Greensboro, North Carolina.

When she's not in the pool, Smith plans to watch a few college lectures online, so she doesn't fall behind in biology and her other classes at Stanford University.

Along with being a three-time Olympic medalist, the 20-year-old Smith is a freshman at Stanford and a breakout star on its swimming and diving team.

Her professors knew she'd have to miss several days of class during the spring quarter to compete at the Phillips 66 International Team Trials inside the Greensboro Aquatic Center.

"For the most part I've been able to be a very normal college student," Smith said. "I'd say here and there, especially at the beginning of the year in September, there would occasionally be some people, whether it was in my dorm or just around campus, someone who would say hi to me and congratulate me for my summer, which has all been very, very kind."

Smith is among a select group of collegiate swimmers who'll compete in Greensboro after racing at the Olympic Games Tokyo 2020 this past summer and then the 2022 NCAA Championships only a month ago.

It has been a quick turnaround for them.

The International Team Trials, which run today through Saturday, serve as a selection meet for American swimmers to qualify for this summer's 2022 FINA World Championships in Budapest, Hungary.

The deep field in Greensboro is expected to include around 450 athletes and feature 36 American record holders, 41 Olympians and 73 U.S. national team members.

For athletes like Smith and Virginia's Alex Walsh, the past year has been a whirlwind as they've gone from medaling at the Olympics to swimming for a collegiate national title to now vying for a spot at the world championships.

"It was definitely a big change," Smith said. "I think (going from the) Olympics to college was a little bit better just because I had like a solid four weeks to kind of clear my head, do a nice little reset and get prepared for college.

"So that was OK, but I had no clue what college swimming would be like, and it's very different from USA Swimming and international swimming. And I couldn't tell you exactly what is different. It just was an experience that I've never experienced before, and so it was very different starting the college season."

Unlike other college freshmen, Smith — the world-record holder in the women's 200-meter backstroke — couldn't relax and enjoy her final summer at home before going away to Stanford.

She instead made her Olympic debut in Tokyo, where she won a pair of silver medals in the 200-meter butterfly and the 4x100-meter medley relay as well as bronze in the 100-meter backstroke.

Also competing in her first Olympics, Walsh, a sophomore at Virginia, earned a silver in the 200-meter individual medley in Tokyo.

Smith admitted she felt stressed before leaving for the Olympics. She had to pack and get ready for her freshman year at Stanford, but first she'd be gone for more than a month traveling across the globe and competing on the world's largest stage.

"So I remember being really stressed before leaving for the Games, but then once I was there, I didn't really think about (college) at all," said Smith, who is originally from Lakeville, Minnesota. "I just tried really hard to be present and not get too far ahead of myself and think about things that were, you know, like six or seven weeks away."

Smith arrived on Stanford's campus on Sept. 6, around a month after the Tokyo Olympics ended.

After the grind of training for the Olympics, Smith said she wanted to have fun during her freshman season at Stanford. She spent time with her new teammates and appreciated the laidback feel of collegiate dual meets, where she could step onto the blocks and swim without worrying as much about her times.

"But I really was just tired of feeling like swimming was a chore and just dreading competition and feeling really stressed about things all the time," Smith said. "So I really wanted to use this first college season just as a chance to really enjoy swimming and enjoy the process and enjoy being with a new team and a new environment.

"Getting to swim outside was tons of fun."

Earlier this month, Smith was named both the Pac-12 Women's Swimmer of the Year and the Women's Freshman of the Year after helping Stanford win the conference swimming and diving championships title for the 24th time. She was only the fifth swimmer in Pac-12 history to earn both honors in the same year. Olympic swimming great Natalie Coughlin also accomplished the feat during her first season at Cal in 2001.

In late March, Smith captured her first national championship when she won the 200-yard backstroke in 1 minute, 47.76 seconds. She was also as a member of the Cardinal's 800 free relay team that won the national title. Walsh also thrived at NCAA nationals, winning four events.

Despite the quick turnaround, Smith said the collegiate season helped prepare her to return to international competitions.

She had the opportunity at Stanford to race on a regular basis after being limited over the past few years because of the coronavirus pandemic. She again got comfortable with racing, and she hopes to bring her more relaxed approach to this week's team trials.

"So I really want to be nice to myself at meets like this and just enjoy the process and enjoy having the opportunity to compete and see friends from across the country that I don't really get to see very often," Smith said.
Alex Abrams has written about Olympic sports for more than 15 years, including as a reporter for major newspapers in Florida, Arkansas and Oklahoma. He is a freelance contributor to TeamUSA.org on behalf of
Red Line Editorial, Inc.