Para Swimmer Abbas Karimi Celebrating Life, Career In United States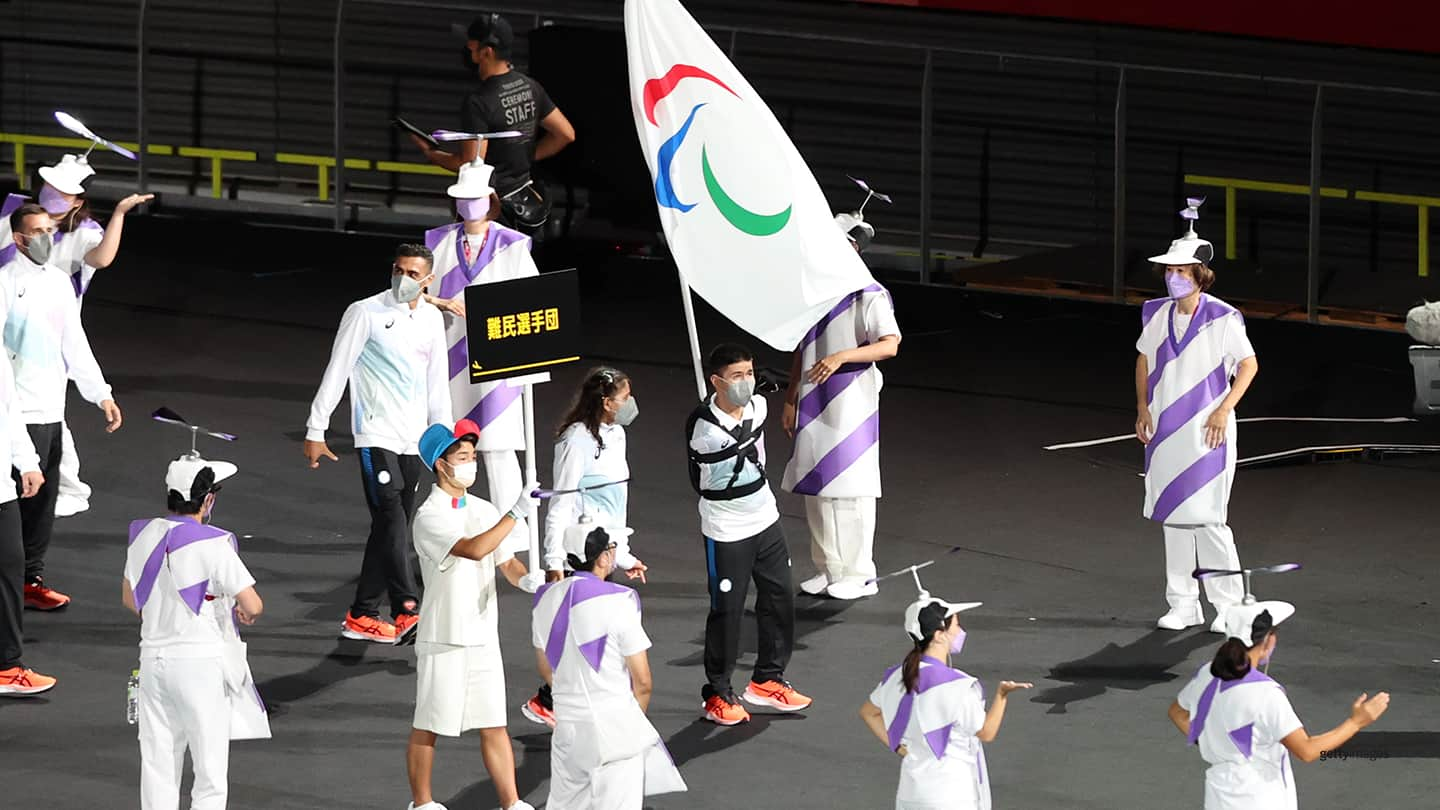 (L-R) Flag bearers Alia Issa and Abbas Karimi of the Refugee Paralympic Team lead their delegation during the Opening Ceremony at the Paralympic Games Tokyo 2020 on Aug. 24, 2021 in Tokyo.
Born in Kabul without arms, Abbas Karimi sought out role models from a young age as he yearned to find his own purpose.

Michael Phelps. Arnold Schwarzenegger. Muhammed Ali. Bruce Lee.

All his role models were distinguished and masterful athletes who transformed the world with defining legacies.

"Since I've started swimming, I saw Michael Phelps' picture in a swimming pool in Kabul," Karimi said. "He motivated me all over the years, and now I'm living in his country. I never thought that would happen.

"These were the people I've always visualized myself being on the same level as. Sport is not just about me. It's about my people and millions around the world. You've got to have a big heart when you want to be a true champion. These people all have or had big hearts, and I've learned from watching them."

Karimi fled Afghanistan at age 16 to escape the Taliban, spending four years at various refugee camps in Turkey before moving to Oregon and then ultimately Florida. He had competed as a displaced athlete for nearly a decade and was the Opening Ceremony flag bearer for the Refugee Paralympic Team at the Paralympic Games Tokyo 2020, where he qualified for the final in the 50-meter butterfly in the S5 classification.

But on April 1, his status changed, and it was no April Fool's joke. He finally became a U.S. citizen after what felt like a life-long wait. Two weeks later, he was selected as one of the 25 athletes who will represent Team USA at the 2022 World Para Swimming Championships in June in Madeira, Portugal.

"These past 10 years have been all challenges, struggles and obstacles. But now, I know where I'm going and where I want to end. I have a country that has my back. I have my people," Karimi said.

"This country has given me a second chance, a second life to pursue my dreams. This country has a lot of respect for me and I have a lot of respect for it. That's why now I have to give something back to this country. This country accepted me the way I was. In Afghanistan and Turkey, I felt like those societies and people were not accepting me the way I am, having a disability and no arms. But when I came to the U.S. and walked outside into the road or the park, when the people saw me, they didn't look at me and question that I don't have arms. They just smiled. That made me so happy when they smiled. That's what I love about this country."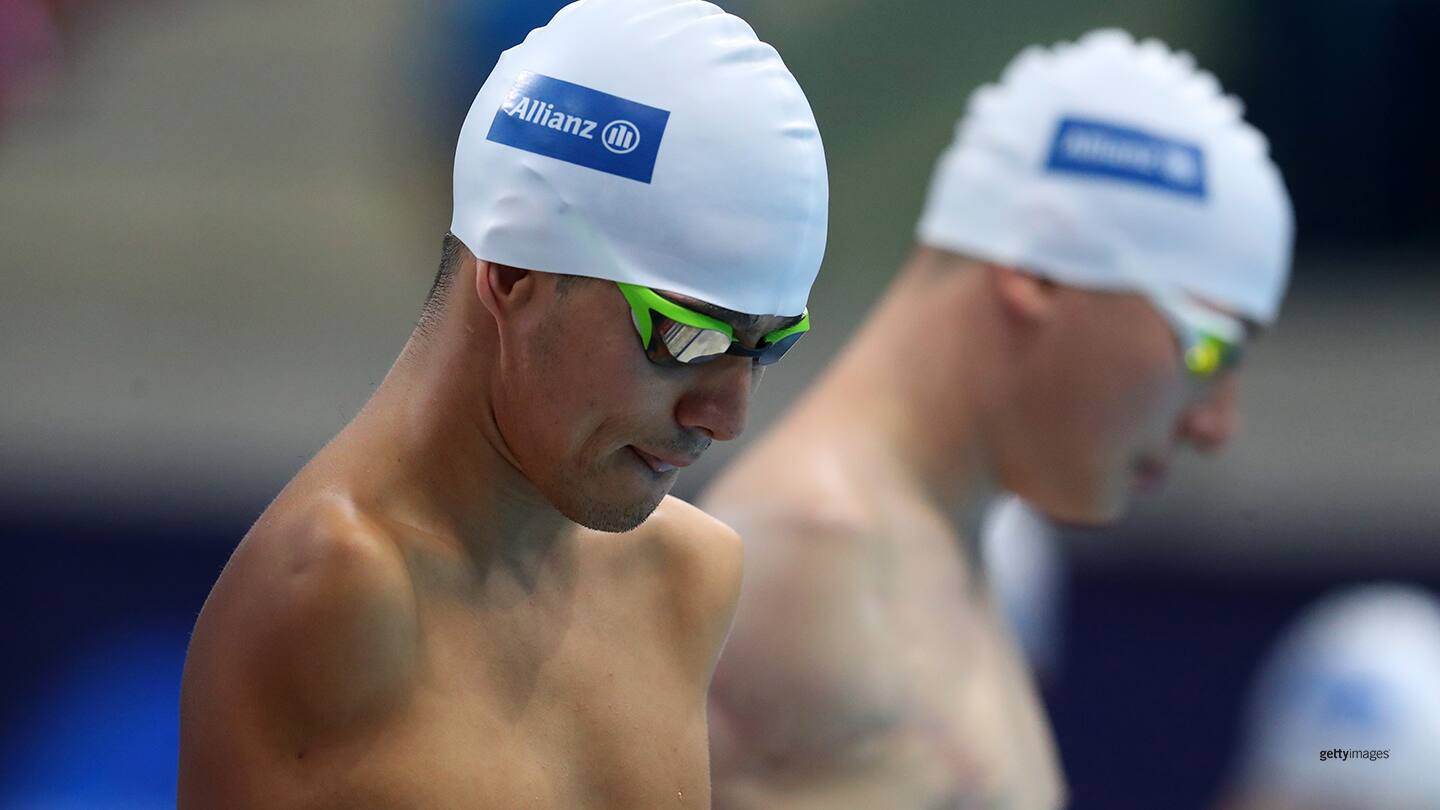 Abbas Karimi prepares to race in the men's 50-meter butterfly S5 final at the 2019 World Para Swimming Championships on Sept. 12, 2019 in London.
Karimi rarely cracked a smile himself growing up. Bullied in school and often called "homeless" and "crippled," he sought out sports as an escape and a way to protect himself. Kickboxing, taekwondo, gymnastics, soccer — you name it, he tried it.

But it was in the water where he discovered his purpose; he'd often skip school to go to play in the river nearby.

"I always went to the river and jumped in fully clothed to cool myself down and relax. This was not the end of the world I told myself," he explained. "My whole life there has been a fire in me. I've wanted to be something. I've had a burning desire. Water was the only thing that was cooling me off. I was a very angry kid and I did lots of horrible things in my life, but when I got involved with swimming and was in the water, it calmed me down. Every time I swim and I get out of the water now, I feel reborn."

It was Karimi's own choice to leave Afghanistan, explaining he could "get killed any time, any place" in a war zone where people with a disability were not accepted, even by his own father at the time.

"It was not easy to leave because I was just a 16-year-old boy and don't have arms. How was I going to take care of myself? How was I going to feed myself? At that time I wasn't able to do everything with my feet, but when I became alone I learned," he said.

"I wanted to find out who the real Abbas Karimi was. OK, I don't have arms. But I have a heart and a mind, and if I get control of my mind and heart, maybe I can make something of myself."

Karimi first flew to Iran, where he then paid smugglers to take him across the border into Turkey. He spent four years there without documentation, participating in swim meets when and where possible given he didn't have valid papers to compete internationally. With the help of the United Nations High Commissioner for Refugees, he was able to eventually move to the U.S.

Karimi went on to compete at two world championships — without ties to a delegation — and won silver in the 50-meter butterfly in 2017.

He expects to race both the 50-meter butterfly and 50-meter backstroke for Team USA this summer, and will be a medal contender in the former after having won the event at the Para Swimming World Series event in Indianapolis this month.

Poised and confident, a matured Karimi is grinning from ear to ear these days. He's now become a role model himself, and he's barely touched his potential.

"I have a mindset of winning. I want to be No. 1 in the world and prove myself," he said. "My goal is so big, but these days I'm just celebrating becoming an American."
Stuart Lieberman has covered Paralympic sports for more than 10 years, including for the International Paralympic Committee at the London 2012, Sochi 2014 and PyeongChang 2018 Games. He is a freelance contributor to TeamUSA.org on behalf of
Red Line Editorial, Inc.