Carissa Moore Adds Fifth Surfing World Title To Olympic Gold Medal In 2021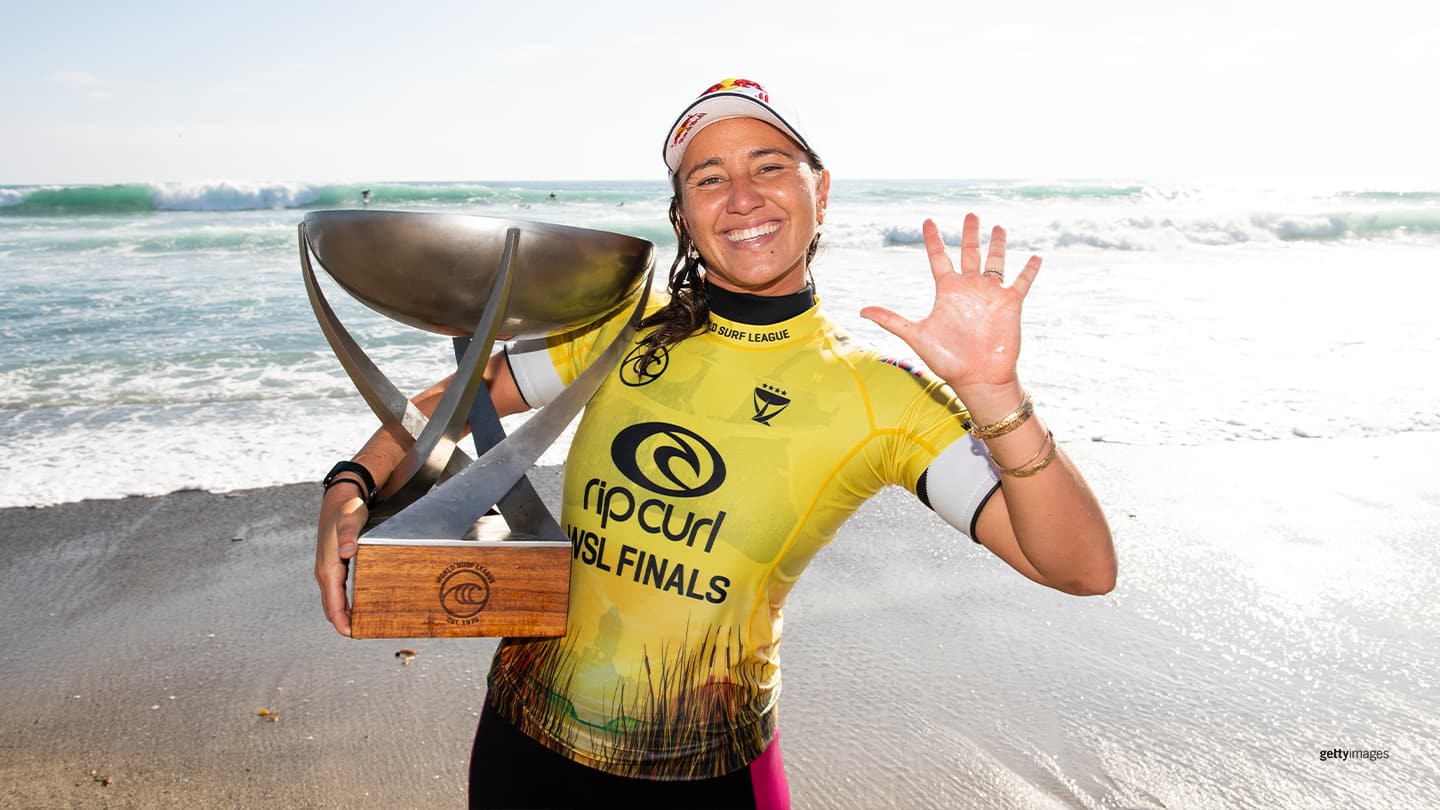 Carissa Moore celebrates after surfing in the title match of the Rip Curl WSL Finals on Sept. 14, 2021 in San Clemente, California.
After Hawaii's Carissa Moore won the first-ever women's Olympic gold medal in surfing earlier this summer, she said the moment was about surfing and using the platform to share positivity and love.

She was able to share even more of that on Tuesday when she added to Olympic gold by winning her fifth world title at the World Surf League Finals in San Clemente, California. She beat Brazil's Tatiana Weston-Webb in the best-of-three format, winning the final two heats after losing the first.

"It was a crazy back and forth battle," she said. "It didn't kind of go how I wanted it to in the beginning so I was really happy to fight back. Number five sounds pretty good!"

Moore was just 18 when she won her first world title, becoming the youngest surfer ever to wear that crown. That was in 2011. She's now 28 and came into Tuesday's competition as one of just five people to win four or more surfing titles, adding victories in 2013, 2015 and 2019.

This April, she tied South Africa's Wendy Botha's record of 24 Championship Tour wins, and the same month also showed her flair and ability to push the limits by landing an aerial maneuver that some called the best ever seen in women's competition.

The WSL Finals presented a brand-new format to determine this year's world champions. The event featured the top five men and women based on regular-season points, and as the world No. 1 Moore automatically had a spot in the best-of-three final. Weston-Webb came in as the world No. 2 and beat Sally Fitzgibbons to earn the other final spot.

Surfing waves in the 4 to 6-foot range at Lower Trestles, Moore led for much of the first heat. Her best score was 8.33 on her third wave of the heat, and that combined with her 5.73 for a total of 14.06. But Weston-Webb remained close on her heels with a total score of 12.83 before scoring a high of 7.87 on her last wave to move in front for the win with a total of 15.20.

Moore came out strong in the second heat, scoring 8.93 to lead things off and put the pressure on Weston-Webb. When she scored a 7.67 on her third her total of 16.60 set a high bar. With 10 minutes left in the heat Weston-Webb still needed a score of 8.68 to move into first and win the title. She couldn't do it, and the two were tied as Moore went on to win 17.26-15.60.

Moore scored well on her second and third waves to once again set the tone in the championship heat. Weston-Webb answered with an 8.03 but she was still behind. When Moore upped her best score to 8.60, she all but guaranteed the title. Weston-Webb couldn't finish what started as a solid ride with two minutes left and Moore's 16.60 stood to best her 14.20.

On the men's side, No. 4 Conner Coffin, a 28-year-old from Santa Barbara, won his first match against No. 5 Morgan Cibilic to advance to the second match. His 14.33 wasn't enough to beat No. 3 Filipe Toledo of Brazil and his 16.57, however, and Coffin was eliminated. Toledo lost to No. 1 Gabriel Medina, now a three-time world champion from Brazil, in the final.
Karen Price is a reporter from Pittsburgh who has covered Olympic and Paralympic sports for various publications. She is a freelance contributor to TeamUSA.org on behalf of
Red Line Editorial, Inc.