With Two Gold Medals, Oksana Masters' Legend Grew Even Greater In Tokyo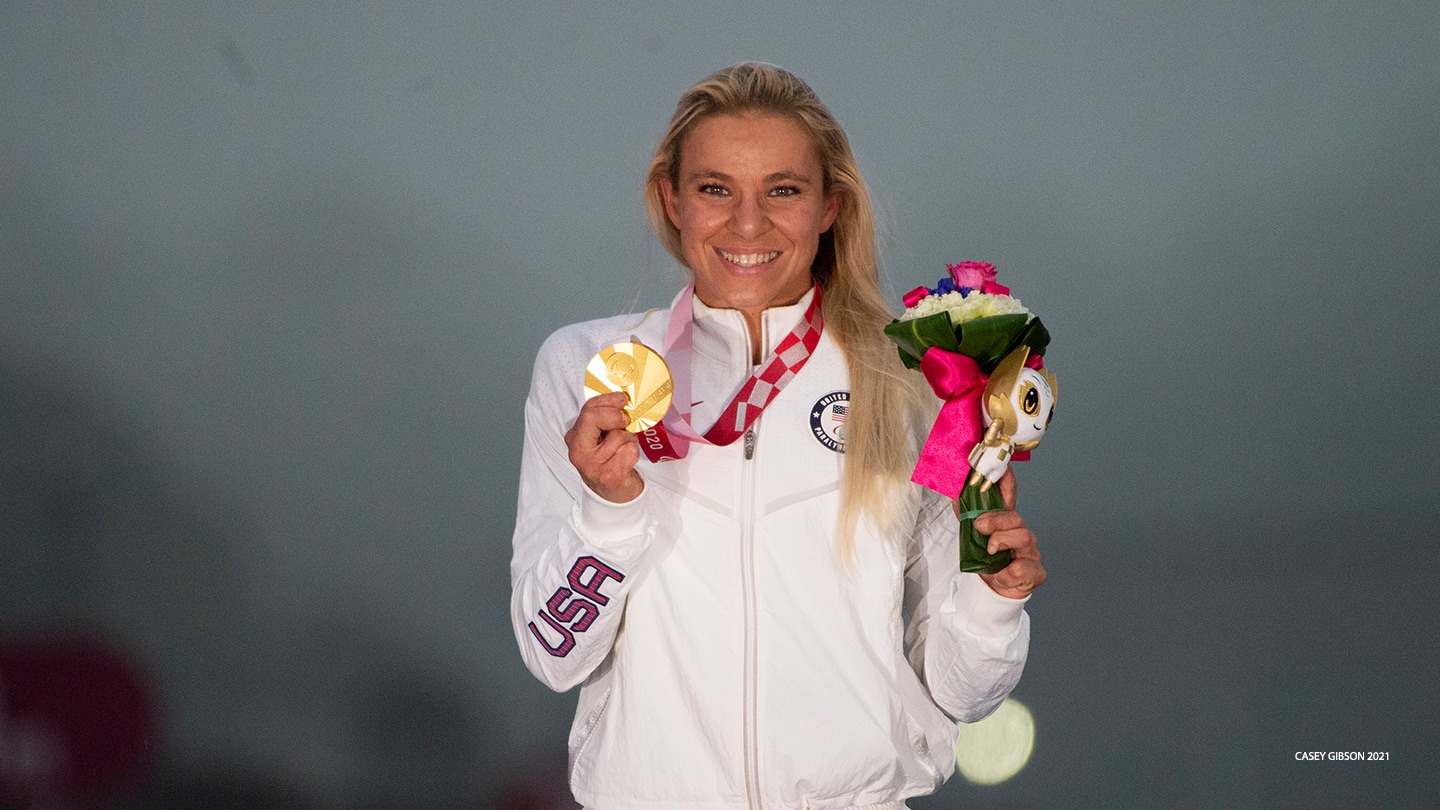 Oksana Masters celebrates on the podium after winning the Cycling Road Women's H5 Road Race at the Paralympic Games Tokyo 2020 on Sept. 1, 2021 in Tokyo.
The pressure of competing in a Paralympic Games is clear: a special, often once-in-a-lifetime opportunity to represent your country and try for the highest awards in sports.

For U.S. multi-sport medalist Oksana Masters, the pressure of the Paralympic Games Tokyo 2020 was different, colored with sharp intensity. She was not only coming to Tokyo to compete in her second Summer Paralympics, and fifth Games overall. Masters also carried the additional pressure of being one of Team USA's biggest stars, with a bright spotlight on her thanks to her endorsements, publicity and big predictions for medal hauls in her cycling events.

She responded in her trademark fashion, bringing her best when it mattered. Masters, 32, took gold in both the road race and time trial, pushing her overall Paralympic medal total to 10. In doing so she became only the fourth woman, and sixth American overall, to win gold medals in the Summer and Winter Paralympics.

It's been a long, sometimes winding road to get there.

Born in Ukraine with damage to her hands and legs due to radiation poisoning, Masters was adopted by an American mother at age 7 and eventually had both legs amputated.

Her Paralympic journey began at the London Games in 2012, where she and partner Rob Jones won a bronze medal in the rowing trunk and arms mixed double skulls event.

She then went on to win a silver and bronze medal as a Nordic skier at the Sochi Winter Games in 2014, and later added her first two gold medals four years later as part of a five-medal haul in cross-country skiing and biathlon in PyeongChang.

Along the way, Masters also picked up handcycling as a form of cross training and competed in that sport at the Rio Games in 2016, finishing just off the podium in both events.

Cycling. Cross-country skiing. Rowing. Biathlon. Regardless of the sport, Masters has shown she knows how to compete and win. And yet, when she crossed the finish line on Sept. 1 to win the road race H5 in Tokyo — after winning the time trial H4-5 the previous day — she was overcome with emotion.

"This basically sums up my emotions of @Tokyo2020," Masters posted on Instagram, alongside a photo of her in joyful tears as the gold medal hung around her neck. "All happy tears mixed with ugly crying when you realize your dreams came true even when you doubted yourself at times but your team behind you always believed in you.

"I CAN'T wait to put 2 GOLD Medals around my mom's neck."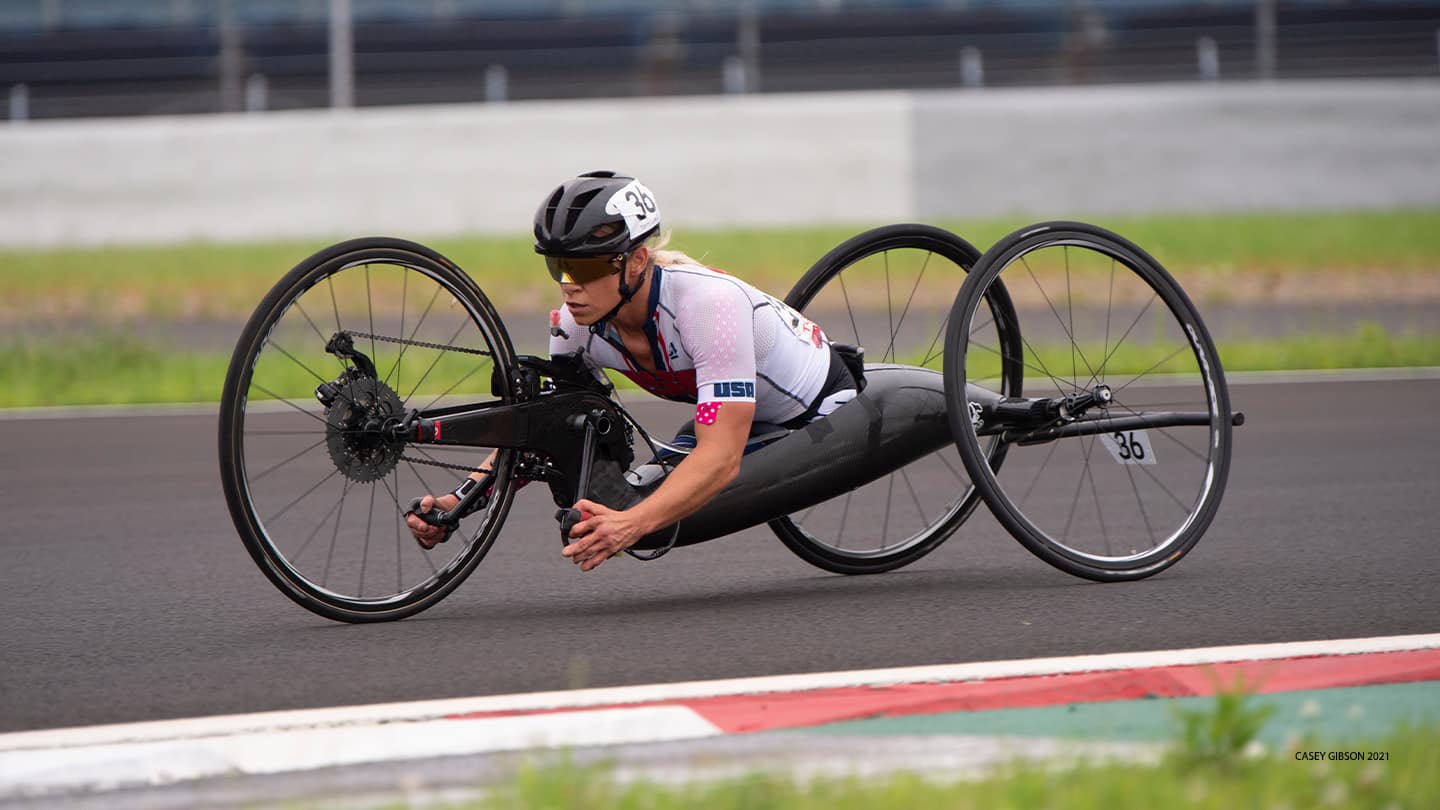 Oksana Masters competes during the Cycling Road Women's H5 Road Race at the Paralympic Games Tokyo 2020 on Sept. 1, 2021 in Tokyo.
Her social media post drew congratulations from other gold medalists and many fans, including U.S. skiing star Mikaela Shiffrin and Para-swimming's Jessica Long.
Her post-race shock was clear. Though Masters has had success on the bike — including winning three medals at the world championships — she had yet to mount the podium in the sport at the Paralympics, much less the top spot. That changed on the challenging course at Fuji International Speedway, when Masters found her grove on the speedy racetrack and in iffy weather. Masters credits a change in equipment, from a stock bike in 2016 Rio to a fully custom-built ride for Tokyo, in upping her performance.

Masters was fourth in the Rio 2016 road race, and fifth in the time trial.

"I can't believe it," Masters, a native of Louisville, Kentucky, said. "I've never won a road race in my life, and I never thought I would ever win a road race in my life. I feel like I am on cloud nine right now. At the start, I was so nervous, I couldn't even feel my grips.

"I did not trust myself, but the minute that clock went off and the whistle went off, I just let my body go on auto-pilot."

Masters' road to Tokyo was filled with the bumps and twists that many athletes of the Olympic and Paralympic Games faced. Their lives were upended by postponement of the Games from 2020 to 2021 because of Covid-19, changing their training schedules, Paralympic trials tapering and personal plans.

A tumor threw a big curve into Masters' training. With just 100 days to go until the start of the Games, she underwent surgery to remove the mass from her femur, casting doubt on if she would be able to compete or do well.

"Recently my road to Tokyo included an unexpected detour," she wrote in an Instagram post on July 6. "I had to make the difficult choice to prioritize my health over sports. On the day of the 100 days out celebration for the Tokyo Paralympics, I went in for surgery on my leg. It was the hardest day thus far on my road to Tokyo especially after coming off from such a high note at the first world cup of the Para-cycling season."

Masters indeed recovered and delivered the best Paralympic cycling performances of her life.

She's hardly had any time to celebrate, though, as she's already preparing for a third Winter Games next year in Beijing.

Masters loves to train, compete and push herself. She is now one of the most recognized American Paralympians and, thanks to Tokyo, her legend is growing bigger.
Joanne C. Gerstner has covered two Olympic Games and writes regularly for The New York Times and other outlets about sports. She has written for TeamUSA.org since 2009 as a freelance contributor on behalf of
Red Line Editorial, Inc.