Competing Pregnant, Winning Paralympic Medals No Big Deal For Lora Webster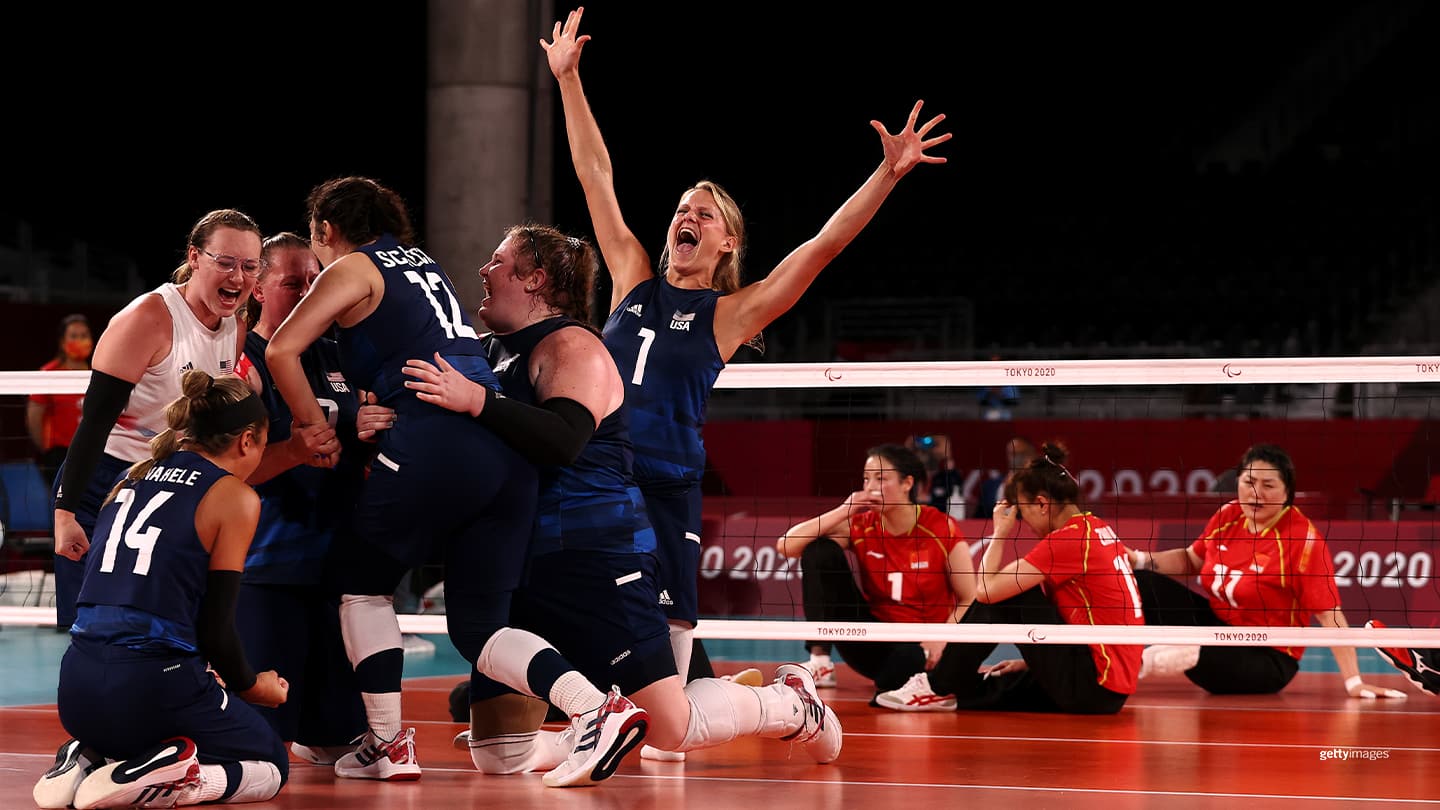 Lora Webster celebrates victory after winning the Women's Sitting Volleyball gold match at the Paralympic Games Tokyo 2020 on Sept. 05, 2021 in Chiba, Japan.
Lora Webster competed at her fifth Paralympic Games in Tokyo earlier this month, and her second while five months pregnant.

The 35-year-old middle blocker on the U.S. women's sitting volleyball team had six points on two kills, three blocks and an ace in the team's four-set gold-medal victory over China, all while pregnant with her fourth child.

"We may have had 13 people out there," Webster said. "This baby bump was a huge part of it for me, and the child's going to have great show-and-tell stories to share about it."

The Phoenix native is now a five-time Paralympic medalist, having also been a part of the U.S. squad that won bronze in 2004, silver in 2008 and 2012 and gold in 2016. In 2012, she was also expecting but kept her pregnancy secret from the team at the time.

"I know how to compete pregnant. My body knows what to do. I know how to make sure that I'm protecting (the) baby," she said during the Tokyo tournament.

"With my first pregnancy, I had to stop playing because we had a lot of scares and the risk just wasn't worth it. That was a really hard choice for me to give up that dream, to fulfill the other one. So I know that I'm very fortunate to be able to have both right now, and that's not something I take for granted."

The U.S. women's sitting volleyball team arrived in Japan two weeks later than originally planned due to COVID-19 exposure back home and could not train together. Two players from the original roster had to be replaced for health reasons.

After losing to its archival and three-time Paralympic champions China in three sets in the preliminary round, Team USA fired back when it mattered most in the title game. The U.S. defended its title from Rio and kept its streak alive of medaling in every Paralympic women's sitting volleyball tournament that has been contested since the sport debuted on the program back in 2004. U.S. women's volleyball left Tokyo making a statement, having claimed at least one gold medal in all three disciplines: Olympic indoor, Olympic beach and Paralympic sitting.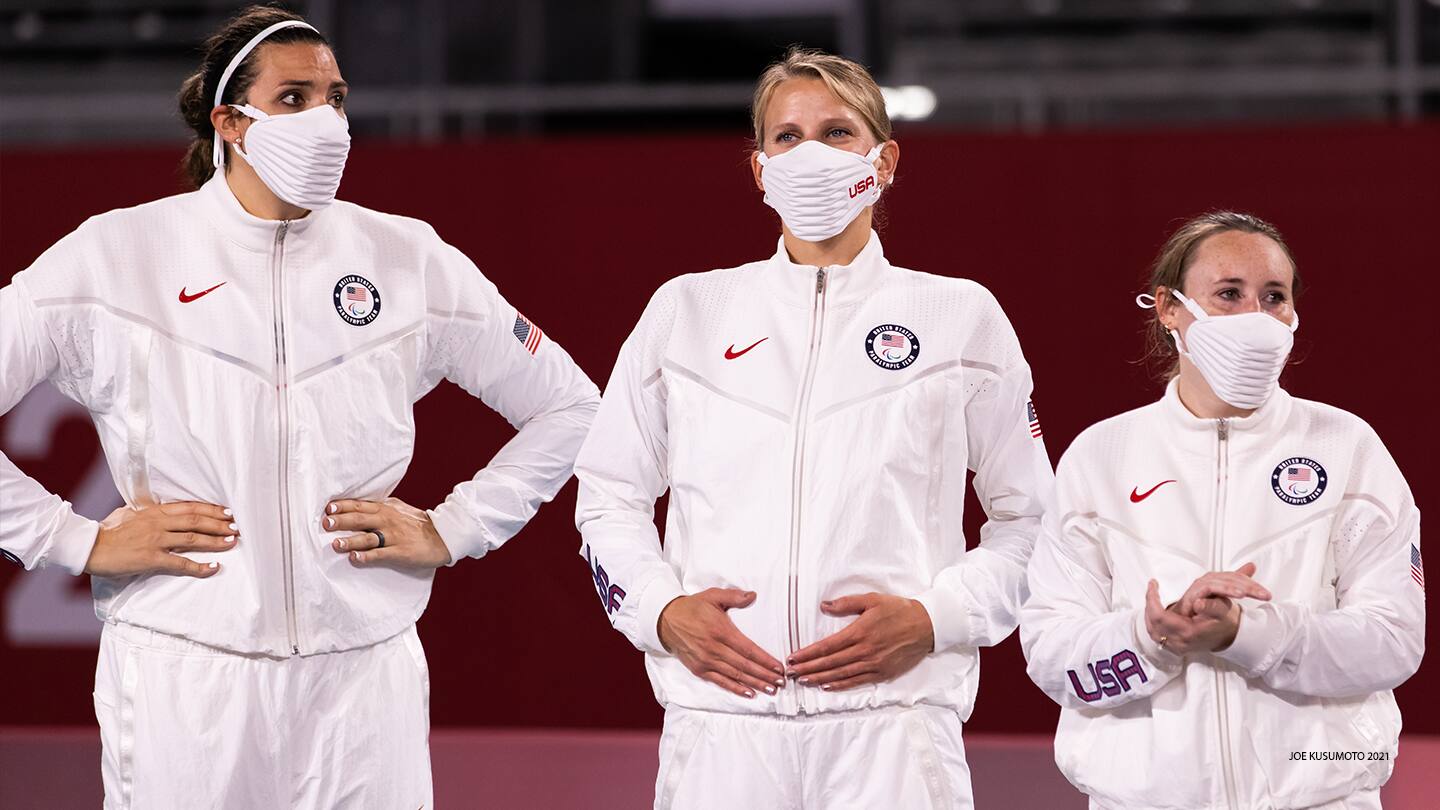 Lora Webster holds her stomach on the podium after the Women's Sitting Volleyball gold medal game at the Paralympic Games Tokyo 2020 on Sept. 5, 2021 in Chiba, Japan.
For the tournament, Webster was fourth on Team USA and ranked in the top 15 of all players in total points with 41. She was tied third overall for average blocks per set, helping the U.S. finish as the top blocking team. Webster hit double digits in points in three of the team's five matches, including 13 in a preliminary round win over the Russian Paralympic Committee (RPC) and 10 points in a semifinal sweep against Brazil. Having been to five Paralympic Games and seen the progression of the sport since the very beginning, Webster remarked on the growth of volleyball at the Games.

"Sitting volleyball has always been dominant in Europe, and those were always our benchmarks," Webster told TeamUSA.org following the Brazil match. "Now you just see these teams coming up, like Canada and Italy, who are going to be a force."

Webster, who lost her lower left leg to bone cancer when she was 11, has been playing sitting volleyball for 18 years, and now trains mostly at home where she also takes care of her three children: Madi (10), Cole (8) and Kyle (6).

During this year's Paralympic Games, Webster said she didn't even remember half the time that she was pregnant while out on the court aside from the occasional kick she felt in her belly. She did have to be more conscious of how she was diving, though, explaining she had to always consider not diving straight on her stomach onto the hard court.

A photo of Webster holding her pregnant belly on the podium while smiling with her gold medal made the rounds following the Games, inspiring mothers and future mothers everywhere.

"There was a lot of pep talk between me and the belly right before — we finally did it and now we could relax," she said.

"People need to know that as long as you're healthy — and I'm not trying to give medical advice by any stretch — it is possible to remain active and a pregnancy doesn't have to derail your goals. You can manage both if that's what you're capable of doing."
Stuart Lieberman has covered Paralympic sports for 10 years, including for the International Paralympic Committee at the London 2012, Sochi 2014 and PyeongChang 2018 Games. He is a freelance contributor to TeamUSA.org on behalf of
Red Line Editorial, Inc.