25 Years After Her Paralympic Debut, Cheri Madsen Won Her Ninth And Tenth Medals In Tokyo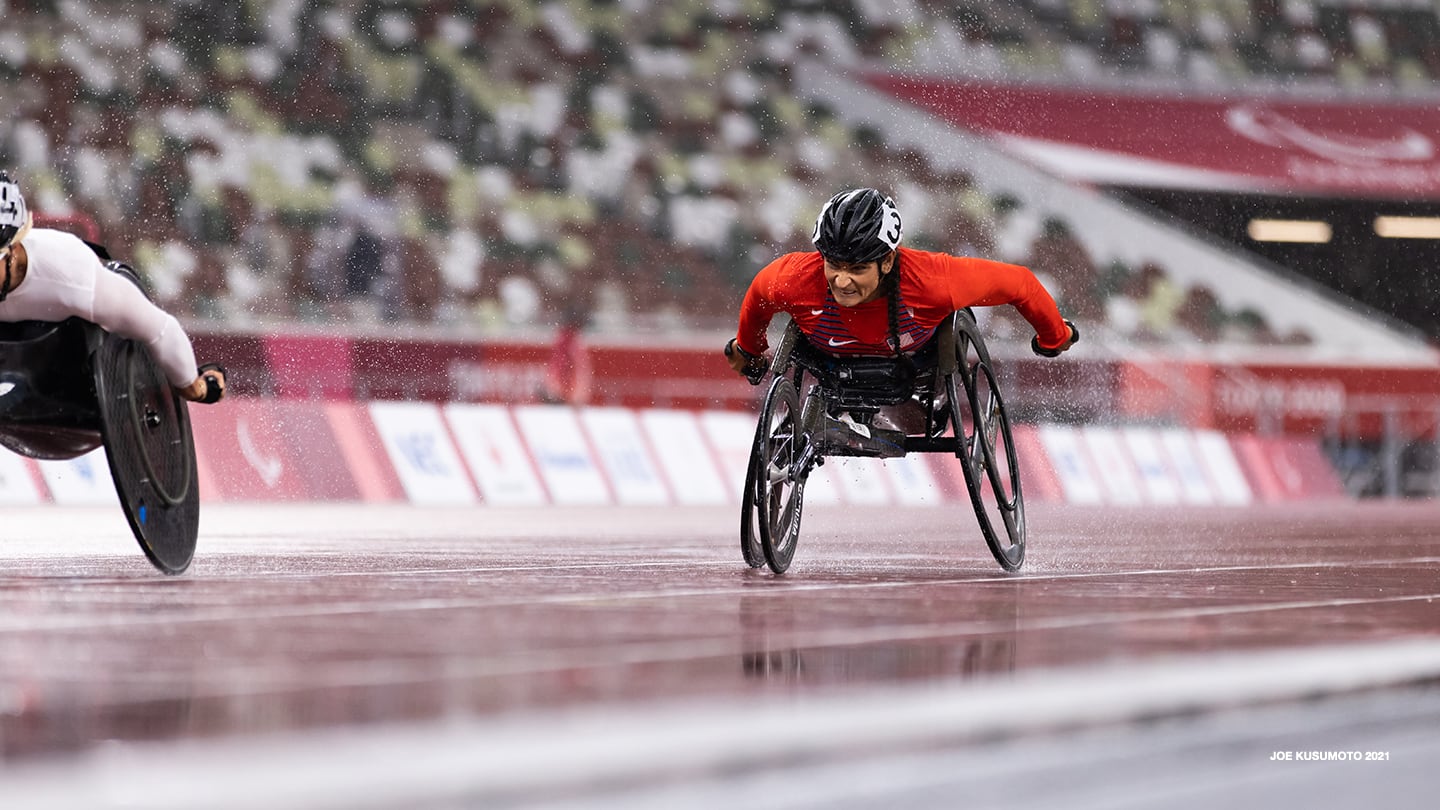 Cheri Madsen competes in the women's 400-meter T54 at the Paralympic Games Tokyo 2020 on Sept. 2, 2021 in Tokyo.
A quarter-century after her Paralympic Games debut in wheelchair racing, Cheri Madsen has decided to stop pushing herself around the track in competitions.

Just shy of her 45th birthday, Madsen gave a good account of herself against much younger rivals by winning a pair of medals at the Tokyo 2020 Paralympic Games. It was as good a time as any to call it a career.

"I feel relieved a little bit," Madsen said. "Training for these Games, with the five years between the two, it was really hard. It was a lot of work.

"For me, personally, I just don't want to make the team and go (to the Games) — I want to medal. I just feel like that's probably not going to keep happening."

Madsen has already won her share — 10 medals in all, including a pair of golds — dating back to the Atlanta Paralympics in 1996; she also won a bronze at that year's Olympics as part of an 800-meter exhibition race. She capped it all off with a silver in the 400-meter and a bronze in the 100-meter T54 in Tokyo.

"Sometimes, I'm definitely amazed that I'm pushing faster now than I did when I was in my teens and early 20s," Madsen said. "That just goes to show the amount of work that I've put in and the amount of training and time that I've spent getting to this point."

Madsen, a Nebraska City, Nebraska, resident and member of the Omaha Tribe, was concerned that the extra year of preparation for Tokyo made necessary by Covid-19 would work against her.

"These younger girls are getting an extra year to get stronger and faster," Madsen said. "And not having any competitions, I didn't know how anybody was doing. It was just kind of going into these Games just blind as to what everyone else was doing."

Though in her mid-40s, Madsen probably has less wear and tear on her body than she would have if not for the 13-year break she took from competition after the 2000 Paralympics to start a family.

Madsen has two daughters. Reese, 18, plays junior college softball. Fifteen-year-old Malayna is a three-sport high school athlete.
Cheri Madsen during the medal ceremony of the women's 100-meter T54 at the Paralympic Games Tokyo 2020 on Sept. 1, 2021 in Tokyo.
"I honestly thought I was done," Madsen recalled. "I never intended, ever, on coming back to the sport. I actually, within the 13 years, I didn't even push in my racing chair. I didn't do anything … which probably saved my shoulders a little bit, to be honest."

When her brother and father died in a 2007 accident, Madsen found the motivation to return to her sport — her late brother, Mario Becerra III.

"I kept hearing him tell me that he believed in me and he wanted this for the girls," Madsen said. "He wanted them to see me compete. I really did it just in honor of him and his memory."

Madsen shed 30 pounds and returned to competition in 2013, surprising herself by qualifying for the world championships that year.

"It was definitely difficult, but there wasn't really a time where I ever thought that I wanted to give up," Madsen said. "I'm very goal oriented.

"You don't hear of too many people taking that long of a break and coming back and having success like I did. That just motivated me and drove me to work even harder and want more."

Madsen said she hopes that her achievements have showed her daughters how hard work can pay dividends.

"I really wish that my kids could have (seen) me compete (in Tokyo)," Madsen said. "That's the unfortunate thing with the Covid restrictions. They never got to see me do a Paralympics.

"They did go to world championships in London in 2017. It would have been great if they would have been able to go to Tokyo."

Like all the Paralympians in Tokyo, Madsen competed in venues without spectators.

"These games, mainly, kind of felt like they were just for ourselves," Madsen said. "We'd put the time and the work in, and this was our reward.

"I was lucky that I had really good roommates. We had lots of laughs, and that kind of lightened the mood up quite a bit."

As much as she has given to her sport over the years, Madsen probably isn't done quite yet.

"I really don't know what the future holds," Madsen said. "I'd like to get involved with some of the junior national stuff. I would still like to give back to my sport in any way I can."
Bob Reinert spent 17 years writing sports for The Boston Globe. He also served as a sports information director at Saint Anselm College and Phillips Exeter Academy. He is a contributor to USParaSwimming.org on behalf of
Red Line Editorial, Inc.