U.S. Relay Wins Gold As Jessica Long Adds To Her Medal Count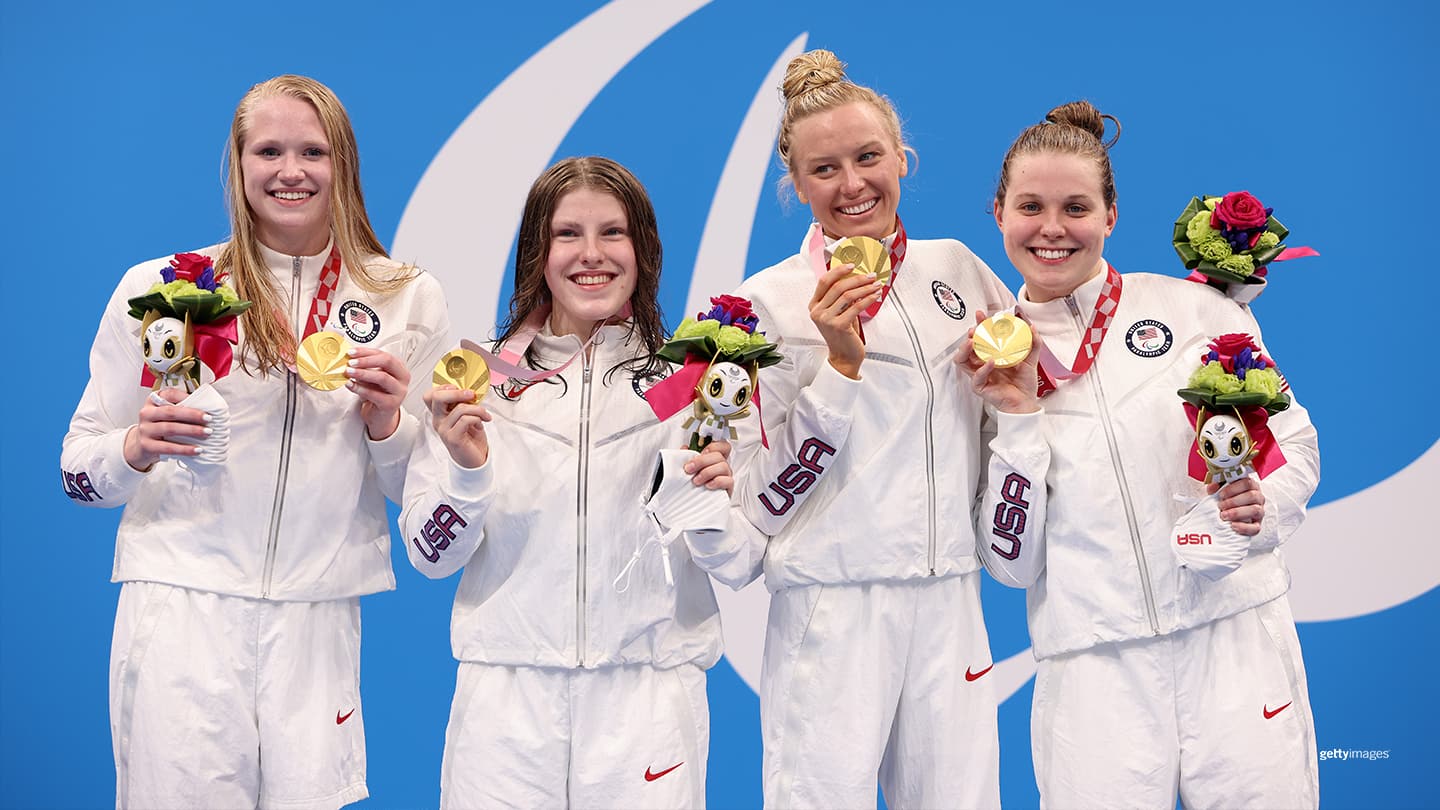 Hannah Aspden, Mikaela Jenkins, Jessica Long and Morgan Stickney pose during the Paralympic Games Tokyo 2020 on Sept. 2, 2021 in Tokyo.
Hannah Aspden is no longer the baby of the U.S. Paralympic swim team, the one who became the youngest swimmer to medal at either the Olympics or Paralympics in Rio in 2016 at the age of 16.

She was a two-time bronze medalist back then.

Now 21, she's also a two-time gold medalist following Team USA's win in the women's 4x100-meter medley 34-point relay along with Mikaela Jenkins, Jessica Long and Morgan Stickney. Theirs was the second medal performance of the day by U.S. swimmers at the Paralympic Games Tokyo 2020, following Lizzi Smith's silver in the women's 100-meter butterfly S9. Summer Schmit was in the pool along with Smith and finished sixth.

"It's absolutely incredible," said Aspden, a Raleigh, North Carolina, native who also won the 100-meter backstroke S9. "I came into the Games just being so thankful I had this opportunity to be able to compete. I didn't think I would be going home with a medal, never mind two gold medals. To be able to stand here with these amazing girls is incredible. I'm so proud of them."

The U.S. squad went from fourth to first in the final 100 meters of the race.

For the U.S., it was a bit of redemption following disqualification in the 4x100-meter freestyle relay on Sunday. But veteran Paralympian Long, who's now won two gold, two silver and one bronze medal in Tokyo, wasn't surprised.

"We are so good at putting challenges and obstacles behind us," said Long, who now has 28 medals, second most of any U.S. Paralympian. "And that was a couple days ago. We were really focused on the medley, and we each have our strengths. I'm really proud of us because we stepped up and we controlled the controllables. We did everything in our power and control to be the best we could be, and the outcome speaks for itself."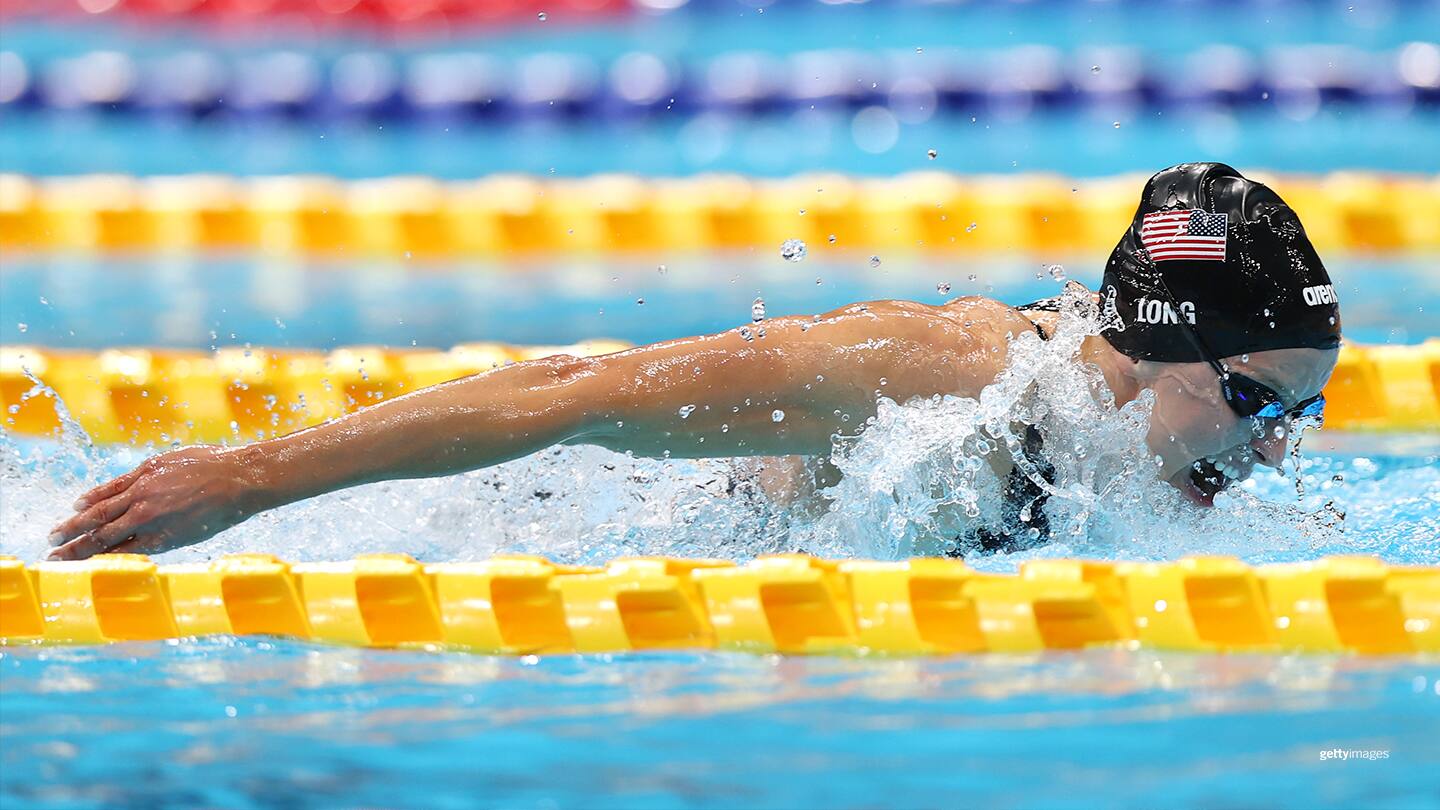 Jessica Long competes during the Paralympic Games Tokyo 2020 on Sept. 2, 2021 in Tokyo.
Smith knows a little something as well about controlling what she can after being admittedly more than a little nervous before racing the 100-meter butterfly back in Rio.

"In Rio I was terrified," said the native of Muncie, Indiana, who took fourth in Rio. "I remember right before I walked out (onto the pool deck) wanting to turn around and run away. This time I was able to focus on my breathing and my tempo — I was excited, it was fun."

Nerves aren't always bad, said Smith, but she and coach Ian Crocker talked about the approach to handling the emotions.

"You've got to be nervous, and you've got to be excited," she said. "But the excited needs to lead the way and excited led the way today."

The medal was Smith's third overall but first individual after she won a silver and bronze in relays in 2016.

Swimming action at the Tokyo Aquatics Centre continues through Friday with several more finals on the slate.
Want to follow Team USA athletes during the Paralympic Games Tokyo 2020? Visit TeamUSA.org/Tokyo-2020-Paralympic-Games to view the medal table and results.
Karen Price is a reporter from Pittsburgh who has covered Olympic and Paralympic sports for various publications. She is a freelance contributor to TeamUSA.org on behalf of
Red Line Editorial, Inc.