Visually Impaired Swimmers Colleen Young And David Henry Abrahams Were Seeing Medals On Night Eight
Colleen Young competes at the Paralympic Games Tokyo 2020 on Sept. 1, 2021 in Tokyo.
TOKYO — Visually impaired swimmers can know how they did in a race by lights on the starting blocks.

Three-time Paralympian Colleen Young, who is considered legally blind — with limited abilities — explained. On the eighth night of swimming finals, the 23-year-old landed her second and final medal of the Tokyo Games, a silver in the women's 100m breaststroke SB13.

"On the blocks, they have it lit up," she said. "So there's one light if you got first, and then two and then three. I can't see my time, but at least I know my place," she said after wrapping up her last event at the Paralympic Games Tokyo 2020.

On the men's side, Team USA's 20-year-old David Henry Abrahams has no central vision and touched the wall in the 100-meter breaststroke event to earn the silver medal. Germany's Taliso Engel set a new world record with his time of 1:02.97.

For Abrahams, he said he knew his time of 1:04.38 was slower because he could see Taliso ahead of him in the water. But it wasn't until later when he found out he'd "been honored with a medal."

Competing in his first-ever international event, Abrahams was so new to Para swimming that he hadn't yet learned how you find out how you did in a race. As he was walking down the media line in Wednesday night's swimming finals, someone congratulated him, prompting him to ask, "Oh, where did I finish?"

Growing up, Abrahams was always swimming. But after losing his eyesight in eighth grade, he didn't know Para sports was a thing until he started swimming at Harvard, where he is currently working on his bachelor's degree, majoring in mathematics.

"I didn't start Para swimming until around December or January," he revealed. "It was something that just recently came to my attention, so I decided to pursue it."

Quickly honing his skills, he came to learn that breaststroke was his specialty. At a U.S. Olympic trials qualifier event, his time in the 200-meters would be fast enough to earn him a spot at trials. Ultimately, he decided to focus on the Paralympics, later making the team headed to Tokyo.

Before landing the silver medal in the breaststroke, Abrahams finished 1.88 seconds off the podium in the men's 200 meter IM on Monday night at the Tokyo Aquatics Center, finishing in fourth, as well as the 100M butterfly — where he failed to make finals.

"This whole experience has been a surprise, honestly," he said. "Just coming in pretty recently and getting to this level so quickly. It's been an honor."

One he hopes to repeat over and over again.

"I'm kind of hooked on it now," he said. So expect to see him at a lot more Para events.

"You'll see me, hopefully, in 2024 and at a couple of worlds meets — and world-class meets for Para swimming until then."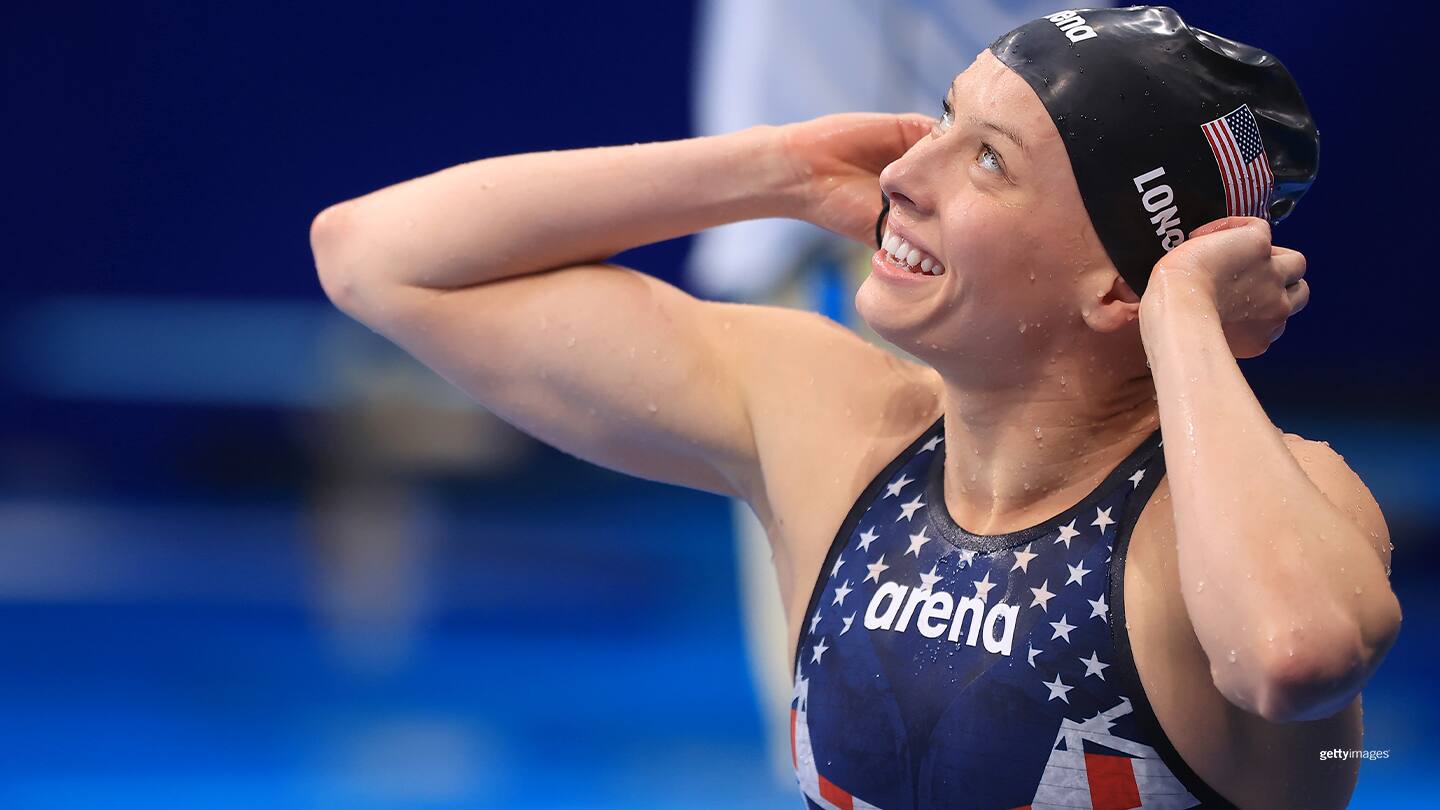 Jessica Long reacts at the Paralympic Games Tokyo 2020 on Aug. 31, 2021 in Tokyo.
Jessica Long Grabs Medal 27 With One Event Left To
Go
Five-time Paralympian Jessica Long took the silver in the women's 100-meter breaststroke with a time of 134.82 — earning the U.S. its 26th swimming medal. The silver medalist from Rio gave a final push at the end to surge past Australia's Tiffany Thomas Kane (134.90). But it was the Russian Paralympic Committee's Mariia Pavlova (131.44) who out-touched them both to take the gold.

Long said she realizes that this was not her best time — having raced faster at the 2016 Paralympics (1:32.94). "My goal was to get on the podium," she said after receiving her fourth medal of the Tokyo Games.

With a whopping 27 medals in total, she still has the chance to add a final piece of hardware to her collection — which sits in a basket in her closet — when she races in her last event on Friday in the 100m butterfly S8.

The 29-year-old, who has been competing in the Paralympic Games since she was 12, is looking forward to getting home and seeing her family, whom she hasn't seen since April.

"I just can't wait to go back [home] and live a normal life," she said.

The thing she's most looking forward to doing when she flies home to Maryland on Saturday? "The first thing I want to do is drink an iced coffee and have sushi. Lucas, [my husband], is bringing me both of those in the car."

And yes, she has had plenty of sushi in Tokyo — just not as much as she's had medal-winning moments.

Want to follow Team USA athletes during the Paralympic Games Tokyo 2020? Visit TeamUSA.org/Tokyo-2020-Paralympic-Games to view the medal table and results.
Lisa Costantini is a freelance writer based in Orlando. She has covered Olympic and Paralympic sports for various publications, and has contributed to TeamUSA.org since 2011.