U.S. Men's Rugby Finds Silver Lining After Taking Silver Medal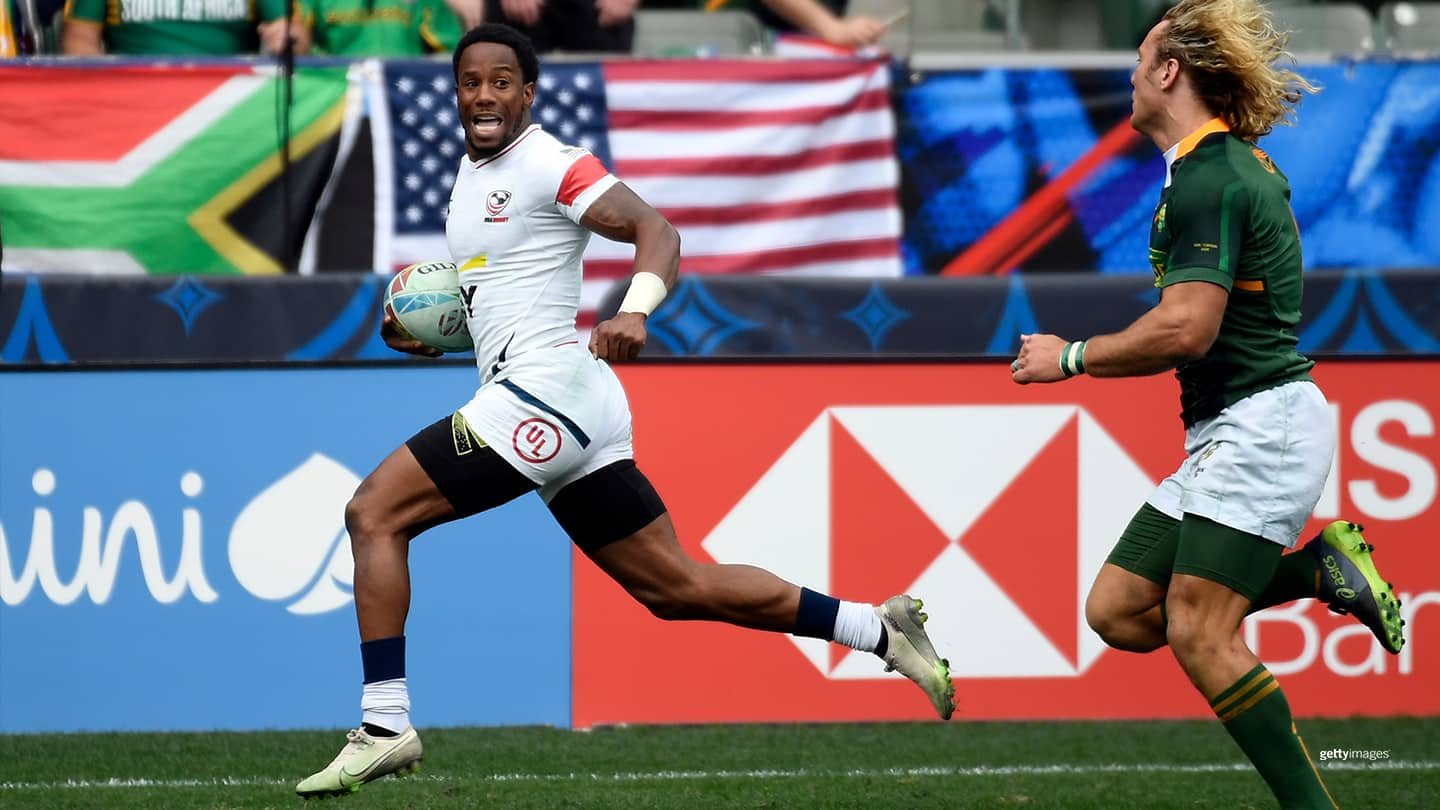 Carlin Isles scores against South Africa during the men's quarterfinals at the HSBC World Rugby Sevens Series on March 1, 2020 in Carson, California.
Sure, his team had just lost a 42-7 decision Saturday to a dominant South Africa side in the gold-medal match of the HSBC World Rugby Sevens Series at The Sevens in Dubai, but Team USA men's rugby coach Mike Friday wasn't hanging his head afterward.

"Kudos and credit to South Africa, but I'm proud of the boys," Friday said. "The old saying, 'You've got to get it wrong to get it right' — it still rings true."

Actually, the Americans had gotten a great deal right heading into the final in Dubai. Trailing 19-7 to Fiji at halftime of its semifinal match, the U.S. roared back with second-half tries by Lucas Lacamp and Matai Leuta to earn a trip to the final with a 21-19 win.

Previous to that, the U.S. had claimed a 35-17 quarterfinal victory over Great Britain.

"I'm pleased with the journey over the weekend with the new guys," Friday said. "It's a changing process for us in these first few weeks."

The Americans simply ran into a buzzsaw in the final with South Africa, which went undefeated throughout the event in a convincing performance.

South Africa has now won 18 straight matches, breaking its previous record of 16 consecutive, set in 2008-09. Its 42 points against the Americans were the most the side had scored in a final match. The previous best was 40 points against New Zealand in 2013.

Lacamp scored the lone try for the U.S. after South Africa had built a 35-0 lead.

"Sometimes, you get beaten by a better team on the night, and I think that was the case," Friday said. "They were ruthless, absolutely ruthless. We played properly. We played well. We looked after the ball. We showed probably more of us and what we expect of us."

The American women, meanwhile, placed seventh. They beat Canada, 17-7, to secure that spot in the standings. Australia won the gold medal.

The second event of the season takes place next weekend, again in Dubai.
Bob Reinert spent 17 years writing sports for The Boston Globe. He also served as a sports information director at Saint Anselm College and Phillips Exeter Academy. He is a contributor to TeamUSA.org on behalf of
Red Line Editorial, Inc.