U.S. Women Reach Rugby World Cup Sevens Semifinals After Gritty Win Over Canada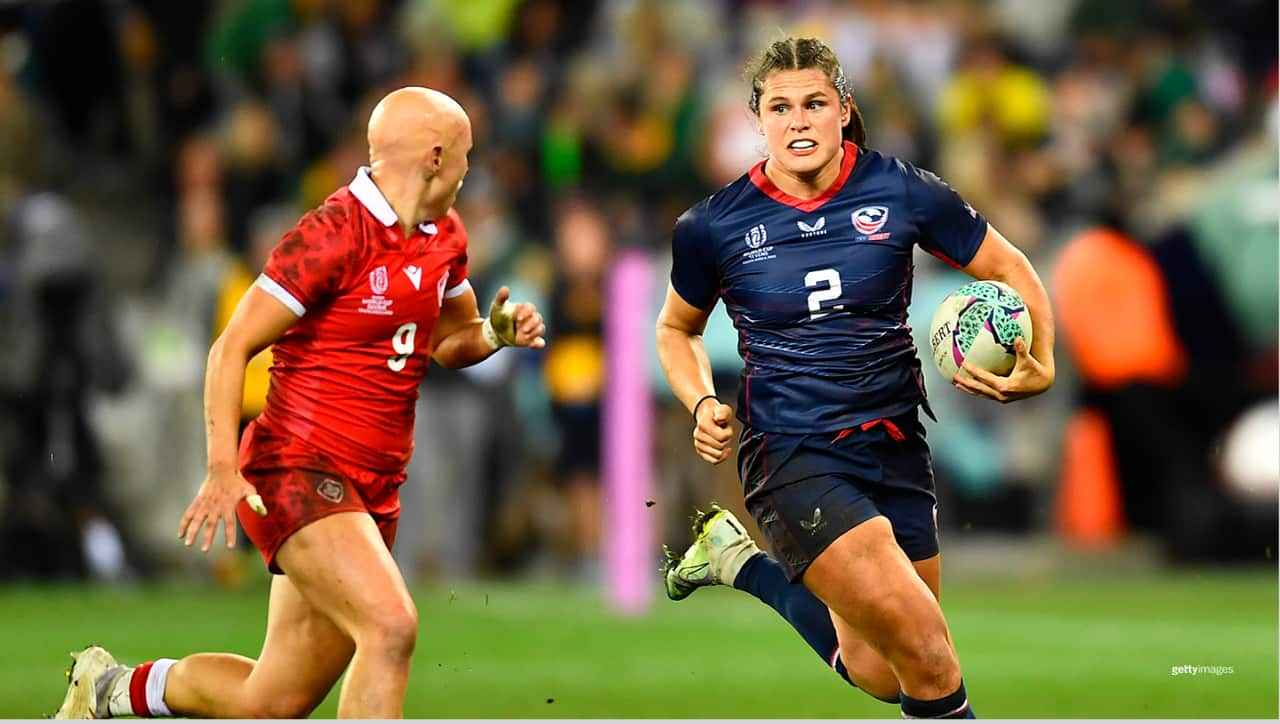 Ilona Maher and Olivia Apps (Canada) during their quarterfinals match at the 2022 Rugby World Cup Sevens on Sept. 10, 2022 in Cape Town, South Africa.

The U.S. women's rugby sevens team came through when it mattered most Saturday.

Facing Canada in the 2022 Rugby World Cup Sevens quarterfinals in Cape Town, South Africa, the Americans trailed 7-5 with under two minutes remaining.

The U.S. executed a long possession and it paid off after a restart as a couple of crisp passes set up Ilona Maher for a try with just over a minute left in the match. Maher touched the ball down only a few inches past the try line to give her side the lead.

The Americans won possession after the ensuing kickoff and were able to successfully run out the clock to secure a 10-7 victory and a spot in the championship semifinals Sunday.

Jaz Gray put the Americans up 5-0 in the first half with her fourth try of this tournament. The U.S. played stout defense to stifle Canada and eventually find a winning try through Maher.

The U.S., the No. 4 seed, is set to face the defending champions and No. 1 seed Australia on Sunday for a spot in the final.

Earlier in the day, the U.S. men's team bounced back after a loss against Samoa in the round of 16 and defeated Wales 33-5 in the challenge quarterfinals.

Perry Baker opened the scoring with a try shortly after a Wales yellow card. Wales responded within two minutes to tie the game 5-5.

An Aaron Cummings try and conversion by Steve Tomasin gave the U.S. a 12-5 lead at halftime.

The second half was dominated by the U.S., as it outscored Wales 21-0 to advance in the challenge bracket. The Americans scored five tries in the match, with all five coming from different players. Tomasin and Cody Melphy both had two successful conversions in the win.

The U.S. then fell to Uruguay 21-19 in the challenge semifinals. Baker got another try in that match and Lucas Lacamp added two for the Americans.

The U.S. will face Kenya on Sunday to finish in either 11th or 12th place.
Luke Hanlon is a sportswriter and editor based in Minneapolis. He is a freelance contributor to TeamUSA.org courtesy of
Red Line Editorial, Inc.