Mikaela Shiffrin Sets More Records With Killington Slalom Win; Paula Moltzan Finishes Seventh, A Big Step Toward Olympic Qualification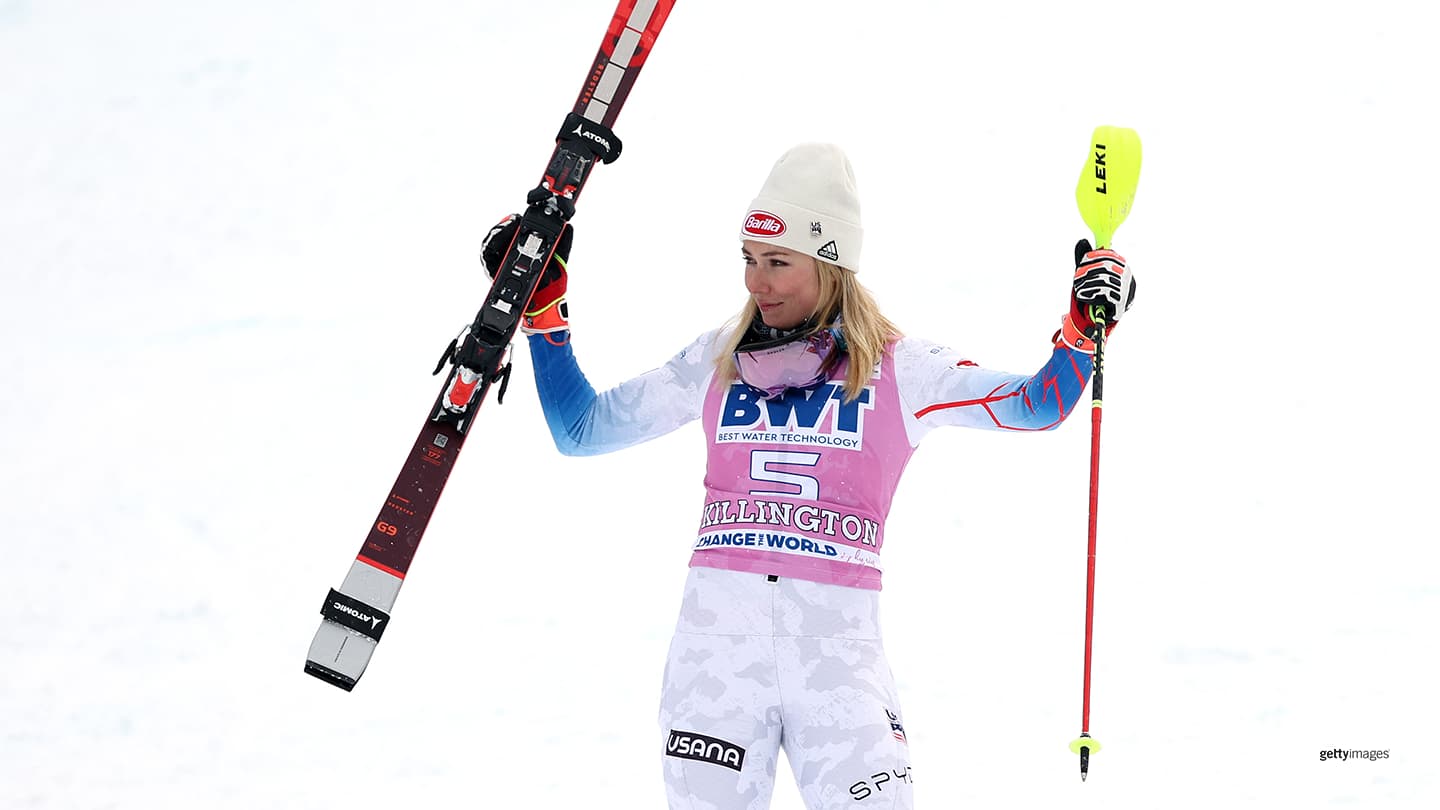 Mikaela Shiffrin celebrates after winning the women's slalom at the FIS Alpine Ski World Cup on Nov. 28, 2021 in Killington, Vt.
KILLINGTON, Vt. — When Mikaela Shiffrin finally does retire from alpine ski racing, the 26-year-old phenom will likely have racked up the numbers to be considered the greatest of all time — the GOAT of ski racing.

Her slalom win today at the Killington World Cup moved her one step closer to that distinction. It was her 71st overall win and 46th in slalom, which ties her with Swedish legend Ingemar Stenmark for the most world cup wins in a single discipline.

She long ago passed Swiss legend Marlies Schild for most slalom wins set by a female world cup racer (Schild won 35 world cup slaloms). But Shiffrin still thinks of Stenmark as alpine skiing's GOAT and Schild as the greatest slalom skier of all time.

"I don't know how to put it," confessed Shiffrin after her come-from-behind win in Killington. "I mean, I love being able to do this and still be able to win races. But I don't think I'm ever going to actually see myself as taking over those spots."

"And I hope I don't," she added, "because I much prefer to be in the position where I feel like I'm still chasing and just trying to put out the best skiing that I can."

In the second run of today's slalom, Shiffrin truly did put out the best skiing she could. She overcame a 0.20 of a second first-run deficit to Slovakian rival Petra Vlhova to win her fifth Killington World Cup slalom in 1:38.33. Shiffrin finished three-quarters of a second ahead of Vlhova, who hung onto second place (1:39.08). Swiss skier Wendy Holdener rounded out the podium in third (1:39.16).

No other skier has won a world cup slalom at Killington — five in a row, since Killington first hosted the women's world cup in 2016 (the races were cancelled last year due to the Covid-19 pandemic). The win also moved Shiffrin into the overall world cup lead, 20 points ahead of Vlhova, who's the defending overall champion.

Shiffrin's mother Eileen watched her daughter ski the second run from the finish area. Though she found it nerve-racking, she said it was fun to watch her daughter ski.

"It was kind of like back in the day," said Eileen Shiffrin, referring to a few years ago when Shiffrin dominated world cup slaloms by a second or two. "To have that clarity and really send it."

Shiffrin has been working on finding that clarity again — or as she calls it, focus and intensity. No doubt skiing the world cup tour for 11 seasons has perhaps dulled the edges a bit. But the tragedy and devastation of the past two years, with the deaths of her beloved grandmother and father, and then the global pandemic, took their toll on Shiffrin. Last year, she struggled to find energy for her second runs of slalom and giant slalom (although she never finished any world cup race lower than sixth place during the 2020-2021 season).

"I've always had that intensity, and actually I feel like I used to be better at getting to that place more consistently," she admitted. "It feels like it takes a lot more energy now. But when I compare this season with last season, at least I have the energy in the second run. That's huge. I feel more like myself."

She is working on building it back and getting to the place where the intensity — her energy and hunger to attack a course and ski her very best — comes more naturally.

"I was very comfortable in that place, and I'm bringing it back," she added. "It's taking a lot of work. But that's okay."

After Shiffrin's second run — where she recovered from a bauble as if it hadn't happened — Vlhova skied her second run. The Slovakian made a mistake in the same spot on the course but struggled to recover. Her second run was almost a full second slower than Shiffrin's.

Despite the mistake, Vlhova was happy with second place "because it could be much worse."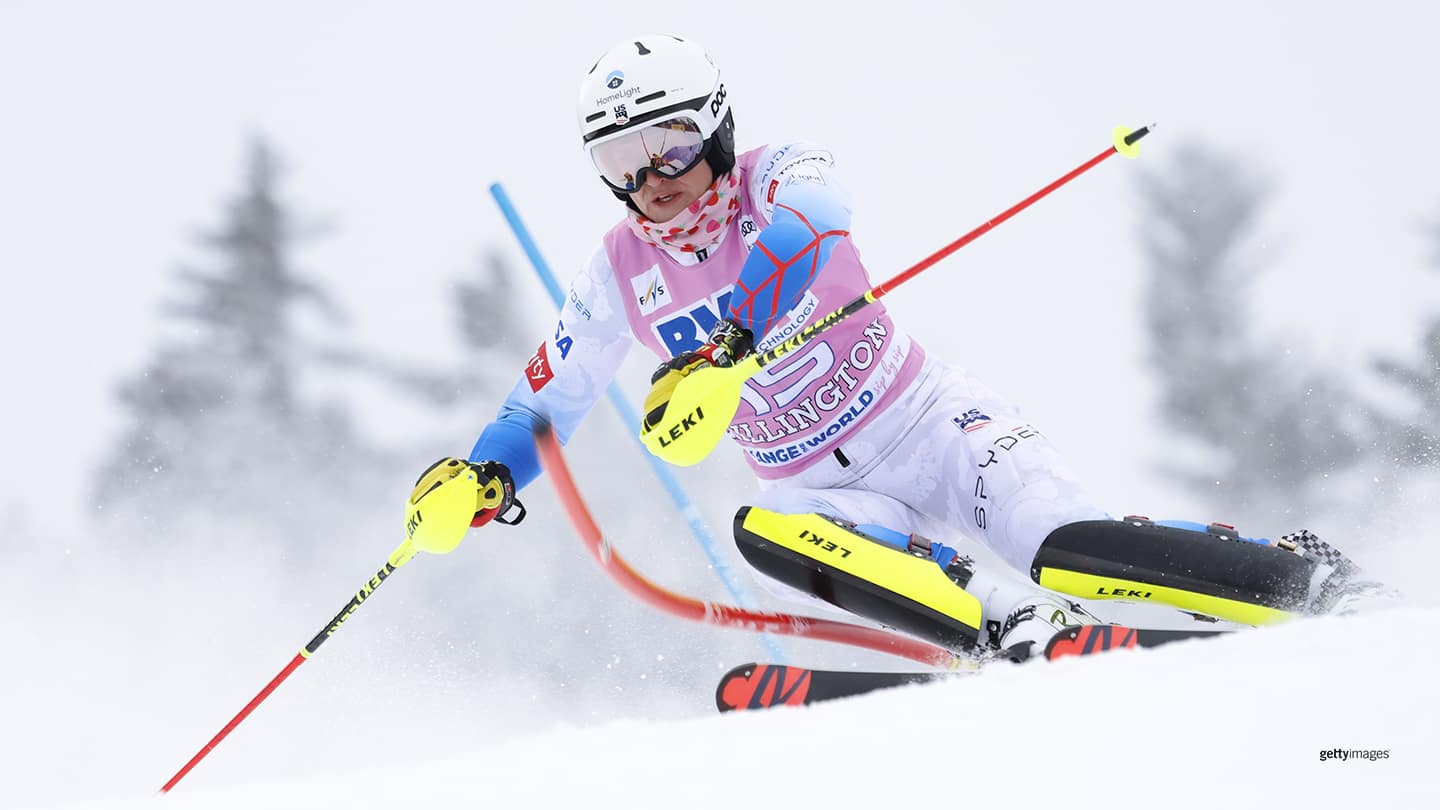 Paula Moltzan competes during the women's slalom at the FIS Alpine Ski World Cup on Nov. 28, 2021 in Killington, Vt.
Paula Moltzan's Very Good Day
Behind Shiffrin, U.S. skier Paula Moltzan had her best Killington slalom to date, finishing seventh in 1:40:46. Second in a world cup parallel race a year ago, the 27-year-old has become more of a regular near the top of the world cup slalom standings.

Moltzan burst back onto the ski-racing scene four years ago at the Killington World Cup when she finished seventeenth in the slalom. She was not even on the U.S. Ski Team at the time. Although she was the 2015 world junior slalom champion, she had been cut from the team after lackluster world cup results.

So she decided to enroll at the University of Vermont, where she is a biochem major (and has just a couple classes left to finish, then she aims to attend medical school). In her freshman year at UVM, she won the 2017 NCAA championships in slalom. But she figured her Olympic dreams were behind her. That summer, rather than traveling the world to train on snow, she worked as a nanny and a raft guide at her boyfriend's family's company in Massachusetts. He is now her fiancé.

After her breakout performance in 2017, Moltzan earned more world cup starts and balanced those with school work and NCAA racing — a "crazy schedule," she admitted. That winter, she racked up three more world cup top-20 slalom finishes. Then in March 2018, she was runner-up in slalom at the NCAA championships and tied for third in the giant slalom. That spring, she was again named to the U.S. Ski Team.

Since then, Moltzan has moved up the results sheet, first into the top 10, now closer to the top five.

In today's slalom, in front of at least 20 family members — most of whom she hopped fences in order to hug after today's race — Moltzan finished sixth in her first run, then had to hold off nerves for second run.

"I've been here a couple times, but it doesn't get any easier," Moltzan admitted. "I just kind of kept it in my zone, put my headphones in, played a game on my phone and just didn't really think about it. Luckily, I had a lot of time watching my teammates take their first runs, so I didn't have to think about my skiing too much."

From the bottom, Shiffrin stopped doing TV interviews to watch Moltzan ski her first run.

"I've been training with her and leading up to Levi (slalom last week), I saw her speeds," said Shiffrin, who was all smiles when asked about Moltzan. "She's been right there with me.

"So I was like, just shake out the jitters and whatever is there, and she showed some really awesome skiing today. And I think there's more of that to come."

With the seventh place finish, Moltzan is on track to qualify for her first Olympic Winter Games.

"Obviously, I've dreamed of going to the Olympics my whole life and today maybe was the first punch in my ticket," she said. "So I'm hoping that it kind of just keeps building off of this so I can build steam into the Olympics this year."
An award-winning freelance writer based in Vermont, Peggy Shinn has covered six Olympic Games. She has contributed to TeamUSA.org since its inception in 2008.