How Two-Sport Athlete Oksana Masters Is Transitioning From One Games To The Next In Less Than Six Months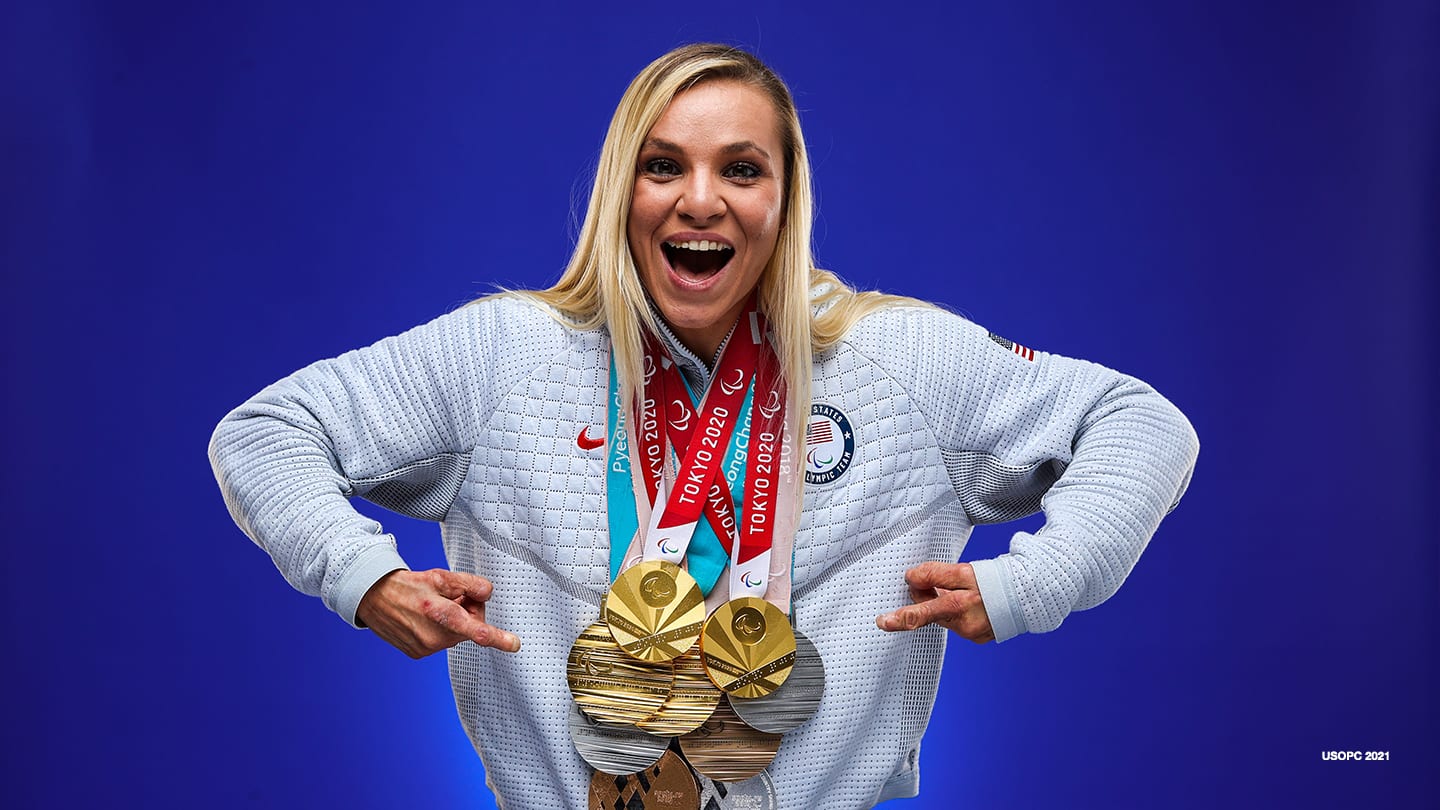 Oksana Masters poses for a portrait during the Team USA Beijing 2022 Olympic shoot on Sep. 12, 2021 in Irvine, California.
When the Paralympic Games Tokyo 2020 came to an end, many of the athletes who competed in them exhaled a sigh of relief and found a comfortable spot on the couch to rest and recover. But not Oksana Masters.
The dual-Games athlete — who earned two gold medals in road cycling in Tokyo (time trial and road race) — was already training for the Paralympic Winter Games Beijing 2022 before it was time to flip the calendar to October. Her hectic schedule had her in four countries on three continents in one month.
If she qualifies for Beijing, it will be her sixth Paralympic Games and would close out a three Games run for her in Asia (PyeongChang 2018, Tokyo 2020 and Beijing 2022).
Under normal circumstances, she would have two years between a summer and winter Games, but with Tokyo getting delayed a year, the turnaround time is only six months.
"When the announcement was made about the Tokyo postponement, there was a relief of it being postponed and not canceled. But then I started panicking because I knew it was going to be a tight turnaround," Masters said over the phone while on a layover.
"This situation is not normal," the cross-country skier added. "There are other people in the same position, so it's nice to have teammates who I can go to and be like, okay guys, do you feel like this, too, or am I the only one freaking out?"
Her boyfriend, a fellow five-time Paralympian, Aaron Pike, is one of those people. He finished the marathon in Tokyo in sixth and currently trains in cross-country and biathlon.
But even with her two most recent medals, she is unable to calm her nerves.
"Instead of celebrating, I'm just focused on the next task, which is the Winter Games," she said. "I think I'm putting more pressure on myself because people see the results from Tokyo — which they don't understand was a different sport."
She has found a silver lining, though.
"Going through the process of a Paralympic Games during a pandemic and all the protocols, it's nice because I know what to expect now. And it will be nice to share that with the coaches and my team so that they can prepare and they're not shocked like I was," Masters said.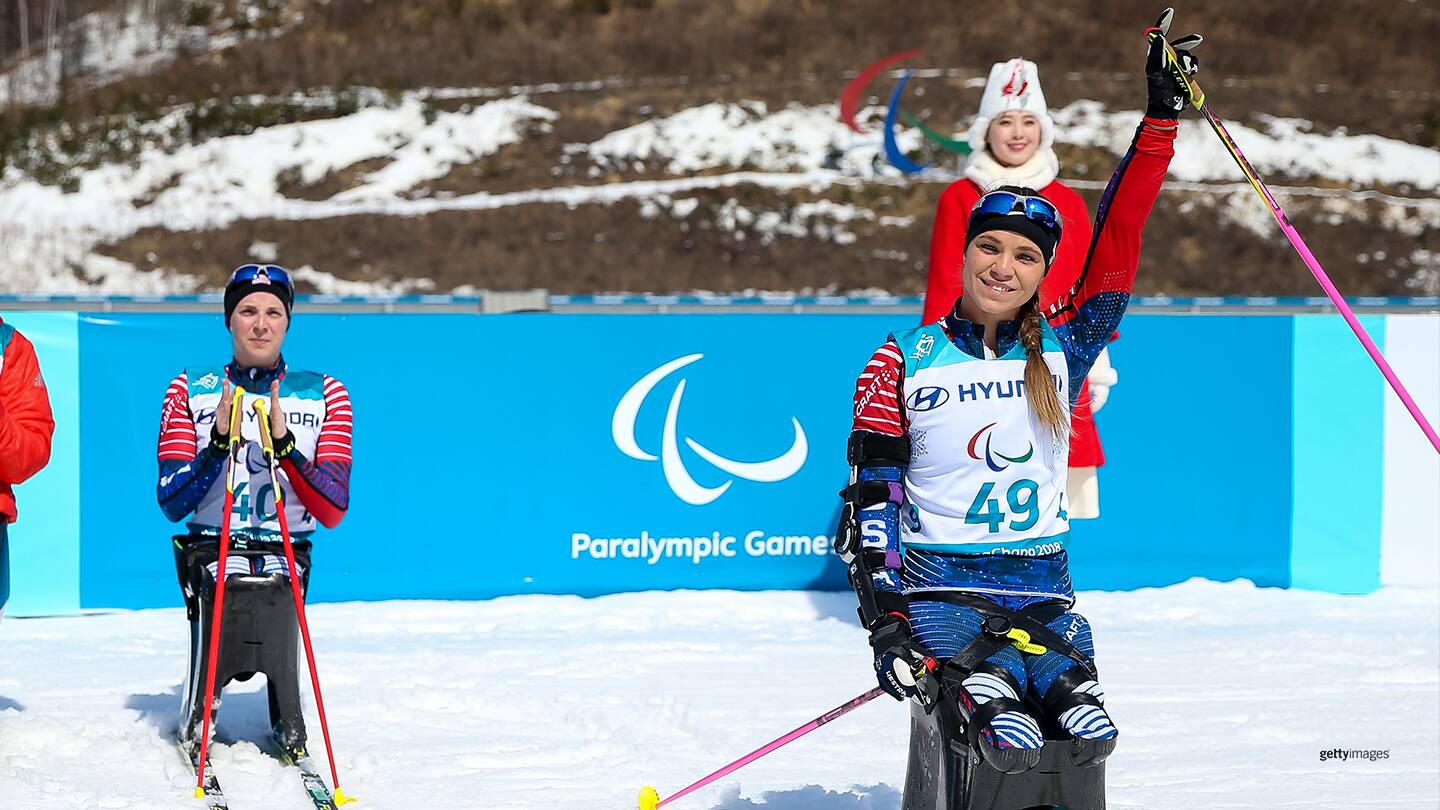 Oksana Masters celebrates after crossing the finish line in first place at the Paralympic Games PyeongChang 2018 on March 11, 2018 in Pyeongchang-gun, South Korea.
Training, Training And More
Training
"Re-training your body is so different," she said about going from road racing to the ski slopes.
That's where the training comes in.
Masters will bounce around the globe, going from a manufactured ski tunnel in Germany to ultimately the U.S. While there, she will train at a residence camp in Montana for three weeks before hopefully heading over to Beijing.
Getting on early snow is critical, especially this year, with the ski season starting only months ahead of the Games.
"I love every part. Eat, sleep, train, repeat," she said. "All in the hopes of trying to be better than what you were the day before."
Additional
Responsibilities
In between training camps, Masters has other responsibilities — like sponsor requests — that add to her growing number of frequent flier miles.
When we spoke, she was on her way from a training camp in Germany to another one in Canada but had to make a quick trip to Los Angeles for a content shoot with a sponsor first.
If that all doesn't sound chaotic enough, she admitted, she is also in the process of working on a book.
"It's going to be coming out in July, hopefully," she said. So her focus will shift to completing it after Beijing is over.
"It's called The Hard Parts because if it weren't for all the hard parts, I wouldn't be living the life that I am now. And I think that is a blessing — even though it is hard to see in those moments."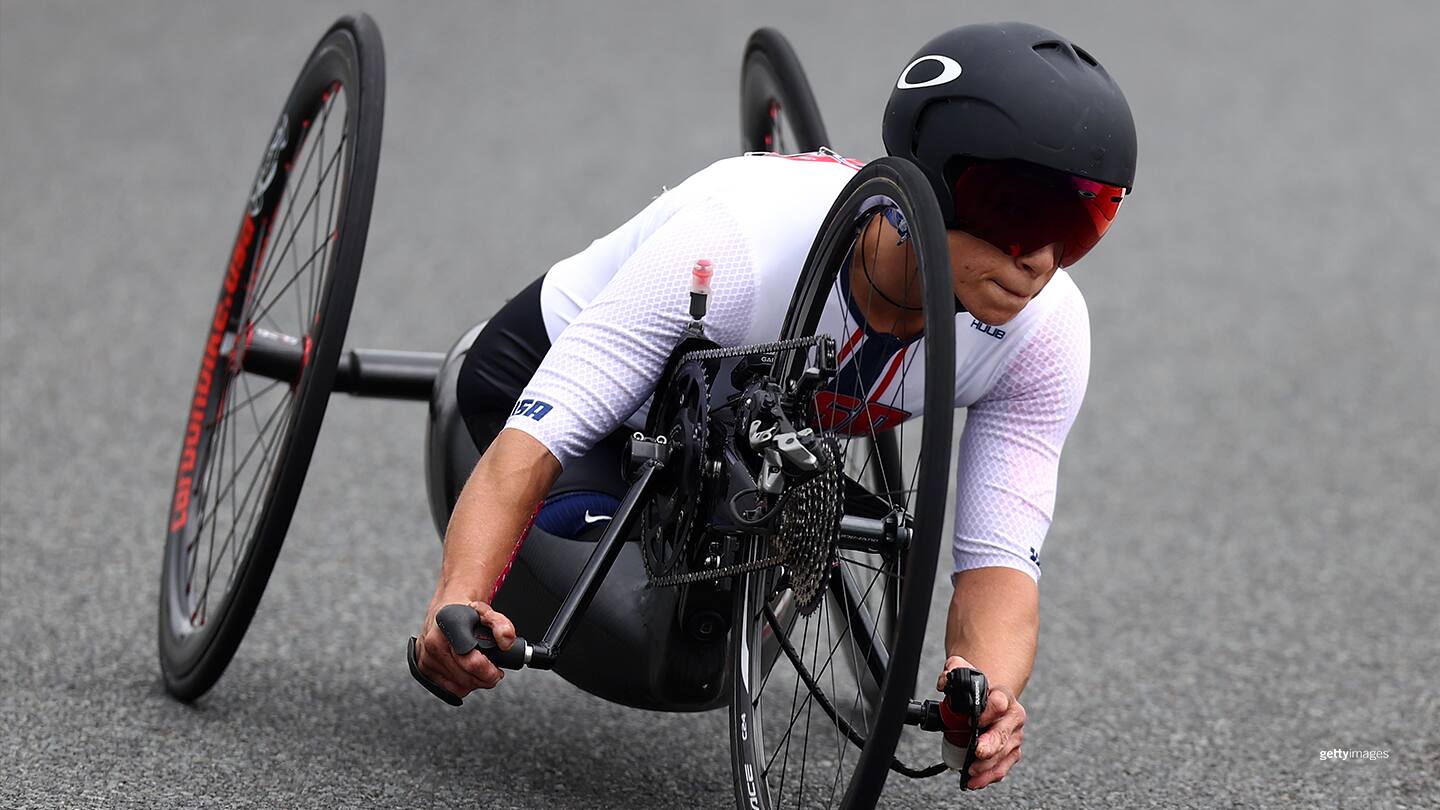 Oksana Masters competes during the women's H4-5 time trial at the Paralympic Games Tokyo 2020 on Aug. 31, 2021 in Tokyo.
December will see the start of the competition schedule, with the first one being the WPNS World Cup in Canmore, Canada
"I love competition," Masters gushed. "I love a start line. My favorite sound is the beep of a clock on the racecourse when you are about to start. I love everything about it!"
It's then on to more world cups and world championships to start the New Year, making her a little nervous.
"I'm anxious because I want to do well because it means something. I love my sport, and I want to grow the awareness of that sport. One of the only ways to do it is by racing it well and bringing attention to it.
"Kind of like what Jessie Diggins did with cross-country skiing. She helped put cross-country skiing on the map, which is incredible. And Kikkan Randall [when they won the sport's first-ever gold medal in PyeongChang 2018]."
The Paralympic Games are March 4-13, which would mean the cross-country team would arrive towards the end of February.
So far, many of the same rules from Tokyo are in place for Beijing — with one exception that Masters knows of.
"In Tokyo, we had to take a spit test every morning to make sure we were negative for COVID, but in Beijing, I think we have to do the test in the nose. I am more nervous about doing that every day than I am of racing," she laughed.
"Tokyo went off so smoothly. The organizing committee did an amazing job. As an athlete, you would have never known you were competing under a pandemic. It was different with the masks on until the start line, and no fans, but Tokyo showed that it was possible to do it successfully."
As an athlete, she said, the only thing that matters is: "We want to race. I want to be on the start line and race against the strongest, best people on that day and see where it lands me. And the hope is to have the U.S. be the one that's on top — regardless of the sport."
Lisa Costantini is a freelance writer based in Orlando. She has covered Olympic and Paralympic sports for various publications, and has contributed to TeamUSA.org since 2011.