Natalia Grossman Captures Second Straight Bouldering World Cup Event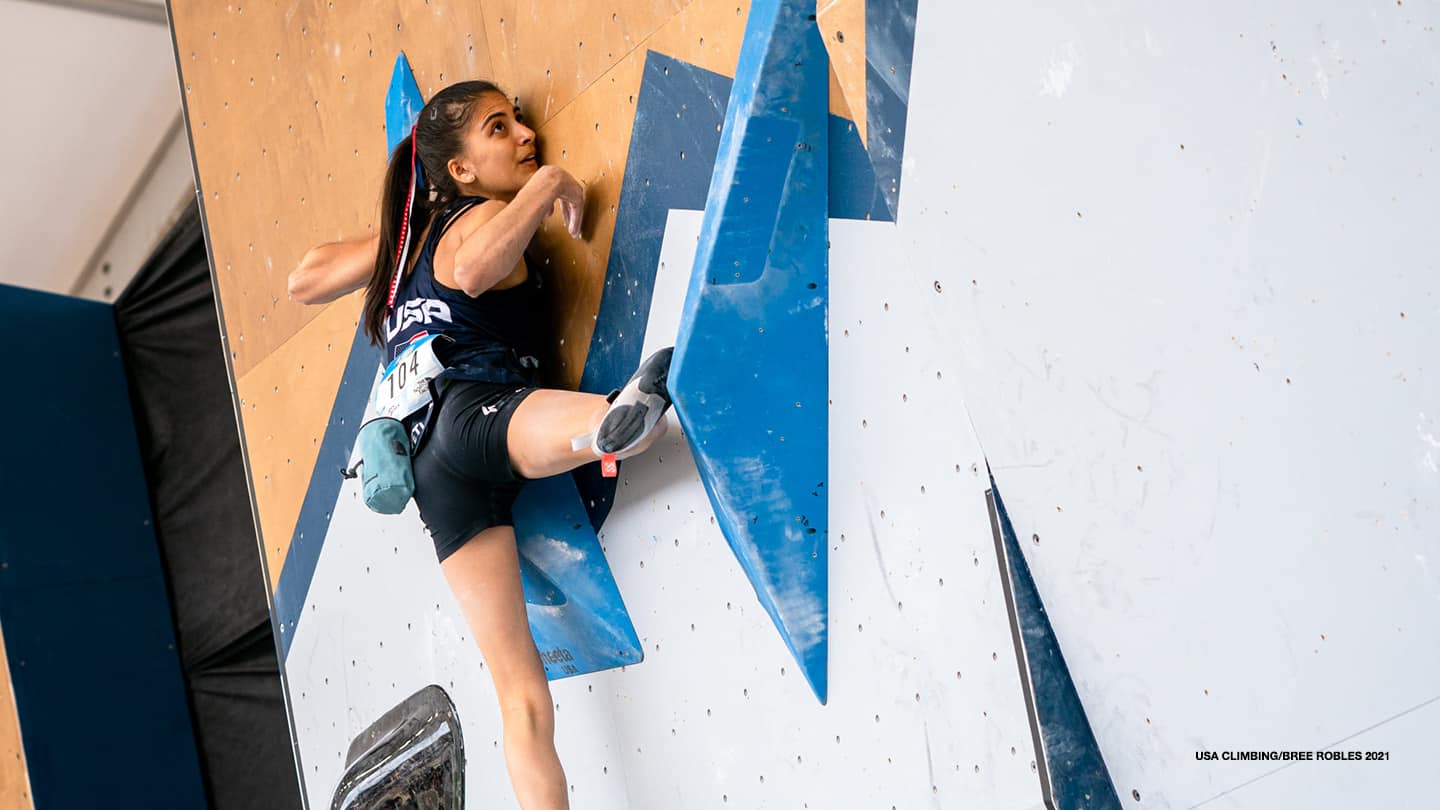 Natalia Grossman competes at the IFSC Climbing World Cup on May 30, 2021, in Salt Lake City, Utah.
Natalia Grossman can still be considered an up-and-comer in the climbing world, but these last two weekends may well signal her arrival.

The 19-year-old from Santa Cruz, California, followed up her first International Federation of Sport Climbing World Cup bouldering victory last weekend with a perfect performance and win No. 2 on Sunday in Salt Lake City.

She also wasn't the only U.S. climber to turn in a winning performance. Sean Bailey won his first world cup title in the men's competition.

Brooke Raboutou, who will represent the U.S. when climbing makes its Olympic debut this summer in Tokyo, took third place in the women's competition.

Grossman made everything look easy Sunday, even though it was far from. She flashed all four boulder problems, meaning that she successfully climbed all the way to the top on the first try.

In bouldering, climbers try to make it to the top of a low-set route and do not use ropes. They all have the same amount of time to look at all four problems in the moments before the competition begins, and do not get to watch their fellow competitors climb. They can try as many times as possible to complete a problem in four minutes.

On the fourth and final problem, she made a dynamic jump to a sloping handhold and swung out before finding a place to put her feet. After finishing the climb, she pumped her arms in the air in celebration.

"I tried to be as confident as possible, but it was the problem I thought was going to be the hardest because it had a little jump, which is not always my forte," she said in a post-competition interview.

Raboutou flashed the second problem, but needed two tries to get the first and third. She was unable to finish the fourth problem.

Bailey is the U.S. national bouldering champion, but four other athletes have claimed spots on the Olympic team. Prior to winning his first world cup title Sunday, he made it to the semifinals last weekend in Salt Lake City and reached the final only one other time, finishing second.

On Sunday he topped out — or completed — the first of four bouldering problems. The second and third were incredibly difficult and saw all six men in the final struggle, but Bailey advanced far enough on the routes to stay ahead of the pack.

He also topped the final boulder, becoming the only climber to complete two problems for his first victory.

"It was hard," he said of the last boulder. "There were two super-hard boulders and I just wanted to find some success on something again. I just wanted to try hard on it. I went for it."

Fellow American Zach Galla, competing in his first world cup final, finished fifth.
Karen Price is a reporter from Pittsburgh who has covered Olympic and Paralympic sports for various publications. She is a freelance contributor to TeamUSA.org on behalf of Red Line Editorial, Inc.