U.S. Women's 3x3 Hoops Team Qualifies for Tokyo Olympics Debut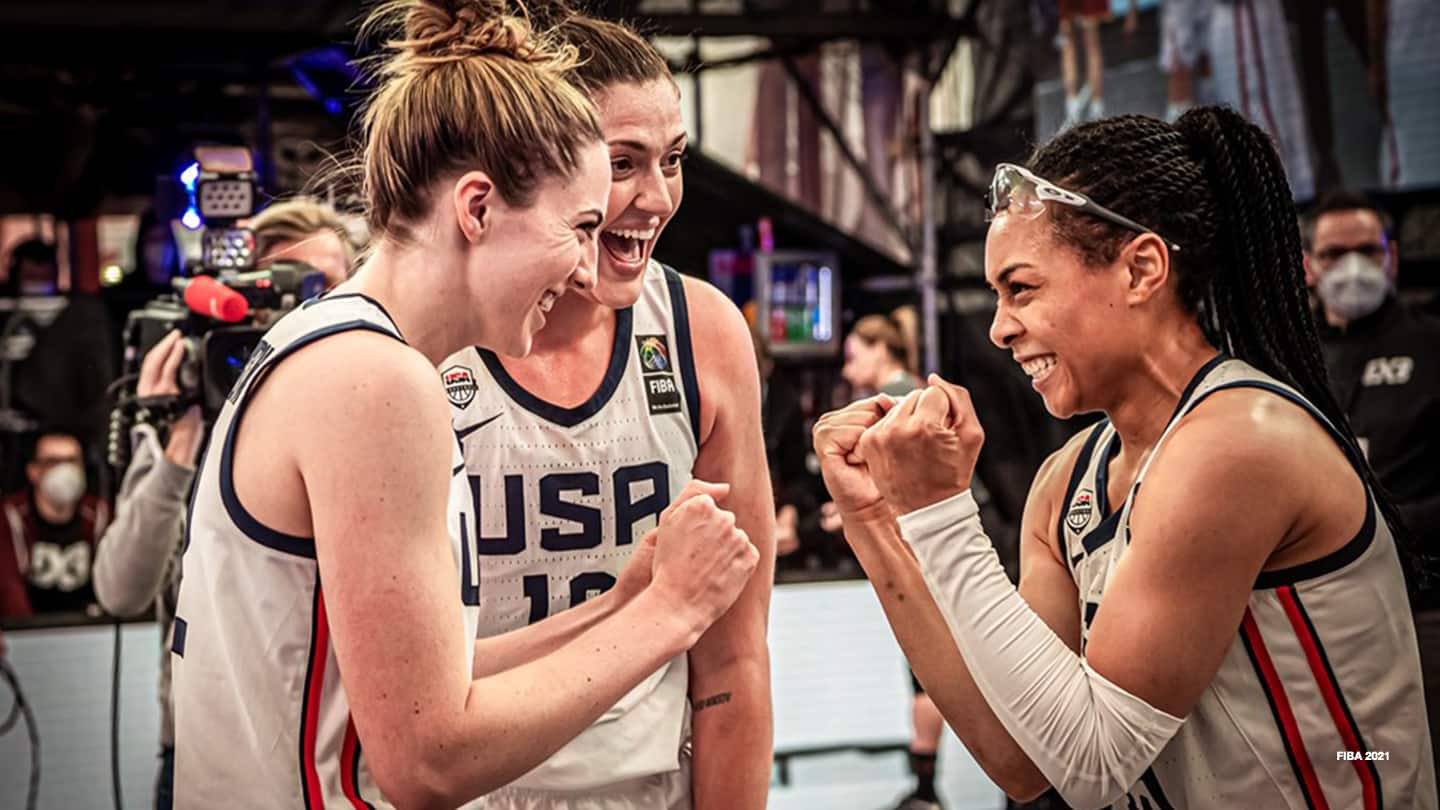 Stefanie Dolson, Kaie Lou Samuelson and Allisha Gray celebrate after qualify for the Olympic Games Tokyo 2020 during the FIBA 3x3 Olympic Qualifying Tournament on May 30, 2021, in Graz, Austria.
Well-rounded, skillful and undefeated are some of the words that could be used to describe the U.S. women at this week's FIBA 3x3 Olympic Qualifying Tournament in Graz, Austria.

Another way to describe them is Tokyo-bound.

With a 21-13 win over Spain in the semifinals on Sunday, Allisha Gray, Katie Lou Samuelson, Kelsey Plum and Stefanie Dolson secured Team USA's spot at the Olympic Games Tokyo this summer when the sport of 3x3 basketball debuts.

Part of the thrill of the 3x3 format is that it moves so fast, no lead ever seems safe. With only 10 minutes per game, a half court and a 12-second shot clock, anything can happen. If a team reaches 21 points before 10 minutes, it wins, which ramps up the sense of urgency even more.

That said, the U.S. controlled Sunday's semifinal game throughout. After running away with their quarterfinal game against Belarus earlier in the day 21-10, the U.S. opened up an early 6-2 lead. Spain was nipping at its heels approaching the midway point, closing the gap to 7-6, but after Plum drained a 2-point shot to make it 11-6 followed by Gray with a layup to make it 12-6, Spain was simply unable to make up any ground.

With strong defense and no fouls through the first seven minutes, the U.S. led 19-13 as the game entered the final minute. Dolson made the final basket to reach the 21-point threshold and the celebration was on.

Unfortunately, the same wasn't true for the men.

Their chance at competing in Tokyo ended with a 21-16 loss to the Netherlands in the quarterfinals. The game was tied early on but Netherlands took a 7-6 lead with six minutes left and led 10-7 at the halfway mark. The U.S. cut it to 14-12 with under three minutes remaining, but with too many empty possessions couldn't close in again before the Netherlands hit 21. Had the U.S. made it to the semifinals, it would have had two chances to qualify for Tokyo, by either winning the semifinal or by winning the matchup between the two semifinal losers. The 3x3 Olympic tournament will include eight men's and eight women's teams.
Karen Price is a reporter from Pittsburgh who has covered Olympic and Paralympic sports for various publications. She is a freelance contributor to TeamUSA.org on behalf of Red Line Editorial, Inc.