BMX Racer Connor Fields On Why He Chose Not To Compete Internationally Until Tokyo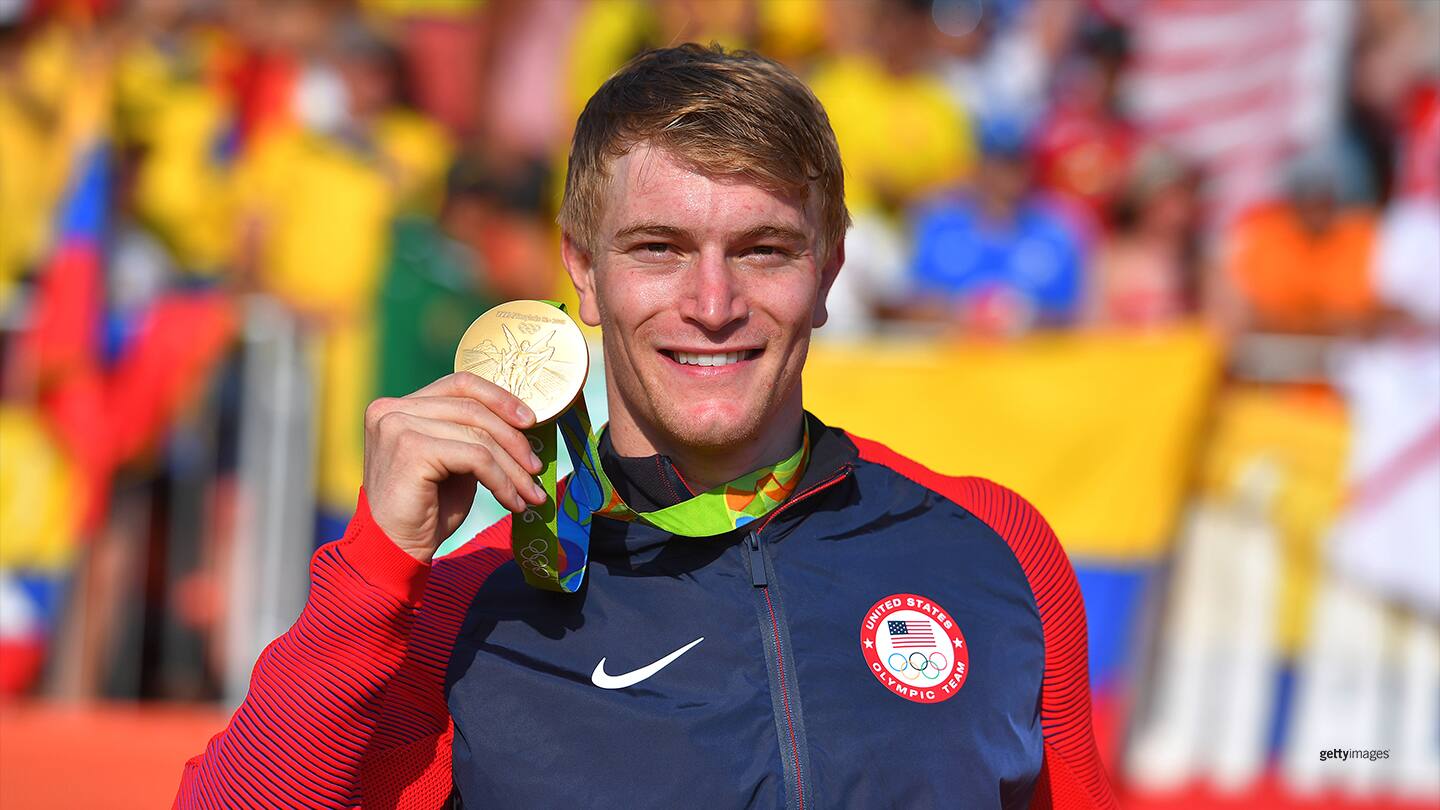 Connor Fields celebrates with his gold medal after winning the Men's BMX Final on day 14 of the Olympic Games Rio 2016 at the Olympic BMX Centre on Aug. 19, 2016 in Rio de Janeiro, Brazil.
As BMX racer Connor Fields prepares for Tokyo, he visualizes the success of his last international competition — which ended in victory — but that was more than a year ago.
"My last international competition was last February in Australia, right before everything shut down. It was the first couple of rounds of the World Cup series, and I won two of the first three. So my most recent international event was a win."

But when it came time to decide if he wanted to race in the first one of this year, he felt he had everything to lose. And he wasn't just talking about his winning streak.

The two-time Olympian had mathematically clinched his ticket to Tokyo already after the first series stop in Italy earlier this month, which he didn't attend. After that happened, he said, travel was "all about what made the most sense for me."

"Did it make sense to fly internationally? It's a lot of wear and tear on your body. It takes a couple days to get over the jetlag, so you're looking at two to three weeks of lost training time," the 28-year-old said. Not to mention the risk of injury. "There's always risk, no matter what we're doing in BMX — even just practicing by yourself. But anytime you race at a high level, you have to consider the risk of injury. Especially when there's a lot of athletes who are not qualified, and they are desperately trying to qualify from different countries around the world."

It's the reason why for the past couple of months he has opted to hit the domestic circuit instead. On May 28-30 the 2016 gold medalist will line up on the big hill at Music City BMX Nationals in Nashville for what he called his "last tune up event before Tokyo."

"I am thankful, because as one of the few places in the world that's holding frequent races through the USA BMX series, we've had about one event a month since November," Fields said. "So the quality of competition has been quite high because we've been getting a lot of people — including other Olympians — coming in looking for places to compete."

In addition to giving him time on the track again after a year of lockdowns, these races have also served as the perfect preparation ahead of Tokyo. "In my opinion, the best way to get better is to compete. And we've been lucky to be able to do that."

The Games this summer will be Fields' third Olympics — competing in a sport he has been doing since he was seven. "The downside of being an older athlete is my back is a bit sore, and I've got to warm up longer than I did when I was 20. But some of the positives are that I've raced so many times in my career that I don't feel extra nerves or added pressure."

He's also gotten very accustomed to winning. The series stop at the end of April marked his 100th career USA BMX podium. Despite that, Fields tries to remind himself that no matter the course, "Once you line up at the starting gate, it becomes the same sport we always do." It's a mindset he will take into this summer.

"The race at the Olympics is the exact same as every other race I've ever done. There are eight riders in the starting gate, there are jumps, there are corners, and the first person to cross the finish line wins," Fields explained.

The difference in Tokyo will be the track. "The cool thing about BMX is that every single track is different, so every race is different." But the track in Tokyo will present new challenges as it was designed longer than what he is used to. "Typically our tracks range between 30-40 seconds. I think Rio was about 34 seconds. But at the test events for this one, winning times were like 41, 42. It doesn't sound like much, but when it's a 25 percent increase, that's quite a bit," said the 5-time national champion.

In preparation, he's been doing "a ton of work in the last year, conditioning-wise, to be prepared for the longer track that we're going to have to face when we get over there."

In addition to his physical health, his mental health has been something he has been working on, even before the pandemic hit. "I've actually been working with the USOPC sports psychologist for six or seven years now. We've got a good relationship," he admitted.

Just like the rest of the world, the pandemic was hard on him too. "I'm not going to sit here and say it was all sunshine and rainbows, but I was healthy and the people around me were staying healthy. So I was just trying to keep a broad perspective on the whole thing."

Something he learned working with his sports psychologist was "when I do get bummed out or sad, allow yourself to be sad for the day. And then try to have a better day tomorrow."

That thinking came in handy after his seventh place finish in 2012. With London he said, "I felt like I had left some things on the table there, and that was the hardest thing to work through — feeling like you didn't do your best."

But with Tokyo he said his goal is to look himself in the mirror after it's all said and done feeling like he did everything he could. "Look," the reigning Olympic BMX racing gold medalist said, "If I do my best and get the same place, I am going to be happy. But with that said, I have always felt like if I do everything I possibly can to give myself the best chance to succeed, I have a chance to win any race that I'm in."

And winning is what he does best. "I'd like to medal. I'd like to win. But really I just want to leave saying I did everything I possibly could."
Lisa Costantini is a freelance writer based in Orlando. She has covered Olympic and Paralympic sports for various publications, and has contributed to TeamUSA.org since 2011.