Olympic Rookie Felicia Stancil Rides To Fourth In BMX Racing While Defending Medalists Crash Out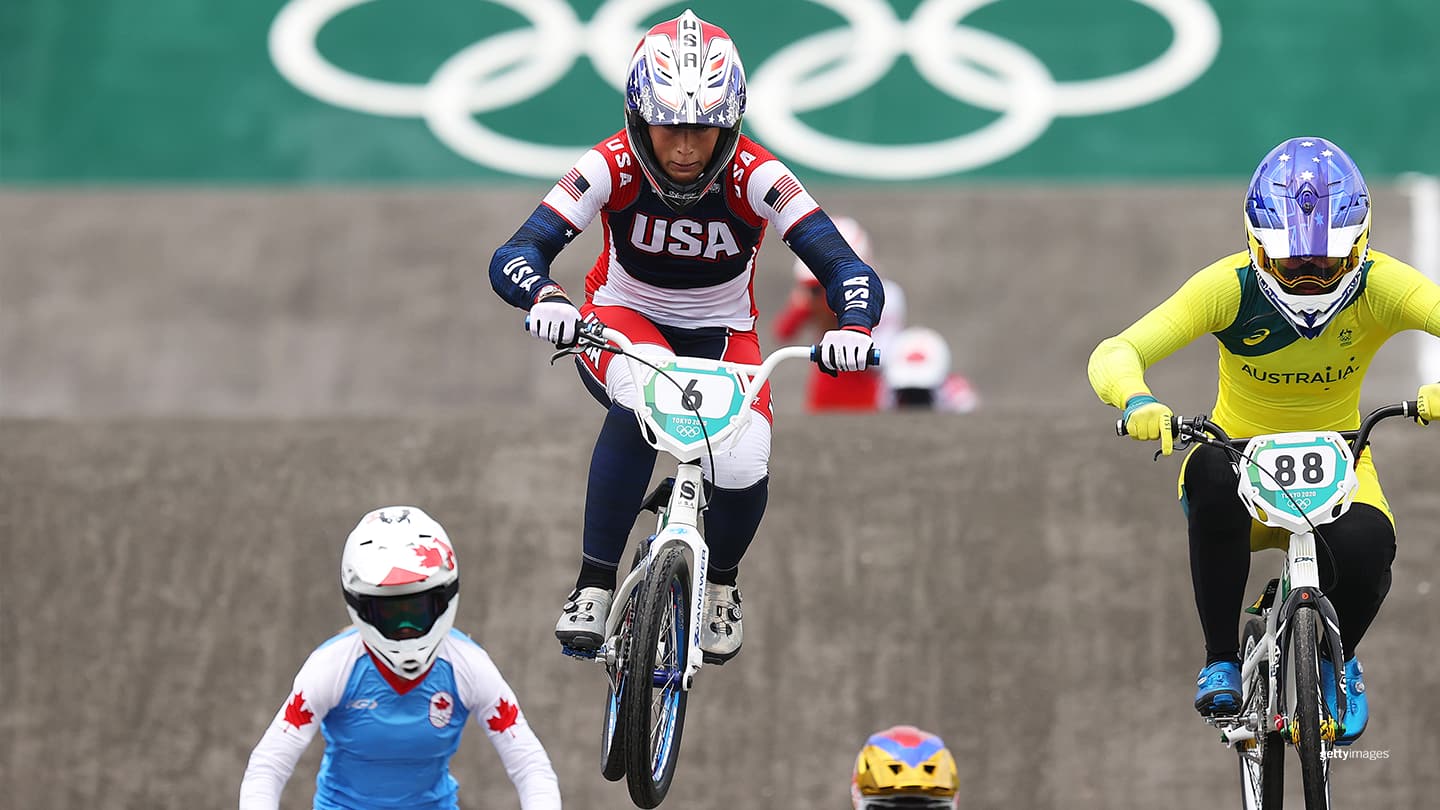 Felicia Stancil jumps during the Women's BMX semifinal on July 30, 2021 in Tokyo, Japan.
TOKYO — When BMX racer Felicia Stancil qualified for her first Olympic Games, her dad booked a hotel. He never gave up that reservation, even as travel restrictions mounted. Finally, the hotel reached out to him.

"They're like, 'You're from America you can't come, sorry,'" Felicia Stancil said.

Jamie Stancil never gave up never gave up hope. When it comes to his daughter, he never does.

A former pro BMXer himself, Jamie is his daughter's "biggest fan," she says. He taught her the sport as a kid growing up in the north suburbs of Chicago. He had a front row seat to an amateur career that saw Felicia win her first national as a 6-year-old, then her first world title three years later. Now living in Indianapolis, she still hears from dad just about every day.

He wants to know about her training. And he's pretty pumped up about her prospects at the Paris Games in 2024.

"I'm like, I still need to get through this one!" Stancil said Friday, her first Olympics having only wrapped up just an hour earlier.

Making her Olympic debut this week, Stancil advanced through the heats on Thursday, then made her move on a muggy Friday morning at Tokyo's Ariake Urban Sports Park.

Following a short rain delay, Stancil posted the top cumulative score in her semifinal, when each group of eight riders completes three races on a back-and-forth course that alternates between flowing jumps and sharp, banked turns.

A little while later in the winner-take-all final, Stancil rounded the last 180-turn with the medalists in her sight. She crossed the finish line in the same position, a blank expression across her face.

"Fourth," she recalled thinking. Her next thought was an expletive.

Coming so close in such an unpredictable 45-second race is both a blessing and a curse. On the one hand, she was right there. On the other hand, she was right there.

A little move here, a sharper turn there. Every tiny little detail could be the difference.

"I definitely wanted to grab a medal for our country," she reflected afterward. "But this is my first Olympics."

And it won't be the last, Stancil said. At 26, she's already eyeing the Paris Games in three years — even if she's eyeing the world championships in three weeks a little more closely.

American BMXers have won five medals since the sport debuted in the Olympics in 2008. The only one missing from that collection, Stancil notes, is a women's gold.

"Hopefully one day, someone — maybe me — can get that," she said.

And if does, you can bet her dad will be there.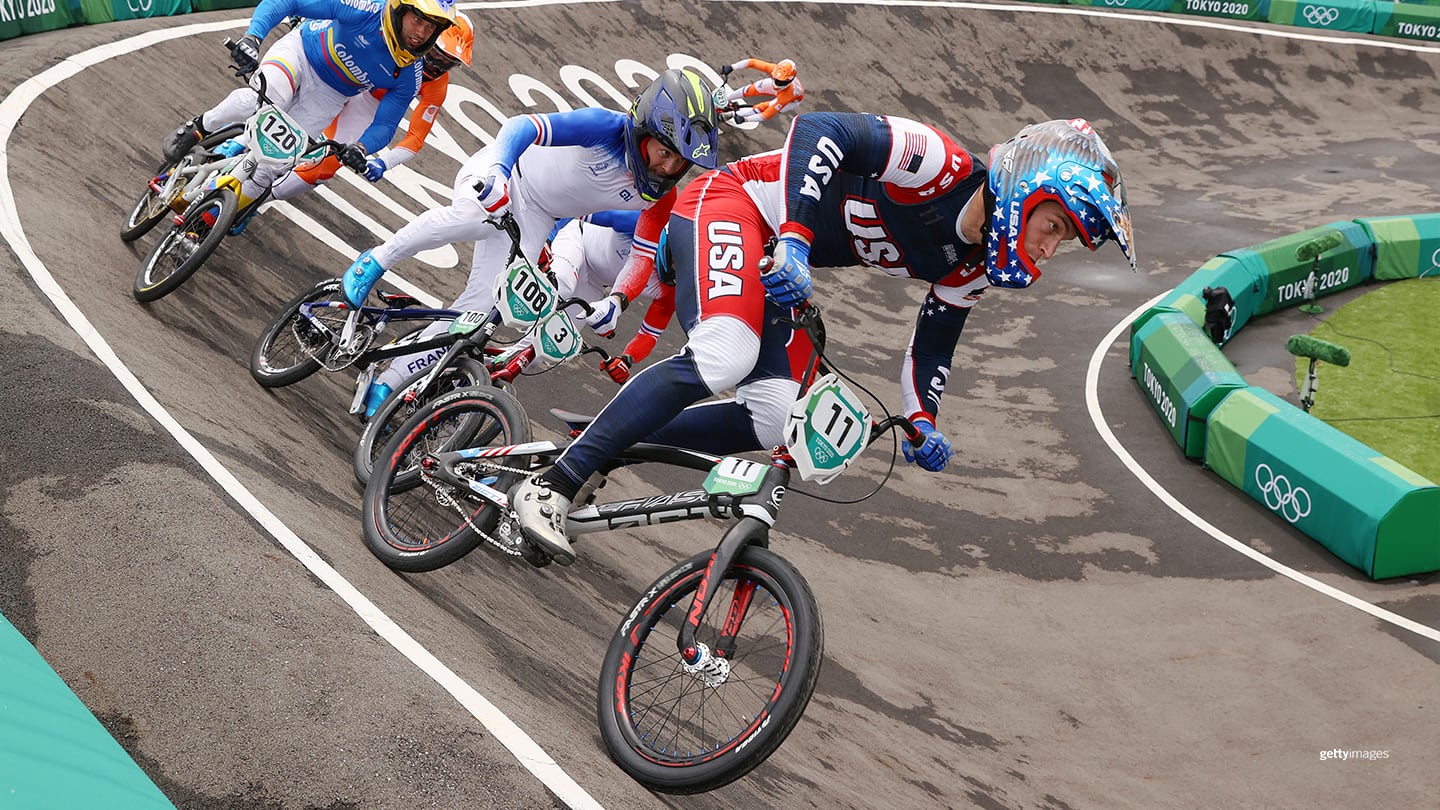 Crashes Knock Out U.S.
Favorites
Minutes before Stancil climbed up to the starting gate for her third semifinal, she watched her teammate and training partner Connor Fields steer toward the first turn then clip the back wheel of a French rider's bike. The collision sent Fields crashing into the ground, and then two others crashing into him.

Gruesome-looking crashes are part of the sport, but this one was particularly rough. Fields, the defending Olympic champion and top-ranked rider in 2020, received extended treatment on the course. Medics appeared to give him oxygen before taking the 28-year-old away on a stretcher.

Fields was moved to a hospital, where he was alert and undergoing further evaluation, according to USA Cycling officials.

The incident left Stancil in tears as she prepared for her that last semifinal (which she subsequently won).

"He's an inspiration," she said, fighting back tears again as she remembered it. "It's just hard to see your training partner that you spend a lot of time with go down."

Speaking to the Las Vegas native's ability, even with the DNF he still did enough in his first two semifinal races to qualify for the final, though he was long gone by the time it began

Alise Willoughby, the defending Olympic silver medalist, also crashed twice on Friday. She went down early in the opening semifinal and didn't finish. After taking third in the next race, she was in position to advance in the third race when she crashed again, this time just before the final turn.

"It's very unfortunate because I believe that most of us were riding very well today," Willougby said, her shin pad peaking through a large tear across the knee of her racing suit. "There's definitely a lot of surprises out there. I'm just really disappointed."

Like Fields, Willoughby, 30, is a former world champion and competing in her third Olympic Games.

"Sports are sometimes harsh," the St. Cloud, Minnesota, native said. "I put everything I had out there. I'm 150 percent proud of the effort put forth. Coming into this I knew I was ready and I knew in my heart where I was truly at, and I'm just disappointed that I didn't really get to show what I was capable of today."

Five Americans competed in BMX racing in Tokyo, with two-time Olympian and former world champ Corben Sharrah also making the semifinals. On the women's side, 19-year-old Payton Ridenour was eliminated in the heats Thursday at her debut Olympics.

"I've been racing for 24 years now, and you win some and you lose some," Sharrah said. "It was a great experience."
Want to follow Team USA athletes during the Olympic Games Tokyo 2020? Visit TeamUSA.org/Tokyo2020 to view the medal table, results and competition schedule.
Chrös McDougall has covered the Olympic and Paralympic Movement for TeamUSA.org since 2009 on behalf of Red Line Editorial, Inc. He is based in Minneapolis-St. Paul.