Olympic Diver Kassidy Cook Battling Shoulder Injury With Trials On Horizon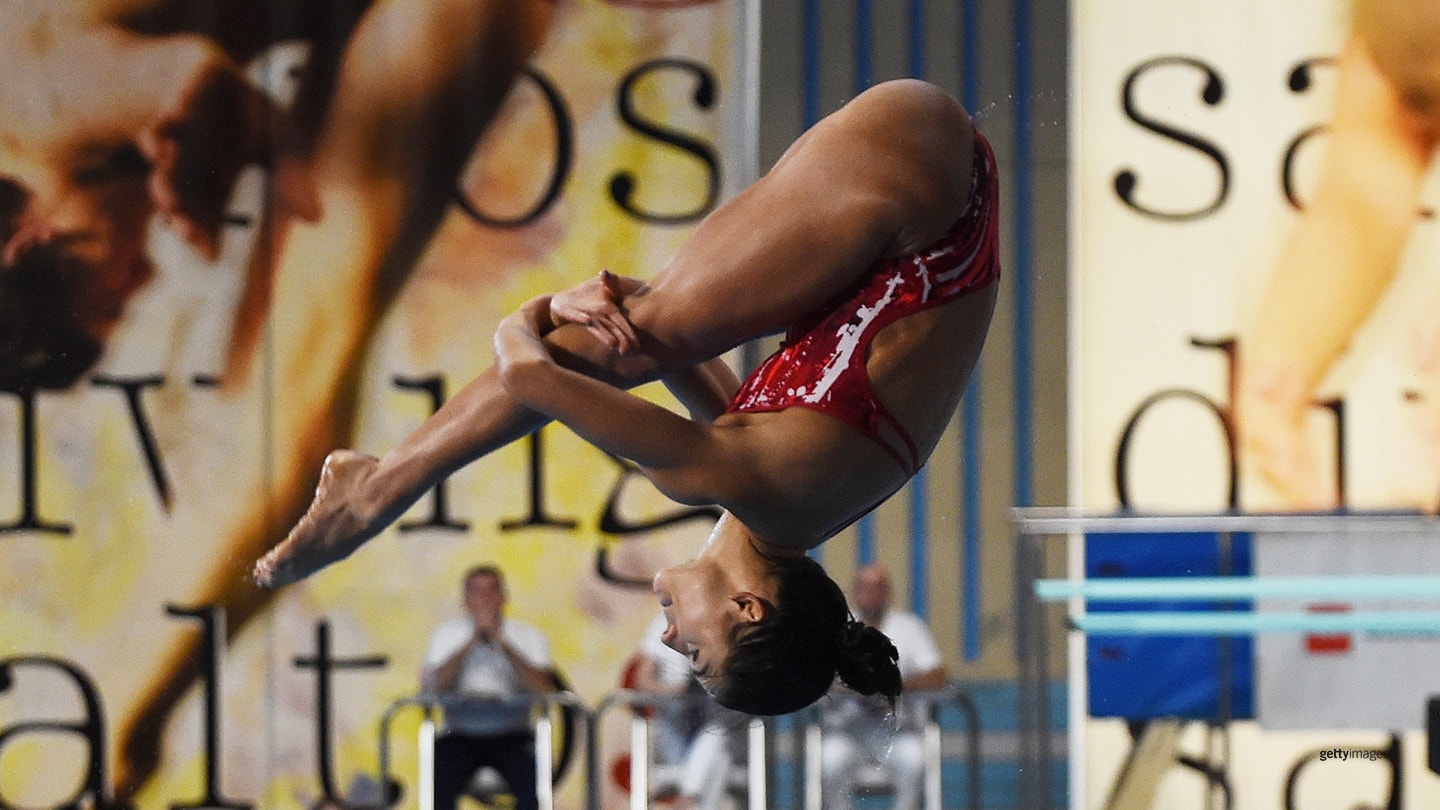 Kassidy Cook waits to compete in the Women's 3m Springboard final during day 9 of the 2016 U.S. Olympic Team Trials for diving at Indiana University Natatorium on June 26, 2016 in Indianapolis, Indiana.
Kassidy Cook knows there's nothing like a good action movie to get her fired up before a big competition.
She has the perfect blockbuster in mind to watch the night before the U.S. Olympic Team Trials – Diving start on June 6.
"Thor: Ragnarok," her favorite film in the Marvel Cinematic Universe.
"I get goosebumps when I watch those movies," said Cook, a 2016 Olympian in 3-meter springboard. "I know superheroes and diving don't really mesh, but it just gets me in the competition mode. I am a very high-energy person, and if I don't feel the adrenaline, don't feel the butterflies, don't feel a little bit of nerves, I know that something's wrong."
Superheroes battle pain and adversity and Cook, 26, is in that mode right now. A shoulder injury that had been bothering her since February flared up before the World Cup in Tokyo earlier this month. Cook – who apparently has a freakishly high pain threshold – and her 3-meter springboard synchro partner, Sarah Bacon, secured an Olympic quota spot for Team USA in the event with a fifth-place finish on May 1.
Cook hopes to compete in both the 3-meter individual and synchronized events at Trials in Indianapolis if her sore right shoulder allows. But if she has to choose one, she'll go with synchro "because I love being a part of a team and I wouldn't want to let Sarah down in any way," she said.
Before the Tokyo competition, Cook's shoulder hurt so badly that she couldn't practice anything except the timing on their approaches.
"I would count us down, '1-2-3- Go!' and I would just bounce on the board and jump into the water and Sarah would do the dives that we were supposed to do," Cook said. "I'm sure other countries were watching like, 'What the heck is going on?' I was just saving it all for the competition, which was very painful to get through, but I'm really happy that I could pull through for my country and pull through for Sarah."
On doctor's orders, Cook rested her shoulder and got treatment. She said she doesn't require surgery for what is basically an overuse injury akin to a stress fracture in a runner's foot.
The pain was especially excruciating when Cook was landing on her head "because my bone was trying not to break, essentially," she said. "People don't realize how hard you hit the water and how fast you hit the water."
She returned to the springboard this week after about 3 ½ weeks off - giving her only a week of practice at home before leaving for Indianapolis and the Trials.
"I'm going to definitely be relying on my mental game and my muscle memory," Cook said. "I'm feeling better for sure, but time isn't really on my side. It's been hard, but I think adversity ultimately makes you a stronger athlete and a stronger person. A career without adversity isn't a very exciting one."
Sounds like the plot of an action movie. For Cook, this is actually the sequel.
She placed 13th at the Olympic Games Rio 2016, just missing the final, then returned to college at Stanford for two more years and retired. Following three shoulder surgeries, a foot surgery and a back problem, Cook felt it was time to move on to the next stage of her life. After all, she'd been diving since she was 3 years old, which she couldn't believe until she saw the home movies. Cook's older sister, Kara, was the first of her five siblings - whose names all start with a K – to dive.
Cook began working at 23andMe in San Francisco and in 2019 she and a former teammate made a trip to Mission Viejo, California, to watch a big diving meet.
"I was like, 'Hmmm. I feel like I could still do this,'" Cook said. "It doesn't seem out of the realm of possibility for me, which was a really good feeling because sometimes when I watch platform I can't even imagine myself doing that before."
Her body had recovered and she was working out and in good shape."I don't think I would have come back if I didn't think that I could get back to where I was or become even better," Cook said, adding, "I knew that I would live with regret if I didn't at least try. Even if this injury prevents me from competing at the Olympic Trials, I would still be very happy that I came back and gave myself that opportunity again."
Cook, who is from The Woodlands, Texas, returned to her home state to train with her former coach. She had less than a year to get ready for the Olympic Games Tokyo 2020. The postponement has worked to her advantage. "I had that hunger and that fire to train and go as hard as I could," Cook said, "because I hadn't trained in a year and half to two years, so I wasn't burned out at all."
In 2012, she missed making Team USA in 3-meter synchro by a fraction of a point as Abigail Johnston and Kelci Bryant defeated Cook and Christina Loukas at the Trials 956.40 to 955.98. Johnston and Bryant went on to win the Olympic silver medal.
Picking A Perfect Synchro Partner
As Cook pondered her comeback, she saw that Bacon, her friend since childhood, had made her first world championships team, winning the silver medal in the 1-meter event (which is not in the Olympics).
Cook texted Bacon when she returned from worlds: "Hey, don't tell anybody, but I'm thinking about coming back to diving, and I think we could make a really good synchro team. I'd love to try it out."
Bacon was game, and USA Diving set up a synchro camp. Everyone agreed that Cook's hunch was correct. Not only did she and Bacon have similar techniques, body type and styles of diving, they also had chemistry thanks to their friendship.
In February 2020, they won two FINA Grand Prix gold medals in 3-meter synchro in Madrid and Rostock, Germany, although they did not have the opportunity to take on any Chinese divers because of coronavirus travel restrictions.
During the pandemic lockdown, Cook did a lot of visualization exercises and her club team would host zoom workouts. She even took up yoga and meditation to deal with the stress. Bacon, who recently capped her career at the University of Minnesota with her third and fourth NCAA titles, would come to Texas when she could squeeze in a trip or Cook would travel to Minneapolis. They even had one practice meet via zoom so officials other than their coaches could judge them.
"Having Sarah just a phone call away or a text away really helped me as well on the days where I was feeling really down or low in motivation," Cook said. "I would just shoot her a text and we would kind of pick each other up and encourage one another to keep going."
While Bacon can't physically be at her partner's side while she recovers, she's with her every step of the way.
"We text like all day every day," Bacon said. "It's always tough seeing one of your friends and also my synchro partner dealing with pain. I've been there; I've had had two shoulder surgeries and I know exactly what she was going through. She is strong and the most fierce person I know."
While they were in Tokyo, Bacon, 24, tried to keep Cook's spirits up.
"I was trying to make jokes, trying to keep her laughing to keep her mind off of her shoulder," Bacon said. "I felt like I had a job to do of keeping her happy the whole time and in the back of my head I knew she was going to be fine. She was going to compete and she was going to compete well, so that relieved stress for me. Our coaches, on the other hand, they were stressing out, but we were fine. And we got that spot and we're going to be ready to go at Olympic Trials."
If Cook also dives in the individual event, she'll compete the same five-dive list that she did in 2016, which is the standard list for women's 3-meter springboard. Her "secret weapon" is 305B - reverse 2 ½ somersaults from the pike position. "I can really nail that dive when a lot of other girls cannot because it's a blind entry," she said.
But Cook's not the same diver who left Rio disappointed because she didn't feel like she competed to the best of her ability.
"I was just a kid back then," she said. "I feel like I've definitely matured in the last five years and I would be able to handle the Olympics and that kind of situation a little bit better."
As part of her preparation, Cook studies film of the best divers in the world, which now includes Bacon, who won the individual silver medal in Tokyo at the World Cup.
"She's improved so much in the last year," Cook said. "I'm super impressed with how far she's come physically in her diving. I'm in shock and in awe of how good she is."
That makes them rivals for the two spots on Team USA in Tokyo. "Obviously it's funny to be partners one day and then have to turn around the next day and be each other's biggest competitions," Cook said, "but I'm always rooting for Sarah no matter what. If I'm going to beat her I want to beat her because she dove well and I dove well as well."
Bacon feels the same way. "If we dive well individually, it makes our synchro look better, so we always wish the best for each other," she said.
Women's 3-meter synchro is the first event on the schedule at the Trials with preliminaries and semifinals on June 6 and the final on June 10.
"It would be awesome to be able to share Sarah's first Olympics with her," Cook said.
No matter what happens, there could be yet another sequel in Cook's diving career.
"Depending on how everything goes, I could see myself continuing to train," she said. "I've only been back for less than two years, so I can see myself wanting to keep going, especially in synchro. We are such a brand new team. All of our chances to compete in the last year have kind of been robbed for us - as they have been from every other athlete. I would really like to see what we could accomplish moving forward."
Karen Rosen has covered every Summer and Winter Olympic Games since 1992 for newspapers, magazines and websites. Based in Atlanta, she has contributed to TeamUSA.org since 2009.