Alison Gibson And Krysta Palmer Take Lead In 3-Meter Synchro Diving At Trials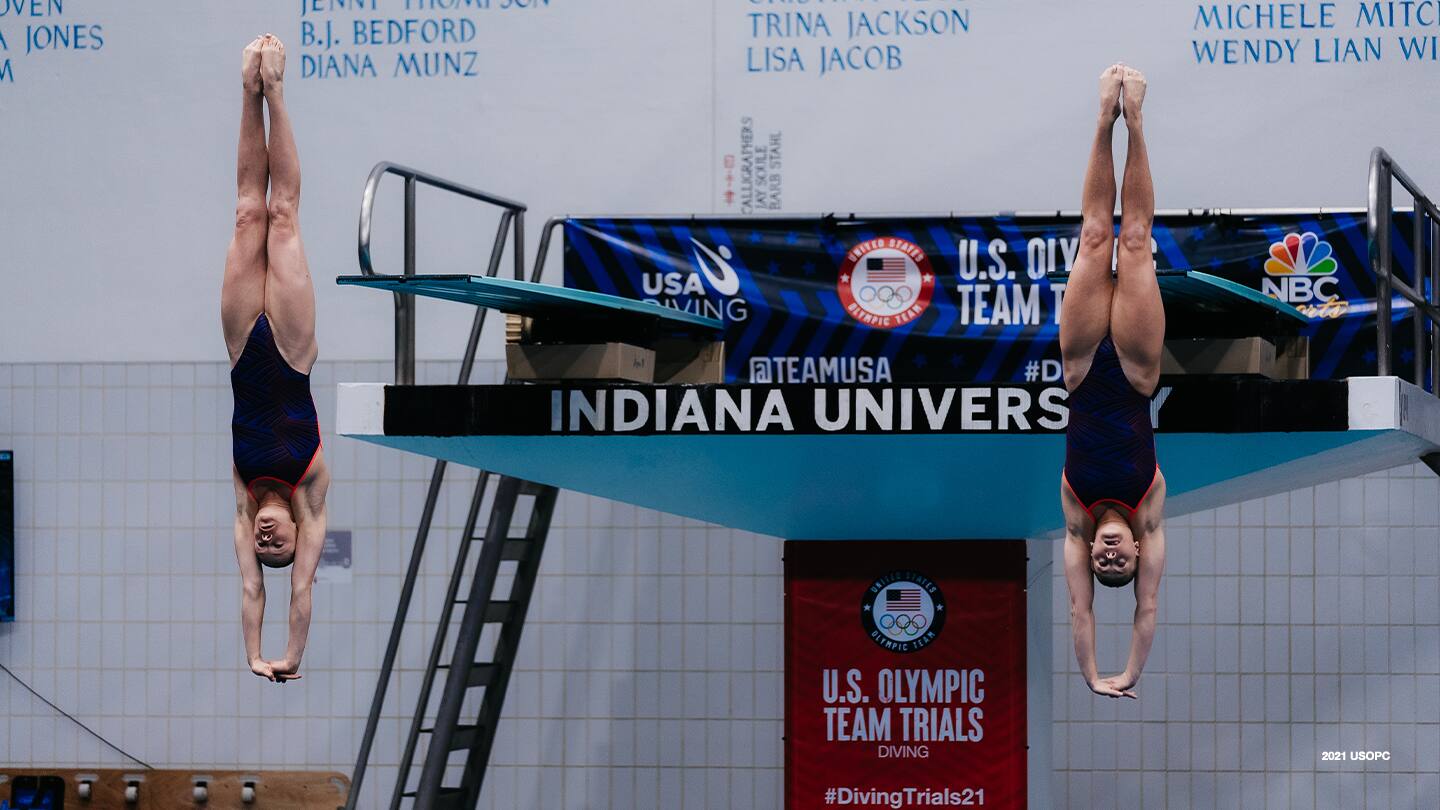 Alison Gibson and Krysta Palmer compete in 3-Meter Synchro at U.S. Olympic Team Trials - Diving on June 6, 2021 in Indianapolis.
INDIANAPOLIS – Alison Gibson and Krysta Palmer have a ritual during competitions: Before the diving there's the dancing.
They moved to the music blaring over the loudspeakers at the U.S. Olympic Team Trials – Diving before climbing the steps to the side-by-side 3-meter springboards.

"We're dancing around, just smiling and having fun when we're competing," said Gibson, 21. "So we were just in a really good, positive head space the whole day, which I think helped us compete well together."

After 10 dives Sunday – five in the morning and five in the evening – they are in first place in the synchronized women's 3-meter springboard event.

They lead pre-meet favorites Sarah Bacon and Kassidy Cook by 21.45 points, 594.84 to 573.39. Bacon and Cook, who has been hampered by a shoulder injury, secured the Olympic quota spot last month at the World Cup, which was the Olympic test event in Tokyo.

All seven teams in the event will perform their five-dive list again on Thursday in the final, and the results of all three sessions are cumulative. Only one team will represent the United States at the Olympic Games Tokyo 2020.

Gibson and Palmer placed 10th in 3-meter synchro at the 2019 world championships.

"We were big on talking to our team psychologist and figuring out how we compete best together," said Palmer, who will turn 29 on June 13, "and I was really excited to find out that she loves to have fun, that she likes to dance. I do, too, and so we have chemistry in that way."

They also added some extra explosiveness to their repertoire for the Trials. For the first time, they competed the 5154B, a dive that is as imposing as its number and is rarely contested by female synchro teams anywhere in the world – including China. It's a forward 2 ½ somersaults with two twists from the pike position, with a degree of difficulty of 3.4. No other team at the Trials had a degree of difficulty higher than 3.1.

Commonly called the "double out," it was their fifth and final dive.

Palmer said they were working on the dive before Covid hit. "It was kind of in the back of our mind that this was a possibility for a dive in the future," Palmer said. "We just didn't know when."

While she's had it on her list for a couple of years, Gibson was not as comfortable with it.

During the pandemic, Palmer went to Texas twice and Gibson traveled to Nevada once so they could train together, but each trip was only three days. Still, Gibson developed confidence in the dive and Palmer said they "kept our cool and our calmness" on Sunday.

"I think a lot of the people watching are excited that women are doing this dive," Palmer said, adding that she thinks it is significant that an American team has it in their bag of tricks.

Divers are scored on execution and synchronization and, after dropping the highest and lowest marks, and multiplying by .6, the result is multiplied by degree of difficulty.

Because of Cook's shoulder injury, she and Bacon did not do any head-first entries in their warmups.

After the first round, they were in the lead, but then had a rare balk on their second dive. After beginning their approach, they realized they were out of synch and stopped abruptly. Although Bacon and Cook were allowed to complete the dive, they were penalized two points for each of the five judges, losing 10 points to score only 32.40 points.

Cook, a 2016 Olympian in individual springboard who retired before launching a comeback in 2019, also struggled on their fourth dive, a forward 3 ½ somersault from the pike position. She scored 3.00 from each of the judges while Bacon scored from 7.50 to 8.00. They also faltered on their synchronization for a total of 48.36.

However, they worked their way back up to second place, trailing Gibson and Palmer, 291.45 to 266.46 after the prelims.

But Gibson and Palmer did not let up in the semifinals. They actually scored highest on their fourth dive, a forward 3 ½ somersault in the pike position, which has a degree of difficulty of 3.1 points. On that dive, they totaled 73.47 points.

"We definitely left some points on the table," Gibson said, "but considering we haven't competed in over a year and a half, we're really happy about just how we did in general. It's kind of nice being able to go into the final knowing that we're a little bit ahead. I think that is a good confidence booster and it's just exciting."

Bacon, who placed second in the individual 3-meter springboard at the World Cup and is considered a favorite for Team USA in that event, said she and Cook "are still capable of doing more" than they did in the semifinals.

"With Kassidy's shoulder injury, she is being a little timid right now," Bacon added. "We are hoping she can get that rested going into finals. Personally, individually, I feel great. I hit every single dive... I feel confident going into the final and I hope that Kassidy's shoulder holds up and we can pull it off."

On their final dive of the night, a forward 2 ½ somersault with one twist from the pike position, Cook showed the form for which she is known. She scored 7.50 and 8.0 while Bacon garnered scores of 8.5 and 9.0. Their synchronization scores ranged from 7.50 to 9.0 for a total of 73.80 points.

Gibson said she feels for what Cook is going through. "It's definitely sad, because she's an incredible diver and I have so much respect for her," Gibson said. "If I make the Olympic team - and when I make the Olympic team - I want to know that I made it because my synchro partner and I are the best in the country.

"Kassidy's a fighter and it's really cool seeing that she is fighting, competing and really inspiring. She's always inspired me since I was really young, so it was awesome seeing their comeback."

Now the divers have to go into Individual mode, with preliminaries and semifinals in the 3-meter springboard on Tuesday.

"In most competitions, synchro's completely finished before individual starts," Gibson said, "and so I think mentally it's kind of a different framework that I have to go into."

But Palmer said she's happy for to wait a few more days, "because I'm always a little bit sad that synchro's over. Diving individually you're on your own and sometimes you can feel it's a little bit lonely, so it's really exciting to look forward to competing with her just one more time."

Or more than one more time if they win, with Tokyo to come.
Karen Rosen has covered every Summer and Winter Olympic Games since 1992 for newspapers, magazines and websites. Based in Atlanta, she has contributed to TeamUSA.org since 2009.